Royals celebrate life of Ventura in private service
Players, executives speak fondly of pitcher who recently died in auto accident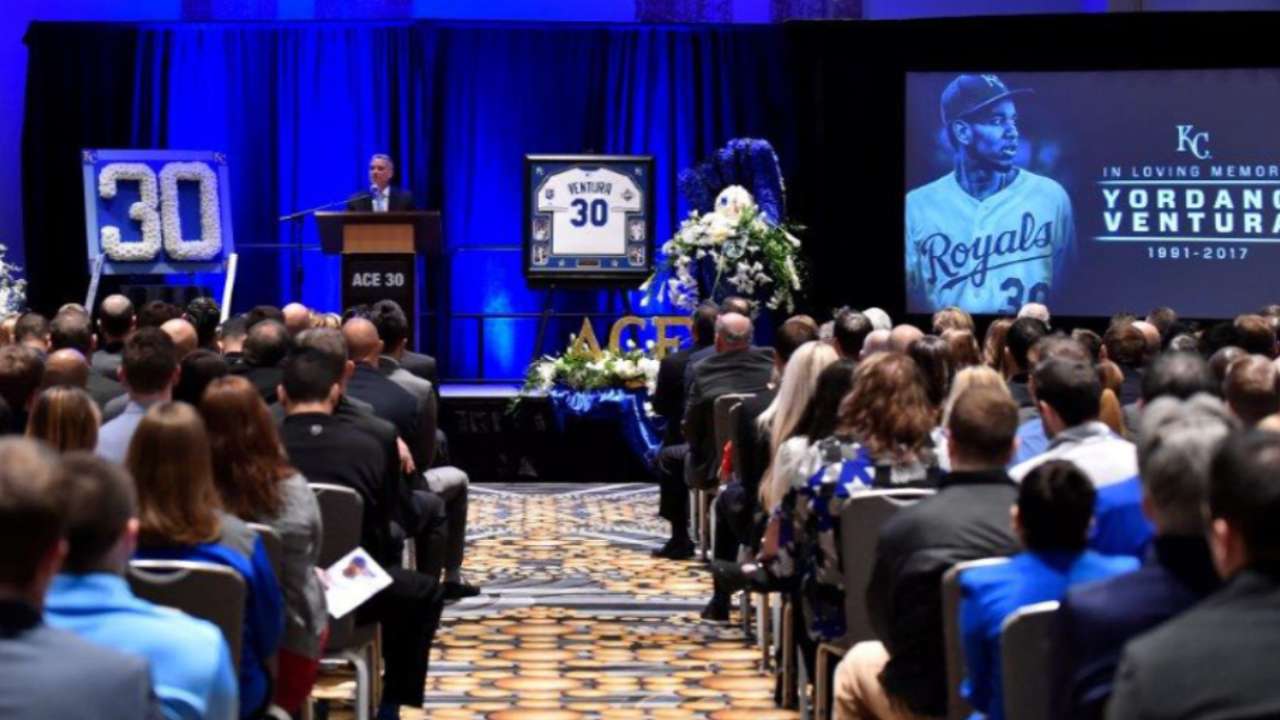 KANSAS CITY -- The grieving will last for some time.
But the early stages of healing likely began on Friday morning as the Royals' organization held a private "Celebration of Life" for pitcher Yordano Ventura, who died on Sunday in a car accident in the Dominican Republic.
Nearly 300 observers packed into a ballroom in downtown Kansas City to hear stories and remembrances of Ventura. Several speakers struggled with tears and shaken voices to get through their speeches.
"God must have needed an 'Ace' in heaven," pitching coach Dave Eiland said, his voice cracking. "Well, he got one."
One by one, front-office executives and teammates shared memories of Ventura and his golden arm, as well as his colorful personality.
"When he came up in the Minors, we all wanted to know if his arm could catch up to his mouth," assistant general manager Scott Sharp said to laughter.
"But in seriousness, Yordano wasn't just a pitcher. He was a human being, with flaws. And we loved him for that."
Indeed, several speakers couldn't resist stories of Ventura's on-the-mound antics -- staring down Mike Trout, hitting batters to protect teammates.
"He was the young brother we all had to look out for," first baseman Eric Hosmer said, "and care for. And we didn't mind it at all."
Most of all, as many speakers mentioned, Ventura will be remembered for his politeness off the field, his playfulness, and, of course, that smile.
"He had the arm of a man," broadcaster Ryan Lefebvre said, "and the smile of a child."
Others tried to make sense of the tragedy. Manager Ned Yost recalled losing his mother last November.
"She was 84 and to be honest, I was praying God would take her," Yost said. "I was relieved. I knew she would be at peace, she would be free, and that she could breathe [normally] again.
"But with Yordano, a 25-year-old cut short of life, there is no peace."
Royals general manager Dayton Moore searched for lessons to be learned.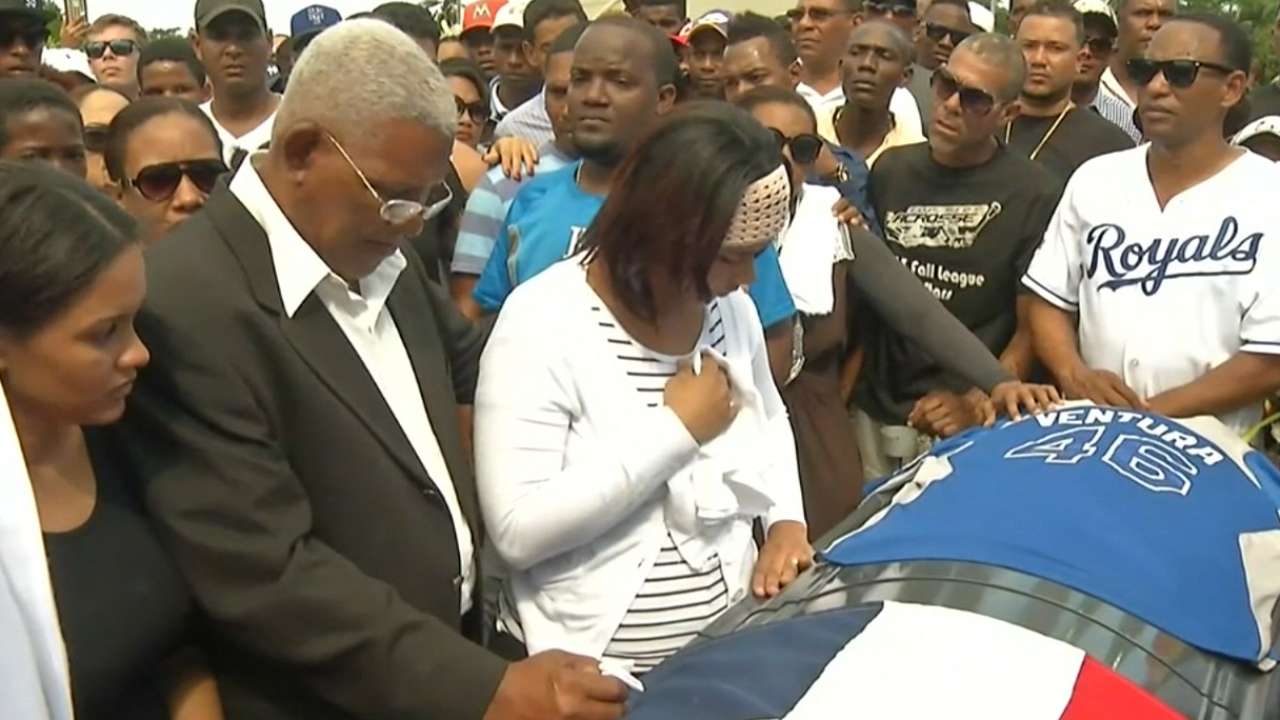 "I will never forget the wailing cries of Yordano's mother, his aunt, his family," Moore said of Tuesday's funeral. "I don't want to forget, because it will make me try to care more for people in the future, and be more forgiving."
To honor the legacy of Ventura, the Royals announced the ACE 30 Memorial Fund has been established through Royals Charities. Funds will support youth baseball projects in his native country of the Dominican Republic. To donate, visit Royals.com/yordano.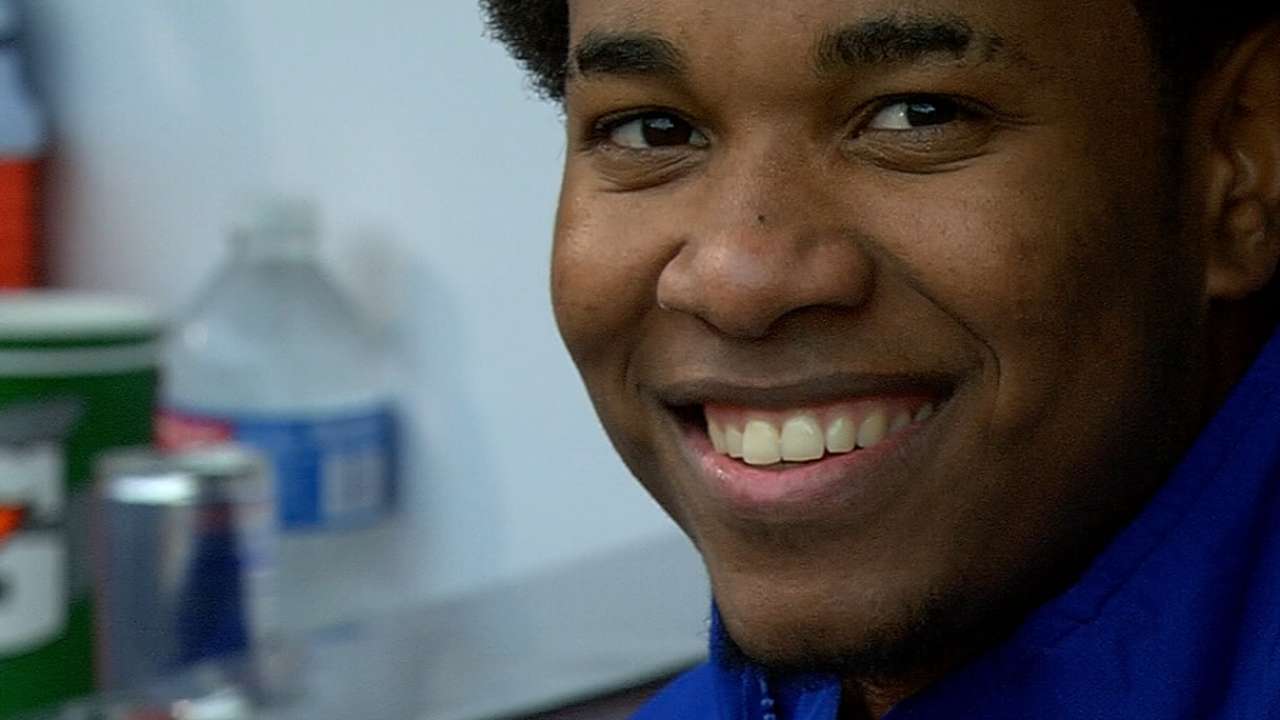 Left-hander Danny Duffy said he learned a great deal from Ventura.
"It was his passion to win," Duffy said. "I think we will play every game this season like it's the last game we'll ever play."
When the ceremony ended, the crowd clapped one last time for Ventura.
Let the healing begin.
Jeffrey Flanagan has covered the Royals since 1991, and for MLB.com since 2015. Follow him on Twitter @FlannyMLB. This story was not subject to the approval of Major League Baseball or its clubs.