Dolan: Time was right to make free-agent splash
After long postseason run, Tribe was willing to spend big on Encarnacion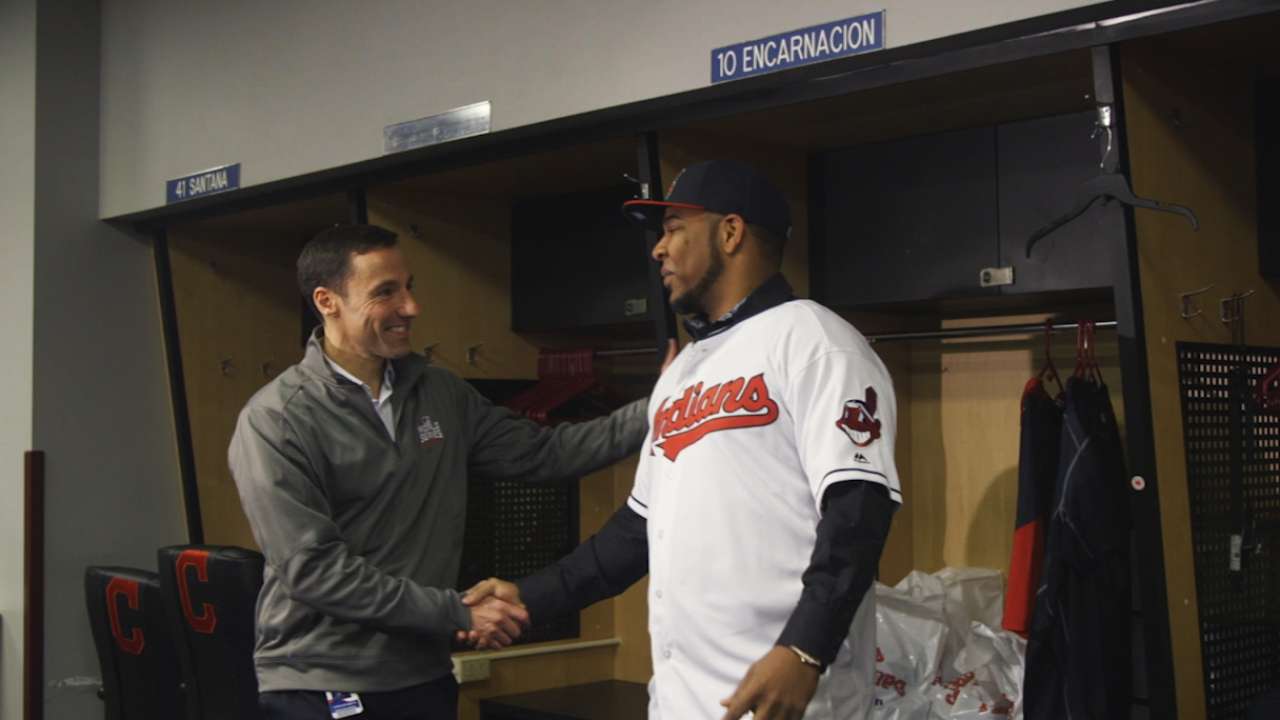 CLEVELAND -- When the Indians' front office had a chance to reel in Andrew Miller last summer, owner Paul Dolan cringed a little at the acquisition cost. In order to bring Miller to Cleveland, the Indians would have to send four promising prospects to the Yankees. Dolan approved the trade, but that decision carried some initial sting.
Pursuing free-agent slugger Edwin Encarnacion this offseason was a different story. Coming off a World Series appearance, and with the bulk of Cleveland's talented roster returning, the Indians are primed for another postseason run in the upcoming campaign. So, when the front office brought up signing Encarnacion, it did not take much convincing for Dolan to give the go-ahead.
"Not a whole lot. Not as much as trading for Andrew Miller did," Dolan said with a laugh on Friday morning. "The cost of Andrew Miller was talent. And that's not in our DNA, to give up that kind of talent for somebody like that. I suppose contracts like Encarnacion are not in our DNA, either. But, it was the right time for us, and we felt it was the right time to reach."
• Cleveland to host 2019 All-Star Game
Without Miller, who was named the Most Valuable Player of the American League Championship Series for the Tribe, the Indians may not have even reached the World Series with their depleted pitching staff. Now, with both Miller and Encarnacion in the fold -- a pair of acquisitions that strayed from the Indians' modus operandi -- Cleveland heads into 2017 as the clear favorites in the AL Central.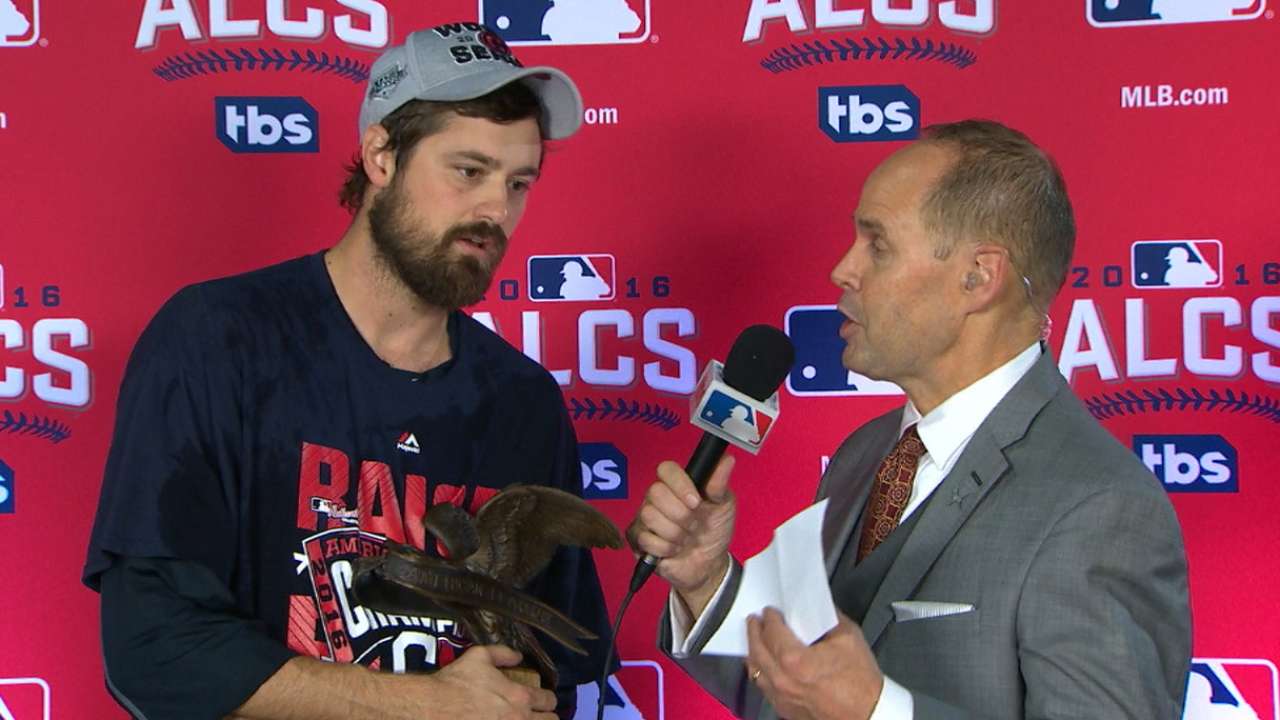 Signing Encarnacion required a three-year, $60-million contract, which was less than the slugger probably hoped to receive this offseason, but it marked the largest free-agent signing in the history of the Indians. In a clogged market for first basemen and designated hitters, Cleveland became a more realistic player for Encarnacion as the offseason progressed. On Dec. 22, the sides struck a deal with Dolan's blessing.
"It came to a head fairly quickly, as they always do in a dynamic market," Dolan said. "We knew that this would be an interesting market this offseason for that position, that first base-DH role. We knew there were a number of guys out there on the market, and we didn't know how the market was going to play. We saw that maybe it would come to us, and it did. It got to a point where we felt this is the reach we can and should make."
Acquiring Miller cost the Indians a lot -- prospects Clint Frazier and Justus Sheffield highlighted the package sent to New York -- but the relief ace is also under contract through 2018. With him and Encarnacion locked in, combined with the raises received for many of the core players -- either on guaranteed deals or via arbitration -- the Indians' payroll projects to be in the neighborhood of $120 million for '17.
For the past few years, the Indians have kept their payroll in the $90-million range, but the deep postseason run last year and the opportunistic window for contending helped convince ownership to spend more this offseason. On Friday, Dolan noted that Cleveland's season-ticket base had risen to roughly 11,000 as of this point, up from roughly 8,500 a year ago. Reaching the World Series, and making moves like the ones to get Miller and Encarnacion, have helped fuel that increase.
"They are always looking for those kind of opportunities," Dolan said of the Indians' front office. "More often than not, they don't manifest themselves into large free-agent signings, but we're always exploring where there's an opportunity to get value, and particularly when the value fits into the timing with the club. There's no better time than now.
"We're coming off the World Series' almost-win, and with the core talent that we have in place, there's absolutely no better time to make that reach than now."
Jordan Bastian has covered the Indians for MLB.com since 2011, and previously covered the Blue Jays from 2006-10. Read his blog, Major League Bastian, follow him on Twitter @MLBastian and listen to his podcast. This story was not subject to the approval of Major League Baseball or its clubs.