Rodgers leads 5 Rox prospects in Top 100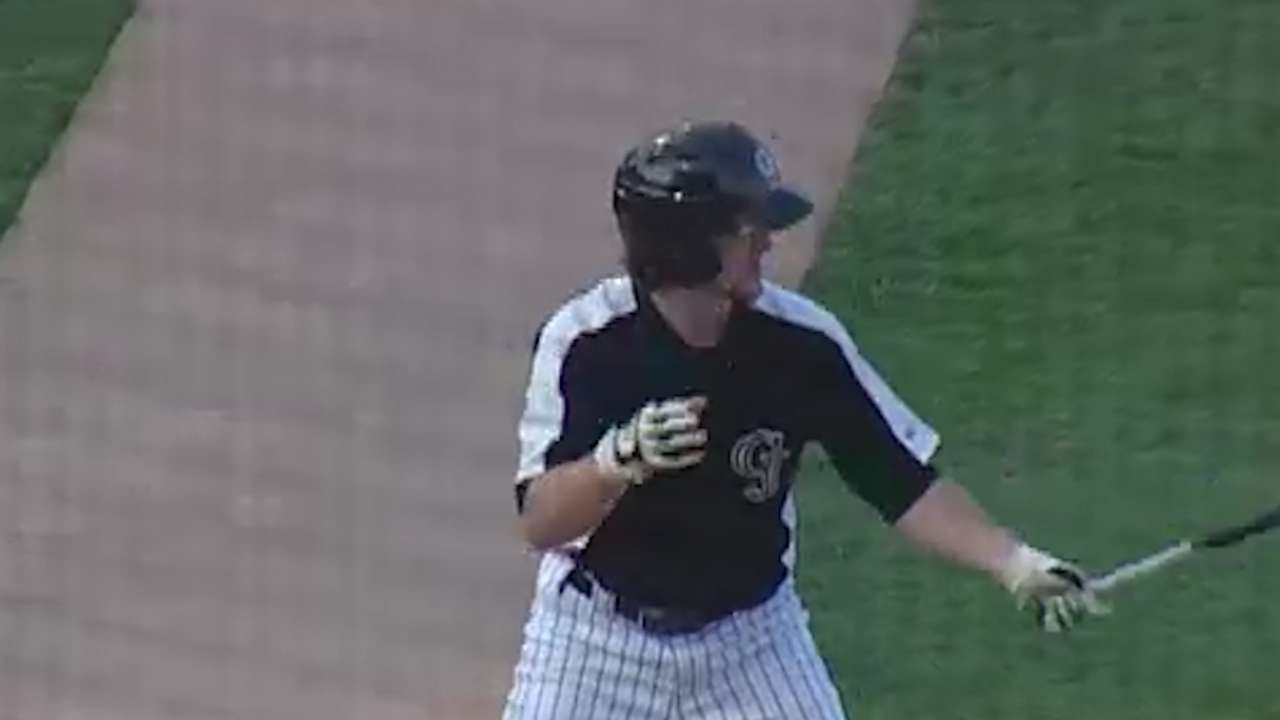 DENVER -- The accolades are piling up for Rockies shortstop prospect Brendan Rodgers, even though he's spending more time working and learning -- much of it while being tutored by current Rockies standout Trevor Story -- than enjoying the plaudits.
MLB.com has named Rodgers the 15th-best prospect in the game for 2017, as revealed on MLB Network on Saturday night. Rodgers, 20, was the No. 3 overall pick in '15 and batted .281 with 19 home runs and 73 RBIs at Class A Asheville last year. He ranks the highest of the five Rockies that appeared on the preseason Top 100 list.
• MLB Pipeline's 2017 Top 100 Prospects list
Also charting were right-handed pitcher Jeff Hoffman (at No. 44), a candidate for the '17 pitching staff; righty pitcher Riley Pint (51), the team's top pick in '16; righty German Marquez (73), also competing for a big league spot; and outfielder Raimel Tapia (90), who is trying to break into a crowded outfield.
The annual ranking of MLB's Top 100 prospects is assembled by MLBPipeline.com Draft and prospect experts Jonathan Mayo, Jim Callis and Mike Rosenbaum, who compile input from industry sources, including scouts and scouting directors. It is based on analysis of players' skill sets, upsides, proximity to the Majors and potential immediate impact to their teams. Only players with rookie status entering the 2017 season are eligible for the list. Players who were at least 23 years old when they signed and played in leagues deemed to be professional (Japan, Korea, Taiwan, Cuba) are not eligible.
The Rockies' five prospects tied with five other teams for the fourth-most in the Majors, behind the Yankees and Braves with seven and the White Sox with six. The Pirates, Brewers, Astros, Cubs and Dodgers also placed five. According to the Prospect Points system (100 for No. 1, 99 for No. 2, etc.), the Rockies ranked eighth with 232 points.
Rodgers didn't stop at the end of his solid season. He continued in instructional ball in Arizona and in the Dominican Republic. And Rodgers has been working with Story, who hit 27 home runs as a rookie last season before a left thumb injury sidelined him in late July. After going to the Dominican, Rodgers was back in the U.S. for one day before going to Scottsdale, Ariz., to train with Story and other Rockies players and prospects.
"This is my second year working with Trevor and we've become pretty close, I think," Rodgers said. "We hang out. He is one of the hardest-working guys I've ever met. Seeing him in the gym, he's an animal -- it's pretty impressive. He gets after it. He gets his stuff done. He's not messing around.
"He's a good guy to look up to and follow, listen to and get tips from, all that stuff. I pick his brain every once in a while and we talk about baseball. He's a good guy to have in the same organization, same position, all that sort of stuff."
Story recalled how his predecessor at short, Troy Tulowitzki (now with the Blue Jays), helped him when he was developing.
"Brendan, I love that guy," Story said. "He's very humble, very talented, works hard. It's cool that he looks up to me -- that's kind of how I did with Tulo.'
"He [Rodgers] has crazy bat speed, I know that, and a really strong arm. Those are the things that stand out."
Following Story's example was important for Rodgers, who was limited to 37 games at rookie-level Grand Junction in '15 because of various injuries as he transitioned from high school ball to the pros. Now that he has proven healthy and productive, he is learning to be versatile.
Rodgers still has a system to climb, and there's no telling how or when the opening could occur. Story played second base and third base at times in the Minors because Tulowitzki was the Rockies' established shortstop.
"Wherever they put me, I'm going to play it, and play it well," Rodgers said. "If I do need a little work at second base, I'm going to work my butt off and try to perfect second base. It's not going to be easy. It's definitely different from shortstop. I still need work at shortstop, too.
"That's what going out there early and Spring Training and all that stuff is for. I'm looking forward to playing some second base and playing some shortstop, third base, whatever they want me to play. I would just say I'm a middle infielder. That's what I consider myself."
Here is a look at the Rockies' other prospects in the Top 100:
• Hoffman: Possessing a solid fastball and heavy, downward bite on his curve, Hoffman, 24, struck out 124 in 118 2/3 innings at Triple-A Albuquerque, and debuted in the Majors (0-4, 4.88 ERA in eight games, six starts) last season.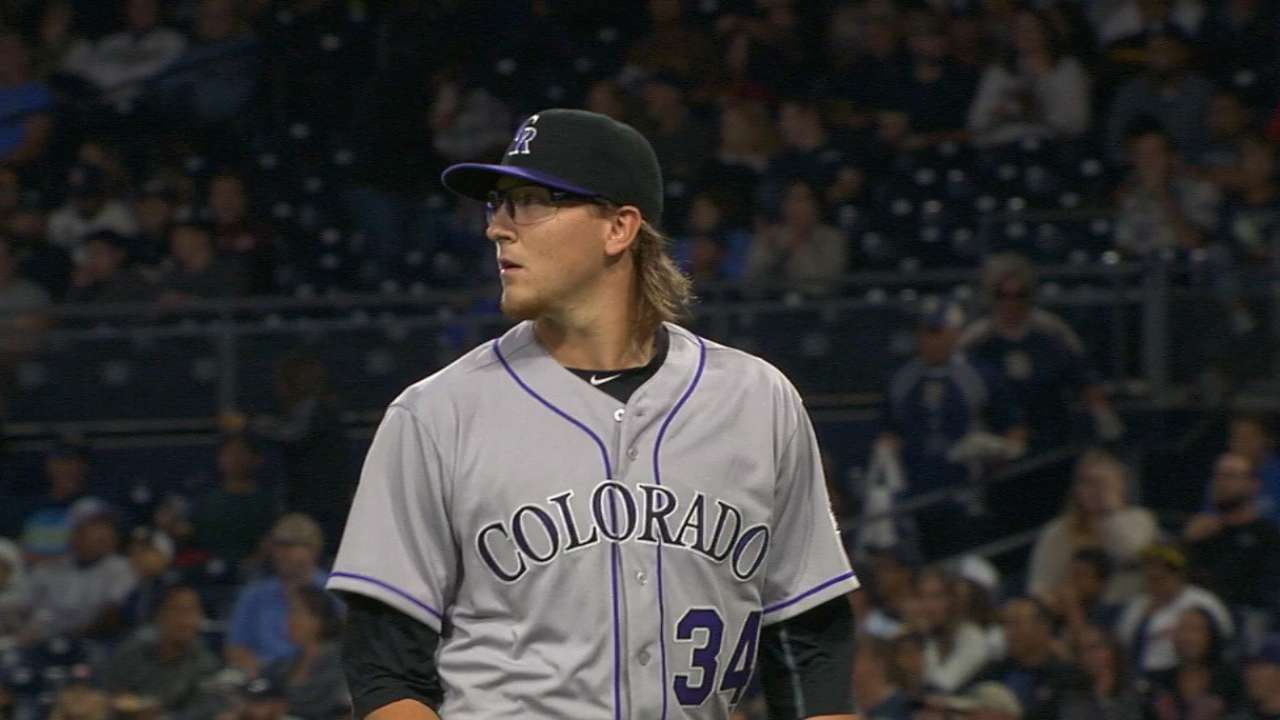 • Pint: Possessing a fastball clocked above 100 mph, Pint, 19, went 1-5 with a 5.35 ERA at Grand Junction. Afterward, he underwent much of his professional education in instructional ball and during offseason workouts at the Rockies' complex in Scottsdale.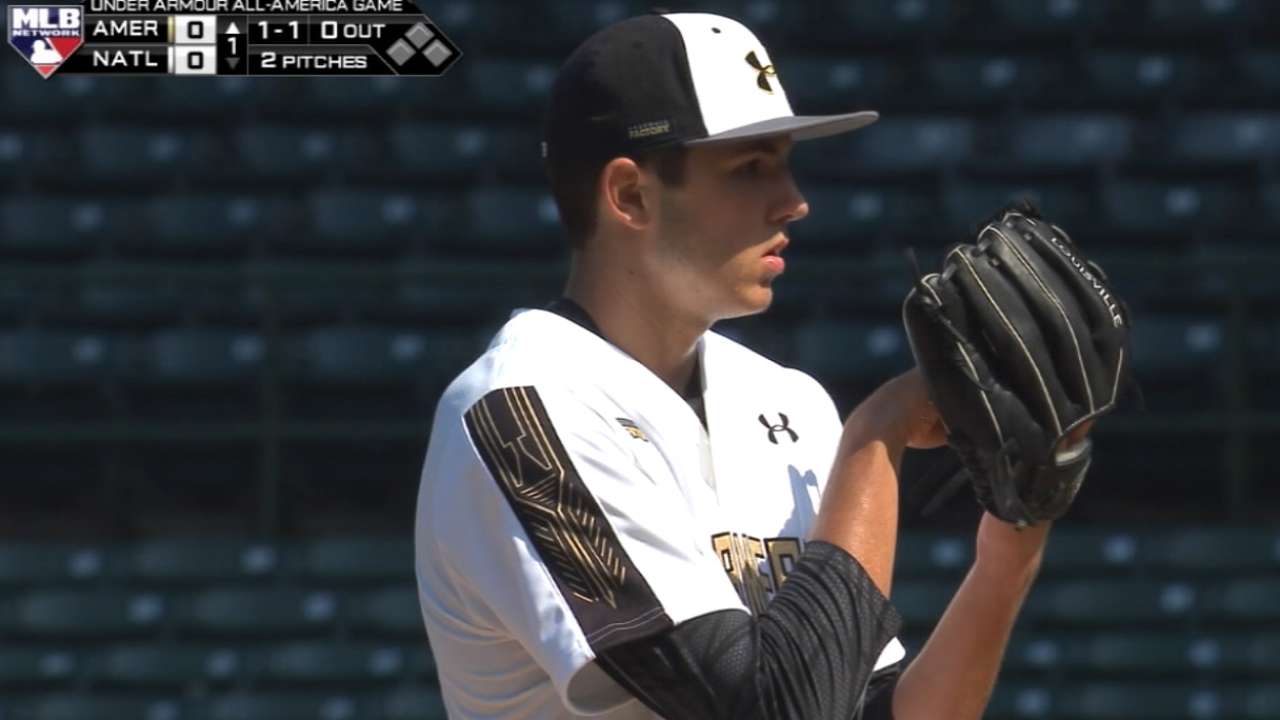 • Marquez: Obtained as part of the deal that sent outfielder Corey Dickerson to the Rays last January, Marquez earned Pitcher of the Year honors in the Double-A Eastern League and had a brief stop in Triple-A (combined 8.4 strikeouts per nine innings) before having limited Major League action last year (1-1, 5.23 ERA in six games, three starts).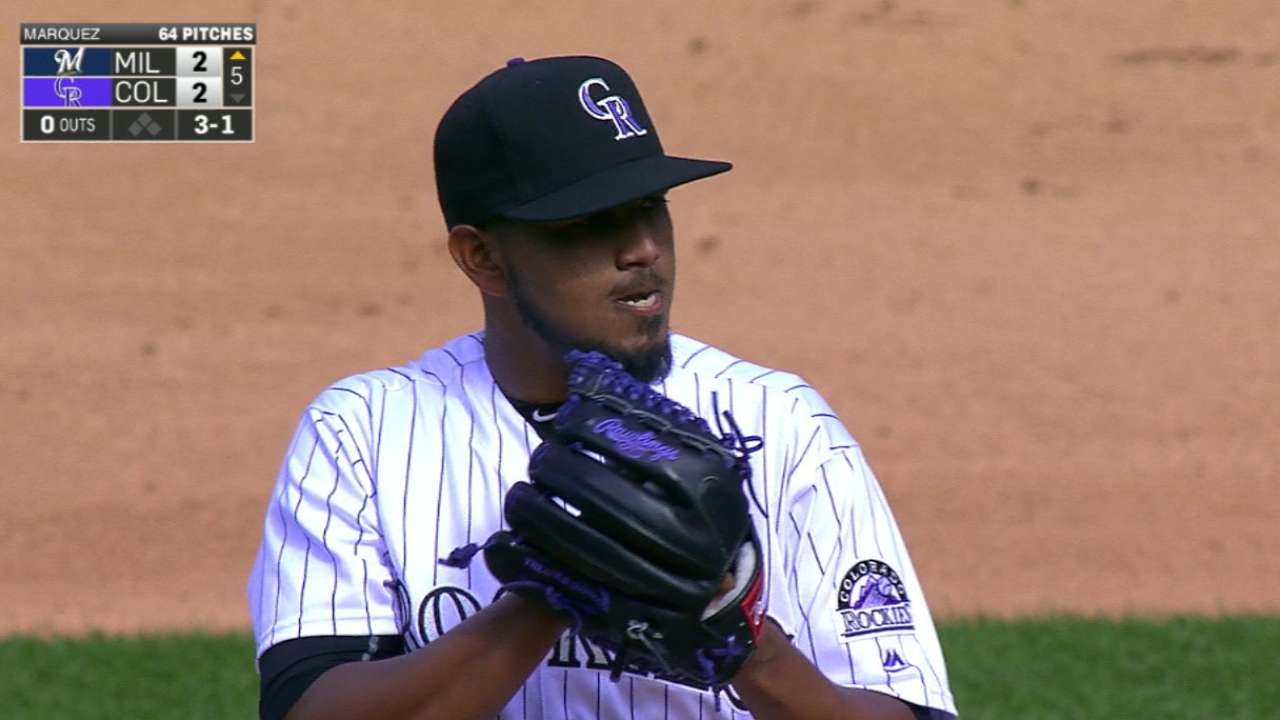 • Tapia: Tapia, who turns 23 on Feb. 4, hit a combined .323 at the Double-A and Triple-A levels. He received 22 games of Major League playing time last year, hitting .263 over 41 plate appearances.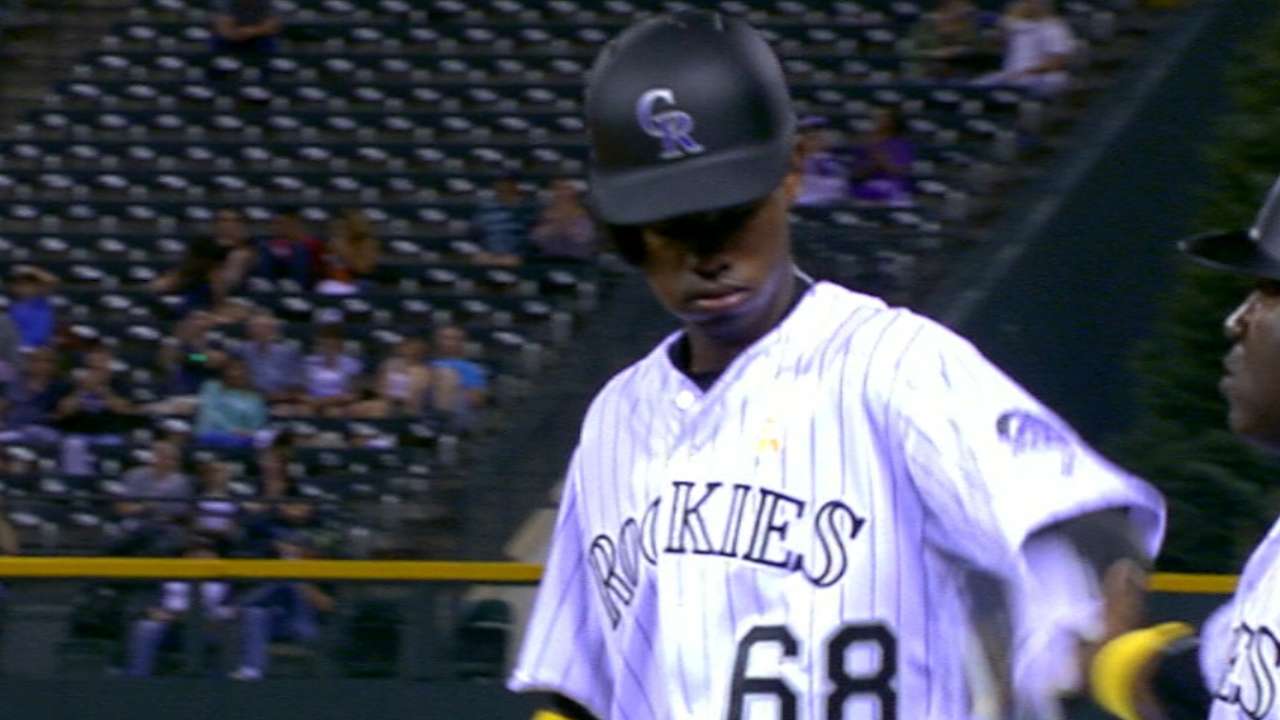 Thomas Harding has covered the Rockies since 2000, and for MLB.com since 2002. Follow him on Twitter @harding_at_mlb, listen to podcasts and like his Facebook page. This story was not subject to the approval of Major League Baseball or its clubs.