King Felix still Mariners' ace, again Opening Day starter
After down 2016, club defends Hernandez entering '17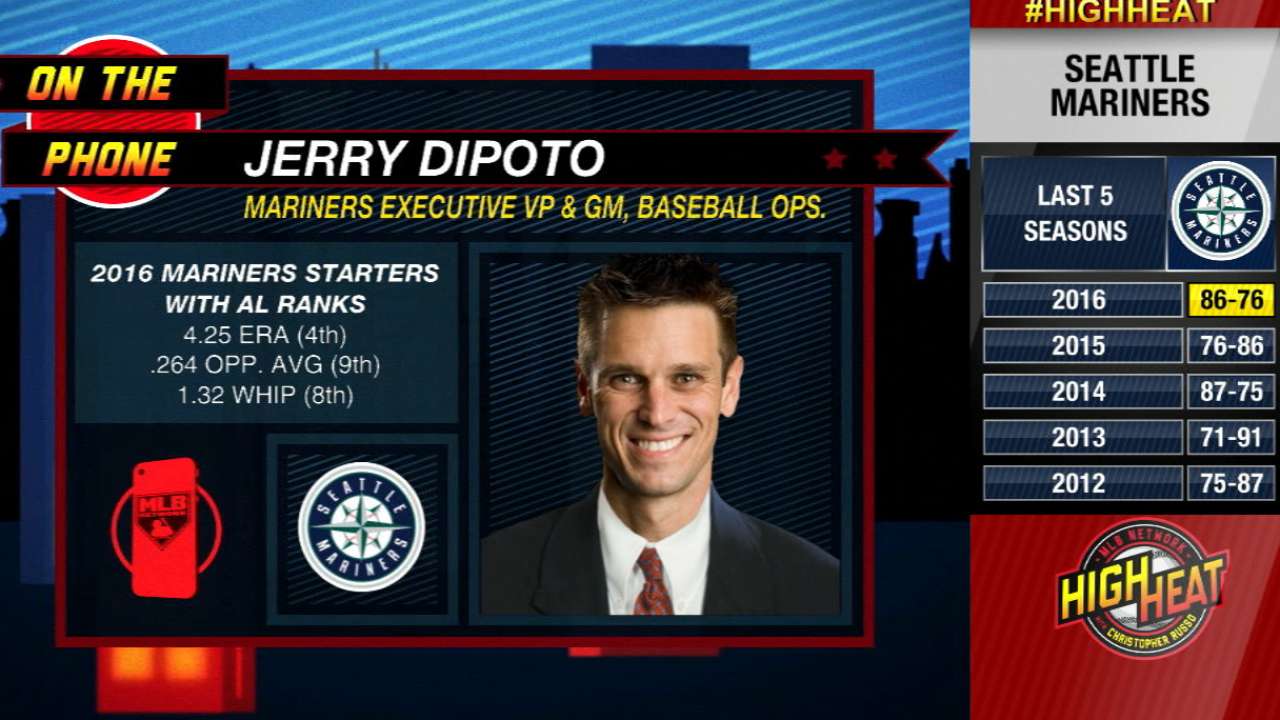 SEATTLE -- As the Mariners prepare for the start of Spring Training in just more than two weeks, general manager Jerry Dipoto and second-year skipper Scott Servais have a message they'd like to convey: The "demise" of ace pitcher Felix Hernandez, they're both quick to note, has been greatly overblown.
If the Mariners are going to contend for a playoff spot in the American League West, they'll need Hernandez leading the way atop the rotation. And despite a perception that the 30-year-old right-hander struggled mightily in 2016, and appears in decline from his days as one of baseball's elite, Dipoto believes the King is still the leader of the Mariners' pack. In fact, Servais has already proclaimed him as the club's starting pitcher for Opening Day when Seattle takes on Houston on April 3 at Minute Maid Park.
"We have to keep in mind how high the bar is for Felix Hernandez," Servais said at the Mariners' pre-Spring Training media luncheon Thursday at Safeco Field. "Felix Hernandez is still really good. He's going to be the anchor of that rotation. He will start Opening Day. He's going to be our guy.
"It may not be at the level he always was in the past, but that level was unbelievable. He's anxious to get after it. He's excited to pitch for Venezuela in the [World Baseball Classic]. I've been texting with him and he's in a good spot."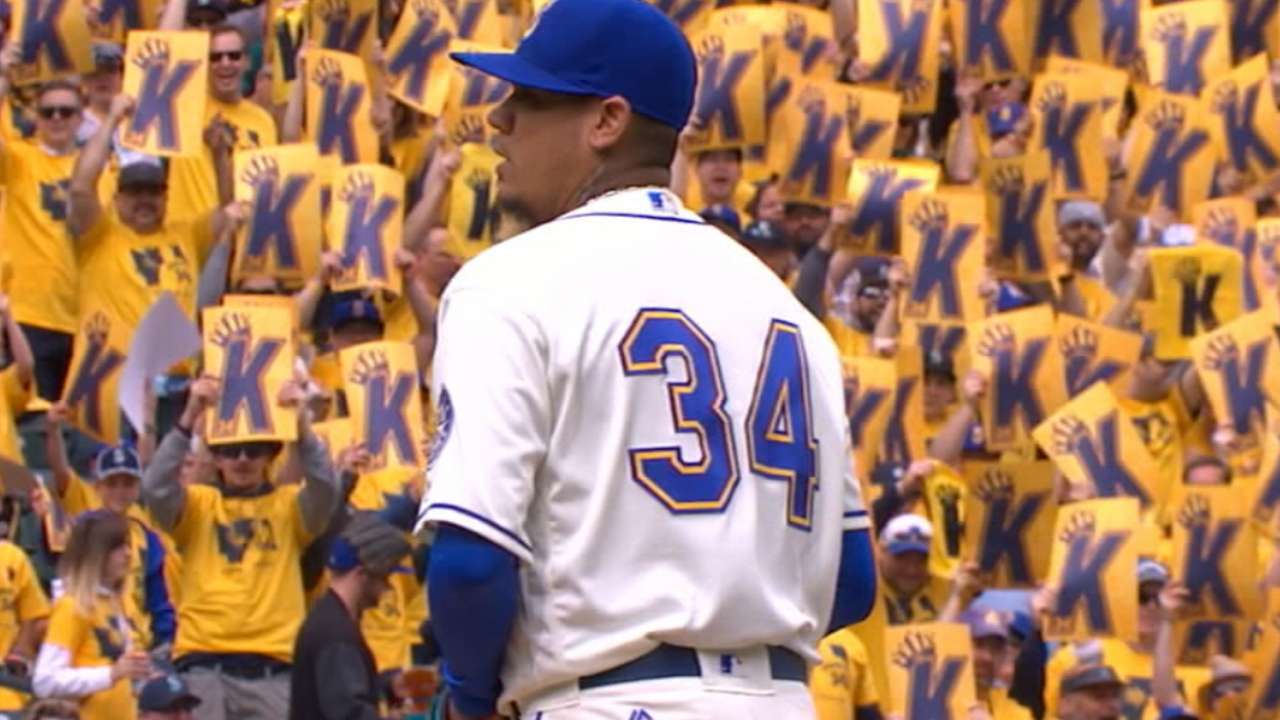 Hernandez went 11-8 with a 3.82 ERA in 25 starts last season, while missing seven weeks with a strained calf muscle. Due to the injury, his 153 1/3 innings snapped a streak of eight straight years with 200-plus frames, and 10 straight with more than 190. But even when healthy, his WHIP of 1.324 was his highest since 2008, and he had the highest walk rate and lowest strikeout rate of his career.
While Hernandez's velocity has gradually ticked down as he's gotten older, the Mariners feel he still has the stuff -- his outstanding changeup and quality curve and slider -- to be a strong No. 1 starter, as long as he maintains his fastball confidence and command.
Dipoto acquired Drew Smyly and Yovani Gallardo to fill out a rotation that also includes returners Hisashi Iwakuma and James Paxton. But he's also defending the ace who will lead that group into his ninth straight Opening Day start, and 10th overall.
"I think the idea of the demise of Felix Hernandez has been grossly exaggerated," Dipoto said. "He's still a very good Major League pitcher. He had a lower-body injury last year. There's nothing wrong with his arm. Felix Hernandez's 2016 looks very similar to Felix Hernandez's 2015, minus the innings that were lost while he sat on the sidelines with a lower-body injury.
"Felix still has dynamic secondary stuff that ranks with the best of them. He still has the ability to go out and create soft contact. He's always done that. He's been an innings horse throughout his career. My impression of the way this offseason has gone for Felix is that some of the fact that he's been questioned so heavily publicly has acted as a motivating tool to get himself ready to come pitch, and show the world he's still Felix Hernandez."
The Venezuelan native has been working this offseason with the same trainer who helped Robinson Cano get in prime shape last year after his double hernia surgery, and the Mariners are hoping that, along with his desire to get ready early to pitch for his country in the World Baseball Classic, will bring him to Arizona in top physical condition.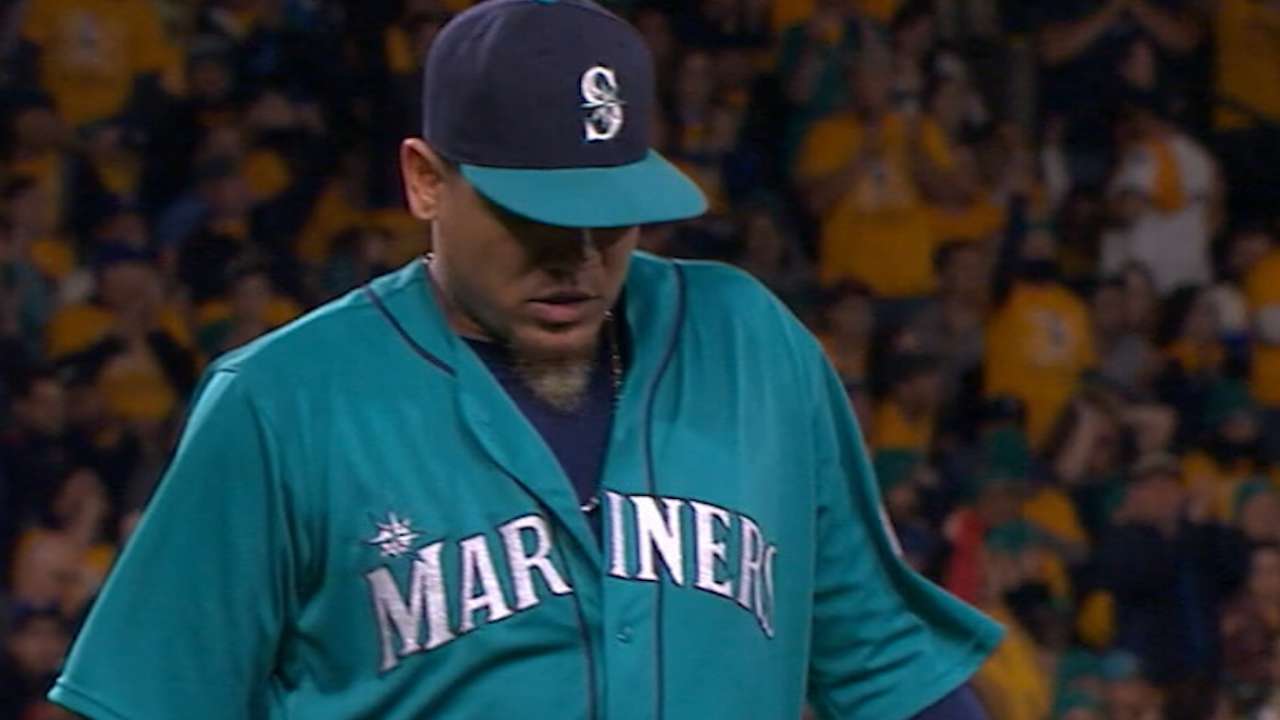 Dipoto acknowledges that Hernandez no longer is the young phenom who was throwing in the upper 90s early in his career, but that doesn't mean he's not a quality Major League starter.
"I have had the chance in my lifetime to play with great players, and manage great players in the position I'm in today," Dipoto said. "Hall of Famers, All-Stars. The barometer by which Felix Hernandez will be measured is unsustainable by anybody. This guy is one of the best pitchers of a generation and they don't remain that way forever.
"There's going to be some tick or falloff. And we're in the age of social media where when there is first a wobble, everybody wants the sky to fall. Felix Hernandez is still a very good Major League pitcher, he's still very capable of fronting a staff and we are very reliant on him to do the things he does. Nothing has changed. But we have built a group around him that we feel better allows Felix to have his days of struggle just like everybody else is allowed."
Paxton, who pitched alongside Hernandez the last few years in Seattle, had an inside look at the former Cy Young Award winner's psyche in 2016, and is eager to see how that impacts what comes next.
"I think he was very frustrated," Paxton said. "With the injury, it was very hard for him. He's a guy who has been healthy his whole career. He's had 200 innings for the last decade, every year. That was hard for him, not being on the field the whole time. I'm excited to see how he shows up for Spring Training. You get a guy like that working hard and motivated, it'll be scary to see what he can do."
Greg Johns has covered the Mariners since 1997, and for MLB.com since 2011. Follow him on Twitter @GregJohnsMLB and listen to his podcast. This story was not subject to the approval of Major League Baseball or its clubs.