V-Mart battled 'small hernia' in 2016
Now healthy, designated hitter notched 27 HRs, 86 RBIs despite discomfort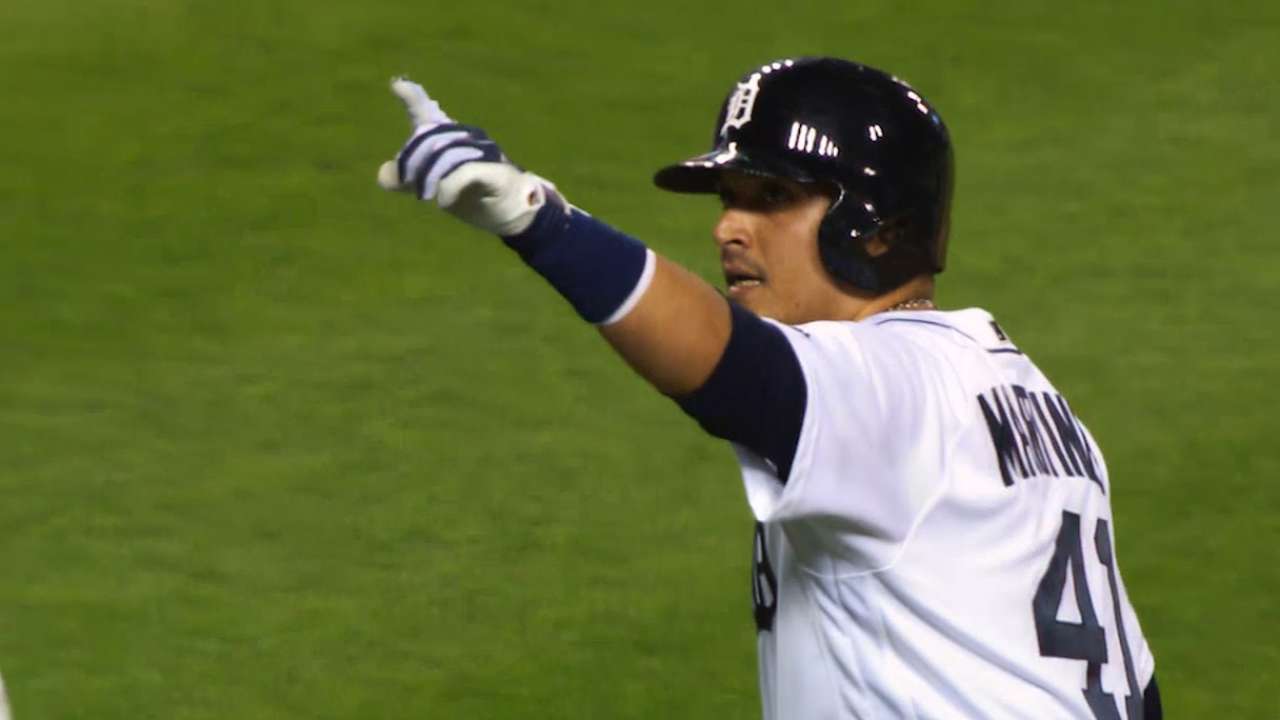 DETROIT -- The Tigers dealt with more than their usual share of injuries last year en route to barely missing a postseason berth. One of those injuries quietly afflicted designated hitter Victor Martinez.
General manager Al Avila told the media gathering at Thursday's Detroit Sports Broadcasters Association luncheon that Martinez dealt with a hernia injury that required surgery at season's end.
"He had a small hernia throughout the season," Avila said. "And I don't know if you guys noticed, but during the season, he would always touch his stomach area.
"He had a hernia -- it's not a sports-related hernia. It wasn't one of those that would keep you out. It's more of a hernia like we would get. He was able to play through it, so he had that taken care of in the offseason. Obviously, it was successful, so he went back and started working out."
Martinez's agent, Scott Pucino, also confirmed the injury. Martinez underwent surgery in October and was able to do his full offseason workouts.
The injury was not considered as severe as a sports hernia, which hampered Miguel Cabrera down the stretch in 2013.
Martinez is healthy now, according to Avila, and ready for Spring Training next month. He's also expected to represent his native Venezuela at the World Baseball Classic in March. For reasons apparently unrelated to the injury, he did not join the Tigers at this past week's Winter Caravan and TigerFest.
Martinez, who was hampered by knee injuries in 2015, bounced back in '16 at age 37 to bat .289 (160-for-553) with 27 home runs and 86 RBIs. His .826 OPS was the third-highest of his five seasons in Detroit, not counting the 2012 campaign he lost to knee surgery.
Amidst the uptick this past season, though, were signs Martinez wasn't completely healthy. He started five games at first base from May 8 to June 1, then he didn't play in the field again, limited to his usual designated hitter duties in American League parks and pinch-hitting during Interleague games at National League parks. While he regained the lower-body strength in his swing with his healthy knees, his baserunning still looked labored.
Now 38, Martinez is expected to take on a similar role for Detroit in 2017. He remains the one prominent switch-hitter in a predominantly right-handed lineup. He's under contract for this season and next at $18 million each, the back half of the four-year, $68 million contract he signed after his AL Most Valuable Player runner-up season of '14.
Jason Beck has covered the Tigers for MLB.com since 2002. Read Beck's Blog, follow him on Twitter @beckjason and listen to his podcast. This story was not subject to the approval of Major League Baseball or its clubs.