MLB.com Columnist
Tracy Ringolsby
Hall in Schuerholz's future, but also glimpse into his past
2017 electee gets private tour, takes trip down memory lane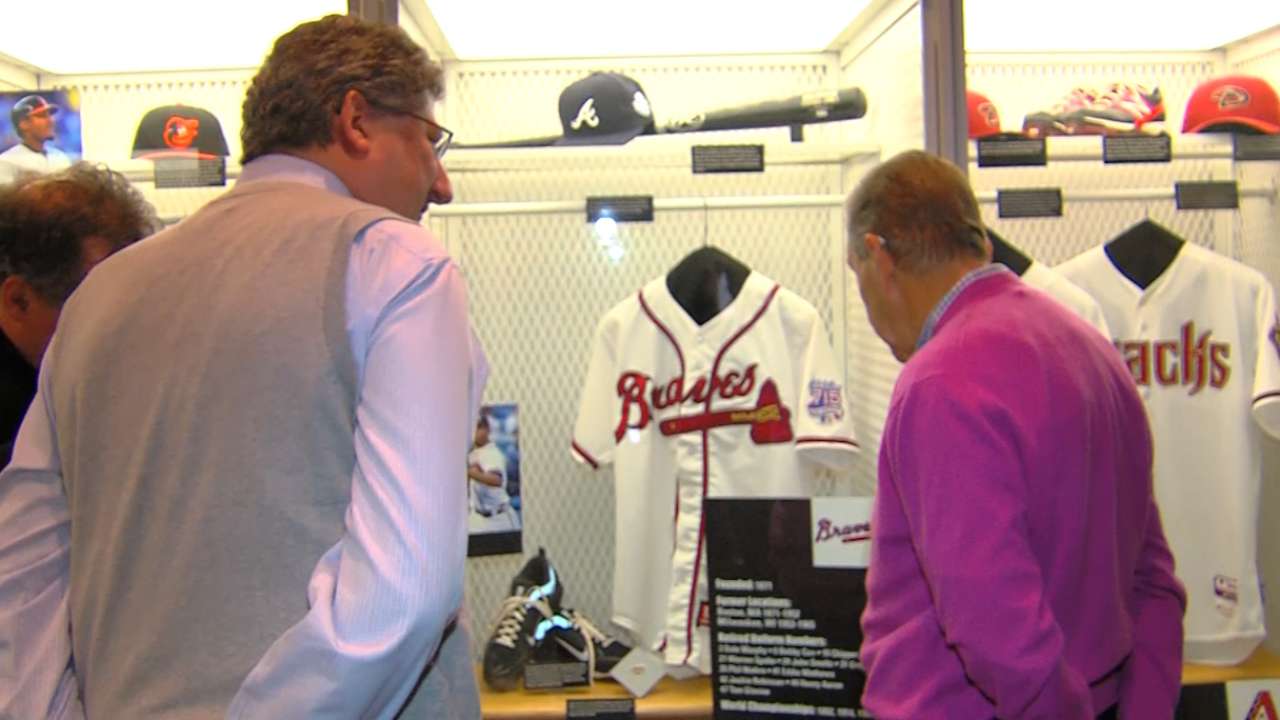 COOPERSTOWN, N.Y. -- John Schuerholz smiled when he thought back to that Saturday afternoon in July 1983. He brought his two brothers from Baltimore to attend the next day's induction of Orioles third baseman Brooks Robinson into the Hall of Fame.
"We were sitting on the dock behind the [Otesaga Hotel], overlooking [Otsego] Lake," he said, "and I told them, 'I don't know if I will get to heaven, but I believe in it. And if I do get there, I hope it looks like that.'"
Schuerholz has moved a step closer to heaven.
• Complete Hall of Fame coverage
At the age of 76 and headed into his 51st year in professional baseball, Schuerholz and his wife, Karen, were treated to a private tour of the Baseball Hall of Fame on Thursday as part of his preparation for his induction into the Hall on July 30, along with Commissioner Emeritus Bud Selig and former players Ivan Rodriguez, Tim Raines and Jeff Bagwell. Schuerholz recently stepped down as the president of the Braves to become vice chairman, serving in a more advisory role for the team.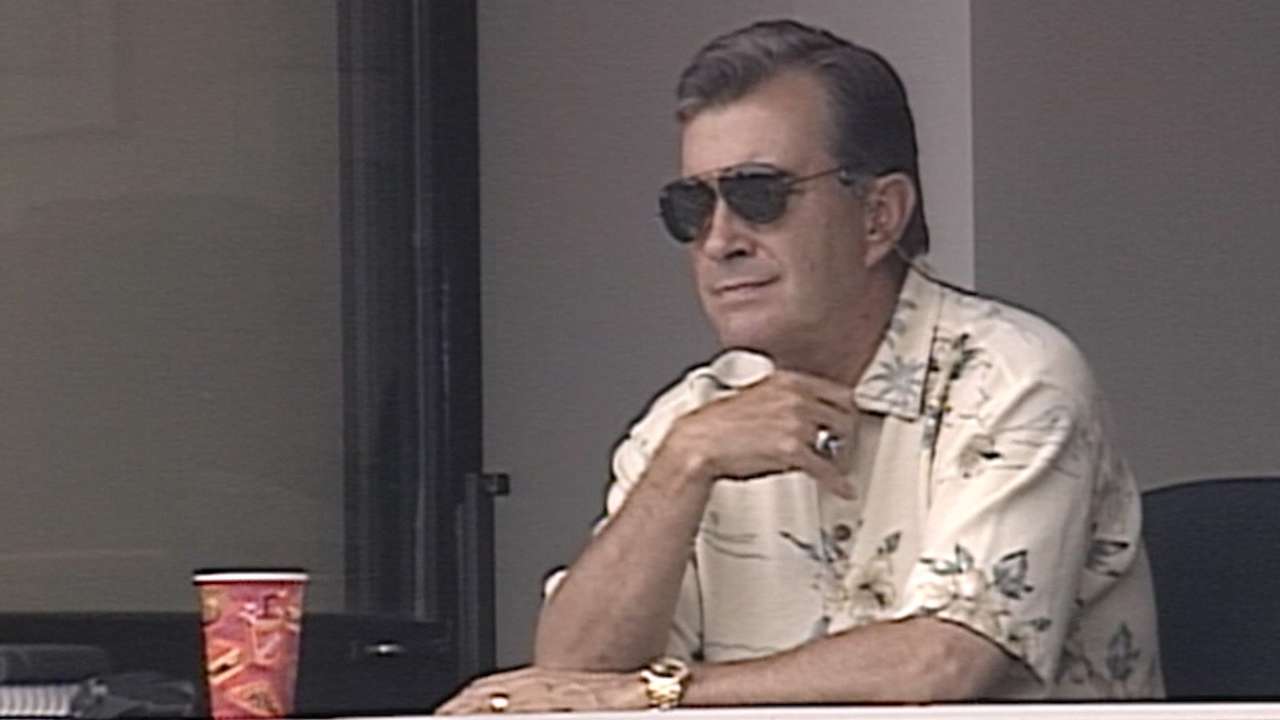 And on Thursday, Schuerholz got a chance to revisit the history of the game, including the likes of Hank Aaron, whom he has become close with over the years in Atlanta. Schuerholz then took a trip down memory lane, viewing the tributes to the men and team who he has been a part of watching succeed -- ranging from Robinson with the Orioles to George Brett with the Royals, and the likes of Greg Maddux, John Smoltz, Tom Glavine and Bobby Cox with the Braves.
Not too bad for the son of a baseball diehard who played 407 games in the Minor Leagues before suffering a career-ending injury. The next move for John Schuerholz Sr. was going to work in the payroll department of Bethlehem Steel, which offered him the opportunity to continue to play the game in an industrial league on weekends.
"He was a second baseman, and turning a double play, a guy slide into him," said Schuerholz. "It wasn't Chase Utley, but he broke his leg. My mother was pregnant with me. So it was time to move on."
The love of baseball was passed on from father to son, and there is no place like Cooperstown when it comes to have that chance to relive dreams that have been building since childhood -- particularly on a winter day, when there are only a handful of visitors.
And now look at Schuerholz, who was named on all 16 of the ballots cast by members of Today's Game Era Committee, one more than Selig, the only other non-player who will be inducted this year.
Schuerholz has come a long way from the 24-year-old Baltimore school teacher who wrote an unsolicited letter to then-Orioles owner Jerry Hoffberger in 1966 detailing why he thought he would be a good fit for the team's front office, which led to his hiring as a member of the Orioles' Minor League department.
Schuerholz made the move along with his supervisor in Baltimore, Lou Gorman, to the expansion Kansas City Royals after the 1968 season. Schuerholz spent the next 22 years as a part of the management team that built the Royals into a franchise that advanced to the postseason seven times in a 10-year stretch, capped off by winning the 1985 World Series in seven games against the Cardinals.
Schuerholz left the Royals to become the general manager of the Braves following the 1990 season, and an historic stretch of success ensued. The Braves set a professional sports franchise record with 14 consecutive first-place finishes, which included winning the 1995 World Series.
"My biggest disappointment is that when people talk about that team, they always say, 'But it only won one world championship,'" Schuerholz said.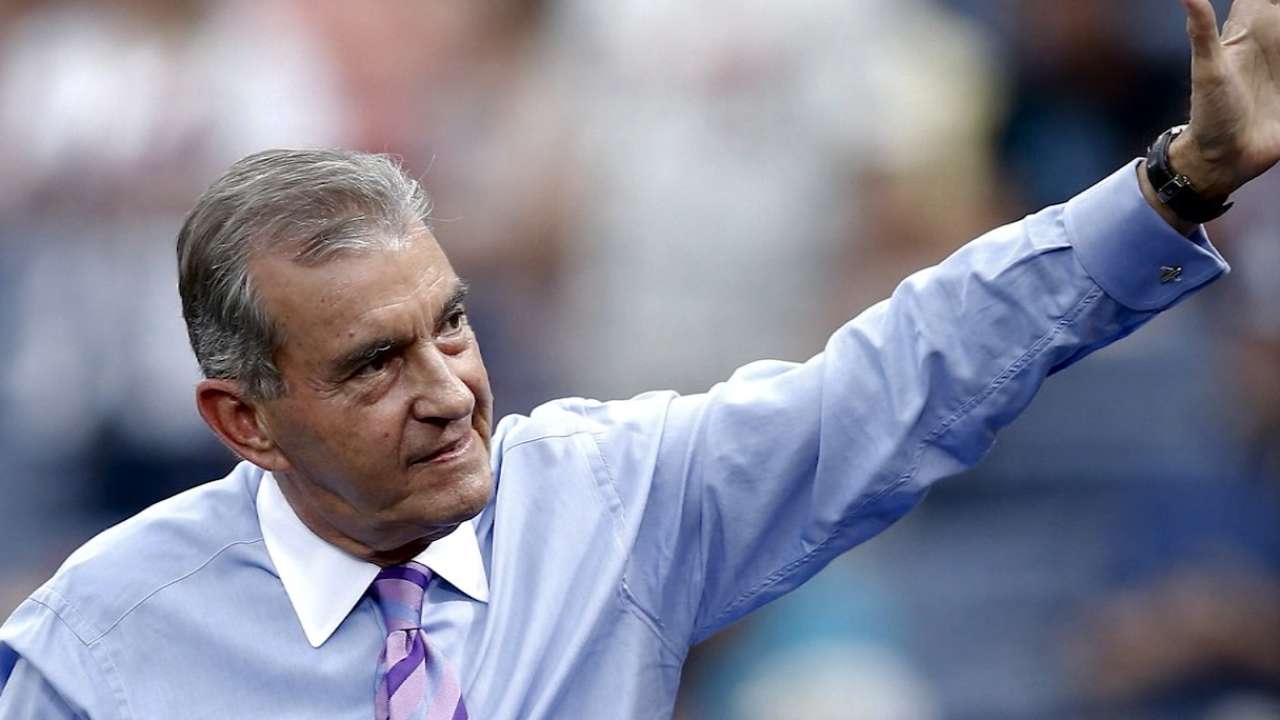 The good times, however, easily outweigh the bad for a man who oversaw a Braves franchise that averaged 10 new players each year during its run of 14 division titles. And who, in his time in Kansas City, was not only witness to the drafting and development of Brett, but also the signing of Bo Jackson after the Royals, prompted by scout Ken Gonzalez, made him a fourth-round pick in the 1986 Draft.
"He is the strongest player I have seen in Major League Baseball," said Schuerholz. "He had the best throwing arm I have ever seen. We had artificial turf at Royals Stadium, and [batting] right-handed I saw him hit a two-hopper to the second baseman and beat the throw to first. Bo was two steps past the bag. If he had stayed in baseball, he would have been [in the Hall of Fame]."
It was, Schuerholz admits, good fortune that the Royals got that chance to sign Jackson, just like it was that he was able to sign free-agent pitcher Maddux with the Braves.
In December 1992, the Braves came up short in their efforts to sign Barry Bonds, and turned their attention to Maddux, who has just been in New York to meet with the Yankees. The Braves offered less money, but Maddux signed with them anyway, joining Glavine and Smoltz to provide the strong-armed basis for the bulk of that run of division championships.
"He said, 'I like how you are going about it,'" said Schuerholz. "He liked that we were building through our farm system, and we signed him. It is amazing to me that I was part and parcel and involved in the middle of these events. I lived my life through these people. They contributed to whatever success I had in my career."
And whatever success that is was enough to allow Schuerholz to get another step closer to heaven, when he is officially enshrined into the Baseball Hall of Fame this summer.
Tracy Ringolsby is a columnist for MLB.com. This story was not subject to the approval of Major League Baseball or its clubs.