Brewers to fete '82 Crew for 35th anniversary
Yount among members of AL championship squad expected to attend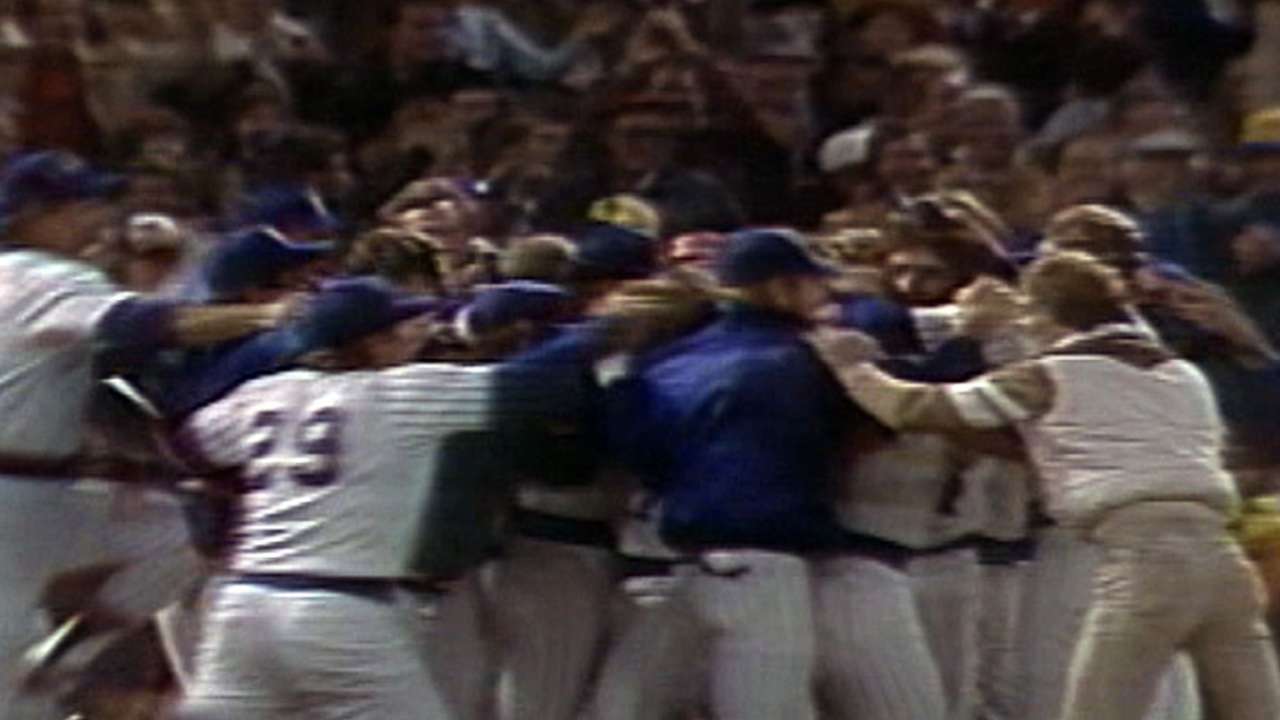 Robin Yount, Gorman Thomas, Cecil Cooper and Ben Oglivie will be back in Milwaukee on July 14-16, when the Brewers celebrate the 35th anniversary of the 1982 American League championship team, including a reunion of the players on field prior to the July 15 game against the Phillies.
The current Brewers will wear the 1982 home uniforms all three games of the series, and the Phillies also will wear powder blue throwback uniforms from that season.
The first 20,000 fans in attendance for the Brewers' 7:10 p.m. CT game on July 14 will receive a "Free Shirt Friday" replica Paul Molitor jersey. The jersey will resemble the 1982 powder blue uniforms that the Crew wore.
On July 15, coaches, players and staff from the 1982 team will reunite in an on-field pregame ceremony. Besides Yount, Thomas, Cooper and Oglivie, others scheduled to attend include Jerry Augustine, Mark Brouhard, Mike Caldwell, Jamie Easterly, Jim Gantner, Larry Haney, Moose Haas, Larry Hisle, Pete Ladd, Don "Doc" Medich, Charlie Moore, Rob Picciolo, Ed Romero, Allan H. "Bud" Selig, Jim Slaton and Pete Vuckovich.
In addition, family members who represent Harvey Kuenn, plus members of the front office staff will be on hand. Additional attendees may be added.
Members of the '82 team will hold a 45-minute autograph session for ticketed fans prior to the July 15 game.
To cap off the weekend, all fans who are at Miller Park for the July 16, 1:10 p.m. CT contest will receive a 1982 American League championship replica ring.
Carrie Muskat has written for MLB.com since 2001. She writes a blog, Muskat Ramblings. You can follow her on Twitter @CarrieMuskat and listen to her podcast. This story was not subject to the approval of Major League Baseball or its clubs.