Roberts: Dodgers will be 'even better' in 2017
Addition of Forsythe, young players entering prime have manager optimistic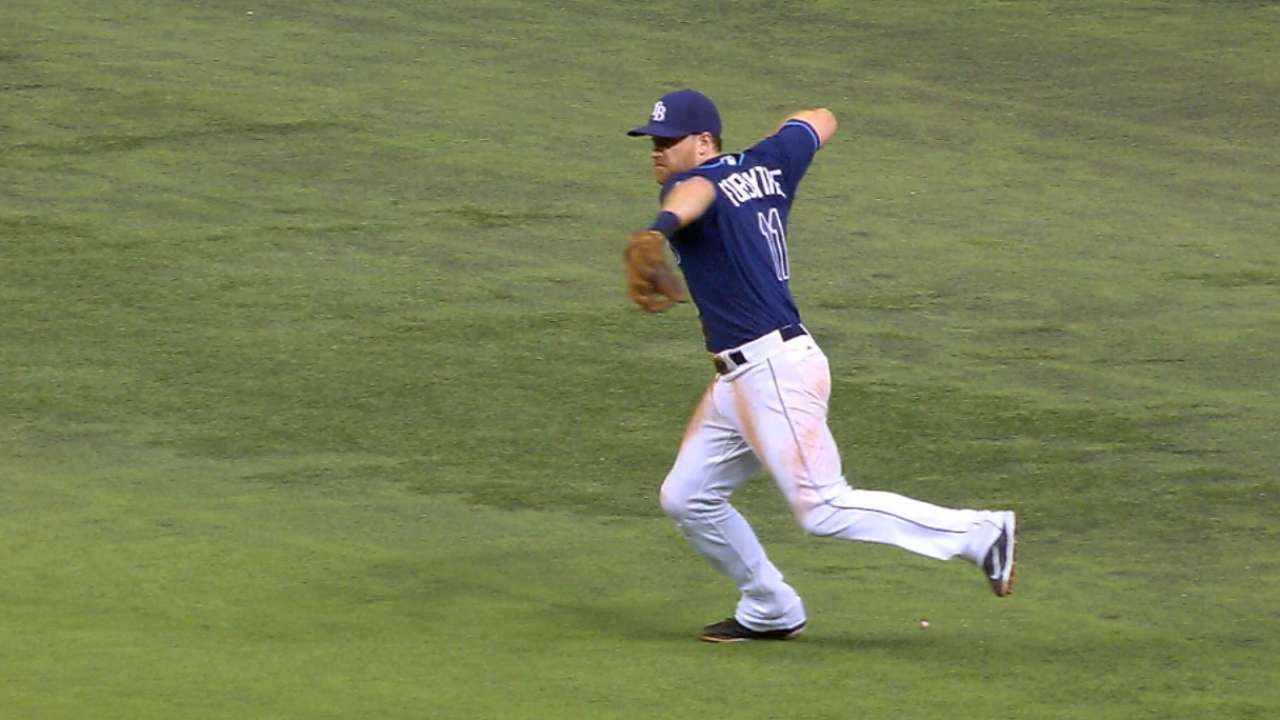 LOS ANGELES -- National League Manager of the Year Dave Roberts, after being honored Wednesday by the Los Angeles City Council for his leadership, said that with the Monday acquisition of second baseman Logan Forsythe and a healthy roster, the 2017 Dodgers should be better than the version that finished 2016.
"I think the continuity we have going into '17 -- with the hope of better health, with a full year of Rich Hill, the transition of Kenta Maeda -- there's a lot of variables that point to us being even better," Roberts said after a City Hall appearance as part of the "Dodgers Love L.A." week in the community.
"Everyone outside of Adrian [Gonzalez] -- who is as consistent as ever -- is trending toward their prime. Yasmani [Grandal], Joc [Pederson], Corey [Seager], Kenley [Jansen] -- all trending in the right direction. I don't see why these guys can't get better."
Roberts said Forsythe, the major offseason acquisition, will likely bat leadoff, as well as satisfying the club's need for a right-handed-hitting second baseman. Roberts, who coached him in San Diego, praised Forsythe for having the "certain type of similar DNA" to Chase Utley, whom he replaces at the position.
"He fits us to a T," said Roberts. "I see him at the top of the lineup. Throughout his career he's found the ability to get on base. [Followed by] Corey, J.T. [Justin Turner], Gonzo [in the batting order], and we'll figure out the rest -- it makes sense. He gives us quality versus right- and left-[handed pitching]. He adds to the continuity of the lineup, and if there's a right-handed killer [opposing starter] and it might not make that much sense, Logan will be on board."
Roberts said the long Spring Training caused by the World Baseball Classic will provide sufficient at-bats for "an intense competition" in the outfield. Ideally, he said, the play of a leaner Yasiel Puig and Pederson deserves everyday status. But he also said Andrew Toles will get a long look, and he hasn't ruled out Andre Ethier (fractured leg), Trayce Thompson (fractured vertebrae), Scott Van Slyke (wrist surgery) or Kiké Hernandez returning to form.
"I think Toles, the way he played in September, is deserving of more opportunities, and we'll see how [Ethier] bounces back and get him opportunities as well," he said. "If Yasiel is getting 600 at-bats, it means he's playing well and then the Dodgers are in a pretty good place. I want to get Joc more opportunities against left-handed pitching. With Yasiel in the lineup more, it's better for the Dodgers, and the same can be said for Joc."
Thompson said he hopes to be in spring games by March 1. Roberts said Ethier's leg is completely healed and won't prevent him from playing defense, as it did when he returned in September.
"From what I understand, 'Dre is 100 percent to go and there won't be any treatment," Roberts said. "We know Andre's pedigree. It's not like he has to prove anything."
Roberts said that even though Julio Urias is "one of the five best starters in the organization," the 20-year-old's innings will still be limited. One option is for Urias to open the season at extended spring training; another is for him to skip multiple starts during the year.
Ken Gurnick has covered the Dodgers since 1989, and for MLB.com since 2001. This story was not subject to the approval of Major League Baseball or its clubs.