Brantley's swing 'encouraging' to Quatraro
Assistant hitting coach gets look at left fielder hitting off tee during voluntary minicamp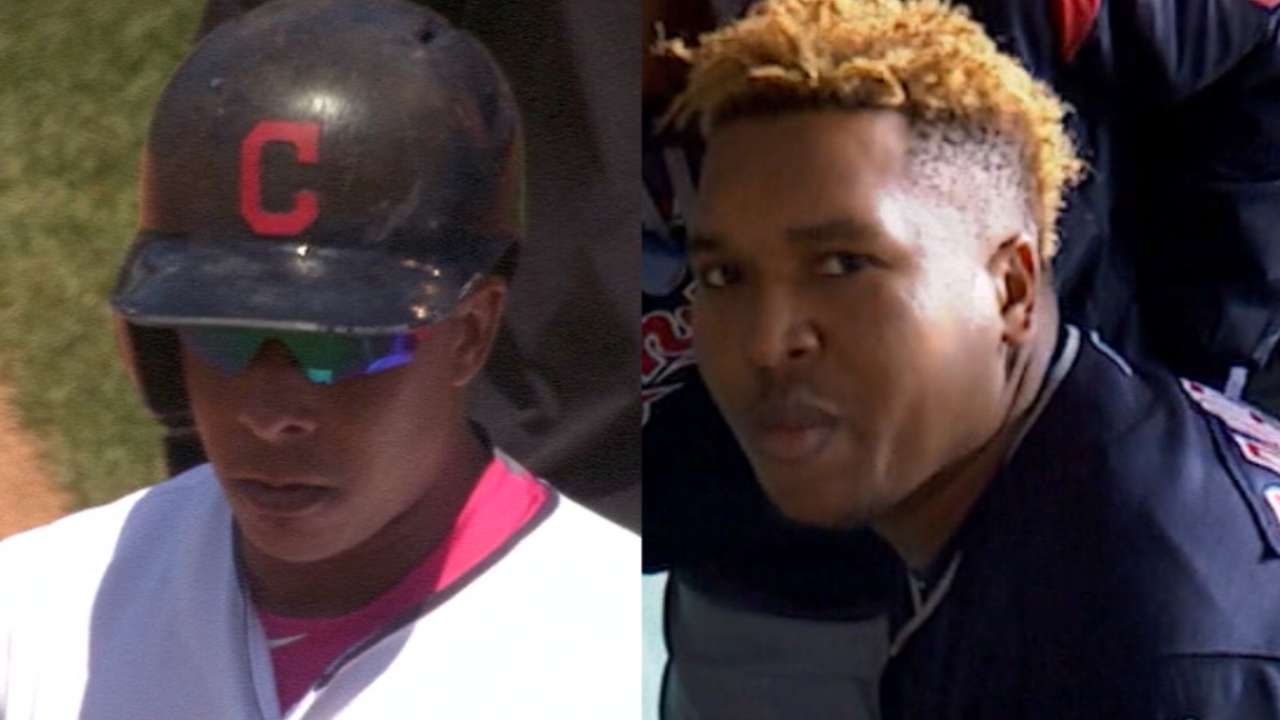 CLEVELAND -- This is the time of year when hitting coaches begin to get the itch. They are eager to get back into the batting cage to look at how their hitters' swings have held up through the winter months and to get to work on any adjustments for the season ahead.
On Wednesday morning, Indians assistant hitting coach Matt Quatraro got to scratch that itch roughly two weeks before he is scheduled to travel to Goodyear, Ariz., for Spring Training. Quatraro stepped into the hitting tunnel in Cleveland with some of the Tribe's hitters, including Michael Brantley, who is working his way back from August surgery on his right biceps.
"He hit this morning," Quatraro said. "That was good to see. The ball was coming off the bat good. I mean, he's still going through the progression that the trainers have laid out. It's not [batting practice] or anything yet. It's just off the tee, but it was really encouraging to see."
The players who are already in town ahead of Saturday's Tribe Fest -- 22 Major Leaguers are tentatively scheduled to attend -- planned a voluntary two-day minicamp for Wednesday and Thursday. They gathered at the Cleveland Browns' training facility and went through a workout Wednesday morning. Media was not permitted to attend, but the Indians posted videos of players (including Brantley) throwing, running and doing other drills on social media.
Dr. Smooth and @Yan_AGomes!

Thanks for hosting, @Browns! pic.twitter.com/k0UTLyRpwe

— Cleveland Indians (@Indians) January 25, 2017
Reporters are scheduled to meet with players in an interview session Friday afternoon.
In a phone interview Wednesday, Quatraro expressed optimism over what he saw in Brantley's light swings earlier in the day. There are still a lot of hurdles remaining for Brantley, who underwent right biceps tenodesis surgery on Aug. 15, but the star left fielder appears to be on track for a relatively normal Spring Training. All that really is clear right now is that Brantley is ahead of last year's comeback.
One year ago, Brantley was recovering from a November operation on his right shoulder. He did not begin non-contact swings until Feb. 17, and he was not cleared to hit off a tee until around Feb. 21. This time around, Brantley's tee work resumed roughly one month ahead of last year's timetable. Earlier this month, Indians team president Chris Antonetti said Brantley's hitting schedule will be based on how the outfielder responds each day.
"We're working through his tolerance," Antonetti said. "He's continuing to progress. As each day goes by, we'll hopefully continue to get more and more information and continue to see him make more progress."
Last spring, soft-toss drills were added by March 2, and Brantley appeared in his first game (a Minor League intrasquad contest) on March 17. After three games in a five-day span, he was shut down again, beginning a start-and-stall cycle that lasted for most of the season. Brantley appeared in only 11 games last year for Cleveland, consulted multiple specialists to find the root of the discomfort in his arm and eventually had the biceps operation.
The Tribe is hoping to avoid a similar scenario this time around.
"Absolutely," Quatraro said. "Last year, I think it was wishful thinking that he was going to be ready to go. This year, I think it's more that [the medical staff and trainers] believe he'll be ready to go, because of how many steps they had to go through to find out what the actual problem was. Now, diagnosing it and thinking that they have it remedied, I think they're way more optimistic. I shouldn't be speaking for them as a medical staff, but it seems that way.
"Just the thought that we could add him, it's like picking up another All-Star free agent."
Over the 2014-15 seasons, Brantley hit a combined .319 with an .876 OPS, 35 homers, 90 doubles, 162 runs, 181 RBIs, 364 hits and more walks (112) than strikeouts (107). He finished third in American League Most Valuable Player Award voting in '14, and he also picked up an AL Silver Slugger Award that year, emerging as one of the top left fielders in the game. Brantley then sustained a shoulder injury on an ill-fated diving catch attempt on Sept. 22, 2015, in Minnesota.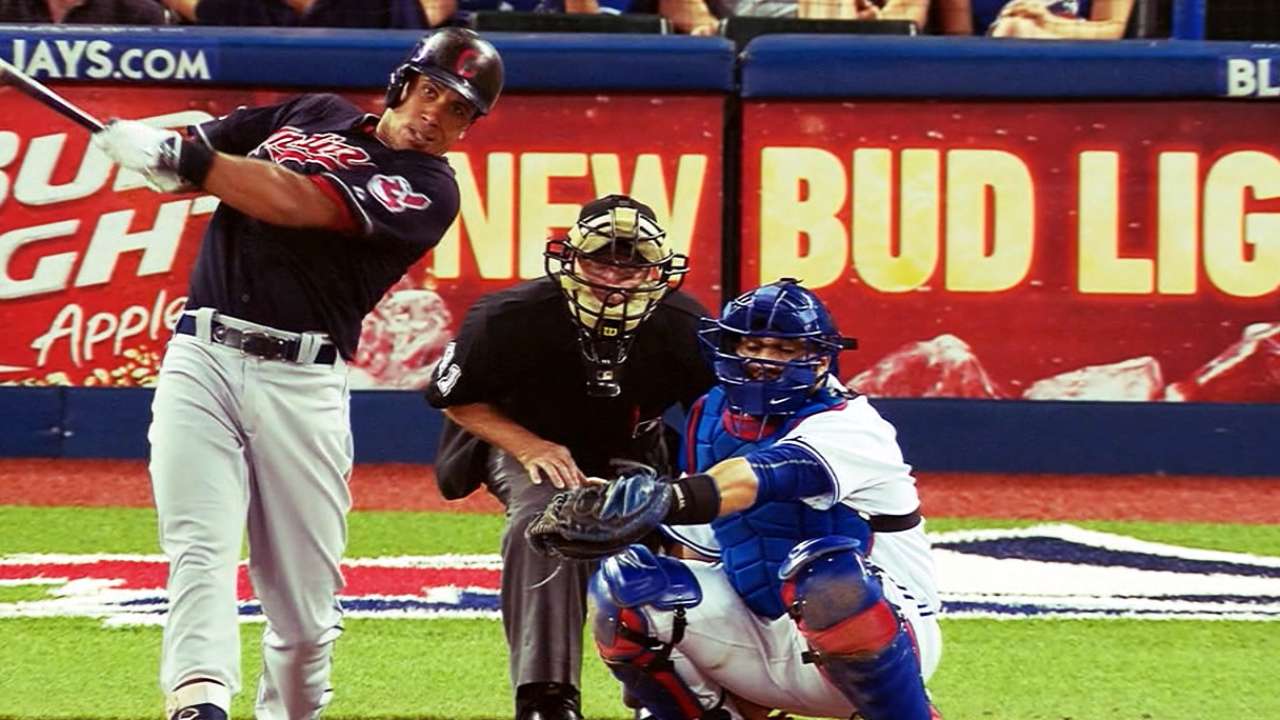 The main issue for Brantley last year was re-experiencing discomfort in his right shoulder area after playing multiple games in a row. The left fielder would get through the early stages of a hitting progression with no issues, but the transition to live games led to problems with the finish of his swing.
Indians hitting coach Ty Van Burkleo is heading out to Goodyear, Ariz., at the end of this month to begin working with hitters who report to camp early. Like Quatraro was able to do Wednesday morning, Van Burkleo said he is excited to step back into the batting cage to get a close look at how Brantley's swing looks heading into the preseason.
"I really am," Van Burkleo said. "I'm just keeping my fingers crossed that everything goes well and he doesn't have any setbacks, because that's a pretty good lineup if you throw him in there, too. That's pretty deep. I've heard that he's doing well and getting strong and should be fine."
Jordan Bastian has covered the Indians for MLB.com since 2011, and previously covered the Blue Jays from 2006-10. Read his blog, Major League Bastian, follow him on Twitter @MLBastian and listen to his podcast. This story was not subject to the approval of Major League Baseball or its clubs.