Sano swats three of Twins' hardest-hit HRs
Park makes Statcast list twice, while Dozier misses cut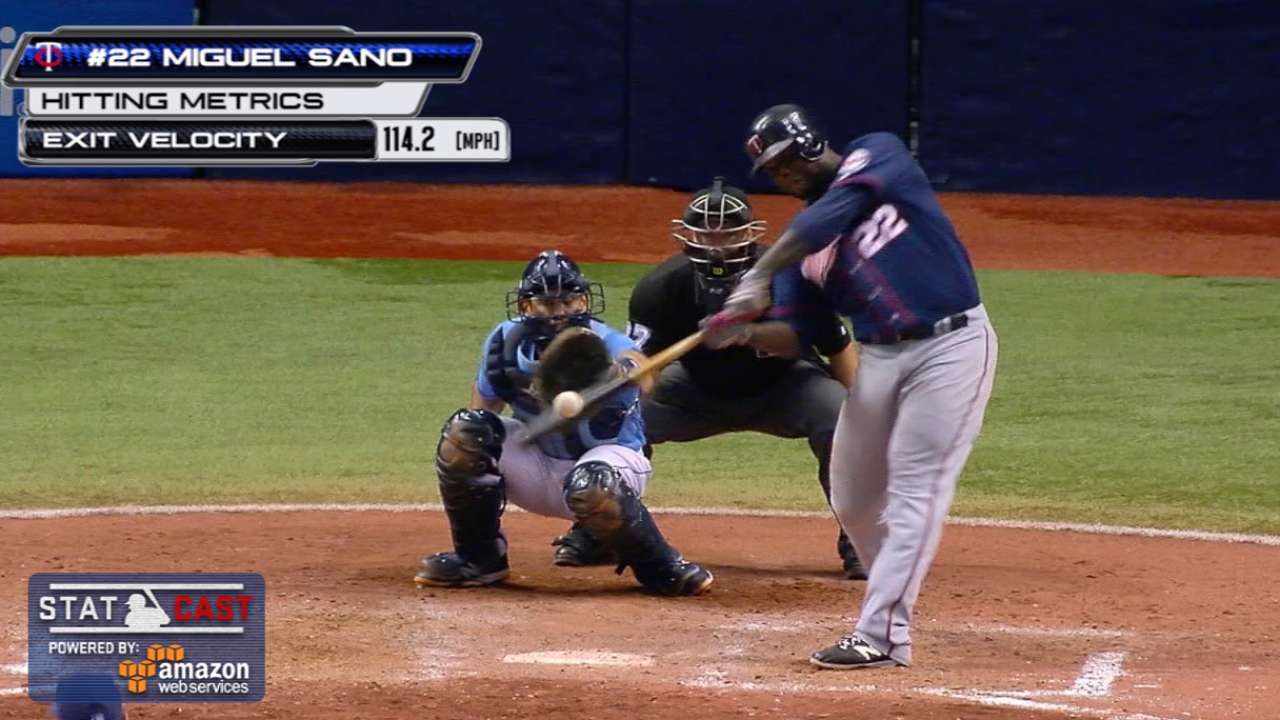 MINNEAPOLIS -- Power wasn't the Twins' issue in 2016, as they smacked 200 homers, reaching that mark for just the third time in franchise history and for the first time since 1964.
Their 200 homers ranked as the 12th-most in the Majors, but with the power of Statcast™, it's possible to dig even deeper and analyze just how hard each of those 200 home runs were hit. Their homers averaged leaving the bat at 102.8 mph, which ranked as the 23rd-best mark in baseball, with the average exit velocity in the Majors at 103.4 mph.
Brian Dozier, who led the team with 42 homers to account for exactly 21 percent of the club's total, wasn't one for crushing homers, as his average exit velocity was 102.4 mph with his hardest coming in at 107.4 mph.
Instead, it was the big boppers such as Miguel Sano and Byungho Park who hit the ball hardest for the Twins in 2016. Of Minnesota's 11 hardest-hit homers in 2016, Sano (six) and Park (three) accounted for nine of those with Oswaldo Arcia and Max Kepler accounting for the other two.
Sano is obviously ahead of Park as a Major League hitter, but both need to cut down on their strikeouts and continue to make adjustments at the plate. But when they connect on homers, it's often no-doubters. Here's a look at the five-hardest hit homers by the Twins by exit velocity last season with Sano and Park accounting for all five:
5. 111.5 mph, Sano vs. Seattle, May 27
This one is impressive considering who it came against, as Sano absolutely crushed a hanging 2-1 slider from Mariners ace Felix Hernandez deep into left-center field for a solo shot at Safeco Field. It had a projected distance of 414 feet, as it was hurt by a high launch angle of 32 degrees. For context, the average launch angle on homers last year was 28.1 degrees.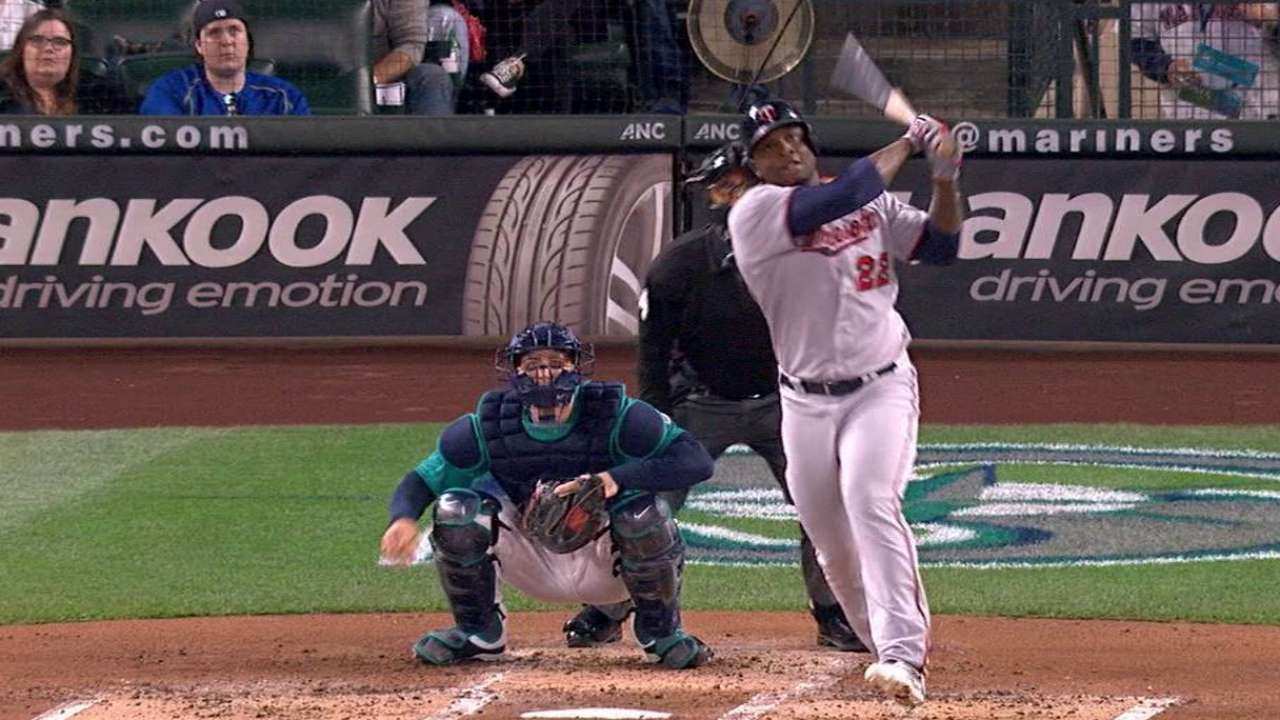 4. 111.6 mph, Park vs. Detroit, April 30
Park started to get into a groove in late April and early May before inconsistencies and a hand injury that ultimately required surgery derailed his season. His sixth and final homer of April was a laser to left-center on a hanging 1-2 slider from Tigers right-hander Jordan Zimmermann. It went a projected 435 feet, which was Park's fourth-longest of the year.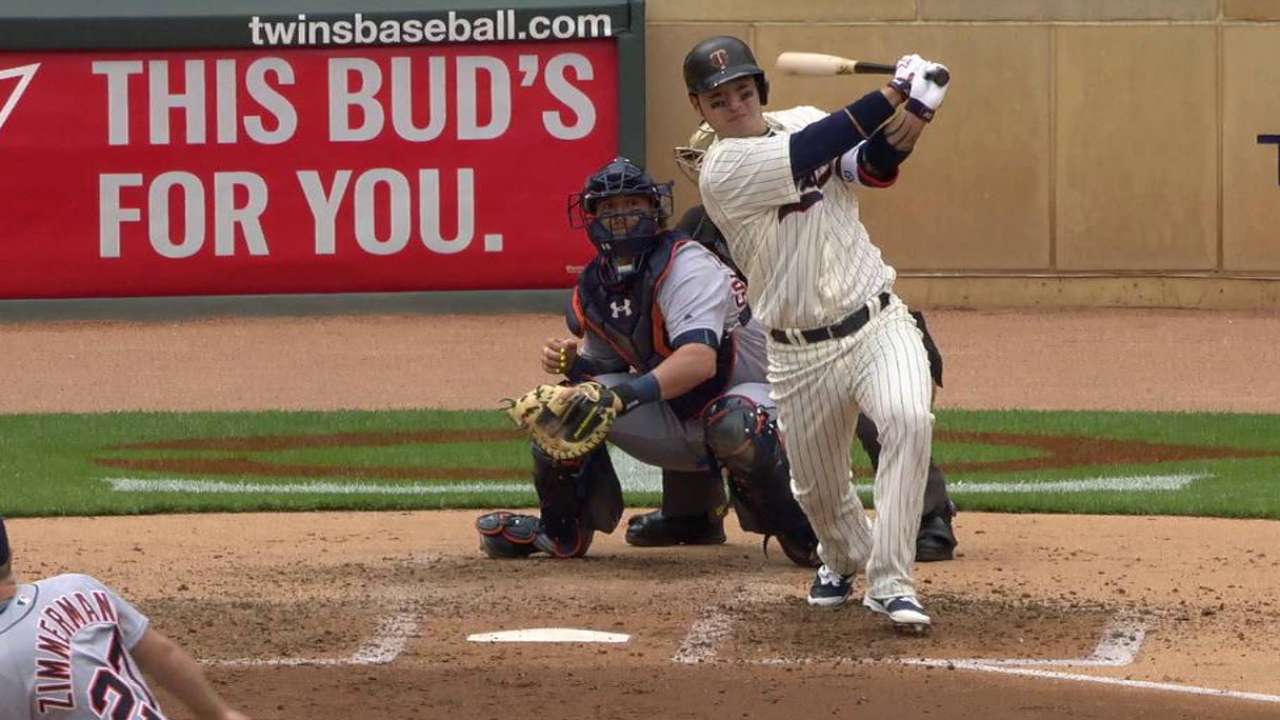 3. 111.9 mph, Sano vs. Kansas City, May 25
Sano blasted a 1-0 cutter from Royals right-hander Dillon Gee for an upper-deck homer that nearly reached the third level at Target Field. It went a projected 439 feet, which was his second-farthest of the season.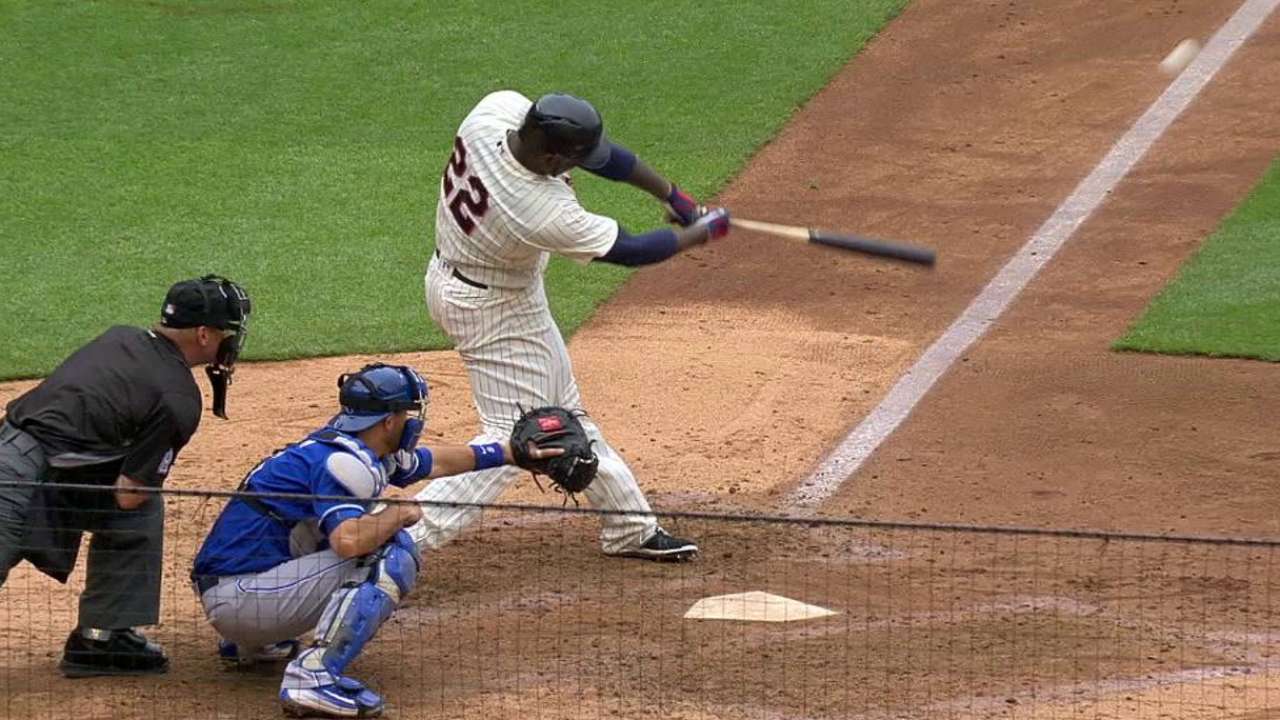 2. 112.1 mph, Park vs. Cleveland, May 13
Park's best game with the Twins came against the Indians on May 13, when he homered twice off right-hander Josh Tomlin after previously taking him deep on April 27. His first homer of the game was the most impressive, depositing an 0-1 fastball halfway up the bleachers in left. It traveled a projected 458 feet, which was the second-longest of the year for the Twins behind Sano's 464-foot blast, which coincidentally also came off Tomlin the previous inning.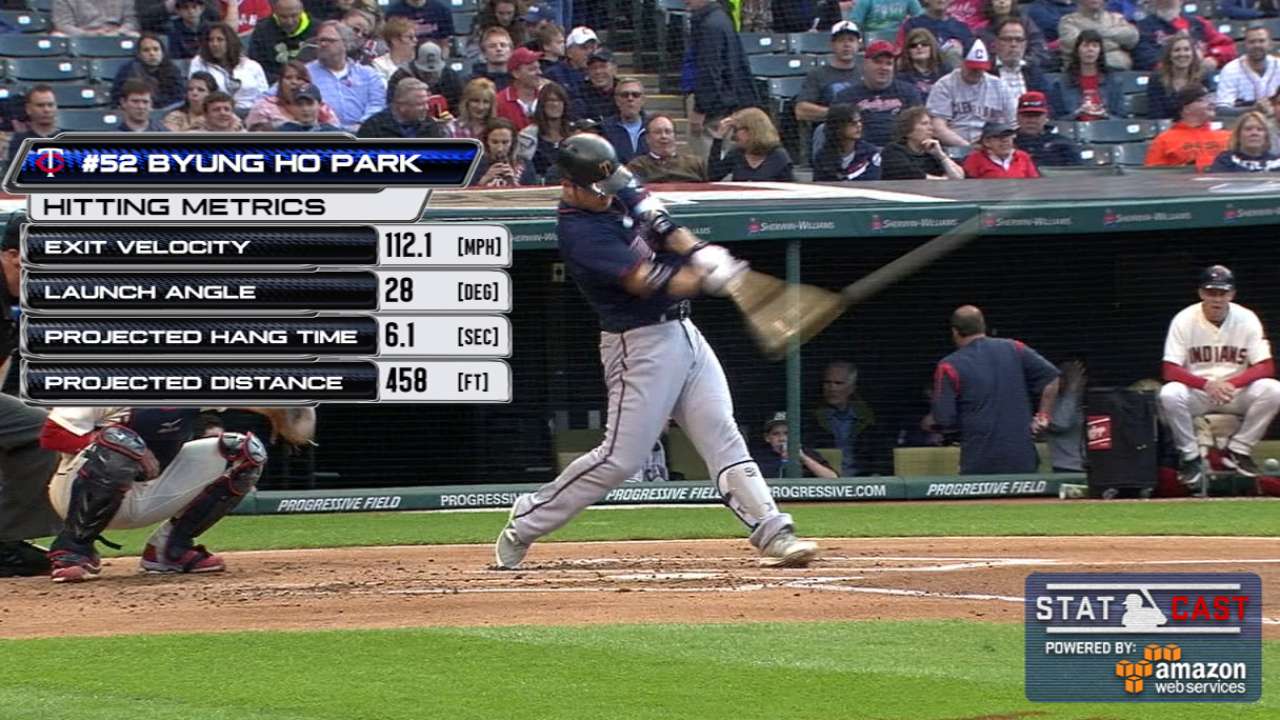 1. 114.2 mph, Sano vs. Tampa Bay, Aug. 7
Sano's homer on a 3-1 fastball from Rays right-hander Ryan Garton seemingly left Tropicana Field in less than a second. It was absolutely scorched, going a projected 419 feet because it was hit at a low launch angle of 20.5 degrees. It was the 21st-hardest hit homer by any player in the Majors last year.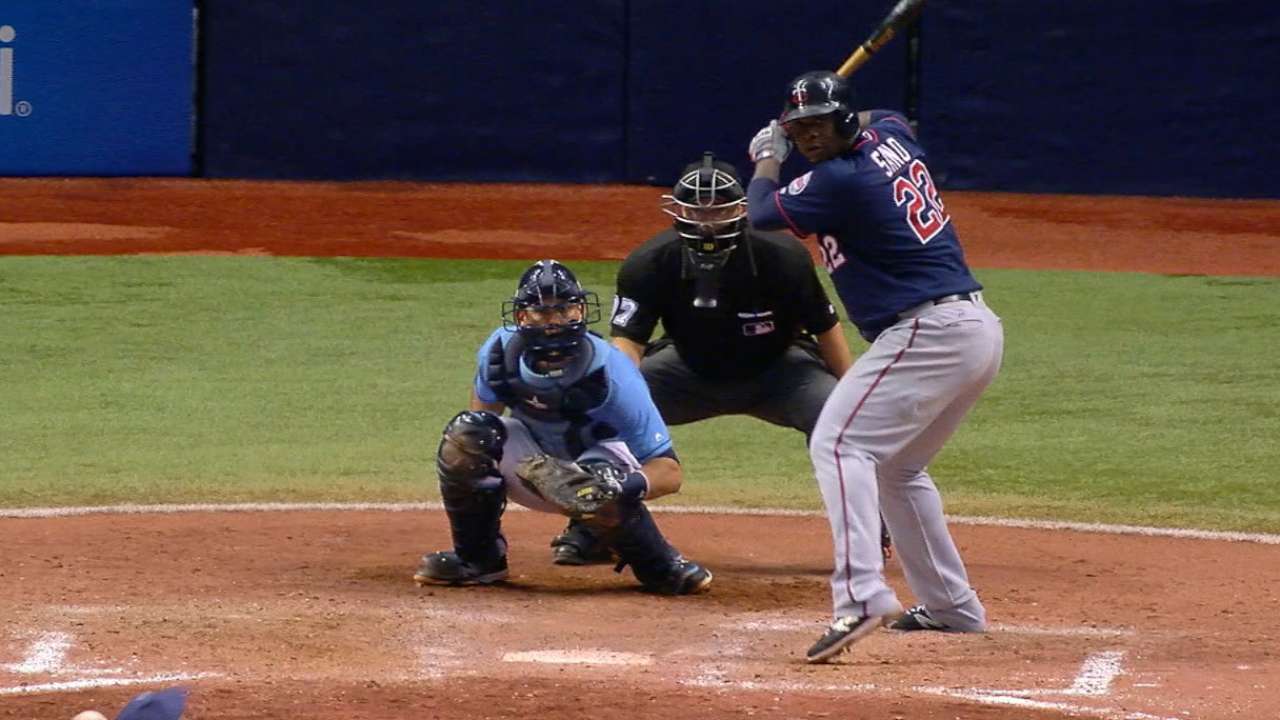 Rhett Bollinger has covered the Twins for MLB.com since 2011. Read his blog, Bollinger Beat, follow him on Twitter @RhettBollinger and listen to his podcast. This story was not subject to the approval of Major League Baseball or its clubs.