Finch named MLB youth softball ambassador
Fastpitch legend excited to spread joy of game to youngsters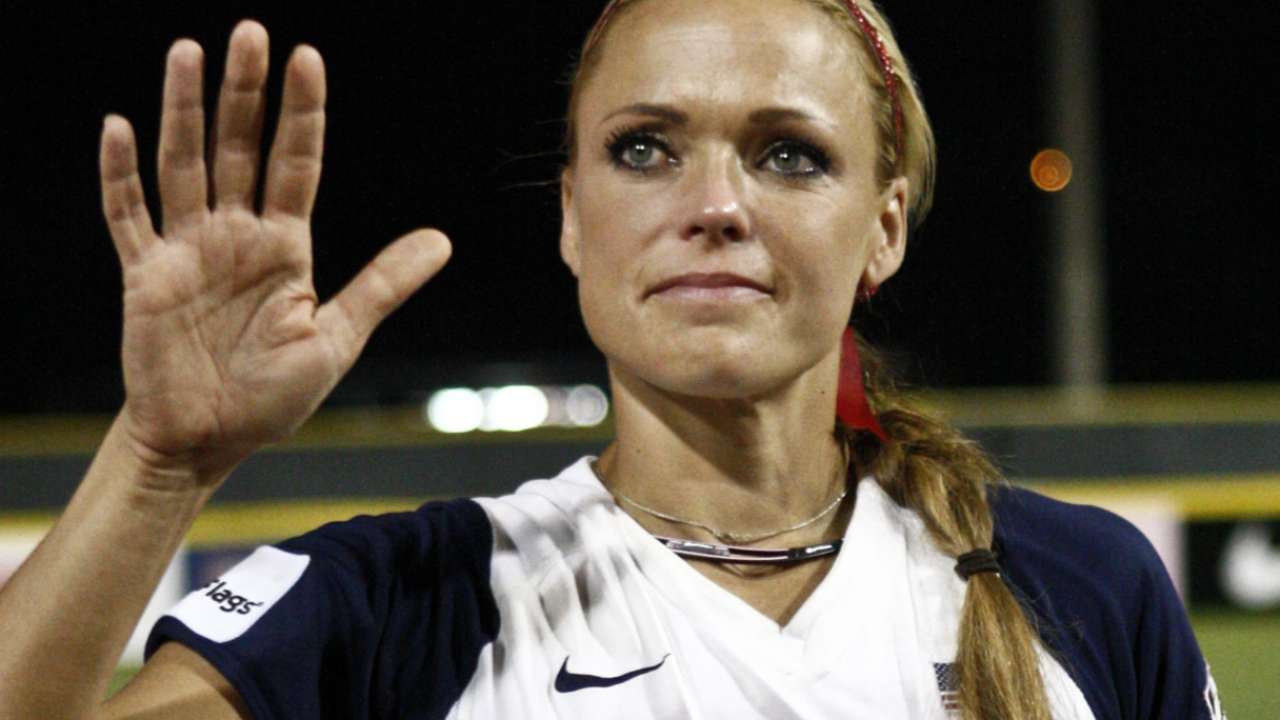 Jennie Finch -- the face of American softball for a generation as a two-time U.S. Olympic softball medalist, University of Arizona national championship star, former pro softball pitcher and constant instructional camp teacher -- said she is "so looking forward to the future" after being named youth softball ambassador by Major League Baseball on Wednesday.
It is the latest move by MLB to incorporate softball into its overall Play Ball and youth outreach initiative -- collectively lifting all diamond sports -- and Finch will support those programs that are designed to grow softball at the amateur and youth levels. In addition to her duties as an ambassador of softball, she will support an effort to promote baseball for girls.
"It is an honor to serve in this new role with Major League Baseball to grow the sport that has given so much to me and millions of girls and women throughout the country," Finch said. "Together, we will promote youth participation at the grassroots level while also helping develop the skills of players ready for the next level. This is a really special time for softball and I am thrilled to play a small part in this effort to increase opportunities to play the greatest game ever created."
A tentative list of softball- and baseball-focused events at which Finch is scheduled to represent MLB includes the following:
• "Trail Blazer" Girls Baseball Tournament, April 14-16 in Compton, Calif.
• Softball Breakthrough Series, June 11-15 in Oklahoma City
• Play Ball Park, July 6-10 during MLB All-Star Week in Miami
• Softball Elite Development Invitational, July 27-Aug. 2 in Vero Beach, Fla.
• Softball portion of Reviving Baseball in Inner Cities (RBI) World Series, Aug. 6-11 in Cincinnati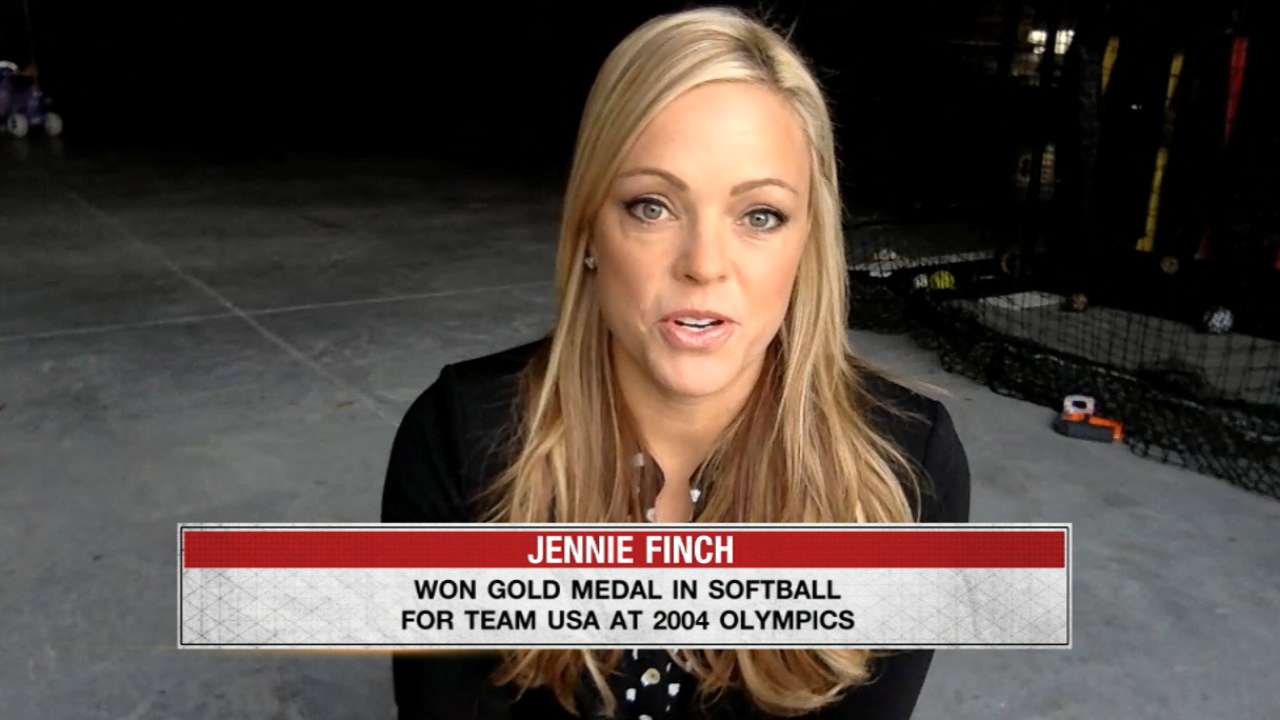 "I think most importantly, [it will] prove to young girls that our sport really does matter, and MLB taking the stance of doing that," Finch said. "It's been just such a pleasure to see what already has been done with the Breakthrough Series, and teaming up with USA Softball and the Play Ball events and RBI leagues all across the country."
Finch led the U.S. Women's Softball Team to the gold and silver medals in the 2004 and '08 Summer Olympics, respectfully. She enjoyed a record-breaking softball career at Arizona, including a perfect junior season on the mound (32-0) and an NCAA Women's College World Series Championship in 2001. Finch pitched for the Chicago Bandits in the National Pro Fastpitch League from 2005-10 and she continues to host instructional softball camps throughout the country.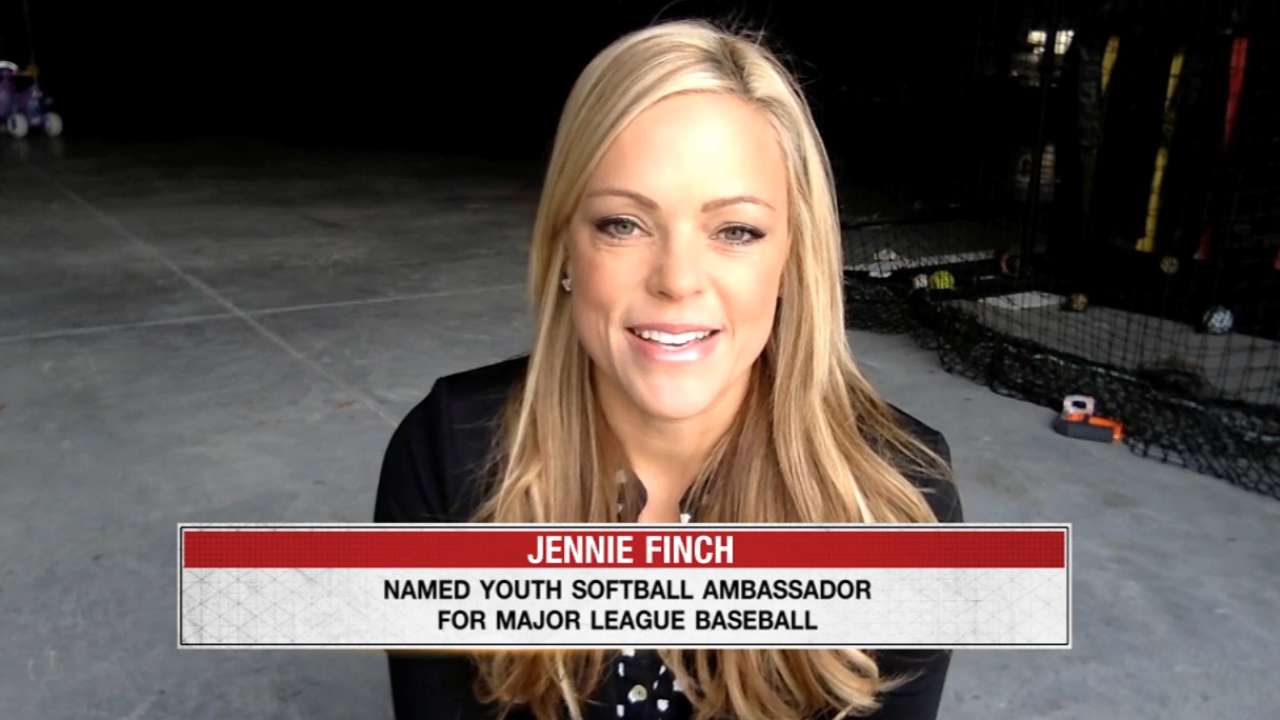 Finch is hardly a stranger within MLB circles, either. She demonstrated her ability to strike out top Major League sluggers like Barry Bonds when throwing a fastpitch softball, and she has been a regular pitcher for MLB's annual Legends & Celebrities Softball Game during All-Star Weeks. Amid her rise to talk-show and magazine fame, in 2005, she married future Major League pitcher Casey Daigle, with whom she has two sons and a daughter.
It's hard to remember when Finch was not softball's ambassador. This makes it official in an important way for the next generation of players.
"Jennie Finch is one of the most accomplished female athletes in history and we are thrilled she will be assisting us to grow the game of softball," said Tony Reagins, MLB's senior vice president of youth programs. "Increasing youth and amateur participation is a central goal for our department. We know that Jennie's passion, insight and talent will be invaluable to our efforts during this special moment for our sport."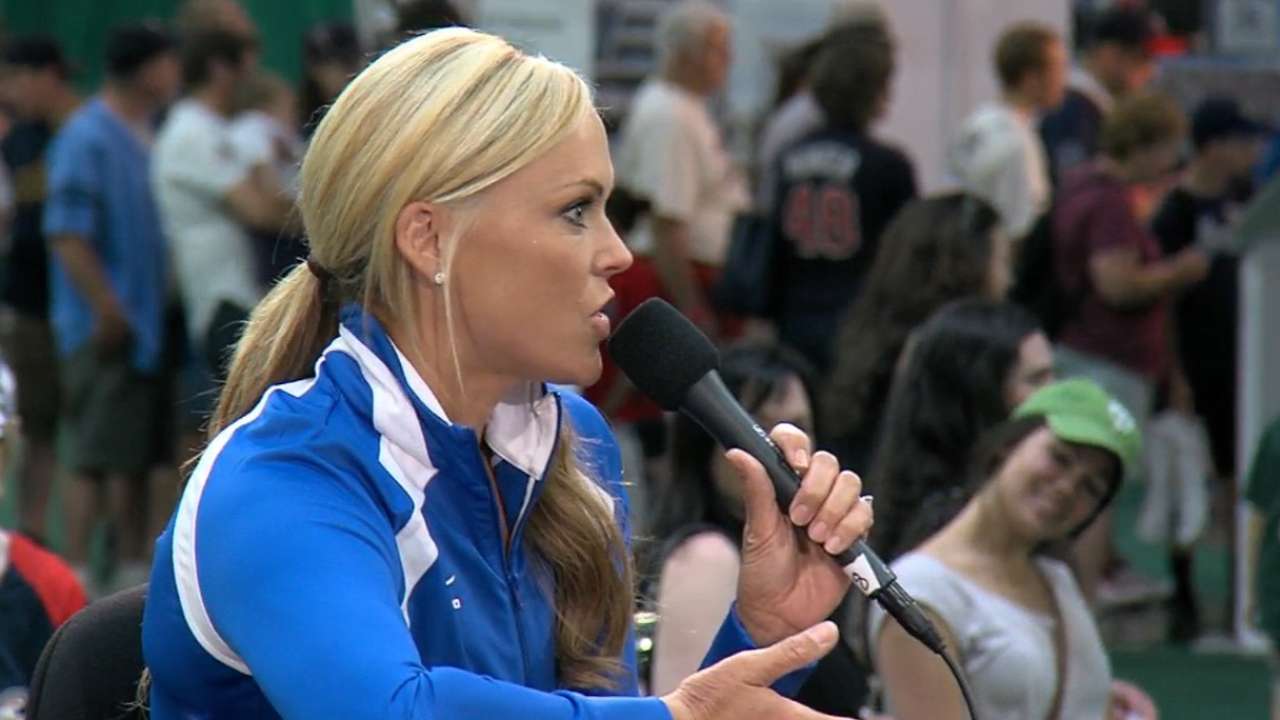 Finch's appointment is the latest in a string of efforts by MLB to increase softball participation. In June 2016, MLB announced its partnership with USA Softball, particularly focusing on the national governing body's support of Play Ball, the initiative to encourage widespread participation in all forms of baseball and softball activities. MLB and USA Softball also created the inaugural Softball Breakthrough Series (BTS) in 2016. Similar to Baseball BTS events, the Softball Breakthrough Series is designed to promote softball as a viable collegiate option for youth from underrepresented and underserved communities.
That event is completely cost-free for participants, who are selected by invitation only. In scheduling the one this June in Oklahoma City, it will be right in the backyard of USA Softball, headquartered there. The first BTS was last June in Houston at the Astros' Urban Youth Academy, and Finch was a natural in helping 50 girls who participated.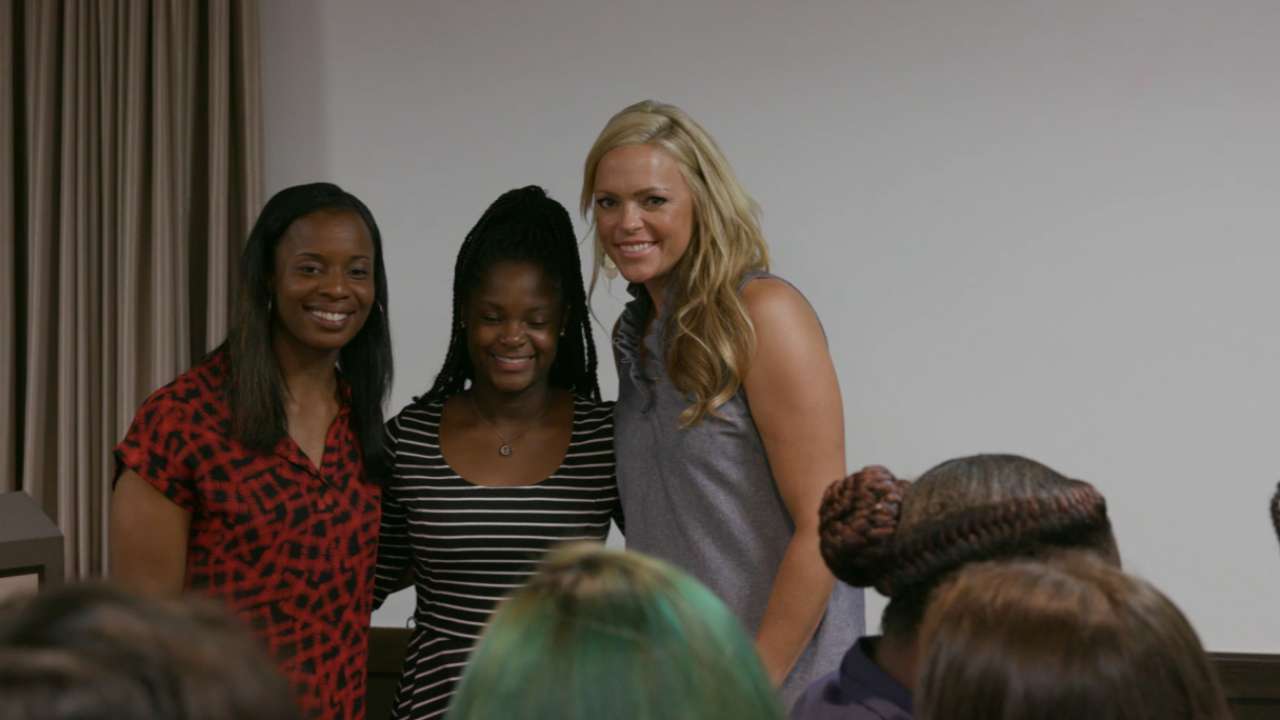 "I had such a pleasure of going out to Houston and catching one of those Breakthrough Series. These young women blew me away," Finch said on Tuesday. "It was so much fun, I didn't want to leave, I didn't want them to go back home. For a lot of them, it was their first time staying in a hotel, and getting to experience this, getting decked out with cleats and equipment.
"A couple of my Olympic teammates, Natasha Watley and Lovieanne Jung, to be aligned with USA Softball and grow our game and just share the passion that we have for the game, I loved it, here we were. You don't know how the girls are going to take it, but these girls were just sponges. They couldn't get enough. It was so fun. I mean, we had a lunch break -- a water break, here we are in Houston and it was at least high 90s -- and these girls were asking us for more ground balls, and to do extra work. It was exciting."
Finch said she hopes this extra effort can encourage these girls to keep playing, citing the fact that 80 percent of kids drop out of youth sports by the time they are 12.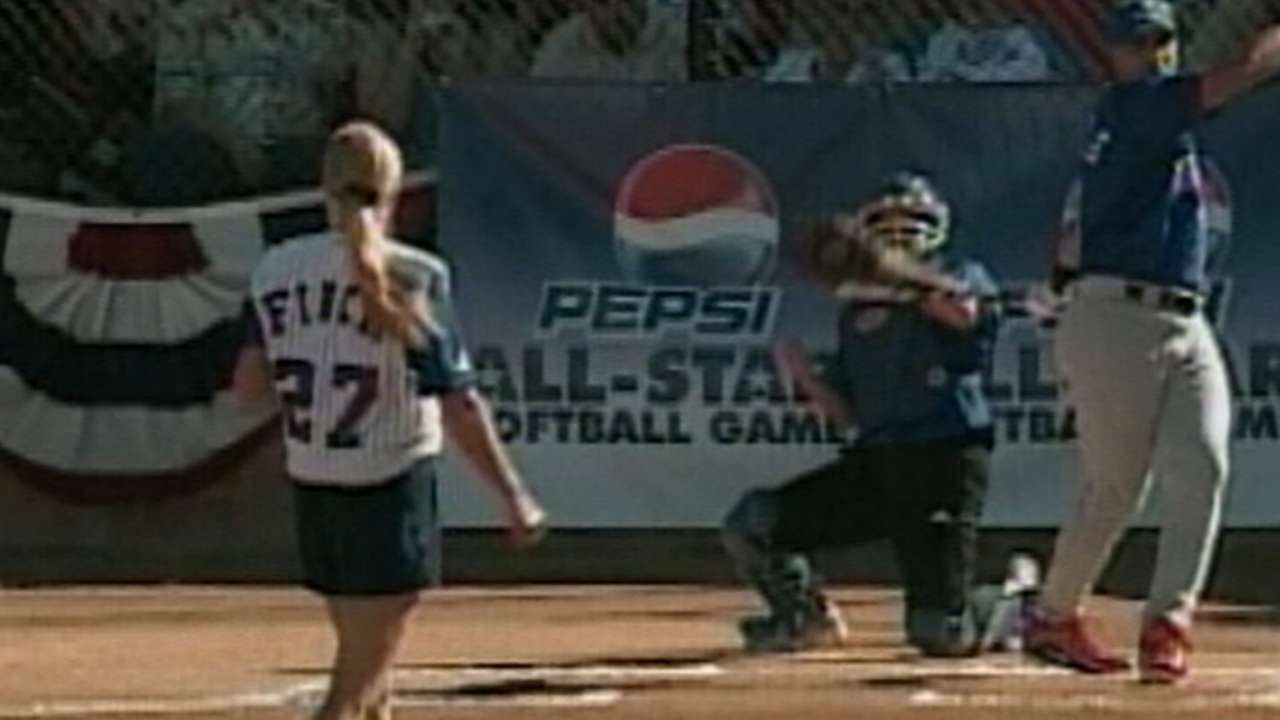 "I'm so looking forward to the future," Finch said. "These young girls maybe don't have the means to get on a competitive team and play travel ball, but there was a lot of great talent, and I'm excited to kind of showcase that.
"It's so exciting just to see the popularity grow, and how young girls are just excited about their sport, softball, and seeing how baseball and softball are so very similar. ... These young girls know they matter, and that there is a future for them, and a bright future with all the opportunities rising. This is just one more step forward for our sport and for baseball."
As for the prospect of finding that first female pro baseball player, Finch said, "Never say never." And as the most outspoken woman after softball was removed with baseball for the 2012 and '16 Olympics, she now sees the U.S. and Japan as "one-two" heading into the 2020 Games in Tokyo. Finch said she is glad both sports are reinstated but laments a costly toll.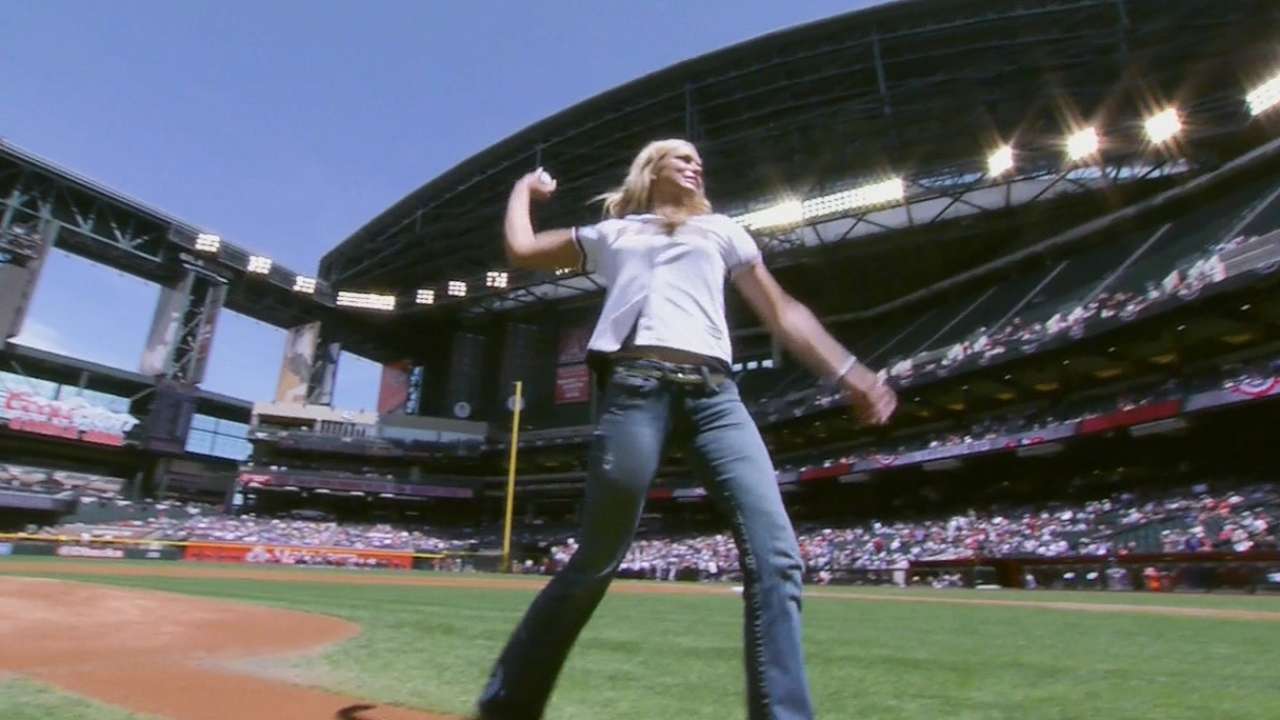 It created "a devastating cut of funds for softball programs by the national governing bodies of all the countries, that were finally getting established and creating a successful program," Finch said. "Unfortunately, a lot of those countries are at a rebuilding stage now."
Still, Finch said, "The Olympics are the Olympics. It's so much fun to be able to cheer on your country and to know firsthand what these athletes do. ... I couldn't be more pleased with seeing baseball and softball comeback. And for us to be permanently reinstated, we couldn't be going back as an exhibition sport in any other place but Tokyo, Japan. So if we have any chance to be permanently back there, Japan is the place to get us that ticket. Who knows, then maybe 2024 L.A., hopefully we will continue to be in the Games as well. But we'll take it.
"The U.S. softball team went to Japan last summer and played in front of 40,000 fans, so I think that will be the ticket to go see, for baseball and softball in Japan in 2020."
Mark Newman is enterprise editor of MLB.com and a baseball writer since 1990. Read and join other baseball fans on his MLB.com community blog. This story was not subject to the approval of Major League Baseball or its clubs.