MLB.com Columnist
Richard Justice
In time of mourning, Royals family remains strong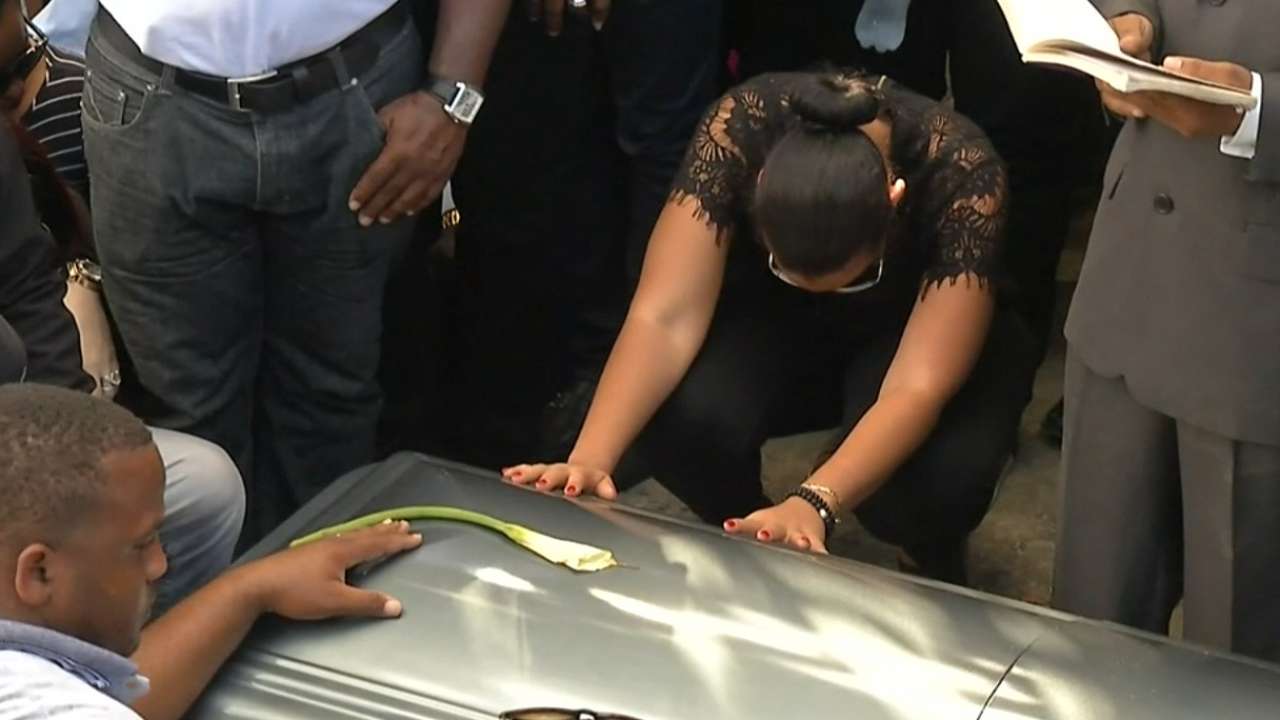 Yordano Ventura's final ride through his native Dominican Republic was one of sweltering heat and soul-piercing sobs. It's the sobs -- loud, gasping sobs and desperate sobs -- the Kansas City Royals may remember forever.
This was no search for understanding. That will not come for a while, if ever. Ventura was 25 years old, young and talented and filled with life, when he died in an auto accident on Sunday morning.
For now, it's about coping and about doing the right thing. On Tuesday, the Royals did their best to say goodbye to their brother and wrap their collective arms around his family members.
The Royals are unique in a lot of ways. For one thing, they're largely a homegrown team, which means that teammates, especially the ones signed and developed internally, are a kind of brotherhood.
The Royals will tell you they went to the World Series in 2014 and '15 for a lot of reasons. For sure, they had gobs of talent. But the organization -- from general manager Dayton Moore to manager Ned Yost to every player in that clubhouse -- say that was only part of their story.
They're close in a way professional athletes aren't always close. They trust and respect their general manager, and love their manager. Some of these guys have known one another for years, and along the way, a bond has developed. In tough times, they have each other's back.
So when the rest of baseball looked at a player like Ventura occasionally letting his emotions get the best of him or having a tough time harnessing all that talent, the Royals only embraced him closer than ever.
For one thing, he had special talent. For another, they loved him. They saw him as more than a mere teammate, and when they learned of his death, they struggled to wrap their minds around it.
"He wasn't just a teammate or a friend," Royals catcher Salvador Perez said at the service. "He was a brother. ... Only God knows why these things happen."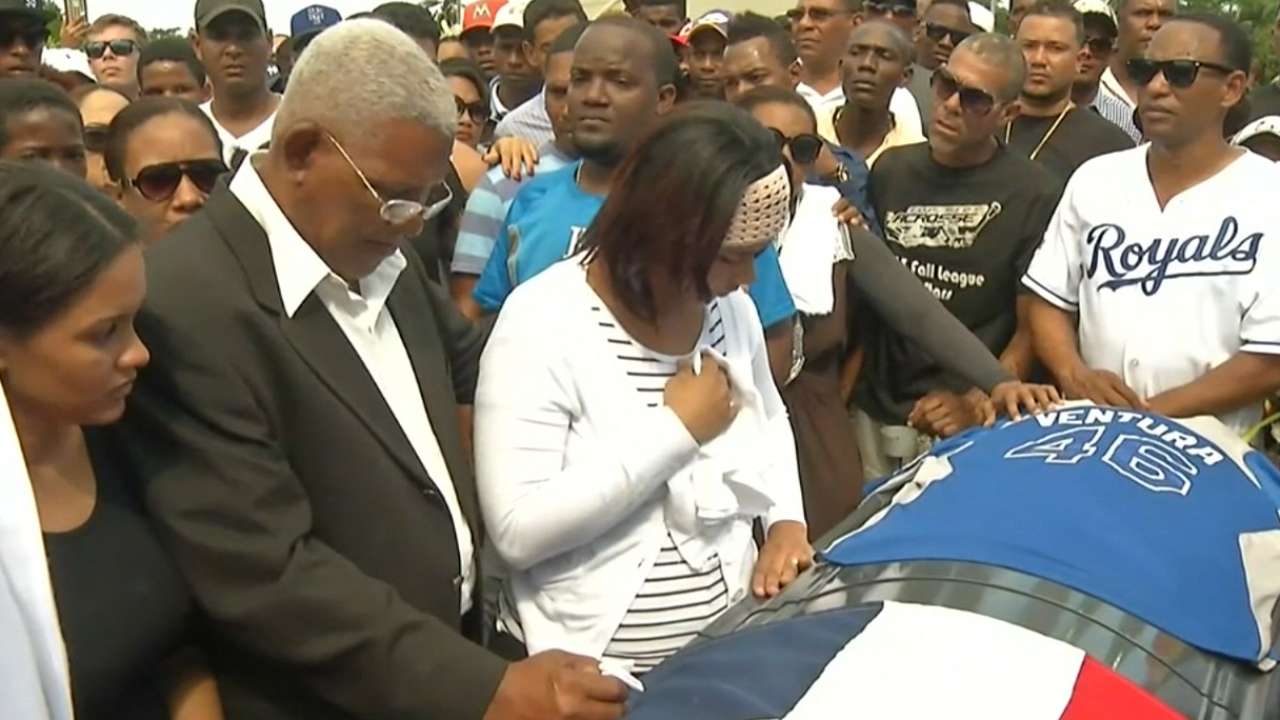 Perhaps Tuesday's sweetest moment came when the long, winding funeral procession of mourners and musicians paused at a place that had brought Ventura so much joy.
There on his very first baseball diamond -- Estadio Municipal in Las Terrenas -- his casket was placed on the mound where the excitable, happy kid had first shown the world he was special.
His family and friends, including teammates Eric Hosmer, Alcides Escobar, Mike Moustakas, Perez and others, assisted in moving the casket, and then gathered around it during a singing of the Dominican national anthem.
Later, as the casket was slid into its final resting place in a cemetery near Las Terrenas, the loud, heart-crushing sounds of grief could be heard rippling through the crowd.
At one point during the day, Ventura's mother, Marisol, collapsed into the arms of Hosmer. Nearby, another member of Ventura's family was consoled by Perez.
Moore, a man of deep faith who loved Ventura, was a rock in holding hands and speaking to family members. His attempt to build a cohesive clubhouse environment prompted him to send Moustakas to the Dominican Republic early in his career for a 10-day visit.
He hoped to give Moustakas -- and by extension, all the Royals -- an understanding of where Dominican teammates came from and how their frame of reference might be different.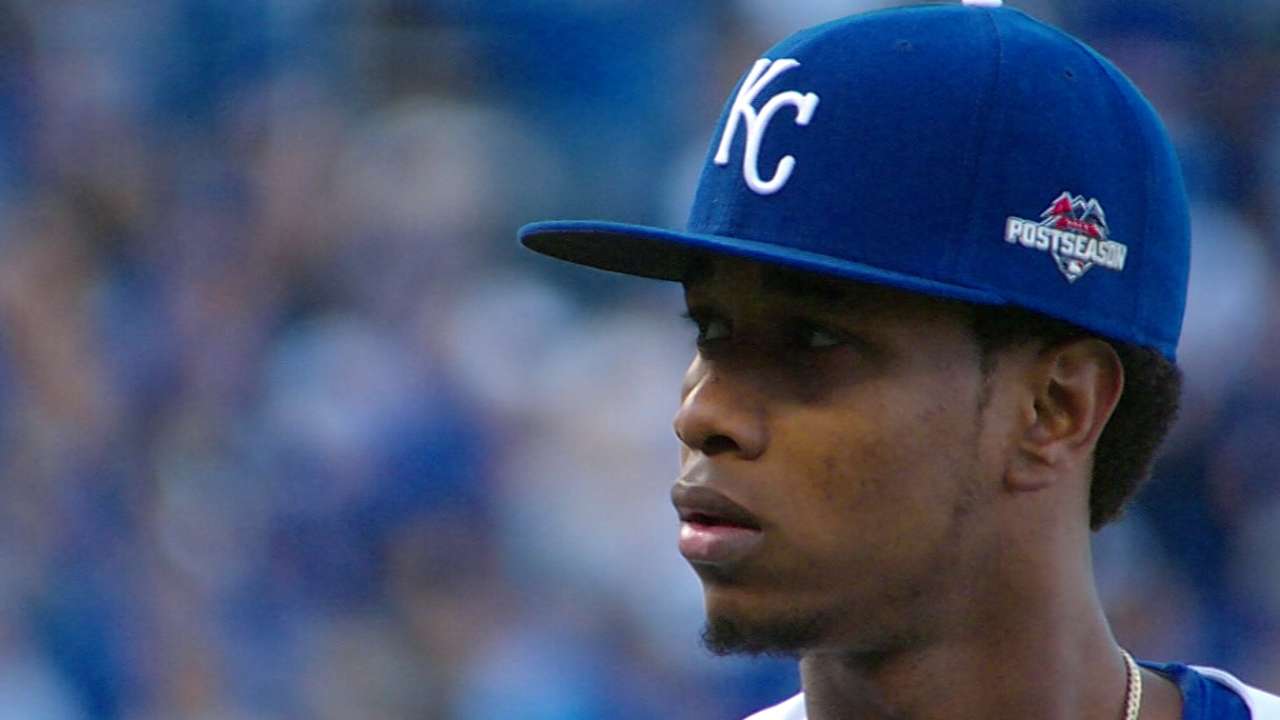 Earlier on Tuesday, the Royals were part of a visitation service at the home Ventura built for his mother. Amid the emotion, Perez, Hosmer and Moustakas embraced Ventura's mother and his aunt, Rebecca.
Perez and Escobar stood and stared at the casket for several minutes, as if trying to comprehend that this was their teammate. In the end, that's what the entire day was.
"I remember talking to Ned and to [team president] Dan [Glass]," Moore said, "and we talked about how proud we were of our players who were able to make it, and the players that weren't able to make it. The caring they all showed. We're proud of the Kansas City community, and the outpouring of love that was so evident.
"We're extremely honored by all of that. It's special through these trying times."
This is just the beginning of a process, and that pain is likely to worsen in three weeks when the Royals show up at Spring Training and find Ventura's locker empty. It will hit them again how much they've lost, how much baseball has lost. That's the thing that's still sinking in for all of them.
Richard Justice is a columnist for MLB.com. You can follow him on Twitter @richardjustice. This story was not subject to the approval of Major League Baseball or its clubs.