Inbox: What kind of season will Renfroe have?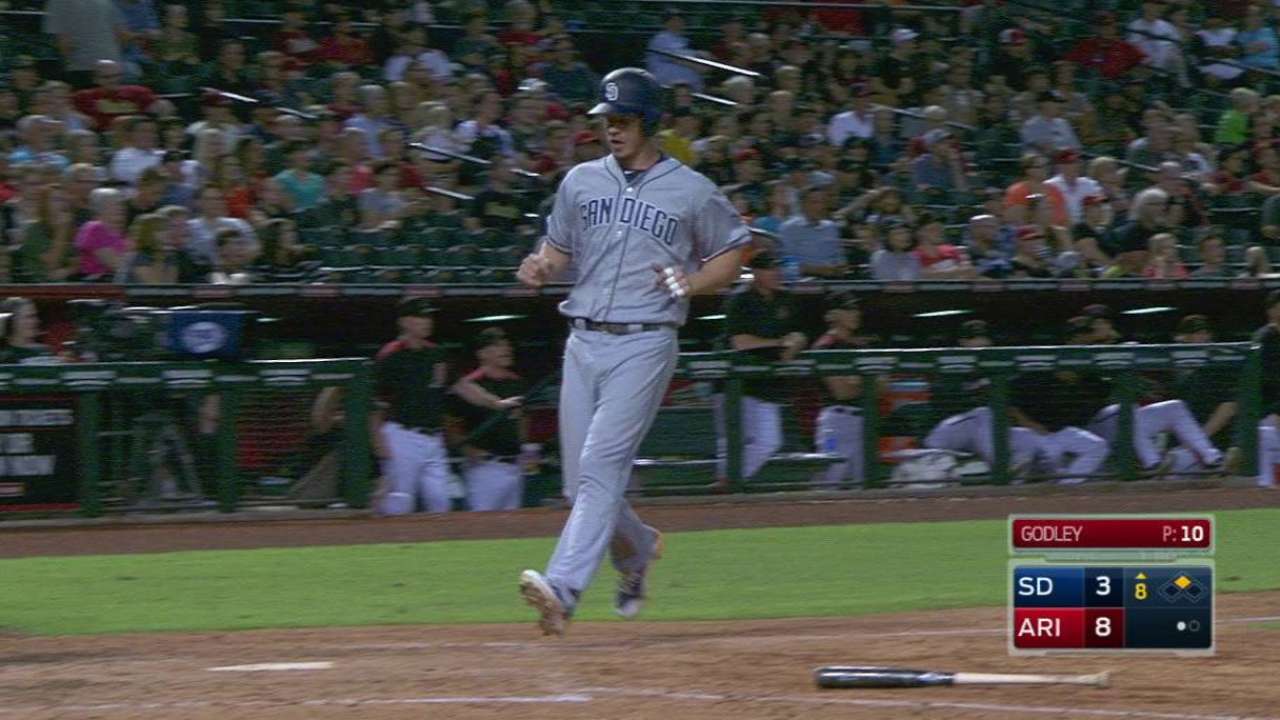 With the offseason nearing a close, the biggest questions surrounding the Padres have shifted from roster additions to roster composition.
On the free-agent front, there isn't much work left to be done. The Padres wouldn't mind adding a shortstop or a starting pitcher to the mix. But for the most part, general manager A.J. Preller seems content to enter the season with the team as currently constructed.
Here's a look at the most pressing questions surrounding the makeup of that team.
Who do you see making the team out of the three Rule 5 draftees?
-- Cam D.
For the second year in a row, the Padres were more active than any other team at the Rule 5 Draft. Now, for the second year in a row, they enter camp with a tricky roster situation. After selecting the top three available players at the Winter Meetings last month, Preller and Co. need to find space for them on the 25-man squad.
We'll start with Miguel Diaz, the No. 1 pick, and now the club's No. 22 prospect. The right-hander projects as a starter in the long term, but he will take the same path as Luis Perdomo -- a Rule 5 pick last year who opened the season pitching mop-up innings out of the bullpen. Catcher Luis Torrens is probably also a good bet to make the club, after the Padres gave up infield prospect Josh VanMeter for his rights. If Torrens doesn't remain on the big league roster throughout the season, the Padres will have virtually given away VanMeter for nothing.
For now, there appears to be space for Diaz and Torrens. But it's going to be more difficult to find room for shortstop Allen Cordoba in an already crowded infield. Cordoba is the most raw of the three, having never played above rookie ball in the Cardinals organization. And he has a lot to prove before the Padres are comfortable making him Luis Sardinas' primary backup.
Do you think Hunter Renfroe will be a starter from day one? And how will he do in 2017?
-- Joe G., New Jersey
Right field at Petco Park officially belongs to Hunter Renfroe. If there was any doubt, the Padres' decision to designate Jabari Blash for assignment on Friday cleared that up. Following a 2016 season in which he took home the Pacific Coast League MVP Award, Renfroe batted .371 with seven extra-base hits in 11 big league games last September.
The jury is still out on Renfroe. Nobody doubts his power, and if he's in the lineup for an entire season, he's a 30-homer threat. But he has work left to do in terms of plate discipline. Scouts seem to think he might need time to get acclimated to Major League breaking pitches.
Renfroe's future is bright, no question. But it's safe to say he'll experience some ups and downs in his first full professional season.
• Submit a question to the Padres Inbox
What are your projections on the five-man rotation to start the season?
-- Nicholas F.
I've gotten some version of this question almost every week, and I've generally avoided answering it because the Padres weren't quite finished making moves. But after locking up Trevor Cahill to a one-year deal, they might just be done.
With that in mind, I'll say Clayton Richard, Jhoulys Chacin and Perdomo are locks. Christian Friedrich is likely to join them. After that, I'd give Cahill the early edge over Jarred Cosart and Paul Clemens. But don't be surprised if all three make the roster in some capacity. Last year alone, Cahill and Clemens served as relievers with spot-start potential. The Friars could use them both that way in 2017 as well.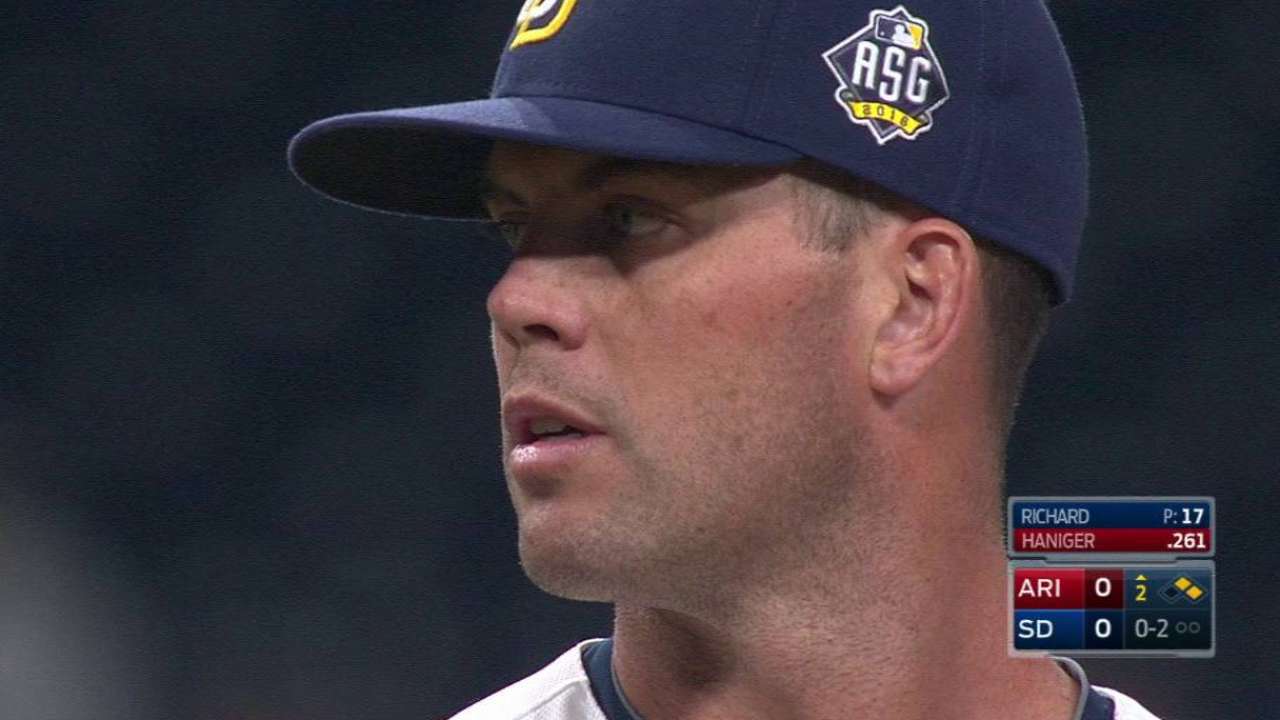 Are the Padres pursuing Zack Cozart? He would instantly make the offense and defense legit.
-- Terry R., San Diego
If he were on the open market, Cozart would seem to be a nice fit in San Diego, where he would add stability at shortstop alongside a very volatile player in Sardinas. Cozart's defensive prowess could be valuable for a ground-ball heavy pitching staff. And he's no slouch at the plate either.
Here's the problem with Cozart: He's under contract in Cincinnati. And while the Reds are, indeed, looking to move him, they wouldn't do so for free. It's highly unlikely the Padres would dig into their suddenly-deep farm system to acquire a 31-year-old shortstop in the final year of his contract.
It's a safe bet the Padres have asked the Reds about Cozart. They've checked in on just about every available shortstop. That said, the price probably doesn't make sense.
Any possible trades for a big-name pitcher in the near future?
-- John J.
As I mentioned above, the Padres wouldn't mind adding another starter to the mix before camp opens. But don't expect them to make any big-time trades to do so. It appears far likelier the team pulls off a trade for a shortstop than for a starting pitcher.
The market for Major League-caliber starters was downright barren this offseason. And the Padres weren't willing to sacrifice any of their farm to acquire one. Instead, if they add another arm, expect it to be the veteran free-agent type. They've been rumored to be linked with Doug Fister, Jered Weaver and fan-favorite Jake Peavy -- all of whom would make much more sense.
Then again, the Friars could also choose to sit tight and enter camp with their current rotation situation -- featuring nine starters competing for five spots.
AJ Cassavell covers the Padres for MLB.com. Follow him on Twitter @ajcassavell. This story was not subject to the approval of Major League Baseball or its clubs.