Bonds' deal with Giants ignited a fruitful run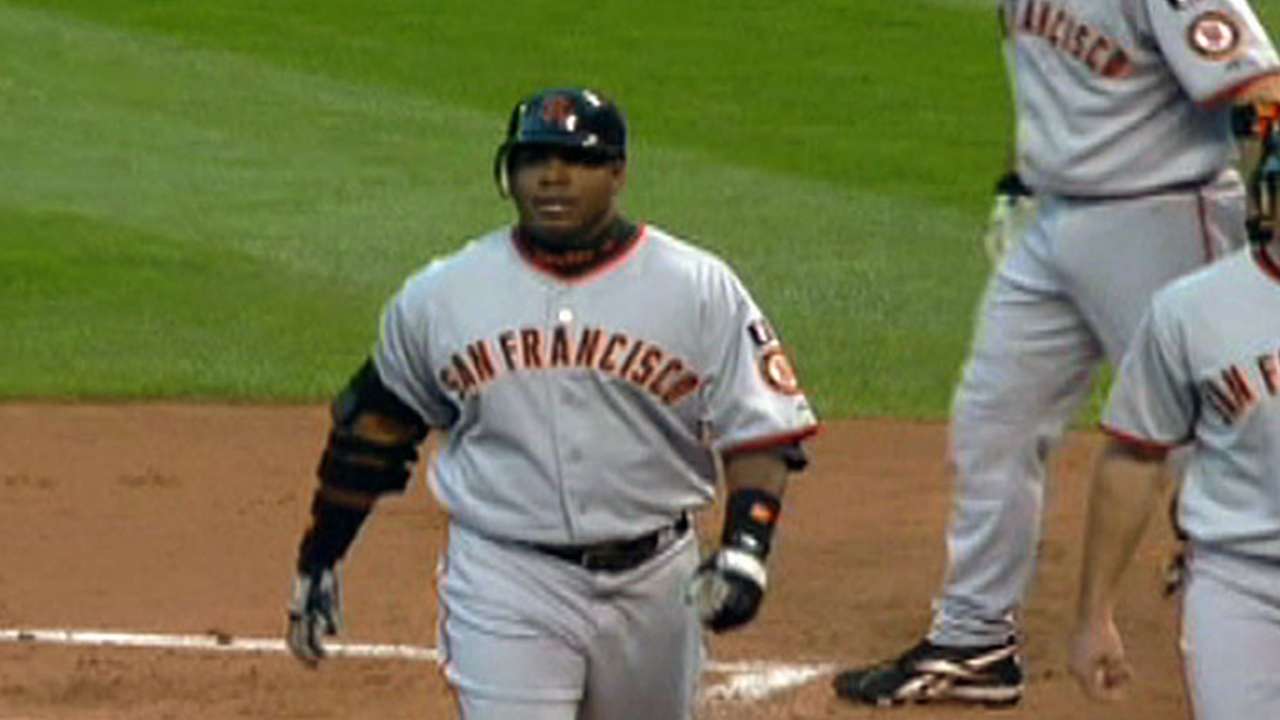 Before bidding adieu to the Hot Stove season, we asked our 30 beat reporters to look back at their club's past and answer the following question: Who is the best free-agent signing in the team's history?
We narrowed the choices with the following parameters: The signings had to be multiyear contracts, to exclude fluky one-year deals and to focus on players who got real commitments. And contract extensions don't count. Only instances when every team in the league had a chance to bid on the player were allowed, including international free agents who received Major League contracts.
SAN FRANCISCO -- A review of the Giants' history in free agency prompts lofty comparisons. The issue isn't whether Barry Bonds is the franchise's best free-agent signee ever. It's whether he's the best free-agent signee in the annals of professional sports, period.
It could be argued that Hall of Fame right-hander Greg Maddux, who joined the Atlanta Braves during the same 1992-93 offseason when Bonds became a Giant, is baseball's brightest free-agent acquisition. But being an everyday player gave Bonds more opportunities to make an impact. Bonds compiled a 162.4 career WAR (wins above replacement) to Maddux's 104.6.
Measuring Bonds against the top free agents from other major team sports would prompt a riveting discussion. Through the years, free agency in professional football and basketball has been curbed by factors such as salary caps and matching offers. Nevertheless, a few free agents can be cited to rival Bonds, baseball's all-time home run leader.
From the ranks of the NFL, try quarterback Johnny Unitas, a Pittsburgh Steelers castoff who achieved legendary status with the Baltimore Colts.
In the realm of the NBA, Shaquille O'Neal helped the Los Angeles Lakers win three consecutive titles. And either of LeBron James' migrations -- from Cleveland to Miami and back again -- could be considered monumental, since both generated championships.
Experts frequently rate New Jersey's Scott Stevens and Boston's Zdeno Chara among the NHL's leading free agents.
Whether Bonds outranks them all, there's no denying his effect on the Giants.
San Francisco finished 75-87 in 1991 and 72-90 in 1992. The Giants weren't just fading. They were in danger of disappearing. During the '92 season, owner Bob Lurie agreed to sell the team to a group that would move the franchise to Tampa-St. Petersburg. Peter Magowan, whose loyalty to the Giants dated back to their New York existence, assembled a group of investors that ultimately secured the club and kept it in San Francisco.
Needing infusions of talent and star power, the Giants signed Bonds to a six-year, $43.75 million deal. At the time, it was baseball's most lucrative contract in terms of average annual value and total salary. With Bonds, the Giants improved to 103-59 while home attendance at Candlestick Park increased from 1,560,998 to 2,606,354.
During Bonds' 15-year tenure with the Giants, they finished second place or higher 10 times in the National League West. He won five NL Most Valuable Player awards as a Giant after capturing two with Pittsburgh, his previous club.
As teammate Rich Aurilia said, "I don't think there was a player who played against him that wouldn't say he was at least one of the top two players he ever faced."
Honorable mention:
• Johnny Cueto : Cueto has played only one season with the Giants -- and he may spend just one more with them if he exercises the opt-out clause in his six-year, $130 million contract -- but he established his considerable value immediately. Cueto finished a team-best 18-5 in 2016, joining Madison Bumgarner to form perhaps the league's best 1-2 starting pitching combination.
• Willie McCovey: Having undergone an ownership change in 1976 while nearly moving to Toronto, the Giants were still struggling to re-establish their presence in northern California when they signed McCovey before the following season. Fans embraced the return of the popular slugger, who was traded to San Diego in the 1973-74 offseason. McCovey thus provided stability on and off the field.
Chris Haft is a reporter for MLB.com. Read his blog, Haft-Baked Ideas, follow him on Twitter at @sfgiantsbeat and listen to his podcast. This story was not subject to the approval of Major League Baseball or its clubs.