Statcast measures Brewers' exit velocity in '16
Broxton responsible for two of Crew's hardest-hit balls last season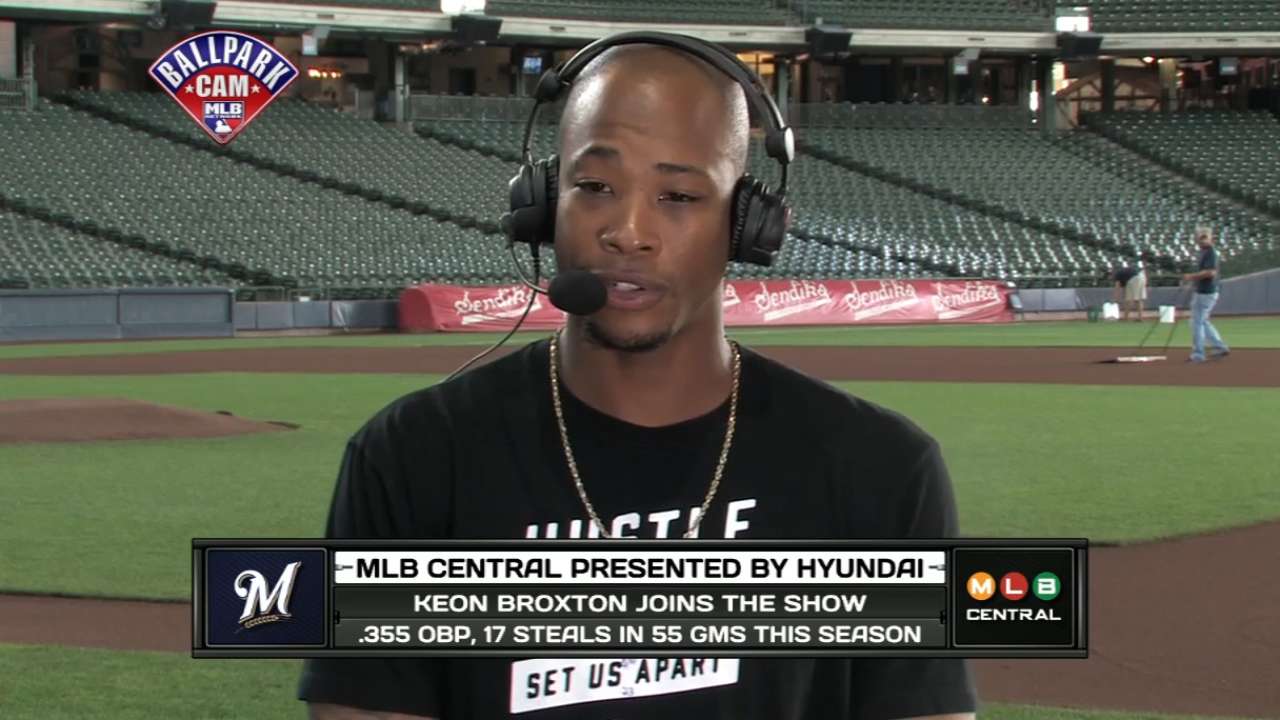 MILWAUKEE -- It was former catcher Jason Kendall who taught the cliché to former Brewers slugger Prince Fielder, who so loved it that it he used it whenever a reporter troubled Fielder with a question about a big hit. Fielder would smile and offer the same stock answer.
"I just see it, hit it, hope it falls in."
It was understood that Kendall, Fielder and every other man who has carried a bat to home plate in a baseball game was not just trying to hit it, but to hit it hard. For all of baseball history, the mantra "hit the ball hard and good things happen" has been accepted as fact, but with Statcast™ we can actually prove it.
Of the Brewers' 25 balls in play with the highest Statcast-measured exit velocity, 22 were hits, including 14 extra-base hits, seven of which were home runs. Not surprisingly, big first baseman Chris Carter made the list the most -- 13 times, including four of his home runs. But he didn't crack the top four spots, two of which belonged to rookie center fielder Keon Broxton.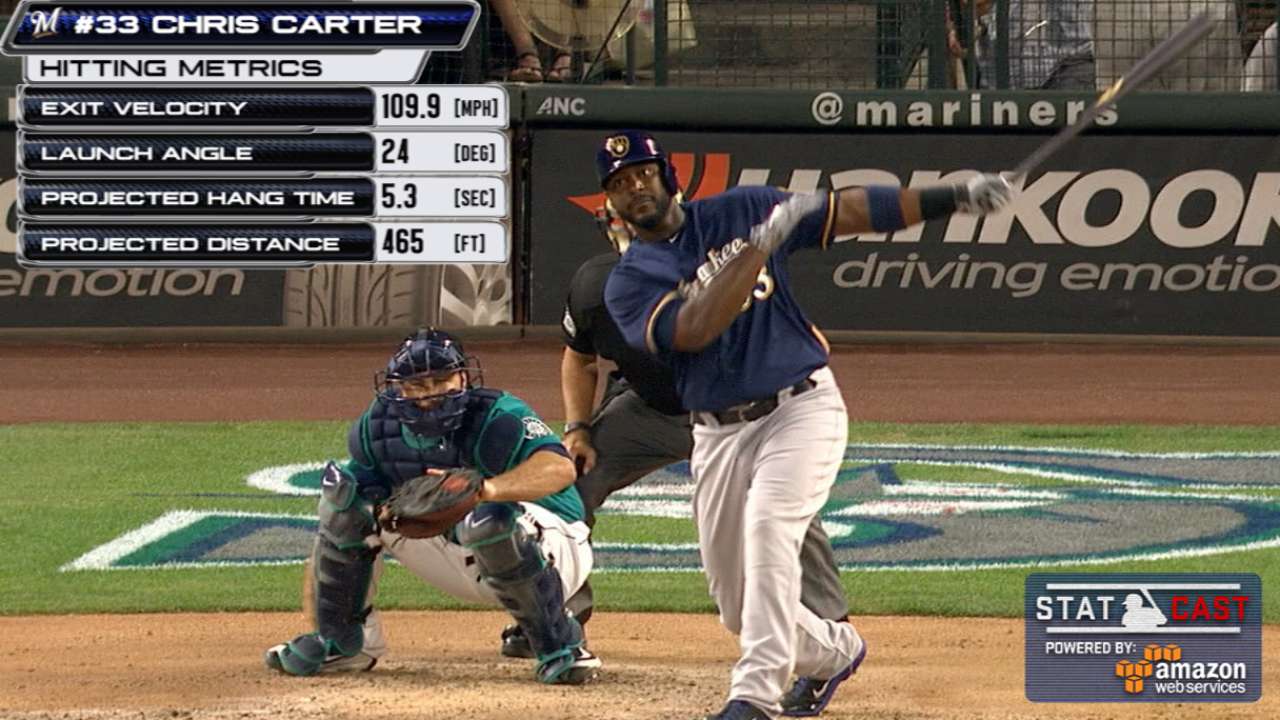 The three outs among the Brewers' top 25 hardest-hit balls included the team's top exit velocity all season, an innocuous-looking bounce-out off Martin Maldonado's bat at Miller Park. The other two outs were both productive ones; Carter reached base when Reds second baseman Brandon Phillips couldn't handle a 113.2-mph grounder on May 7, and Ryan Braun's 112.5-mph line drive to D-backs center fielder Michael Bourn produced a sacrifice fly on Aug. 8.
Here are the five hardest-hit balls of the Brewers' 2016 season:
5. Chris Carter single, sixth inning on June 24 vs. Washington, 114.3 mph
For all of Carter's hard hits -- he accounted for nine of the Brewers' top 14 exit velocities in 2016 -- it was a shift-beating single off Max Scherzer that left his bat with the greatest authority. It came amid a solid month; Carter's average exit velocity in June was 92.95 mph, second only to his 95.49 mph average in May.
4. Ryan Braun double, sixth inning on April 5 vs. San Francisco, 114.7 mph
Braun and Giants starter Johnny Cueto were mutual admirers in this game, as Braun gave Cueto a smile and a nod after Cueto struck him out with a nasty changeup in the first inning, and Cueto returned the favor after Braun lined another changeup for a double to left-center field in the sixth. Braun slashed .333/.409/.577 in the opening month, laying to rest concerns about his surgically-repaired back.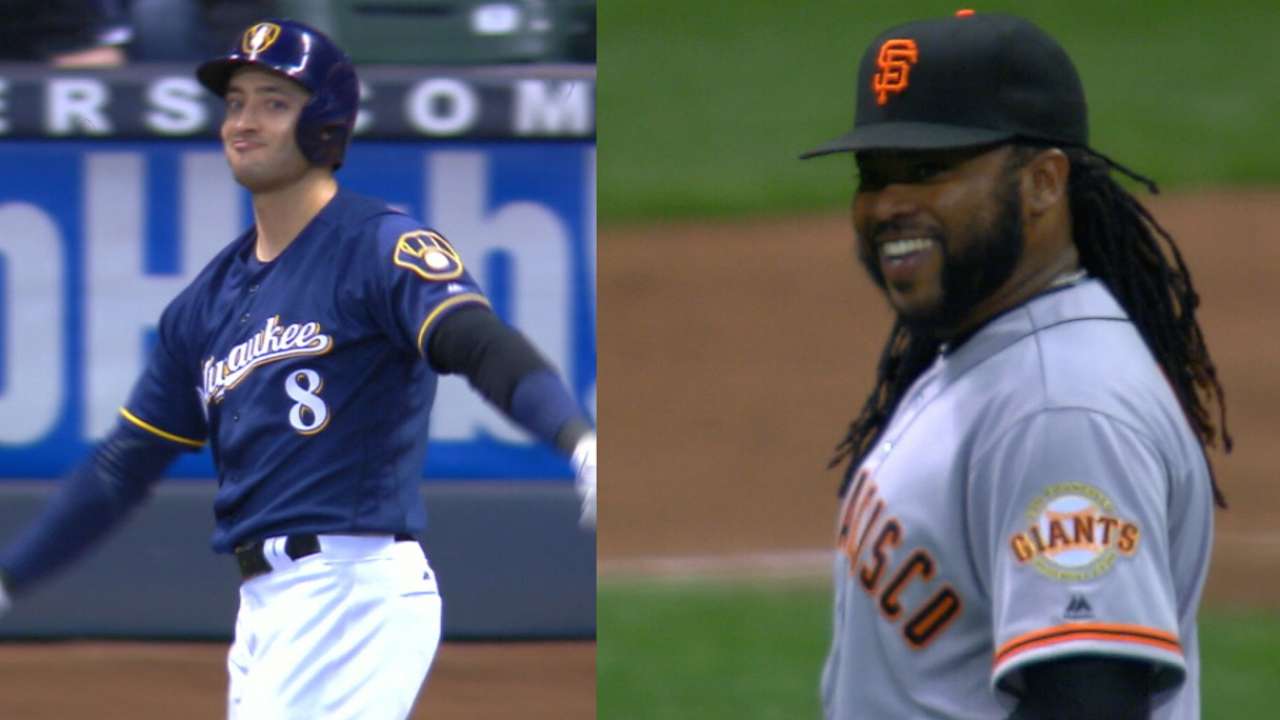 3. Keon Broxton double, second inning on Aug. 6 at Arizona, 114.8 mph
Has any Brewers player authored an in-season turnaround comparable to Broxton's? Including an 0-for-16, 11-strikeout April that prompted the first of his three demotions to the Minor Leagues, Broxton posted a .125/.253/.188 slash line in 75 plate appearances over 29 games through July 1. It was after that date, at Triple-A Colorado Springs, that Broxton changed his hitting mechanics, lowering his hands in an effort to simplify his swing. He posted a 1.013 OPS that month in the Minors and earned another opportunity in Milwaukee, where he posted a .937 OPS from July 26 until he broke his arm crashing into the outfield wall at Wrigley Field on Sept. 16. Broxton's average exit velocity was below 90 mph in April and May, but jumped to 96.62 mph in August and a team-high 95.45 in September.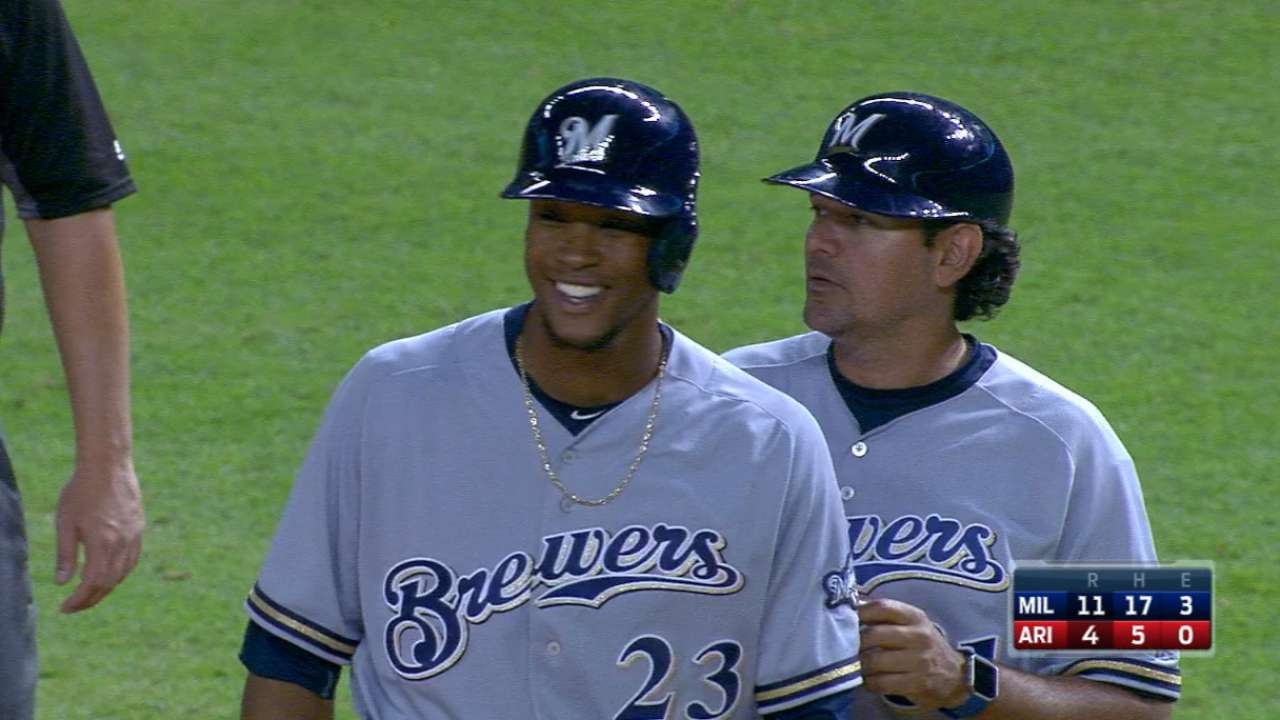 His smash double at Chase Field came on a five-hit night for Broxton, who probably will get the first crack at manning center field for the Brewers in 2017.
2. Keon Broxton homer, Aug. 19 at Seattle, 114.9 mph
Jonathan Villar had just finished circling the bases for his own home run when Broxton turned on a Wade LeBlanc pitch and yanked it over the left-field fence. It was the 12th-highest exit velocity on a home run in the Majors in 2016, per Statcast™. The Marlins' Giancarlo Stanton accounts for half of the top 10 on that list, but not the top spot, which goes to the Rockies' Carlos Gonzalez for a 117.4-mph rocket off Zack Greinke on Opening Day at Chase Field.
1. Martin Maldonado groundout, July 9 vs. St. Louis, 115.6 mph
The Major League batting average on balls hit harder than 115 mph in 2016 was .625, so Maldonado is providing a reminder that a batted ball's direction matters just as much as it's exit velocity. To the naked eye, his groundout to shortstop, deadened by the dirt right in front of home plate in the ninth inning of a Cardinals rout appeared totally routine, but it stood as the hardest any Brewers player hit a baseball during the regular season.
Adam McCalvy has covered the Brewers for MLB.com since 2001. Follow him on Twitter @AdamMcCalvy, like him on Facebook and listen to his podcast. This story was not subject to the approval of Major League Baseball or its clubs.