After Twins signed Molitor as FA, history followed
Hall of Famer, now Minnesota manager, had renaissance in twilight of career, notched hit No. 3,000
Before bidding adieu to the Hot Stove season, we asked our 30 beat reporters to look back at their club's past and answer the following question: Who is the best free-agent signing in the team's history?
We narrowed the choices with the following parameters: The signings had to be multiyear contracts, to exclude fluky one-year deals and to focus on players who got real commitments. And contract extensions don't count. Only instances when every team in the league had a chance to bid on the player were allowed, including international free agents who received Major League contracts.
MINNEAPOLIS -- The Twins have never been in the business of handing out mega-contracts in free agency. Their largest free-agent deal for a pitcher outside the organization is Ervin Santana's four-year, $55 million contract, while Jason Castro's three-year, $24.5 million deal is their biggest for a position player.
It doesn't mean the Twins haven't had success in free agency, however, as they've signed many key contributors over the years. But Minnesota's best is Hall of Famer and current Twins manager Paul Molitor's two-year, $5.5 million deal signed before the 1996 season.
At the time of the deal, Molitor was 39 years old and coming off a down year, by his standards, with the Blue Jays. But the St. Paul native had a season for the ages in his first year with his hometown team, batting .341/.390/.468 with 113 RBIs and a league-leading 225 hits in a career-high 161 games.
He also made history on Sept. 16, when he became the first player to reach 3,000 hits with a triple, a feat only matched by Ichiro Suzuki last year. It was also the second time in three years a St. Paul native reached 3,000 hits with his hometown team, as Dave Winfield also reached 3,000 hits with Minnesota in '93.
Molitor batted .305/.351/.435 in 135 games in 1997 and opted to re-sign with Minnesota for one last year. Molitor hit .281/.335/.382 in 126 games in his 21st and final season in the Majors.
Molitor's strong end to his career with the Twins allowed him to finish with 3,319 hits and a lifetime .306 average and 504 stolen bases. He's one of only four players to finish with at least 3,000 hits, 500 stolen bases and a .300 average, joining Ty Cobb, Honus Wagner and Eddie Collins -- with Ichiro likely to be included, boasting a .313 average heading into his 17th Major League season.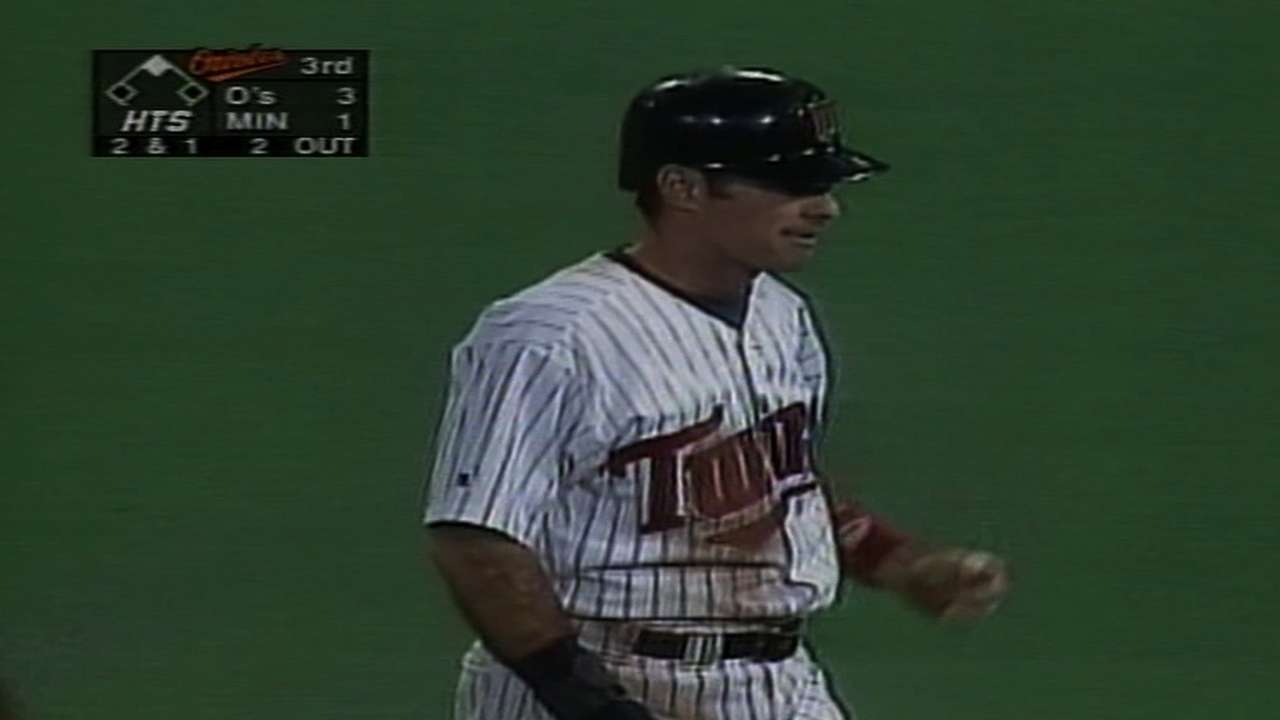 The signing also began a strong relationship between Molitor and his hometown club, as he joined manager Tom Kelly's coaching staff immediately after retiring, serving as bench coach for three seasons. He remained involved with the Twins in various roles throughout the years, including stints as a Minor League instructor and as a coach under Ron Gardenhire in '14.
He was then hired as the club's manager before the '15 season after Gardenhire was dismissed. So it's fair to think that if Molitor never signed with the Twins, he wouldn't be their manager today.
Honorable mentions
RHP Jack Morris: It's the most famous of all Twins signings, as Morris pitched like an ace in 1991 and delivered one of the more memorable performances of all-time with his 10-inning shutout in Game 7 of the '91 World Series. But it was only a one-year deal and therefore doesn't qualify for this exercise.
DH Chili Davis: The Twins signed Davis to a two-year deal before the 1991 season, and he immediately provided much-needed power, batting .277/.385/.507 with 29 homers and 93 RBIs in 153 games. He also hit two homers in the '91 World Series. His numbers declined a bit in '92 with 12 homers and 66 RBIs before he returned to the Angels as a free agent. He had a strong case to be the best multiyear signing for the Twins considering his impact on the World Series title, but Molitor has had more overall impact on the organization.
C Brian Harper: Harper is one of the more underrated Twins players and joined the club as a free agent prior to the 1988 season after playing parts of eight seasons with five different teams. Harper had his breakout year in '89, hitting a career-high .325 in 126 games. He played six years for Minnesota, batting .306/.342/.431, and was part of the World Series-winning team in '91. Harper is definitely the best buy-low free-agent acquisition in Twins history.
Rhett Bollinger has covered the Twins for MLB.com since 2011. Read his blog, Bollinger Beat, follow him on Twitter @RhettBollinger and listen to his podcast. This story was not subject to the approval of Major League Baseball or its clubs.