Around the Horn: Trea hoping to turn heads back at short
Washington's offseason moves paved way for 23-year-old to return to natural position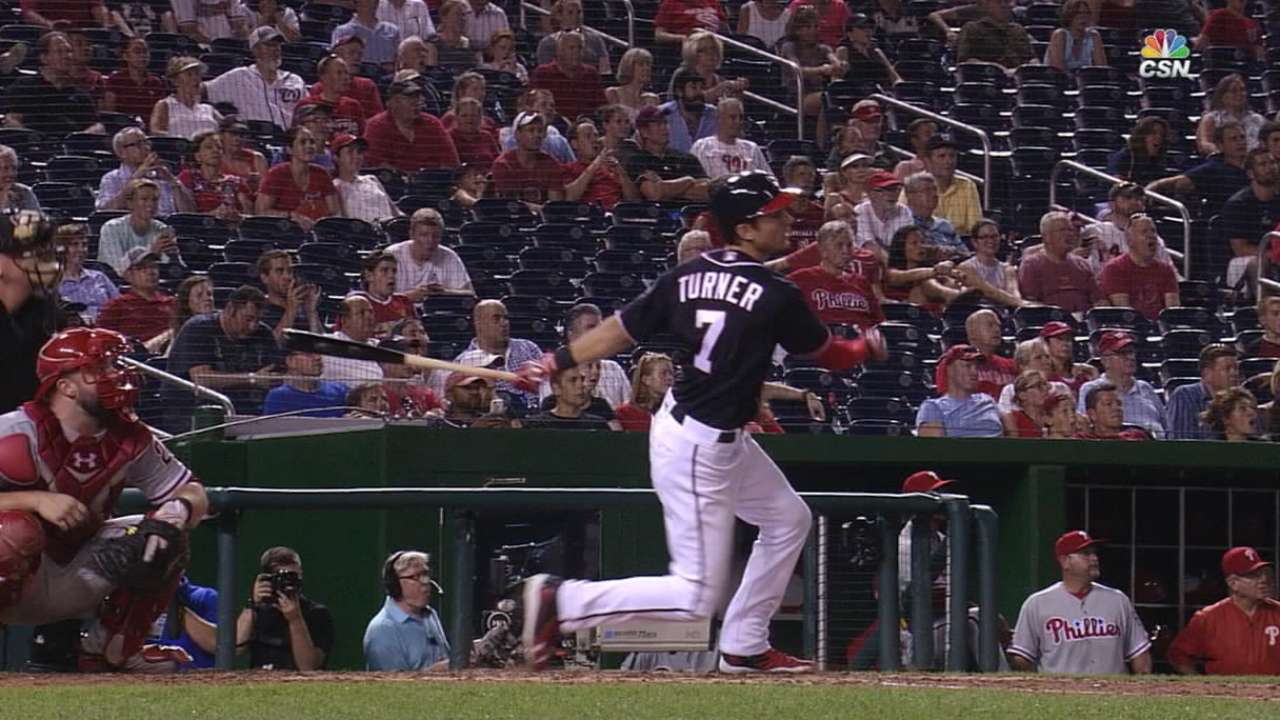 With the start of Spring Training drawing closer, anticipation is building for the 2017 season. Pitchers and catchers are scheduled to report to West Palm Beach, Fla., by Feb. 14, and it's time to break down the Nationals' roster.
This is the fourth installment of a multipart Around the Horn series taking a position-by-position look at the projected starters and backups heading into the season, with the latest examining the Nats' shortstops.
The Nationals spent the offseason paving the way for Trea Turner to take over at shortstop. Landing outfielder Adam Eaton and trading away last season's starting shortstop Danny Espinosa to the Angels less than a week later were both moves that cleared the way for Turner to leave his temporary position in center field to return to his natural position in 2017.
The Nats could still use Turner as a sort of utility man at times and have him play center field or second base, but he should have every opportunity to prove he can be an everyday Major League shortstop this season.
Turner certainly proved he can handle the Majors offensively in a stellar 2016, when he finished second in the voting for the National League Rookie of the Year Award. He hit .342/.370/.567 with 13 home runs and 33 stolen bases in 73 games, accumulating 3.3 Wins Above Replacement, according to FanGraphs.
That production has fans and people around the organization excited to see what Turner can deliver in a full season. According to Steamer, he is projected to hit .301/.347/.459 with 15 home runs and 39 stolen bases (although that number seems a bit low) in 2017, which would make him worth 3.7 WAR.
Teams will adjust to Turner, and it will be up to him to respond. But the questions surrounding Turner this year are about not his bat, but whether his glove will be ready to play shortstop every day in the Majors. Washington had its questions through the first half of 2016, and that is primarily the reason Turner began the year in the Minors.
The Nationals converted Turner to the outfield at midseason, when their center fielders were struggling and there was no room for him in the infield with Espinosa playing well. But even then, Turner was sure to take grounders in the infield during batting practice. Now, the Nats are prepared to turn the position over full-time to someone who has played in only eight games in the Majors at shortstop in his young career.
"I felt like the last 20-30 games I played in [Triple-A] Syracuse at short, I felt really consistent," Turner said at the Nationals' WinterFest last month. "Not making just stupid mistakes, I think it's a matter of being able to throw on the run accurately and do the difficult things more routine."
Washington also doesn't have much depth behind Turner at shortstop. Wilmer Difo is the only backup infielder on the 40-man roster, but he also lacks experience playing the position at the Major League level. Difo had been playing primarily at shortstop during winter ball in the Dominican Republic, and he is in position to be the team's utility infielder off the bench. But the Nationals are still searching for depth off the bench and could sign a veteran infielder before they head to Spring Training.
So the Nats will hand over the starting shortstop position to Turner this year, without much of a contingency plan. Although he almost certainly will be a downgrade defensively compared to Espinosa, Turner's upside on offense could more than make up for it. He is certainly ready to show people that he is ready for the challenge.
"I think that's where I'm most comfortable," Turner said. "It's where I played the majority of my career, and I look forward to trying to prove that I can play there at a high level and be consistent."
Jamal Collier covers the Nationals for MLB.com. Follow him on Twitter at @jamalcollier. This story was not subject to the approval of Major League Baseball or its clubs.