Goose got the Padres over the hump in '84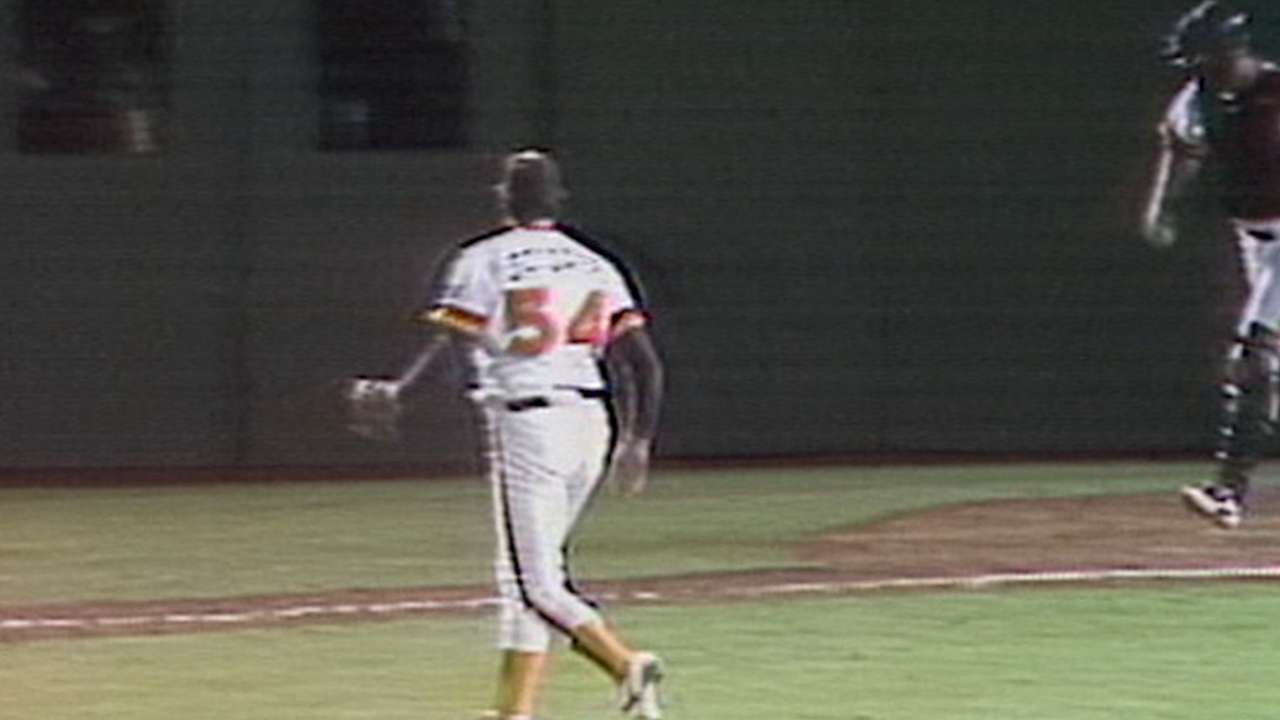 Before bidding adieu to the Hot Stove season, we asked our 30 beat reporters to look back at their club's past and answer the following question: Who is the best free-agent signing in the team's history?
We narrowed the choices with the following parameters: The signings had to be multiyear contracts, to exclude fluky one-year deals and to focus on players who got real commitments. And contract extensions don't count. Only instances when every team in the league had a chance to bid on the player were allowed, including international free agents who received Major League contracts.
SAN DIEGO -- Entering the offseason following the 1983 season, the Padres had most of the pieces in place to become a contender. They were a young team -- one with talent, but not a ton of experience. Feeling as though he was on the brink of something special, general manager Jack McKeon set out to find an elite bullpen arm and a respected veteran presence.
He signed Goose Gossage, and the rest is history.
"That '84 team had a bunch of good young players, guys that were talented that just hadn't done it yet," said former Padres general manager Randy Smith, whose first of 24 years in the organization coincided with Gossage's. "To bring in Goose, he was not going to back down from anybody. I just think he brought a little swagger, attitude and toughness to the bullpen and to the team as a whole."
San Diego went 92-70 that season and beat the Cubs in a thrilling five-game National League Championship Series. Gossage was on the hill when the Padres clinched their first trip to the Fall Classic.
Because of the pivotal role Gossage played -- both on the field and off -- the Hall of Fame right-hander clocks in as the franchise's all-time best free-agent signing.
At the time, Gossage's contract -- for five years and $9.955 million -- was the biggest ever given to a pitcher. But he still took a discount to play in San Diego, where he felt a title contender was brewing. Gossage would post a 2.99 ERA in 197 games for the Padres over four seasons.
"Jack McKeon and ownership felt the club was close," Smith said. "To go out and get a pitcher like Goose, with all that he brought, was a statement to try to put the team over the top. And it did."
Gossage isn't an easy choice for the Padres' best free-agent signing. Gene Tenace and Rollie Fingers signed with the team on the same day in 1976, and each made a big impact. And Steve Garvey's addition set the stage for the '84 run one year prior.
All four are viable choices. But it's no coincidence that Gossage's arrival preceded the team's first pennant.
"Tenace and Fingers sent the signal from ownership that the Padres were going to make a run for it," says Bill Center, long-time reporter for the San Diego Union-Tribune and now a de facto Padres historian who works for the team. "Garvey was a really nice, really important building piece. Then Gossage put them over the top."
Center also points out that Gossage -- who signed with the Friars on Jan. 6, 1984 -- was the last player acquired by legendary team owner Ray Kroc, who passed away eight days later. That was a fact Gossage always cherished.
Ultimately, the Padres wouldn't return to the postseason with Gossage, before he was dealt to the Cubs in 1988. But there's no denying his impact.
"Goose brought in a swagger, an attitude, some leadership," Smith said. "He was the experienced winner that the club needed."
Honorable mentions:
Tenace: Judging solely by his 19.7 WAR, no free-agent signing in Padres history had a bigger impact. In four seasons with the Friars, Tenace batted .237/.403/.422 while anchoring the pitching staff. Among Padres, only Tony Gwynn had more than Tenace's four seasons with an on-base percentage higher than .390.
Fingers: Fingers pitched four years of brilliant relief in San Diego, leading the National League in appearances and saves in his first season. He'd finish with a 3.12 ERA for the Padres, tossing a remarkable 427 relief frames in just 265 appearances. A future Hall of Famer, Fingers was dealt after the 1980 season, and he'd win his only Cy Young Award in '81.
Garvey: If Gossage is No. 1, then Garvey is 1A on this list. The duo is inextricably linked as the big names who helped lift the city to its first pennant. Garvey signed with San Diego before the '83 season, and he batted .275/.309/.409 with 61 homers in five years. He was also the author of the most famous home run in Padres history, a walk-off blast in Game 4 of the '84 NLCS.
Bruce Hurst: Coming off three consecutive brilliant seasons in Boston, the Friars signed Hurst to a three-year deal in December of 1988. (He would later sign an extension and remain with the Padres until '93.) And while Hurst never made the postseason in San Diego, he was a catalyst for three winning teams, and he posted a 3.27 ERA in 131 starts.
AJ Cassavell is a reporter for MLB.com. Follow him on Twitter @ajcassavell. This story was not subject to the approval of Major League Baseball or its clubs.