Inbox: Is Paxton pitching in '17 Classic?
Beat reporter Greg Johns answers questions from Mariners fans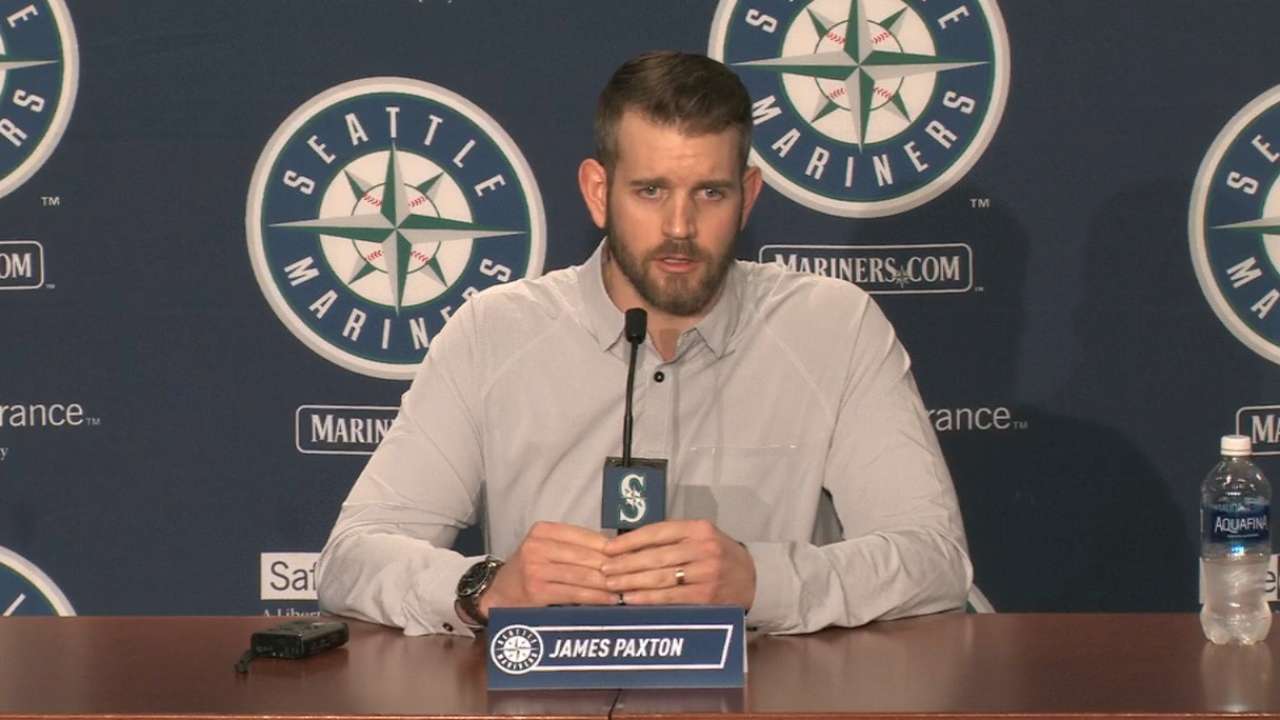 Is James Paxton going to be pitching in the World Baseball Classic for Canada? I've seen conflicting reports on that.
-- Joe R., Wenatchee, Wash.
According to the man himself, Paxton has decided to save his innings for the Mariners' season. That seems like a smart choice, given he threw a career-high 171 2/3 innings last year between Seattle and Triple-A Tacoma and will need to extend that to the 200 range if he stays healthy and productive all year. If the Mariners are going to be playing big games in September and beyond, Paxton will presumably be a key part of that.
• World Baseball Classic information
I didn't see Jamie Moyer's name among the coaching staffs for the Minor Leagues. Will he be involved with the Mariners this year?
-- John F., Seattle
Moyer has never been on the Mariners' coaching staff in any official capacity. He came to camp last spring as a guest instructor for a few days, and he's talked with some of the club's Minor League pitchers, just sharing his experiences during the year. It wouldn't surprise me if that happened again, but he's not employed by the team.
• Submit a question to the Mariners Inbox
Any chance the Mariners bring back Tom Wilhelmsen? The bullpen won't be the same without the Bartender.
-- Jill S., Kirkland, Wash.
Wilhelmsen remains an unsigned free agent, but he can't be re-signed by the Mariners until May 15 because he was a returning free agent when they released him in late November rather than enter the salary-arbitration process. Mariners GM Jerry Dipoto said at the time that the door wasn't closed on Wilhelmsen's return, and the big right-hander had a pretty solid second half last year after rejoining Seattle following his struggles in Texas. But by choosing to be released instead of outrighted to the Minors, Wilhelmsen can only negotiate with the other 29 teams until the mid-May deadline.
Any updates on the Ken Griffey Jr. statue, regarding when it will be unveiled and where it will be located?
-- Ian L., Shoreline, Wash.
No word yet from the Mariners on that, though I suspect we'll be hearing something before long, once they're ready to announce it.
Do the Mariners have a chance of re-signing Adam Lind to platoon with Danny Valencia at first base, giving more time to Daniel Vogelbach to develop in Tacoma?
-- Matt M., Centennial, Colo.
In theory, they have a chance because Lind remains an unsigned free agent, but all indications are they're going forward with the Vogelbach/Valencia tandem and have every intent to give Vogelbach a chance to show what he can do. Dipoto sees the 24-year-old as a potential long-term solution at first base and believes he's ready for the opportunity.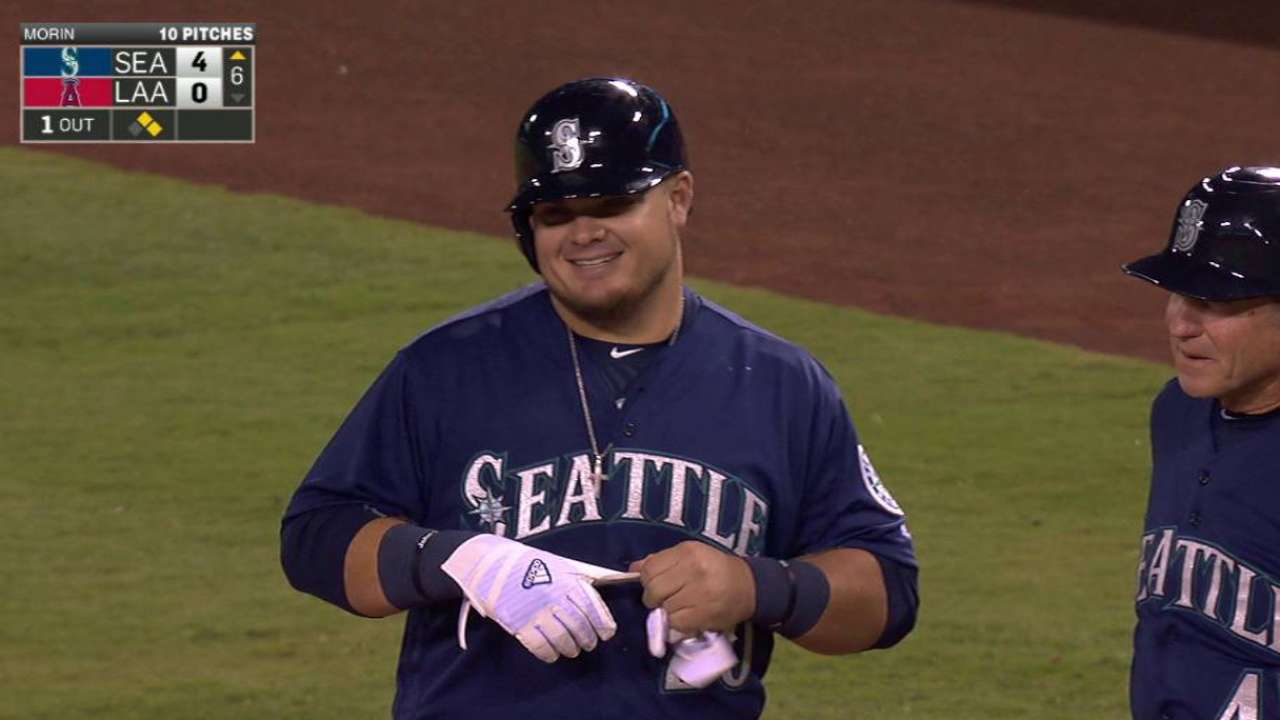 What do you know about Tim Lincecum and do you think the Mariners might offer him a Minor League contract with an invite to Spring Training? Maybe the longer recovery time from his surgery and pitching at Safeco might revitalize his career, or is he finished?
-- Bill H., Apple Valley, Calif.
When last seen, Lincecum was getting shelled by the Mariners at Safeco Field in what turned out to be his final start with the Angels last August. He posted a 9.16 ERA in nine starts last year. The 32-year-old Seattle-area native still wants to pitch and has had more time to recover from his hip issue. I expect he'll get a Minor League offer and a look from somebody, but I've heard no indication that the Mariners are interested.
Now that the Mariners have added Drew Smyly and Yovani Gallardo, what will happen to Ariel Miranda this season?
-- Dayton F., Auburn, Wash.
The Mariners will go to camp with a starting five of Felix Hernandez, Hisashi Iwakuma, Paxton, Smyly and Gallardo. But Miranda will be stretched out as a starter this spring as well, and he offers a solid alternative should anything happen with the first five. If all goes to plan, he'd open the year in the bullpen as the second lefty behind Marc Rzepczynski in a role similar to Mike Montgomery's last season. But it's rare for a team to have no issues with its rotation, so it wouldn't be a surprise if he starts some games at some point during the year.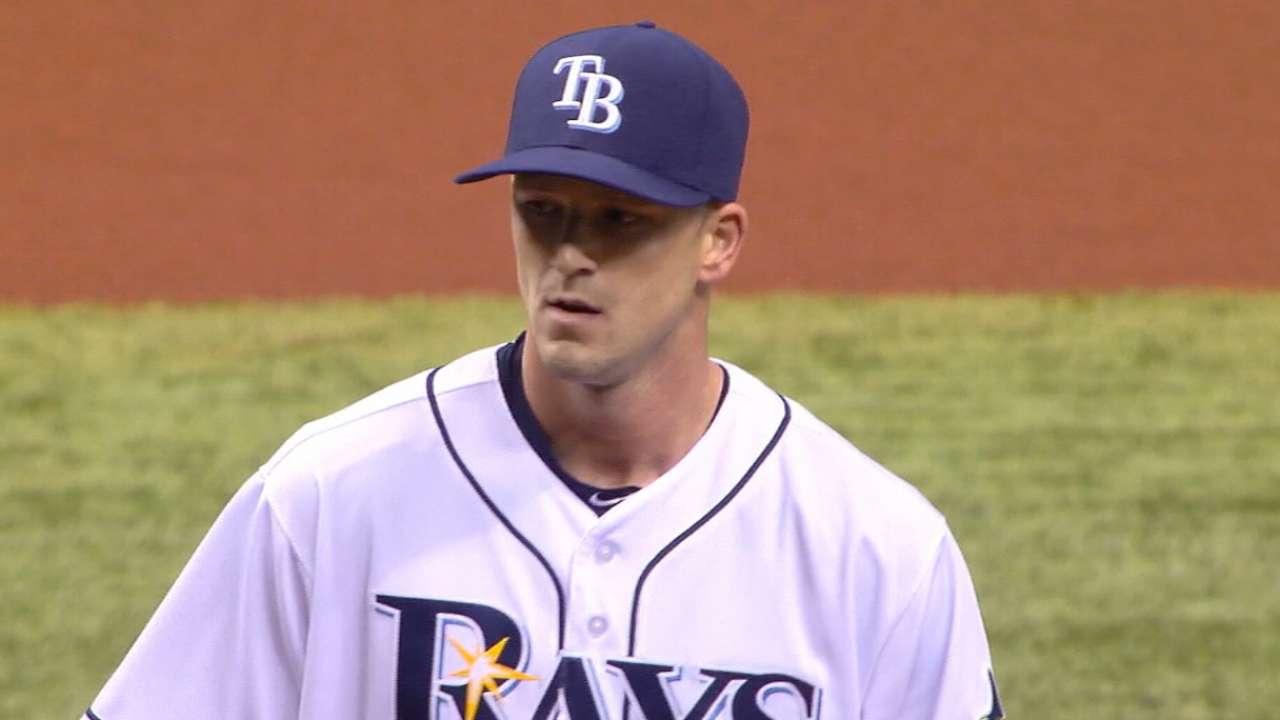 Why can't you be a fan for the team you write for? I want to pursue being a Mariners writer and I can't since I'm a fan of them. Why is that a rule?
-- Ethan T., North Bend, Wash.
All of us who cover baseball grew up as fans of the game and fans of various teams. There is no "rule" that prohibits you from becoming a baseball beat writer because you like the Mariners. What does happen, if you go to college and major in journalism and advance into a sportswriting career, you quickly learn that your job is to cover whatever team and sport you are assigned in a professional and neutral fashion, not as a fan or cheerleader but as a journalist.
There is no cheering in the press box, for instance. It's a work environment, not a fan section. So if you do want to become a baseball writer, that is something you should expect. It's different than being a fan, but it is still a very enjoyable profession if you like watching and being around the sport.
Greg Johns has covered the Mariners since 1997, and for MLB.com since 2011. Follow him on Twitter @GregJohnsMLB and listen to his podcast. This story was not subject to the approval of Major League Baseball or its clubs.