Inbox: How much power will Edwin bring?
Beat reporter Jordan Bastian answers Tribe fans' questions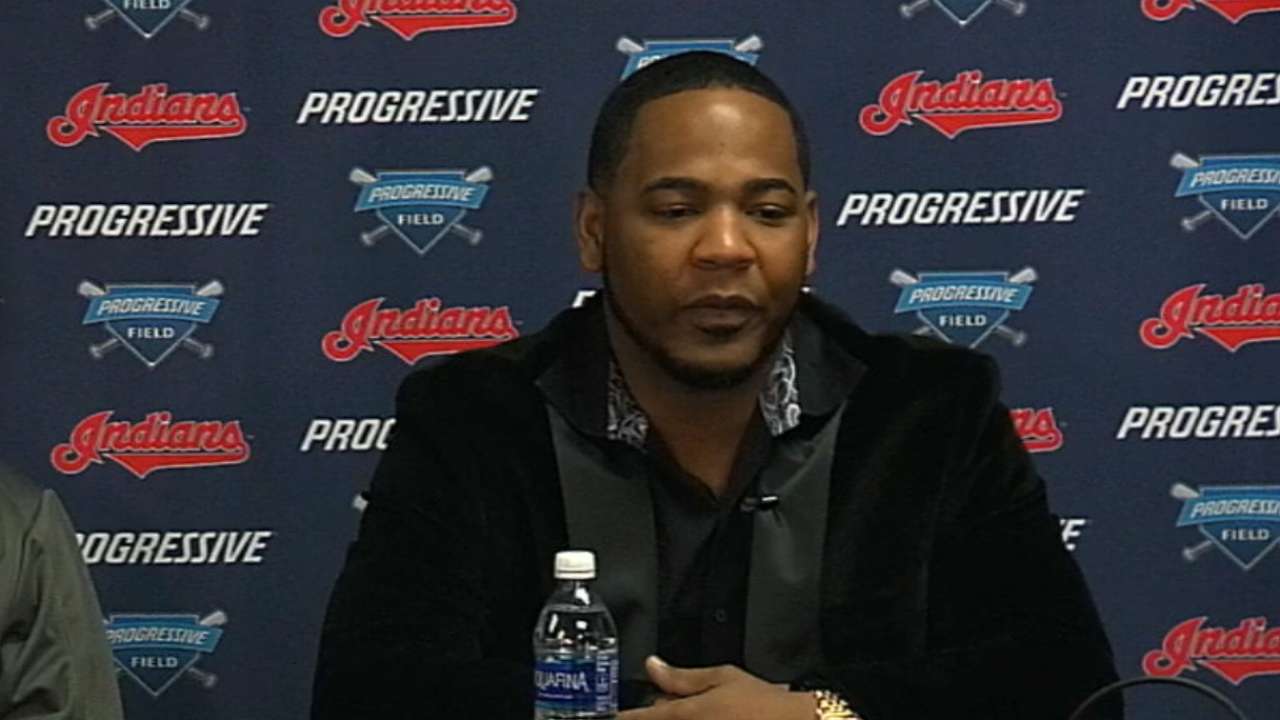 The Fangraphs projection for Edwin Encarnacion is pretty similar to Mike Napoli's 2016 campaign. The basis for their projection and a bit of regression from EE seems to be age and park factor. Do you think that, while Progressive Field's park factor for right-handed hitters is less than Rogers Centre, playing in the American League Central would counteract that effect and we should expect a similar power output from EE this season?
--Kyle M., Kent, Ohio
There could be some truth to that, especially considering some of the arms that will no longer be within the AL Central. I want to touch on a couple other things you mentioned here, though.
• Submit a question to the Indians Inbox
First off, the projections for Encarnacion might look similar to Napoli in terms of home runs and RBIs, but they also show a better and more well-rounded hitter. For example, Napoli had a 30.1 percent strikeout rate in '16, while Encarnacion projects for an 18.9 percent rate via Steamer. Encarnacion's projected weighted Runs Created Plus (123) is also higher than what Napoli posted last season (113). Encarnacion's batting average, along with on-base and slugging percentages, also project to be better than what Napoli posted last year.
Earlier this month, I took a look at how a few hitters like Encarnacion-- sluggers not as prone to a high strikeout rate as others -- have aged.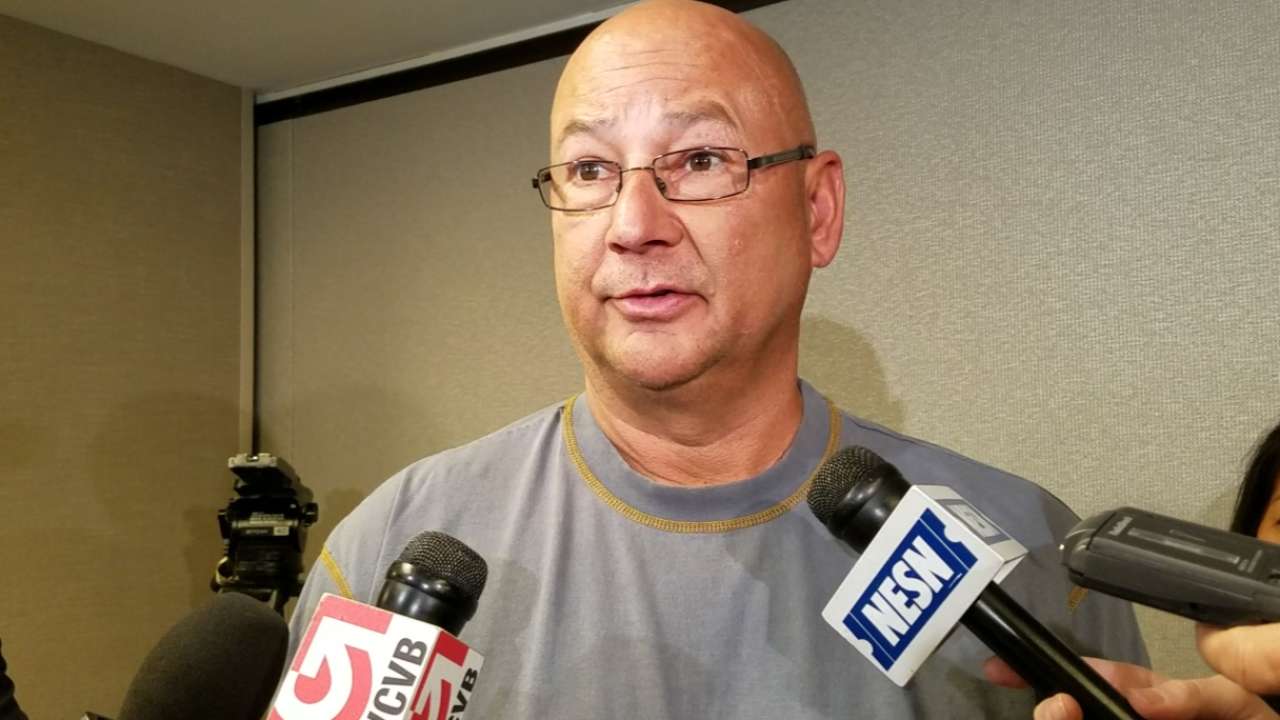 The next thing to consider with the projections is that they do account for environment. For instance, the Blue Jays' ZiPS projections came out on Nov. 30 -- well before Encarnacion signed with Cleveland. Using Rogers Centre as his base ballpark, those projections had him posting a .264/.356/.528 slash line in '17. Steamer, on the other hand, shows a .254/.349/.485 slash line, while taking Cleveland into account.
That said, front offices around Major League Baseball are beginning to view Progressive Field as more of a hitter-friendly park than in the past. Over the past two years combined, the overall production in Cleveland has been .264/.329/.429 with a .313 batting average on balls in play and 9.5 runs per game. In the previous five years, batters produced a .252/.320/.394 slash with a .295 BABIP and 8.5 runs per game at Progressive Field.
Two years is not a huge sample size, but it's enough to wonder if the renovations that have taken place in that span have contributed to the boost in offense. Why is this important to note in relation to your question? Well, perhaps Encarnacion's projected wOBA via Steamer (.356) will actually be a little higher given the way Cleveland is playing these days. For reference, ZiPS had his wOBA at .370 for '17.
What will the Indians' lineup look like for 2017? I'm wondering if Michael Brantley resumes batting third, or is Francisco Lindor entrenched there? Also, without Rajai Davis, who leads off?
--Jeff H., Columbus, Ohio
It will be interesting to see how manager Terry Francona handles the leadoff spot. Once we have a grip on that -- and that might not be until closer to the regular season -- it will be easier to project the rest of the lineup. It seems like a safe bet that Encarnacion will be batting cleanup. For the fifth spot, Francona has shown a preference at times for using a high-contact hitter. That could mean Brantley or Jose Ramirez finds a home there.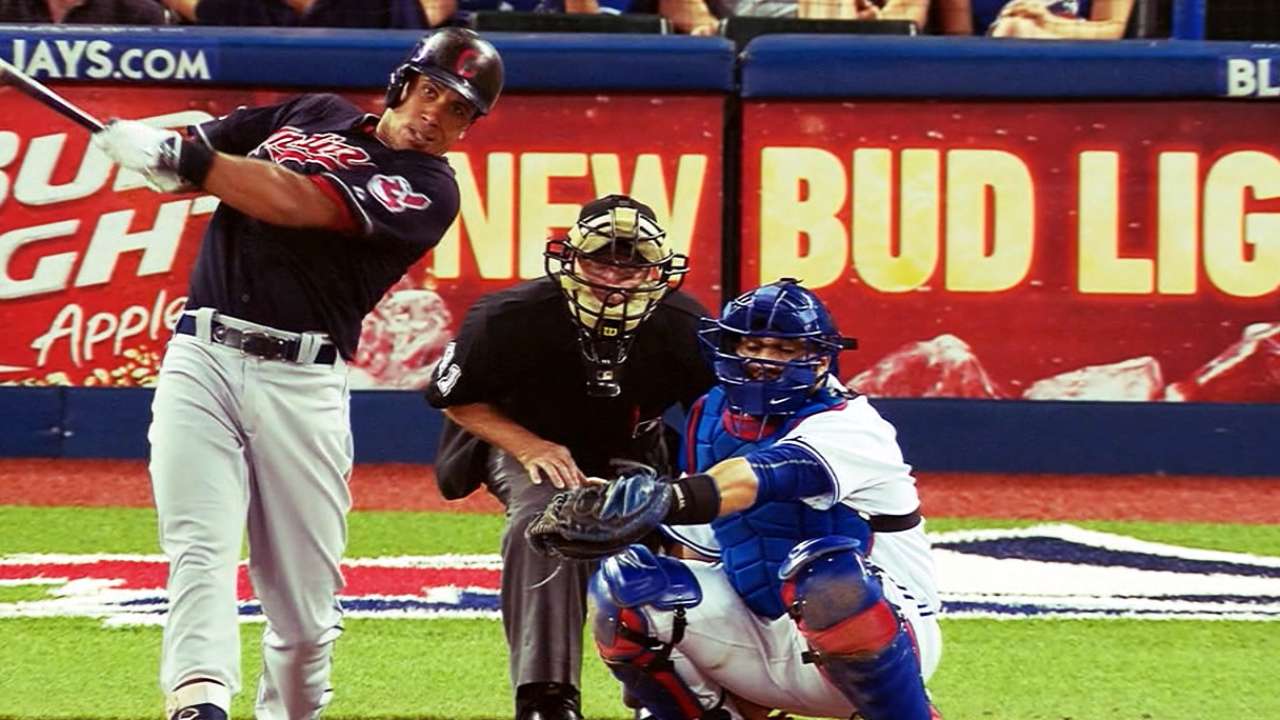 Carlos Santana thrived batting leadoff against righties last year, so I wouldn't be surprised if he renews that role, or grows into a full-time leadoff man. He could just as easily move back to the middle of the order behind Encarnacion, too. In 2015, Jason Kipnis was the main leadoff man and posted an .861 OPS in that spot. I'd imagine Lindor is in the mix for one of the top three spots, even if Brantley is healthy and back in the third hole. As you can see, there really isn't a clear answer to your question, yet.
@MLBastian #IndiansInbox at what percent do you see Brantley on opening day?

- Nick Westhora (@n_westy07) January 23, 2017
Ask me again in the middle of March. Not to dodge the question, but there just is no way to know the answer right now. The last update from the Indians was that Brantley has progressed to hitting off a tee. He's well ahead of where he was in his comeback from shoulder surgery one year ago, but still a ways off from anyone -- including the Indians -- knowing his status for Opening Day. The real test will come once he is in games for mutliple days.
@MLBastian What are odds someone other than Tyler Naquin opens as majority CF? Jeff - Lakewood

- SportsNom (@SportsNom) January 23, 2017
I would be surprised if that was the case. Naquin is coming off a productive year, and that is largely due to Francona finding the best way to utilize the young outfielder. Cleveland saw better defense from Naquin in the second half and his numbers against right-handed pitching were solid. Right now, Naquin projects to garner the most at-bats as the Tribe's center fielder. Given the current makeup of the roster, Abraham Almonte could see some time in center, too. This spring, Cleveland also plans on giving Brandon Guyer reps at that position, though he mainly plays against lefties.
@MLBastian At what point do you expect to see zimmer this season? #IndiansInbox

- Austen Ruwe (@AustenRuwe) January 23, 2017
That depends on two things: Bradley Zimmer's development at Triple-A and the need at the Major League level. Last year, Zimmer posted a 37.3-percent strikeout rate at Triple-A, compared to a 24-percent mark in the Minors before that level. If he shows he made the proper adjustments, excels with Columbus and Cleveland has a need in the big leagues, Zimmer could be in line for a promotion this summer. Lindor was in a similar position in '15 and found his way to the Majors by June. There are certainly question marks in the Tribe's outfield, so Zimmer might be in position to push for a promotion.
How long do you believe the Indians have until their window to win the World Series closes. With many of the AL Central teams appearing to be in a rebuilding stage, the Indians could be the Central champs for a bit. But, how long could it actually last?
--Khris L., Toledo
There is just no way to answer this question definitively. That said, the foundation of Cleveland's roster right now is pitching. With that in mind, the Indians have the potential to keep Carlos Carrasco, Danny Salazar and Trevor Bauer through 2020, and Corey Kluber through '21. Relief ace Andrew Miller and closer Cody Allen are under control through '18. So, the Indians are in great shape for the next two years, and have a solid pitching base for the next several seasons.
Jordan Bastian has covered the Indians for MLB.com since 2011, and previously covered the Blue Jays from 2006-10. Read his blog, Major League Bastian, follow him on Twitter @MLBastian and listen to his podcast. This story was not subject to the approval of Major League Baseball or its clubs.