Rockies' finest FA deal was Walker in 1995
Outfielder helped lift 3-year expansion franchise to playoffs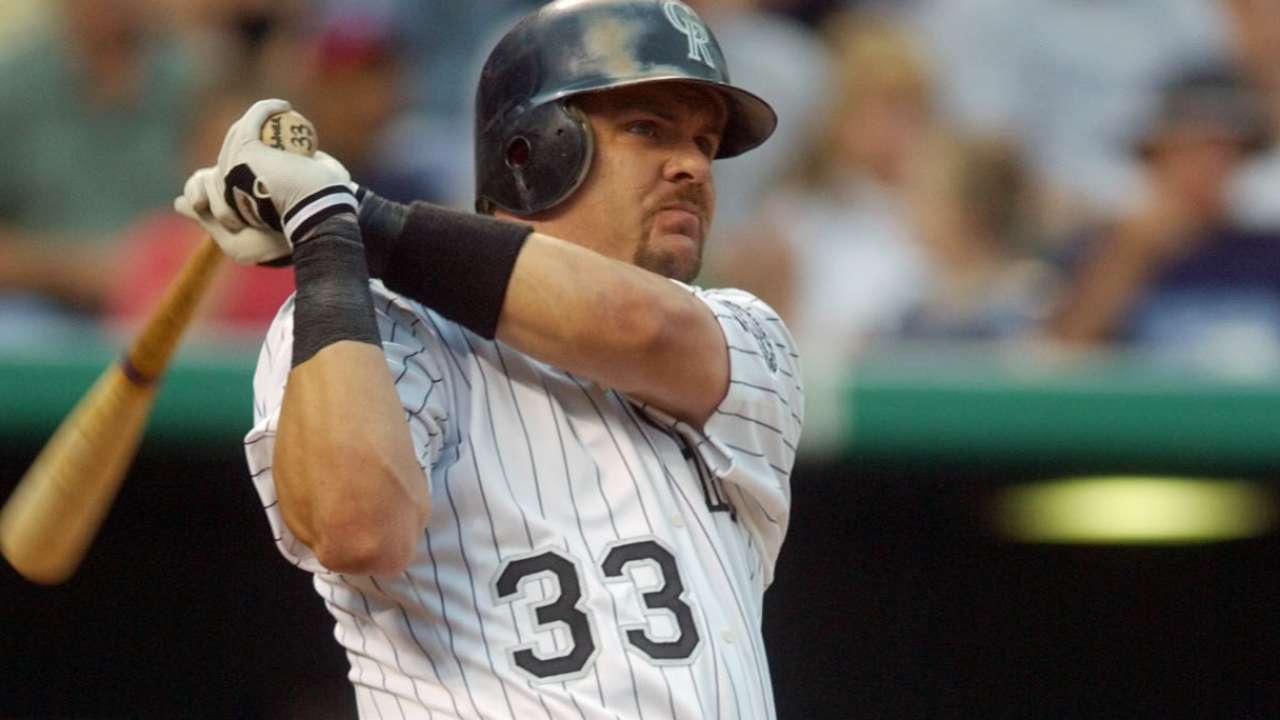 Before bidding adieu to the Hot Stove season, we asked our 30 beat reporters to look back at their club's past and answer the following question: Who is the best free-agent signing in the team's history?
We narrowed the choices with the following parameters: The signings had to be multiyear contracts, to exclude fluky one-year deals and to focus on players who got real commitments. And contract extensions don't count. Only instances when every team in the league had a chance to bid on the player were allowed, including international free agents who received Major League contracts.
DENVER -- Bob Gebhard was working in the Expos' farm system in the 1980s when he watched Larry Walker grow from a raw Canadian kid -- a hockey goalie first, outfielder second -- to a standout player. When Gebhard became the Rockies' original general manager, he was going to make sure he'd benefit from Walker's talents.
The Rockies already exceeded low expectations their first two years by avoiding 100-loss seasons in 1993 and '94. Free-agent signings of Andres Galarraga before the expansion draft and Ellis Burks before the 1994 season jump-started an offense that would benefit from playing at mile-high altitude.
But the signing of Walker on April 8, 1995, to a four-year, $22.5 million contract solidified the Rockies as a contender. Walker would play 10 seasons of his fine career in Purple Pinstripes, and he stands as the greatest free-agent signing in the history of the franchise.
"When Larry was on a string, when he was hot, he could hit a ball to any field and stretch a double to a triple, and a triple to a home run," said Gebhard, now senior special assistant to Cardinals GM John Mozeliak. "He was a fun player to watch play. We talk about the five tools, and Larry had five tools that would grade out to an 80, which is the top grade that there is. I don't know of anybody who went from first to third as easily as Larry Walker did. He could do anything."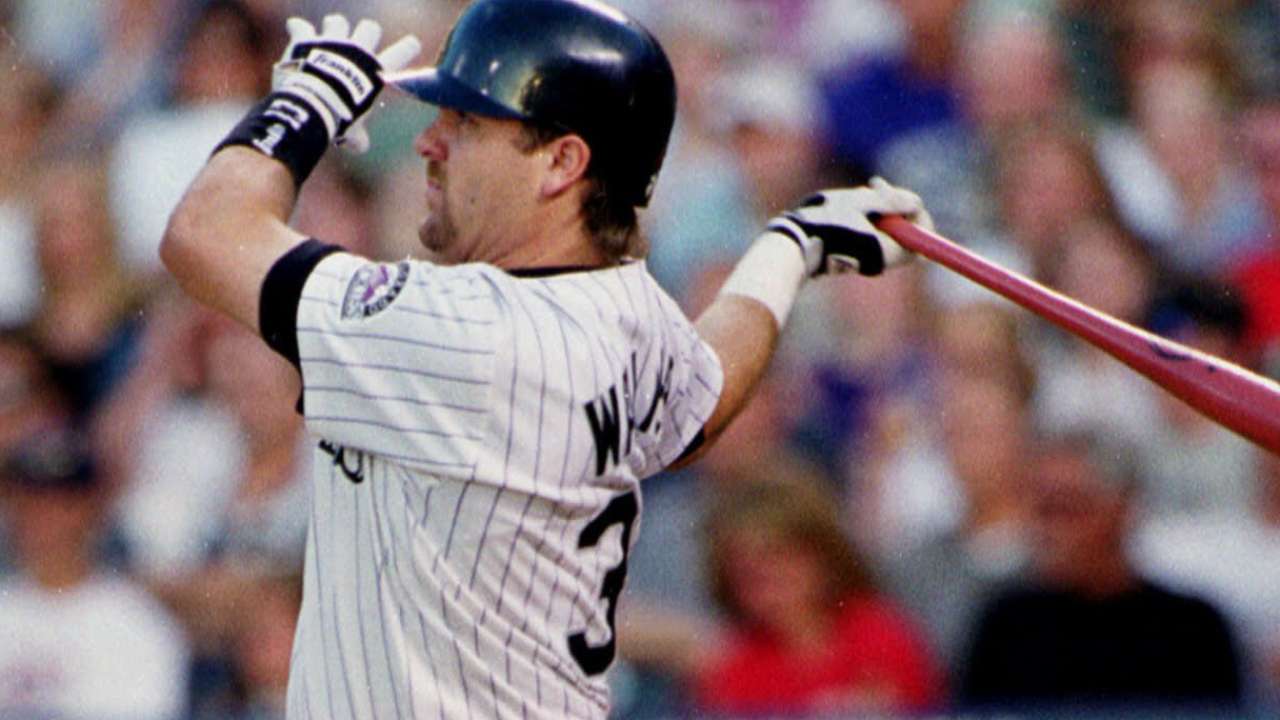 All Walker did was add punch to an already strong lineup -- which included Galarraga, Burks, Vinny Castilla and Dante Bichette -- and help lift the 3-year-old Rockies to the postseason. At the time it was the fastest an expansion club had ever made the playoffs. In 131 games (the season was only 144 games because of the labor delay), Walker batted .306 with 31 home runs and 101 RBIs, and demonstrated that he and the Rockies were there to stay.
According to Baseball-Reference.com, Walker's 48 Wins Above Replacement ranks second in Rockies history to Todd Helton's 61, over 17 seasons as a homegrown player. Walker won the National League Most Valuable Player Award in 1997 -- when he led the league in home runs (49), on-base percentage (.452), slugging (.720) and OPS (1.172). He would win three NL batting titles, and take home five of his six Gold Glove Awards and three of his four Silver Slugger Awards while with the Rockies.
"I think back to my 52, 53 years in baseball and Larry Walker has as many skills as anybody I've been around, and that includes several Hall of Famers," Gebhard said.
Like many folks with genius in certain areas, Walker had his quirks.
"One year [the MVP year of '97] he stole 33 bases, and probably could have stolen 50," Gebhard said. "We were out of the race and weren't going to win, so I asked. He stopped at 33 because that was his uniform number. He was very much his own guy."
Honorable mentions
• Andres Galarraga: Wanting to have a threat in the lineup quickly, the Rockies signed Galarraga for one year and $850,000 before the 1993 expansion draft. Galarraga hit .370 for the NL batting title, and was rewarded with a four-year, $17.2 million deal. He would post a 14 WAR in a Rockies uniform.
• Ellis Burks: The former outfielder signed for three years and $10.7 million, but the first two years -- 1994 and '95 -- he was limited to 486 plate appearances. But Burks more than paid off in 1996, when he led the NL in runs scored (142) and slugging percentage(.639), while batting .344 with 40 homers and 127 RBIs. Burks compiled an 11 WAR before being traded to the Giants in 1998.
Thomas Harding has covered the Rockies since 2000, and for MLB.com since 2002. Follow him on Twitter @harding_at_mlb, listen to podcasts and like his Facebook page. This story was not subject to the approval of Major League Baseball or its clubs.