Signing Alomar tops Tribe's free-agent moves
Hall of Fame 2B, SS Vizquel formed one of game's best DP duos
Before bidding adieu to the Hot Stove season, we asked our 30 beat reporters to look back at their club's past and answer the following question: Who is the best free-agent signing in the team's history?
We narrowed the choices with the following parameters: The signings had to be multiyear contracts, to exclude fluky one-year deals and to focus on players who got real commitments. And contract extensions don't count. Only instances when every team in the league had a chance to bid on the player were allowed, including international free agents who received Major League contracts.
CLEVELAND -- Roberto Alomar was still in his prime when he decided to sign with the Indians. This was not some aging veteran looking to cash in on his final years. This was one of the game's top all-around threats -- a future Hall of Famer -- and he wanted to come to Cleveland.
There have been more lucrative signings for the Indians, and deals that consisted of a larger commitment in terms of years, but Alomar's pact with the Tribe before the 1999 season is arguably the best free-agent addition of all time for the Indians. Alomar was reunited on the field with his older brother, Sandy, and the second baseman teamed with shortstop Omar Vizquel to form one of history's greatest double-play combinations.
Adding Alomar was an incredible moment for the Indians.
"Robbie was still a stud," said Bob DiBiasio, the Indians' vice president of public affairs, and longtime PR man. "He's probably at the top of the list because of being the best player. That year he had in '99 was remarkable. It was the only year in our franchise history we scored 1,000 runs. He was the leader of that."
During that '99 tour, Alomar collected 129 RBIs, scored 138 runs and posted a .955 OPS in the first year under the three-year, $21.9 million contract he signed Dec. 1, 1998. His time in Cleveland came at the tail end of a 12-year stretch that saw Alomar earn 10 Gold Gloves and a dozen straight trips to the All-Star Game. With the Indians, he received three Gold Gloves and a pair of Silver Slugger Awards.
From 1999-2001, Alomar turned in a .323/.405/.515 slash line to go along with a 134 OPS+, indicating that he was 34-percent better than league average in that span. The second baseman averaged 21 homers, 38 doubles, 103 RBIs and 35 steals in his three-year stint with Cleveland. He was a top-four finisher in voting for the American League MVP Award twice, and he and Vizquel each picked up a Gold Glove in their three years together.
On top of that, Robbie and catcher Sandy Alomar Jr. got to suit up together in Cleveland.
"When [former Indians general manager] John Hart hinted that getting Robbie was his focus," DiBiasio said, "we just thought, 'Wow.' Brother-brother bonds in baseball are just so cool. Everybody thought the world of Sandy, and they still do. And then all of a sudden, his superstar brother is going to come play for us, too? We had lots of smiles going on at that time."
The largest free-agent contract in Indians history came to fruition earlier this month, when slugger Edwin Encarnacion inked a three-year, $60 million deal. That surpassed the previous mark $56 million (four years) handed to Nick Swisher before the 2013 season. One of the more unique signings took place in 1976, when Cleveland inked pitcher Wayne Garland to a 10-year, $2.3 million pact via free agency.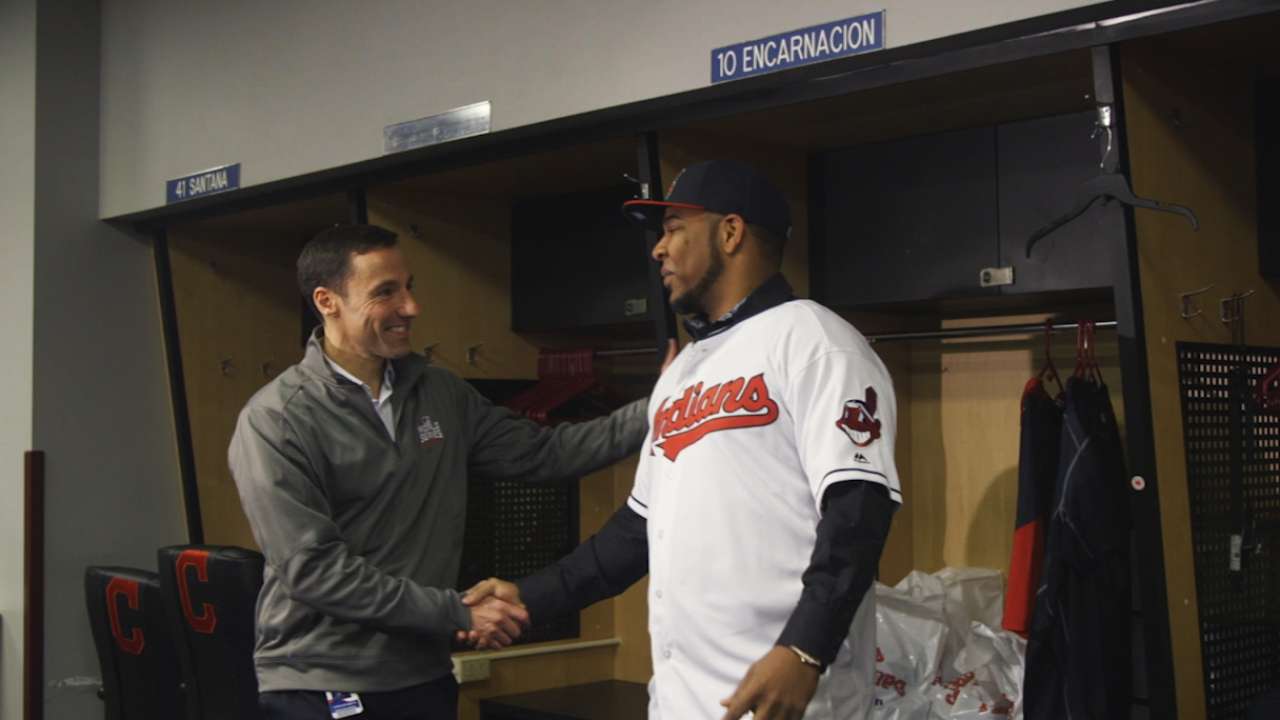 Here is a look at other notable multiyear, free-agent signings in Indians' history:
Dennis Martinez and Eddie Murray: With then Jacobs Field still under construction on Dec. 2, 1993, the Indians were forced to hold a news conference in a local hotel to announce the signings of Martinez and Murray. Both veterans agreed to three-year contracts to play for Cleveland, which was moving into a new ballpark in the '94 season. Martinez proved to be the better signing, but the pair of big-name acquisitions helped usher in a new era of Indians baseball in the '90s.
"Those two guys obviously changed the face of who we were," DiBiasio said. "The building of Jacobs Field may have been the most important thing that's ever happened to our franchise, because if it doesn't get built, we're probably not in Cleveland, Ohio, today. And because it did get built, we were able to sign Eddie Murray and Dennis Martinez. That started a steady stream of incredibly talented guys who wanted to play in Cleveland."
Orel Hershiser: For the '95 season, the Indians brought in the veteran Hershiser on a three-year contract worth $6.35 million. Over the next three years, the right-hander went a combined 45-21 with a 4.21 ERA in 91 starts. He posted a 113 ERA+, piled up an 8.7 WAR (per Baseball-Reference.com) and helped Cleveland go deep into the postseason. Hershiser was the MVP of the '95 American League Championship Series and was a part of two pennant winners for the Tribe.
Kenny Lofton: Lofton spent nine of 10 seasons with the Indians from 1992-2001, with the lone exception being a one-year stop with the Braves in '97. On Dec. 8, 1997, Cleveland brought the speedy center fielder back as a free agent with a three-year, $24 million contract. Over the next four years -- the last season being an option -- Lofton hit .280 with 48 homers, 103 doubles, 21 triples, 242 RBIs, 292 walks, 125 steals and 409 runs scored. He was named an All-Star twice in that second stint with the Tribe.
Jordan Bastian has covered the Indians for MLB.com since 2011, and previously covered the Blue Jays from 2006-10. Read his blog, Major League Bastian, follow him on Twitter @MLBastian and listen to his podcast. This story was not subject to the approval of Major League Baseball or its clubs.