Free-agent Martin turned Bucs' luck around
Catcher helped Pittsburgh reach postseason in back-to-back years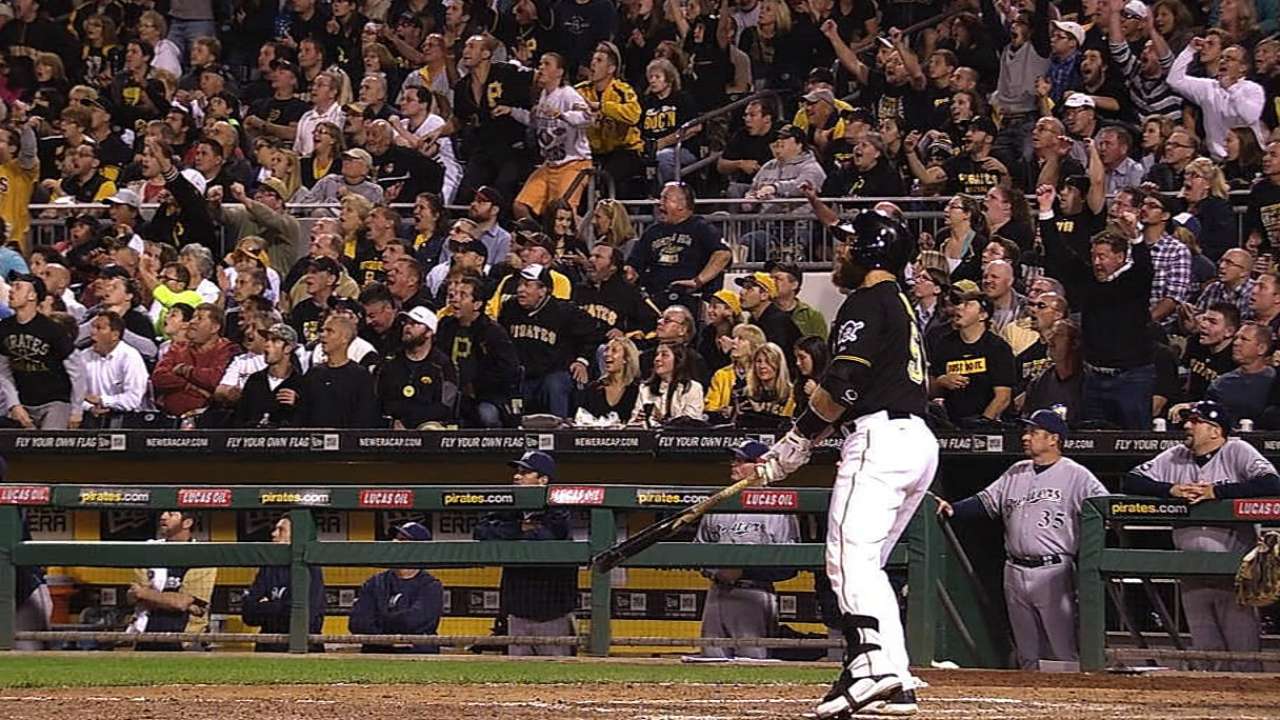 Before bidding adieu to the Hot Stove season, we asked our 30 beat reporters to look back at their club's past and answer the following question: Who is the best free-agent signing in the team's history?
We narrowed the choices with the following parameters: The signings had to be multiyear contracts, to exclude fluky one-year deals and to focus on players who got real commitments. And contract extensions don't count. Only instances when every team in the league had a chance to bid on the player were allowed, including international free agents who received Major League contracts.
PITTSBURGH -- You don't have to dig too deep through the history books to find Pittsburgh's leading candidate for best free-agent signing. Rewind to the winter of 2012, when the Pirates took a chance on a new catcher and signed Russell Martin.
The deal was met in Pittsburgh with equal parts praise and skepticism. Martin's ability to get on base and his defensive prowess were known quantities, but he was 30 years old and coming off a season in which he hit .211/.311/.403 for the Yankees. So why hand him a two-year deal worth a guaranteed $17 million?
Clearly, the Pirates saw Martin's potential. He stepped in as their starting catcher and delivered 4.2 WAR in 2013 and 5.5 WAR in '14, helping Pittsburgh snap its 20-season losing streak as the Bucs returned to the postseason in back-to-back years.
"Regardless of the contract length, I like the player," general manager Neal Huntington said after announcing the deal. "The defense, the energy, our indicators that he will continue to be a very good player. We got the deal done at two [years] and feel great about it."
When Martin was nearing the end of his contract, fans at PNC Park chanted, "Re-sign Russ!" But his next deal came from the Blue Jays, a five-year, $82 million pact that he earned with his performance in Pittsburgh.
Martin hit .226 with a .703 OPS in 2013. He was far from Pittsburgh's most valuable player, as Andrew McCutchen won the National League MVP Award that season and Starling Marte emerged onto the scene.
McCutchen was again the Bucs' best player in 2014, but Martin made a case for himself. He hit .290/.402/.430 with 11 homers and 67 RBIs. His WAR total was second only to McCutchen's. Accounting for Martin's superb pitch-framing -- a significant area of improvement for the Bucs with Martin behind the plate -- Baseball Prospectus rated him as the Majors' seventh-most valuable player that season.
Martin's value extended beyond the field, too. He has been recognized as one of the players who changed the Pirates' culture, turning a clubhouse associated with losing into a group that expected to win.
Honorable mentions
• Francisco Liriano's first deal fits the bill. He made $1 million in 2013 and received $6 million through an option for '14, so the contract wound up being two years for $7 million. During that time, Liriano contributed 4.6 WAR with a 3.20 ERA in 323 1/3 innings over 55 starts. Liriano's subsequent three-year, $39 million deal did not pan out as well, however.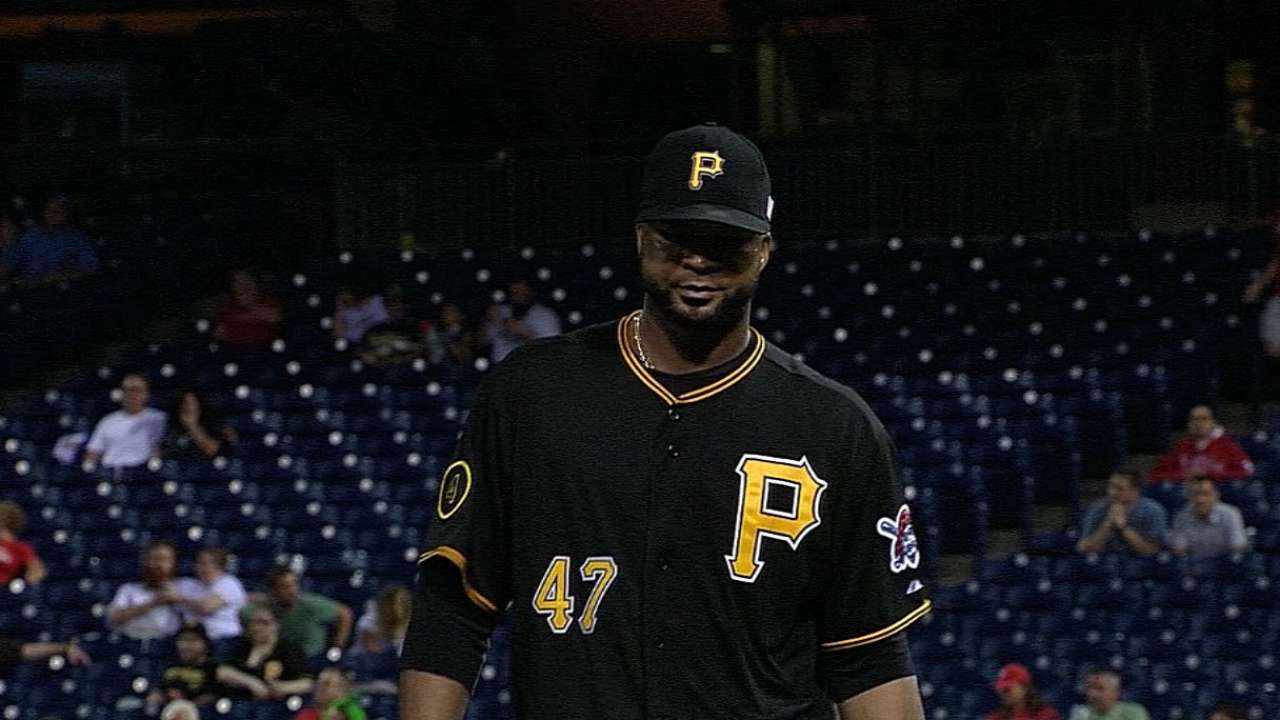 • They're not free-agent deals, but take a moment to appreciate the Pirates' recent extensions. McCutchen's six-year, $51.5 million was an incredible value for the club and allowed the Bucs to build around him. Marte signed a similar deal, and Gregory Polanco joined the group last April. Those deals don't always work -- as was the case with Jose Tabata -- but the Pirates have found value in them.
• The Pirates signed a few quality free agents before the 2003 season, including Reggie Sanders, Kenny Lofton, Matt Stairs and Jeff Suppan. Sanders went on to hit .285/.345/.567 with 31 homers and 87 RBIs. The Bucs also landed Freddy Sanchez from the Red Sox when they traded Suppan that same season.
Adam Berry has covered the Pirates for MLB.com since 2015. Follow him on Twitter and Facebook, read his blog and listen to his podcast. This story was not subject to the approval of Major League Baseball or its clubs.