Hoffman ready to get spot in Rockies' rotation
No. 2 prospect filled starting and relief roles in 2016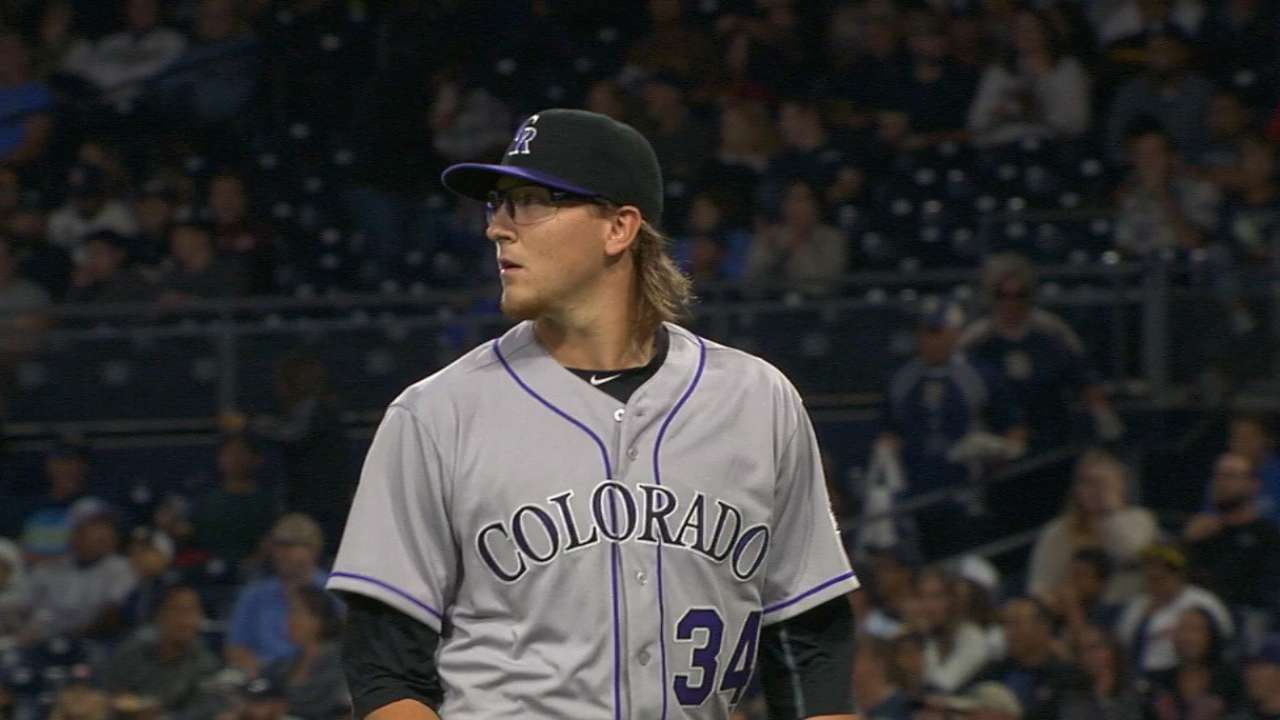 DENVER -- With four starting pitchers coming off solid 2016 seasons, the Rockies will head to Spring Training with an open rotation spot. But don't tell right-hander Jeff Hoffman -- one of the hopefuls -- that it's the No. 5 spot.
"To start, I don't think the competition is just for the fifth spot," said Hoffman, the club's No. 2 prospect according to MLBPipeline.com. "Everybody needs to earn their spot.
"We have six or seven guys all very capable of winning five rotation spot. I'm going out to win the first one. I'm not going to leave anything up to doubt, or luck or chance or anything. I'm going to get my spot out of the way and help that team win. I'm not going to expect to be the fifth starter. That's just not who I am."
Hoffman, 24, was the Rockies' key acquistion in the July 2015 trade that sent star shortstop Troy Tulowitzki to the Blue Jays, and the ninth overall pick in the 2014 Draft. But those are other descriptions. Hoffman wants to show he is a pitcher of top-shelf ability -- with a four-seam fastball in the 95 mph range and a downward biting curveball, both of which produce ground balls. He also features a changeup that he's always a possessed and a developing slider that he believes could be a factor.
As important, Hoffman holds himself to a high standard.
"When you expect so much out of yourself, there's not really much else somebody can expect out of you," Hoffman said.
Results were mixed in his Major League debut last season (0-4, 4.88 ERA in eight games, six starts). Hoffman was better at the end than the beginning, with his best outing being his last -- seven strikeouts against two hits and one run in five innings of a no-decision against the Brewers on Oct. 1.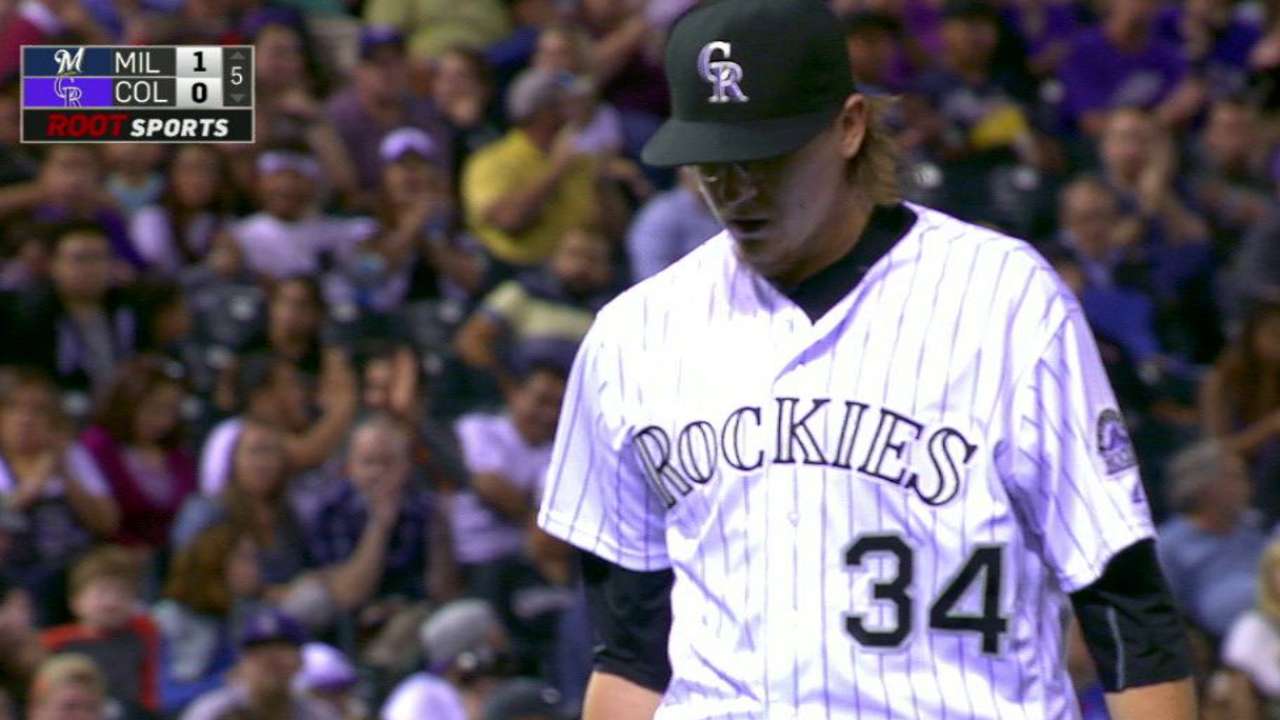 The first five appearances, all starts, were mostly rough. But in relief appearances against the Dodgers and Giants, Hoffman held the playoff-bound teams to one run in four innings.
The Rockies' management of Hoffman's 2016 season was clearly governed by a plan. After those relief appearances, he threw the five innings against the Brewers and left with 150 combined innings at Triple-A Albuquerque (6-9, 4.02 ERA, 124 strikeouts in 118 2/3 innings). It was similar to the way the Rockies ushered righty Jon Gray into the Majors in 2015.
However, Hoffman's nature makes him look at the time in the bullpen as a demotion, not as part of the team's strategy to monitor his innings. So he arrived motivated for that final start against the Brewers.
"It kind of lights a fire, and that's what happened," Hoffman said. "When that spot gets taken away, whether it's for performance or for innings limits -- they told me it was for innings limits -- regardless of the case, it lights a fire underneath you."
Hoffman will compete for the rotation spot with righty German Marquez, who went 1-1 with a 5.23 ERA in five games (three starts) with the Rockies after earning Eastern League Pitcher of the Year honors at Double-A Hartford; lefty Kyle Freeland, whom the Rockies selected eighth overall (one pick before the Jays took Hoffman) in 2014; and lefty Chris Rusin, who has been a valuable starter and reliever over the last three seasons.
Hoffman will enter the competition with a competitive spirit he's honed much of his life.
The summer after his senior season at Shaker High School in Latham, N.Y., Hoffman pitched in Connie Mack Baseball and caught the eye of East Carolina University. With success came scouting attention, so Hoffman decided to try to outdo the pitcher thought to be the best in the region -- North Carolina State's Carlos Rodon. The White Sox took Rodon third overall in the 2014 Draft, while Hoffman fell to the ninth pick because he required Tommy John surgery.
"We played in the same state, but we never pitched against each other because we played N.C. State midweek and never got a weekend series," Hoffman said. "First time I saw him, he was 99-100 mph with a wipeout slider. In my head, I was like, 'That's all great and stuff, but I'm just as good, if not better.' That's just something that I was brought up with, looking at guys, seeing what they're doing, see how they work and being competitive with that.
"Seeing him shoot through the White Sox system and have so much success at the big league level right away, while I was hurt, that gave me the added confidence that I could pitch at that level, too. Let me get a chance at it."
Thomas Harding has covered the Rockies since 2000, and for MLB.com since 2002. Follow him on Twitter @harding_at_mlb, listen to podcasts and like his Facebook page. This story was not subject to the approval of Major League Baseball or its clubs.