Brown's free-agent deal helped change Marlins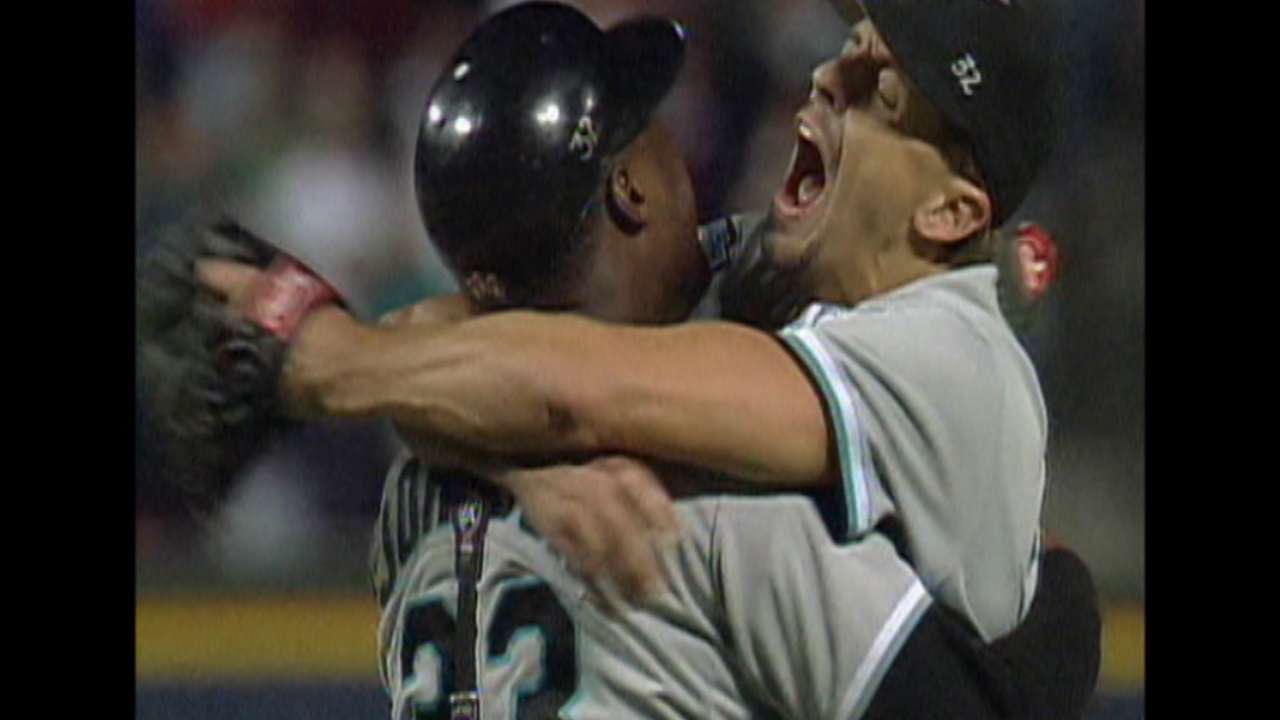 Before bidding adieu to the Hot Stove season, we asked our 30 beat reporters to look back at their club's past and answer the following question: Who is the best free-agent signing in the team's history?
We narrowed the choices with the following parameters: The signings had to be multiyear contracts, to exclude fluky one-year deals and to focus on players who got real commitments. And contract extensions don't count. Only instances when every team in the league had a chance to bid on the player were allowed, including international free agents who received Major League contracts.
MIAMI -- At a time the Marlins were maturing from an expansion franchise to championship contender, Kevin Brown provided an edge. In 1996 and '97, the All-Star right-hander was an intimidating presence on the mound and a fierce competitor.
Brown also did a lot of winning. The Milledgeville, Ga., native, who attended Georgia Tech, was 33-19 with a 2.30 ERA in 65 starts during his two-year tenure with the Marlins. Among his accomplishments were a no-hitter, a National League ERA crown, 11 complete games and a World Series title.
The Marlins are not known for acquiring or retaining many high-profile free agents. But their three-year, $12.6 million signing of Brown on Jan. 4, 1996, is the best free-agent signing in Miami history.
Brown's impact extended beyond the organization's first championship. On Dec. 15, 1998, Brown was dealt to the Padres in a trade that brought first baseman Derrek Lee to South Florida. Lee was a core player on the Marlins' 2003 World Series title squad.
"He fortified our rotation, and he was a guy you knew, he was a No. 1 or No. 2 starter," said Bill Beck, the Marlins' former traveling secretary and current special assistant to team owner Jeffrey Loria. "He fit in beautifully. He was a power guy.
"Probably the best game I ever saw pitched in Marlins history, he pitched in San Francisco."
On June 10, 1997, Brown no-hit the Giants, but he also flirted with perfection. San Francisco's lone baserunner came with two outs and two strikes in the eighth inning, when Marvin Benard was hit by a pitch.
"When he was right, he was absolutely overpowering," said Beck, who has been with the Marlins' organization since the inaugural season in 1993.
Brown's 1.89 ERA in 1996 was the best in the NL, and it remains a Marlins single-season record for a starting pitcher. The 237 1/3 innings Brown threw in 1997 also are a franchise high. The right-hander was 16-8 with a 2.69 ERA and 205 strikeouts in that memorable first title season.
The Marlins had a lot of talented free agents on their 1997 team, including Al Leiter, Moises Alou, Alex Fernandez and Bobby Bonilla. Brown added a different level of intensity.
"He was very emotional," Beck said. "He lived on the edge when he was pitching. He was not a guy, on the day he was pitching, that you wanted to walk up to and say, 'Hey, how are you doing?' He was very intense."
Honorable mention
• Livan Hernandez defected from Cuba, signed as an amateur free agent and made his MLB debut on Sept. 24, 1996, at age 21. A year later, he was the World Series MVP Award winner. Hernandez remained with the Marlins until he was traded to the Giants in July 1999.
• Marlins general manager Dave Dombrowski, who assembled the 1997 championship team, went the free-agent route after the '96 season and signed Fernandez, Alou and Bonilla.
Fernandez went 17-12 with a 3.59 ERA in 1997 and remained with the club through 2000, although he missed '98 due to injury.
Alou was an All-Star outfielder in 1997, his lone season in South Florida. He belted 23 home runs and drove in 115. And Bonilla played in 153 games, finishing with 17 home runs and 96 RBIs in his one season with the Marlins.
• The Marlins made a big splash signing in 2005, adding power-hitting first baseman Carlos Delgado. In his only season with the franchise, Delgado had a highly productive season, hitting .301 with 33 homers and 115 RBIs.
Joe Frisaro has covered the Marlins for MLB.com since 2002. He writes a blog, called The Fish Pond. Follow him on Twitter @JoeFrisaro and listen to his podcast. This story was not subject to the approval of Major League Baseball or its clubs.