Hisle's signing heralded new era for Brewers
Outfielder was Crew's most important FA addition despite injury-ravaged seasons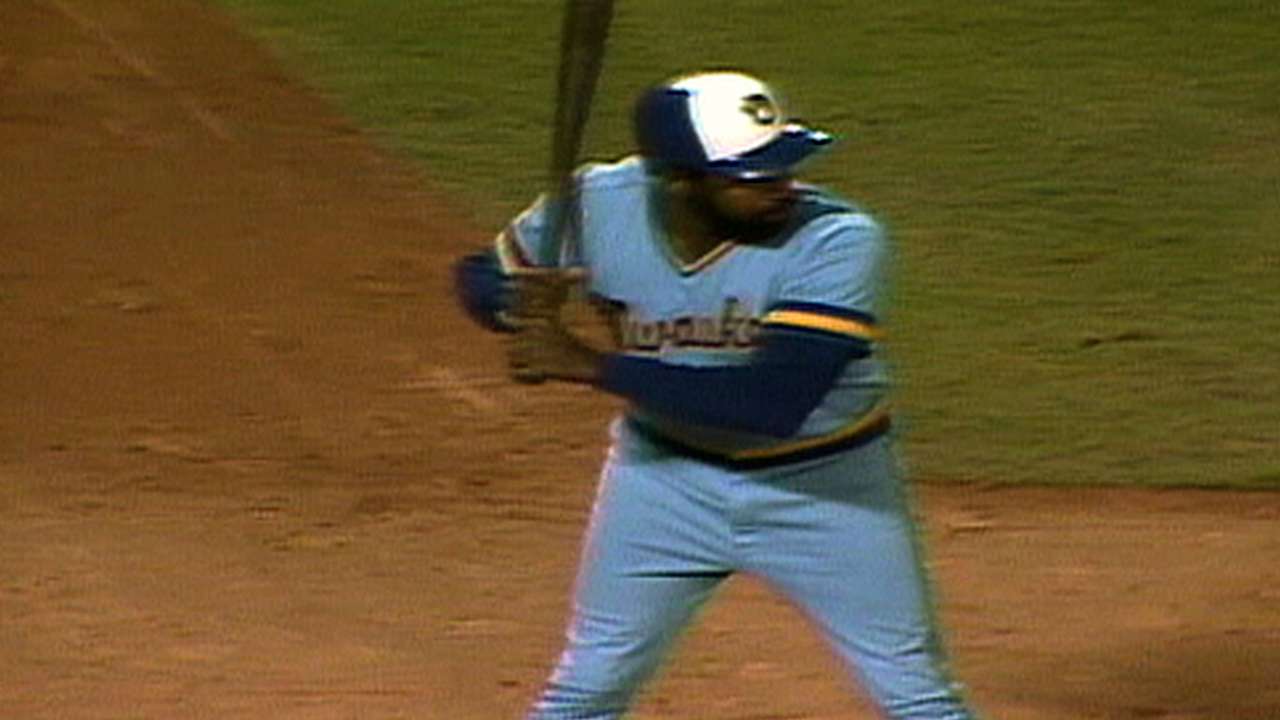 MILWAUKEE -- Before bidding adieu to the Hot Stove season, we asked our 30 beat reporters to look back at their club's past and answer the following question: Who is the best free-agent signing in the team's history?
We narrowed the choices with the following parameters: The signings had to be multiyear contracts, to exclude fluky one-year deals and to focus on players who got real commitments. And contract extensions don't count. Only instances when every team in the league had a chance to bid on the player were allowed, including international free agents who received Major League contracts.
The best multiyear free-agent contract in Brewers history appeared on one magazine's list of the worst free-agent contracts in the history of Major League Baseball. And yes, it is possible that Larry Hisle warrants a mention on both lists.
Hisle's six-year, $3.155 million pact with the Brewers shocked the baseball world in November 1977. It was the largest contract for any free agent that offseason, and while it paid immediate dividends when Hisle made the American League All-Star team and finished third in AL MVP balloting the following season, subsequent injuries prevented him from ever topping 100 at-bats again. Hisle's last big league game was May 6, 1982, with nearly two years left on the contract.
So the deal was mostly a loss, right? Wrong, say former teammates and club executives.
"He transformed that team into a winner, no doubt about it," said Mario Ziino, a former member of the Brewers' front office and unofficial club historian.
The transformation happened fast. The Brewers were 67-95 in 1977, their ninth season as a franchise, eighth in Milwaukee and fourth with Robin Yount at shortstop. Then-Brewers owner Bud Selig was so disappointed by the performance that he fired the team's GM, manager and coaching staff in what newspapers at the time called the "Saturday Night Massacre."
It appeared Milwaukee would have to wait a few more years for a winner, so few expected Selig to be active in the new business of free agency, despite the splash he'd made the previous year by signing former Oakland A's captain Sal Bando to a five-year contract.
Other power hitters available that offseason included Dave Kingman, Oscar Gamble and Richie Zisk. But Selig viewed Hisle as a special case. A Midwesterner -- Hisle hails from Ohio -- who was orphaned at a young age, Hisle was soft-spoken but carried a loud bat. He hit 28 home runs and led the AL with 119 RBIs in 1977 for the Twins, with whom he wanted to re-sign.
When Hisle couldn't work out a deal to remain in Minnesota and became a free agent, Selig struck.
"People have forgotten how good he was," Selig told the Milwaukee Journal Sentinel in 2011. "He was awesome. He wasn't just a good baseball player. He was great."
His impact was immediate, as Hisle batted .290 with 34 home runs, 115 RBIs and a career-best .906 OPS, representing the best season in franchise history to that point. With Hisle hitting cleanup and the arrival of outfielder Ben Oglivie and rookie infielder Paul Molitor, the return of Gorman Thomas after a season in Triple-A and GM Harry Dalton and manager George Bamberger in place, the Brewers went 93-69 in 1978 -- an improvement of 26 wins over the year before. That season propelled the Brewers into a five-year run from 1978-'82 during which only Baltimore won more regular-season games (445 to 431). It culminated in '82 with the Brewers' only trip to the World Series.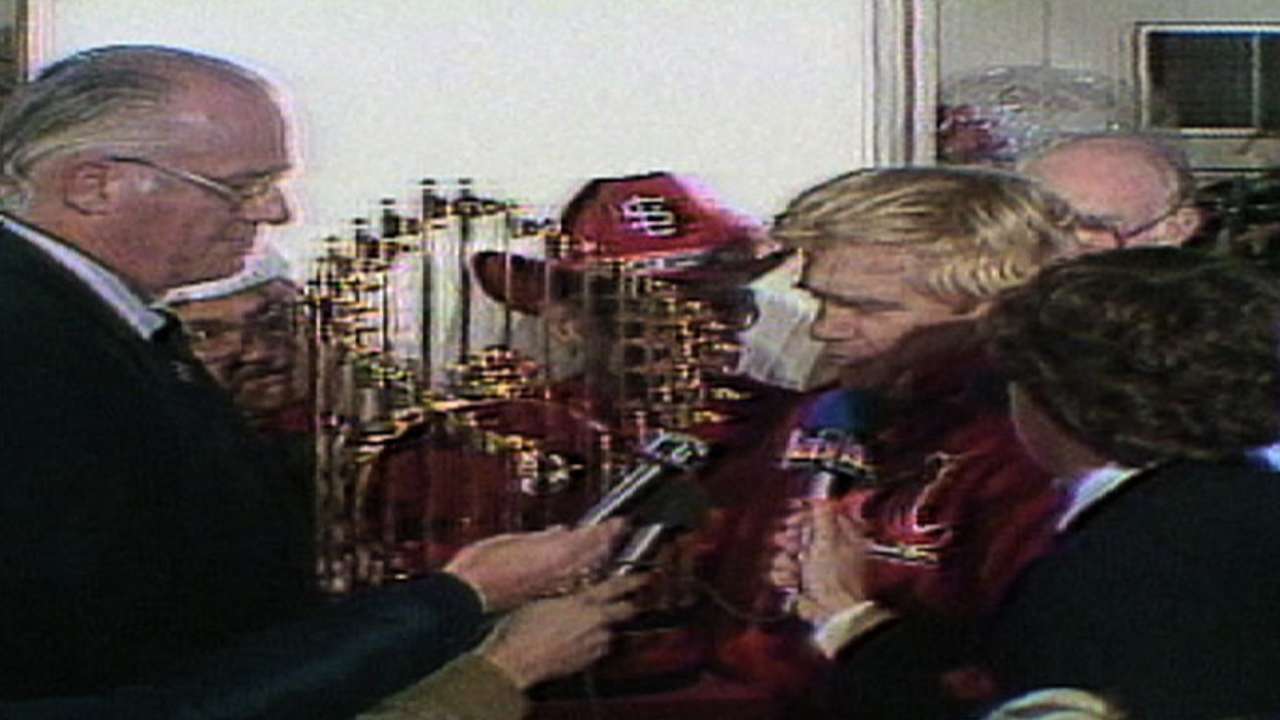 Hisle, unfortunately, was only a bystander for the Fall Classic. On a cold night in Baltimore in April 1979, Hisle came up throwing on a base hit and felt a tear in his right rotator cuff from which he never really recovered. Over four seasons from 1979-82, he never played in more than 27 games.
"He kept trying to come back," Ziino said. "You would always see Larry out there on the field before anyone would show up, running the warning track, keeping himself in shape. Year after year. It wasn't one of those things where he disappeared. He was always at the ballpark.
"It was another example of that silent leadership that the other guys looked up to."
Hisle's impact continues today as the Brewers' manager of youth outreach, a job he has held since 2002. He told MLB.com that it has been "the most challenging part of my life."
Honorable mentions
• Sal Bando: Five years, $1.4 million in November 1976
Bando, the Brewers' first free-agent acquisition, was a regular for the first three seasons of his deal, hitting 17 home runs in '77 and again in '78. But like Hisle, the symbolism of the deal was just as important as the production that followed, marking a franchise on the rise.
• Mike Cameron: One year, $10 million in January 2008
Technically, only the first year of Cameron's contract was guaranteed, but since the club picked up an option for 2009, it became a two-year pact that paid the Gold Glove outfielder $16.25 million. Cameron posted an .801 OPS during his Milwaukee tenure, and in 2008 helped the franchise reach the postseason for the first time in 26 years.
• Aramis Ramirez: Four years, $36 million in December 2011
It was the richest deal in Brewers history for a free-agent hitter, and Ramirez was productive throughout. He led the National League with 50 doubles and topped 100 RBIs in his first season with the Brewers, and he started the All-Star Game in year three. The Brewers exercised his option for 2015 and traded him at midseason for pitcher Yhonathan Barrios, the first player move as part of Milwaukee's rebuild.
• Dave Parker: Two years, $3 million in December 1989
Parker is much better known for his years with the Pirates, Reds and A's, but he had his last big season in a Brewers uniform. Milwaukee hadn't signed a free agent in nearly a decade before signing Parker to be the team's designated hitter, and he hit 21 home runs with 92 RBIs in 1990 while making the AL All-Star team and garnering some MVP votes. The Brewers traded him the following spring for a 27-year-old Dante Bichette.
Adam McCalvy has covered the Brewers for MLB.com since 2001. Follow him on Twitter @AdamMcCalvy, like him on Facebook and listen to his podcast. This story was not subject to the approval of Major League Baseball or its clubs.