Zimmermann ready to put injuries behind him
Right-hander believes neck issue finally solved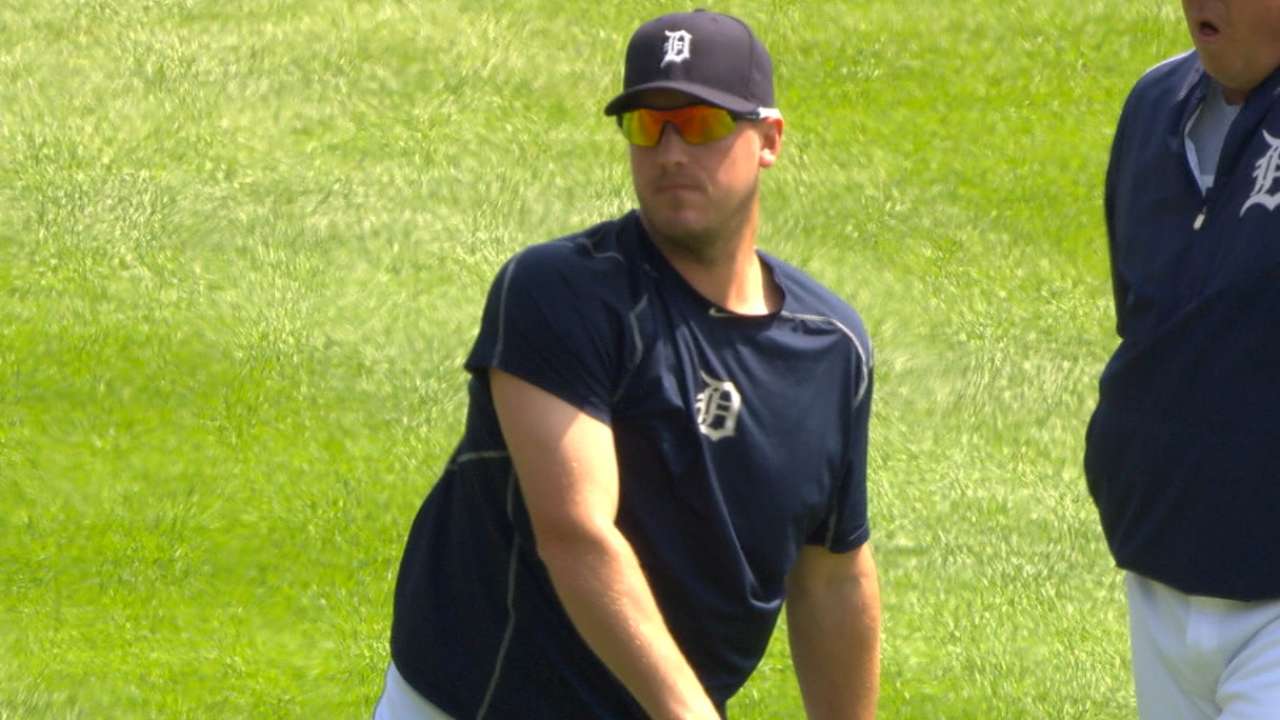 DETROIT -- Few Tigers on the team's Winter Caravan enjoy the winter quite like Jordan Zimmermann, who spends his offseasons at home in Wisconsin. And yet, few have more motivation to get to the warm sunshine of spring.
Nobody was more frustrated by Zimmermann's injury-plagued first season in Detroit than him, especially the way he dominated hitters during the opening month. No one was more motivated to finally figure out the reasons why he lost the velocity in his fastball, the explosiveness in his delivery and the general comfort in his mechanics.
After a couple of visits with a neck specialist, Zimmermann thinks they finally have it solved.
"I think the biggest problem we figured out was [a] nerve was getting pinched out of one of my vertebrae in the neck and then shoots [discomfort] down into the neck and into the shoulder," Zimmermann said on Thursday as the Tigers' Winter Caravan began to roll. "That's what I was experiencing. …
"I'm just happy that we got down to the bottom of this and figured out what it actually is instead of [saying], 'Well, it could be this, it could be this.' You have 15 people telling you 15 different things, and you don't know which way to go. I'm glad that I went down and saw [the specialist], and he's fairly confident that's what the issue is, so I'm happy about that."
If Zimmermann can get back to his form when last season began, the Tigers will be tickled. As much as Detroit likes its trio of young starters, its hopes for another run at a postseason berth hinge in part on a healthy Zimmermann to tuck into the rotation behind Justin Verlander, the role the Tigers envisioned when they signed him as a free agent last offseason.
Zimmermann's 2016 season included two stints on the disabled list -- the first one costing him most of July with what was classified as a right neck strain, the second sidelining him for another month with a strained right lat. He made one start in between, retiring just five batters. He started twice and pitched once in relief over the final month, with another stint of rest and treatment mixed in.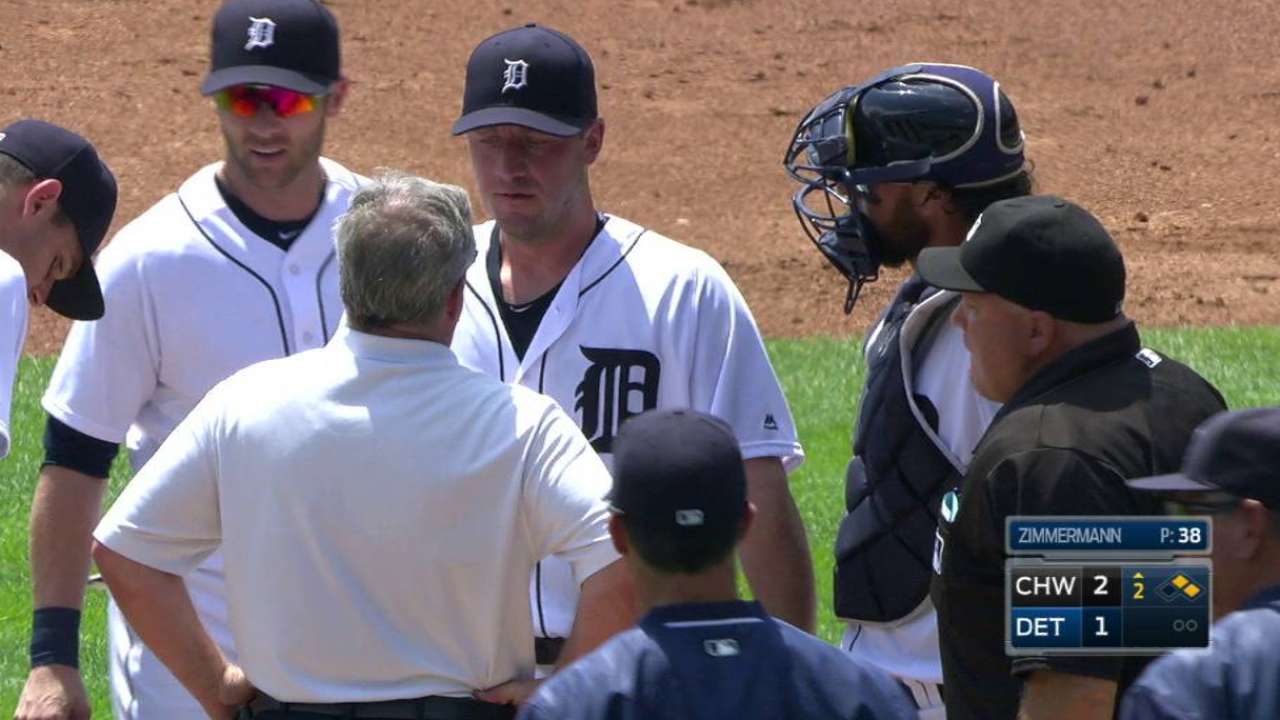 Zimmermann's final start was the second-to-last day of the season, a four-inning, two-run outing at Atlanta. His 66 pitches marked his highest pitch count since before his first DL stint.
The Tigers lost that game and the next to finish just outside the postseason pack. Zimmermann set up his visit with a specialist in Dallas shortly after. That's where the nerve issue emerged. Zimmermann received two injections from there to block the nerve irritation.
"I got the shots right after the season," Zimmermann said, "and then I went back two weeks ago and met with [doctors] and told them what I was doing and how I felt. The plan was to get another round of shots, but he said, 'Let's hold off if you're feeling good and everything's going to plan.'"
Zimmermann is feeling good enough that he has thrown two bullpen sessions off a mound. They haven't been long, just 15-20 pitches by his estimation, but they're enough to leave him encouraged heading into camp.
"I've done all the stuff I need to do this offseason to get ready," Zimmermann said. "I've been long-tossing off the mound a couple times, so everything seems to be where it needs to be. I have some good days and some bad days, but there's a lot more good days than bad days, and the bad days aren't as bad as what they have been. So I think I'm going in the right direction.
"Obviously it's still [a matter of] shaking the rust off, but overall, I feel good and I feel strong. Just getting ready for spring now."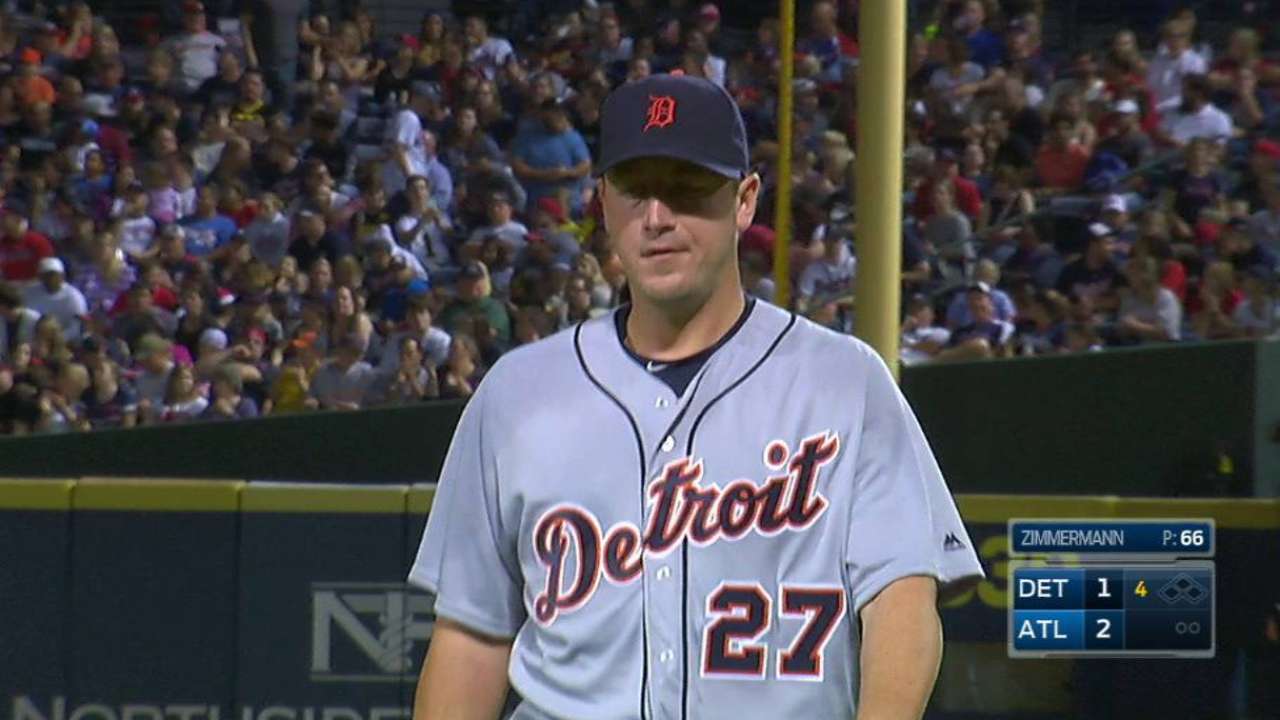 That will be the big test.
"I'll know before the games if the control's there and if [the neck is] tightening up and all that stuff," Zimmermann said. "I'm sure I'm going to have a little different program than everybody else in spring. I might throw a bullpen and instead of going to the other fields and doing [drills], I might have to go in and do some exercises. But it'll be a pretty normal Spring Training for me, I'm hoping."
More importantly, Zimmermann is hoping to get back to a normal season by his standards. He had delivered at least 195 innings in four straight seasons until last year, making 32-33 starts each time. His Fielding Independent Pitching each of those years was no worse than 3.75, his ERA no higher than 3.66.
Zimmermann gave up just two earned runs in 33 innings over his first month as a Tiger, and he took a 7-2 record and 2.52 ERA into June. He posted an 8.06 ERA over 10 appearances the rest of the way.
"My numbers are on paper for the last five or six years," Zimmermann said. "People know that I can pitch. It's just a matter of being healthy. I was healthy for the first month, month and a half of the season, and you saw my numbers. Obviously I was a little outrageous, but I feel like if I'm back where I need to be, I should have another year like I always have."
Jason Beck has covered the Tigers for MLB.com since 2002. Read Beck's Blog, follow him on Twitter @beckjason and listen to his podcast. This story was not subject to the approval of Major League Baseball or its clubs.