World Series hero Pudge elected into HOF
Rodriguez caught one season with Marlins in 2003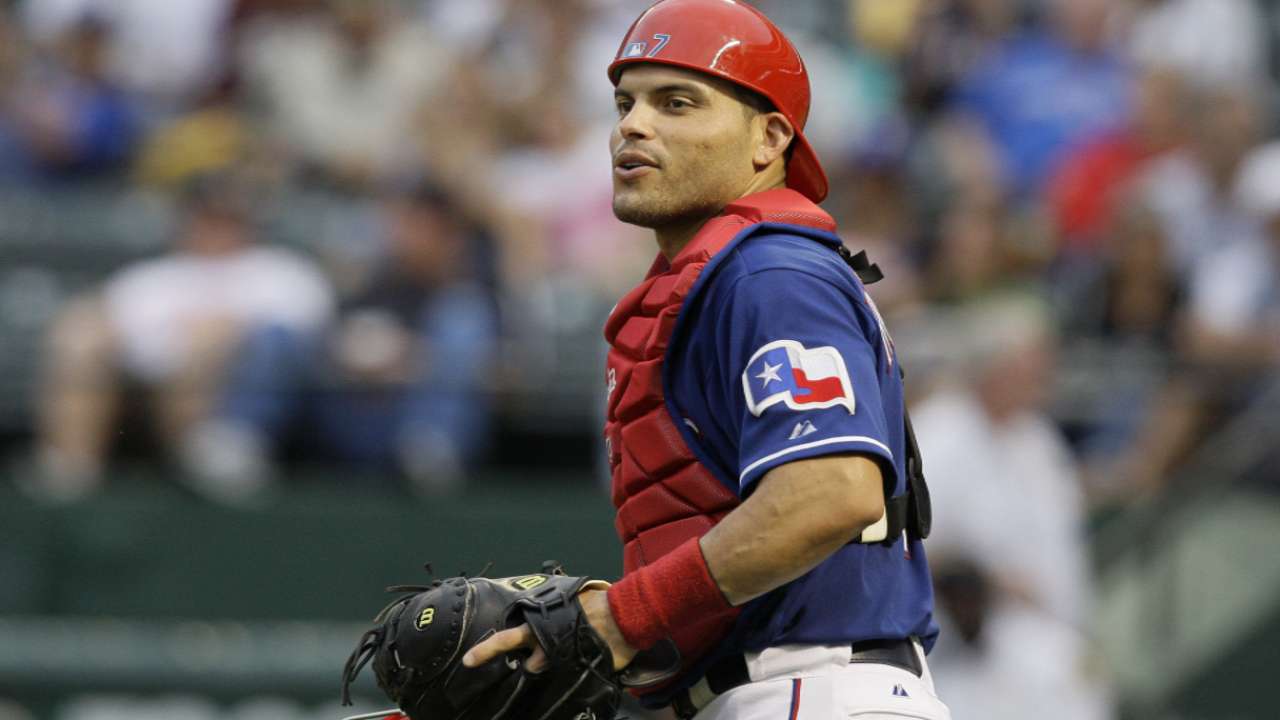 MIAMI -- Ivan Rodriguez may have spent one season with the Marlins, but the 14-time All-Star catcher certainly made an enduring impact on the organization. A rock behind the plate, Rodriguez was a driving force on the 2003 World Series championship team.
On Wednesday, Rodriguez received the game's highest individual honor, as he was elected into the National Baseball Hall of Fame. The native of Puerto Rico also has the distinction of being a first-ballot selection.
2017 Hall of Fame election results
| Votes | Player | Percentage |
| --- | --- | --- |
| 381 | Jeff Bagwell | 86.2% |
| 380 | Tim Raines | 86.0% |
| 336 | Ivan Rodriguez | 76.0% |
| 327 | Trevor Hoffman | 74.0% |
| 317 | Vladimir Guerrero | 71.7% |
| 259 | Edgar Martinez | 58.6% |
| 239 | Roger Clemens | 54.1% |
| 238 | Barry Bonds | 53.8% |
| 229 | Mike Mussina | 51.8% |
| 199 | Curt Schilling | 45.0% |
"This is a great day for my family first," Rodriguez said. "I want to thank all the organizations I played for."
Rodriguez was one of three players voted in by the Baseball Writers' Association of America (BBWAA), joining Jeff Bagwell and Tim Raines, who played for the Marlins in his final season (2002).
For election, a player must be on at least 75 percent of the ballots. Bagwell finished with 86.2 percent, Raines at 86 percent and Rodriguez at 76 percent.
The Hall of Fame now includes four former Marlins -- Andre Dawson (2010), Mike Piazza (2016), Raines and Rodriguez.
Thank you. pic.twitter.com/BNSymKRWoL

— Tim Raines (@TimRaines30) January 18, 2017
Jack McKeon, who managed the Marlins in 2003 and remains a special assistant with the organization, praised Rodriguez for the way he handled a young pitching staff and played unselfishly.
"I thought Pudge was a tremendous asset," McKeon said. "I commend the organization for picking up a guy of his caliber. He did a tremendous job as a leader on the club. He was especially important with the Latin players. He was a very big influence on the Latin players."
Rodriguez was named the MVP of the National League Championship Series, and he was part of one of the most memorable single plays in club history, when he held onto the ball after absorbing a collision with J.T. Snow to close out the Giants in the NL Division Series.
"He was a good, clutch performer," McKeon said. "He did a tremendous job directing our pitching staff. He was one of the keys to winning that championship. He was a pro all the way. Not only that, he was a team player."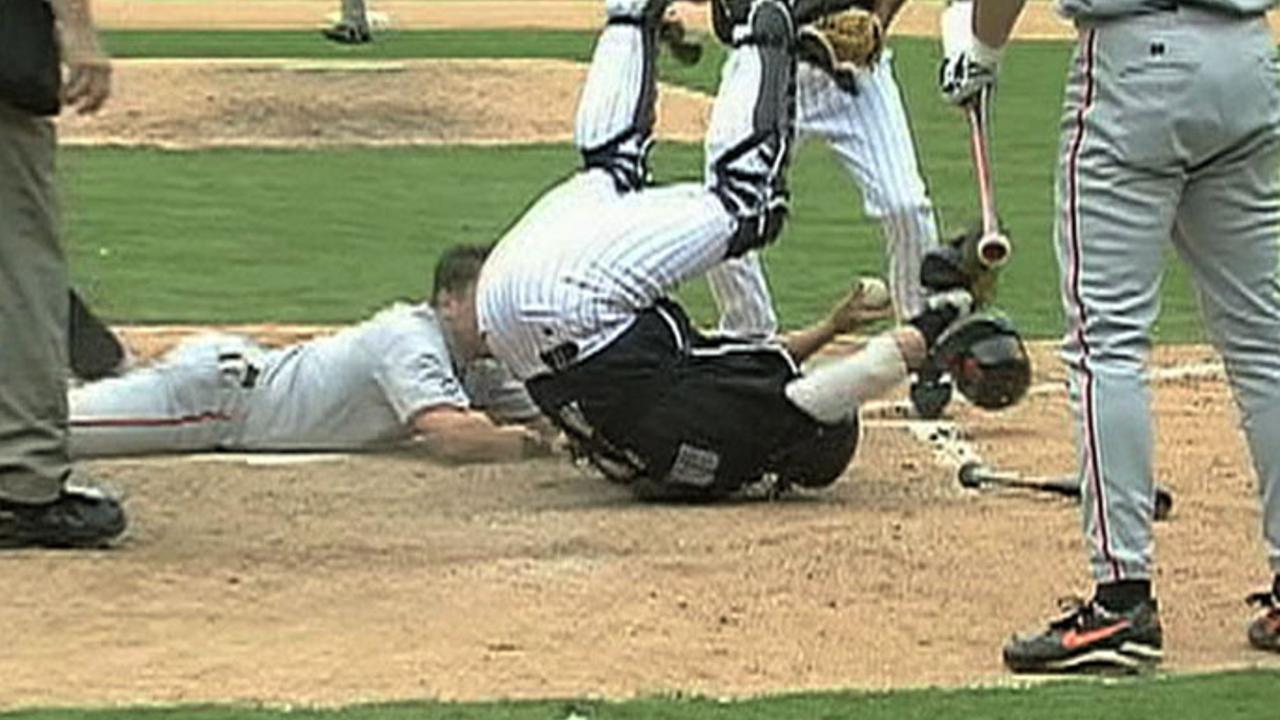 Another Marlins' postseason hero, Edgar Renteria, also appeared on the ballot. But the 40-year-old received just 0.5 percent of the vote, knocking him off the ballot.
A five-time All-Star shortstop, Renteria achieved postseason fame with his 1997 World Series-clinching single in the 11th inning off the Indians' Charles Nagy in Game 7.
"Renteria was a professional player, a great competitor," said McKeon, who managed against Renteria. "I really didn't have an opportunity to manage too many years against him. But I know he was a clutch performer as well. It looked like he was a team player."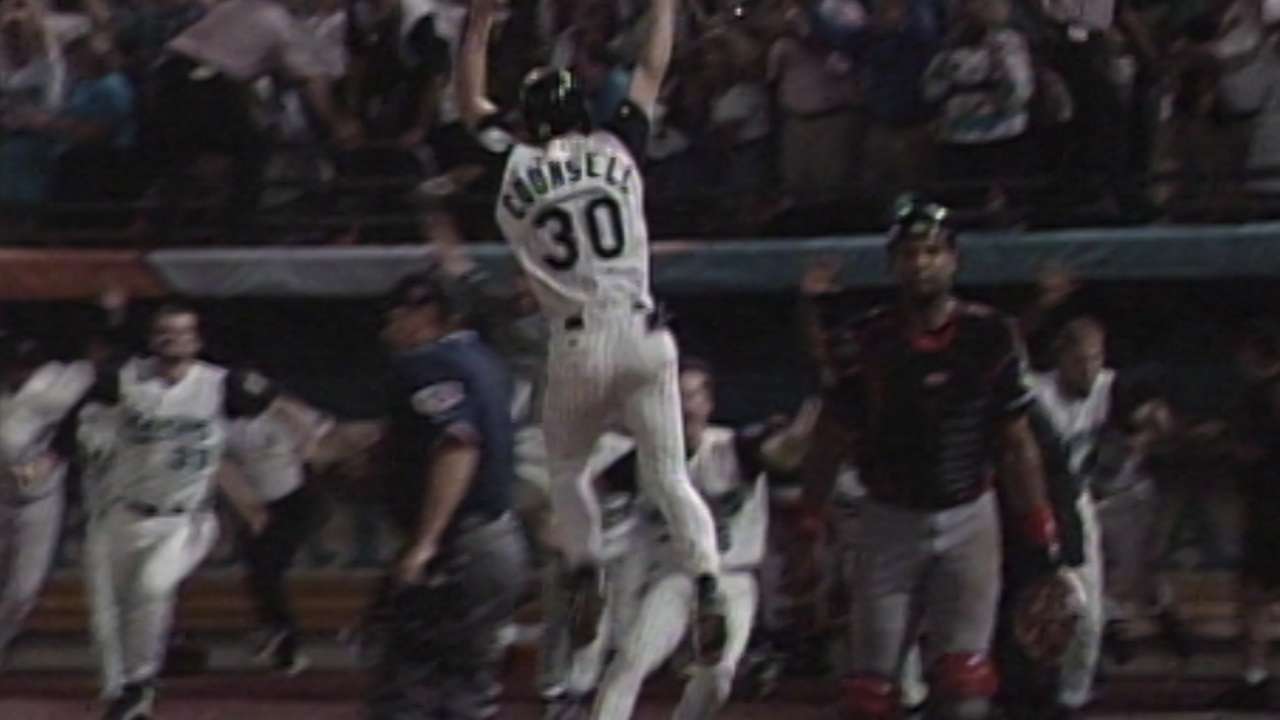 Renteria was a home-grown Marlin, signing as an amateur free agent from Colombia in 1992. He made his big league debut four years later, and he finished second in the NL Rookie of the Year Award voting to Todd Hollandsworth, who was then with the Dodgers.
Hollandsworth, a member of the 2003 Marlins, was recently named a TV analyst for Marlins games on Fox Sports Florida.
Before Spring Training in 2003, the Marlins stunned the baseball world when they signed Rodriguez to a one-year, $10 million contract. Then 31, Rodriguez was already a 10-time All-Star and 10-time Gold Glove Award winner with the Rangers.
I have no words, best call ever! A dream that came true today! So thankful! Thank you thank you God bless you all #Pudge7HOF pic.twitter.com/Od0bNONZjv

— Ivan Pudge Rodriguez (@Pudge_Rodriguez) January 18, 2017
"I thought all along, even before he played for the Marlins in 2003, that Pudge Rodriguez would be a first-ballot Hall of Famer," said Dave Van Horne, the Marlins' Hall of Fame radio voice and the '11 recipient of the Ford C. Frick Award. "The numbers, and his record, speak for themselves."
In his lone season in Miami, Rodriguez compiled a slash line of .297/.369/.474, with 16 home runs and 85 RBIs. He played 21 seasons, but 2003 was his lone World Series title.
"Pudge was a marvelous performer," Van Horne said. "He certainly had a terrific year for the Marlins and a great postseason in the one year that we got to see him up close and personal."
The postseason is where Rodriguez stepped up, batting .353 with a home run and six RBIs in the NLDS against the Giants. Against the Cubs in the NLCS, he hit .321 with two home runs and 10 RBIs. In the World Series against the Yankees, he cooled off, batting .273 with one RBI.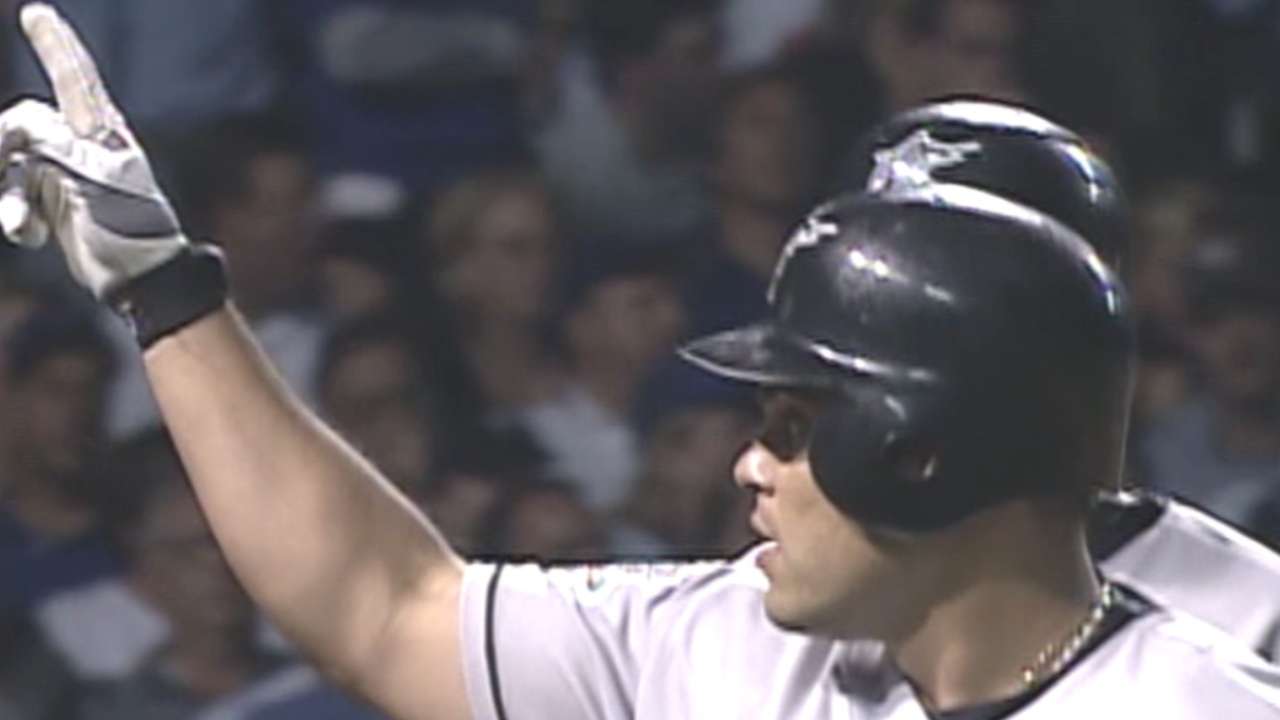 But Rodriguez's lone RBI was a big one. It came in the first inning of Game 1 at Yankee Stadium, as the Marlins held on for a 3-2 win.
"He did so many of the little things that you wouldn't expect from a veteran, an All-Star," McKeon said. "He bunted on his own to move guys over. He did all the little things that was necessary to be a successful club. There was no ego with Pudge."
Joe Frisaro has covered the Marlins for MLB.com since 2002. He writes a blog, called The Fish Pond. Follow him on Twitter @JoeFrisaro and listen to his podcast. This story was not subject to the approval of Major League Baseball or its clubs.