Inbox: Stanton primed for return to MVP form?
Beat reporter Joe Frisaro answers questions from Marlins fans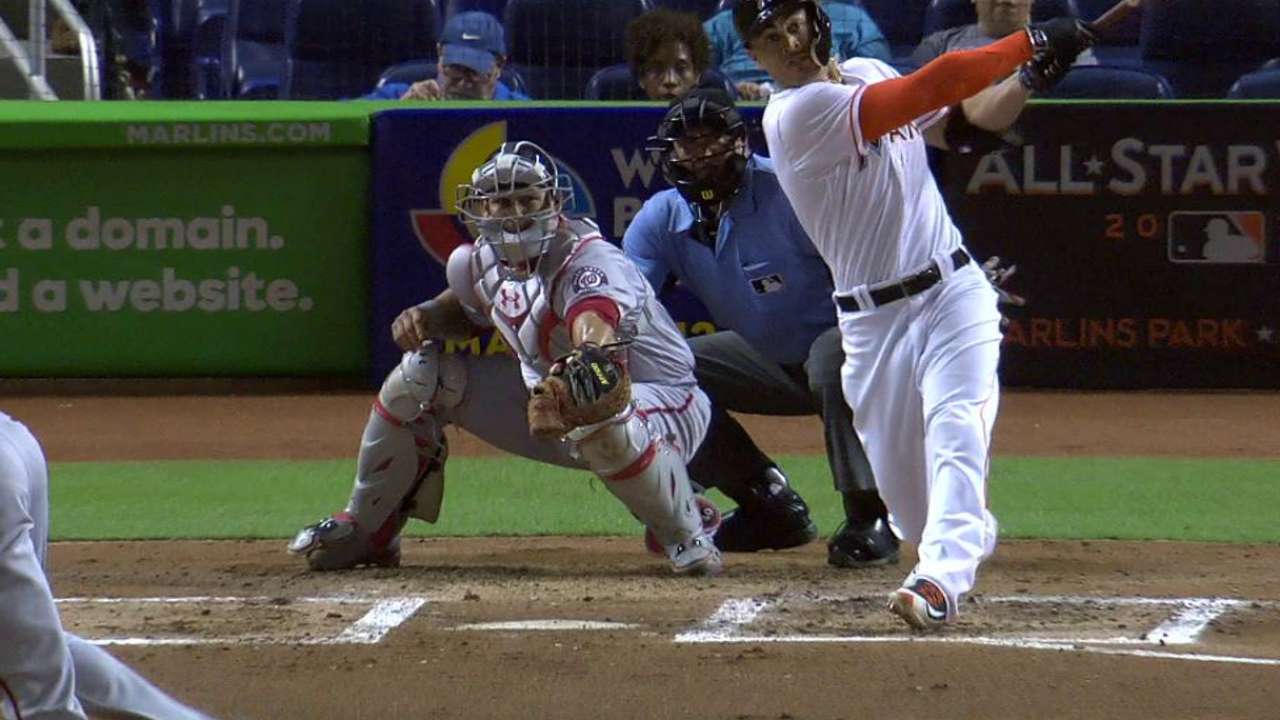 When will Giancarlo Stanton be that MVP-type player for the Marlins?
-- @lalo_827Marlins
First and foremost is health. That's the obvious answer. A Grade 3 left groin sprain limited Stanton to 119 games in 2016, and a broken left hamate bone ended his season after 74 games in '15. When he was runner-up in the National League MVP voting to Clayton Kershaw in '14, Stanton played in 145 games and paced the NL in home runs with 37. His season, of course, was cut short after he was struck on the face by a pitch on Sept. 11.
Digging deeper, I feel Stanton will greatly improve his production if he simply does a better job with hitting four-seam fastballs in 2017. I know many point to the fact that Stanton struggles with sliders. Per Statcast™, Stanton saw 431 sliders last year and swung and missed on 103 of them. Those weren't necessarily strikeouts. Those were simply the times he had a swinging-miss strike against a slider. Still, he batted .236 (26-for-110) with five home runs against sliders. Against the four-seam fastball, Stanton batted .228 (26-for-114) with 10 home runs.
• Submit a question to the Marlins Inbox
In 2014, when Stanton was nearly the MVP, he batted .316 (48-for-152) against four-seam fastballs, along with a .638 slugging percentage. Keep in mind, that same year -- Stanton's best overall -- he hit just .184 off sliders. Obviously, if he improves against the slider, he will be even more productive. But something more basic, like being better against the most frequently thrown fastball, could again elevate his game to MVP-caliber.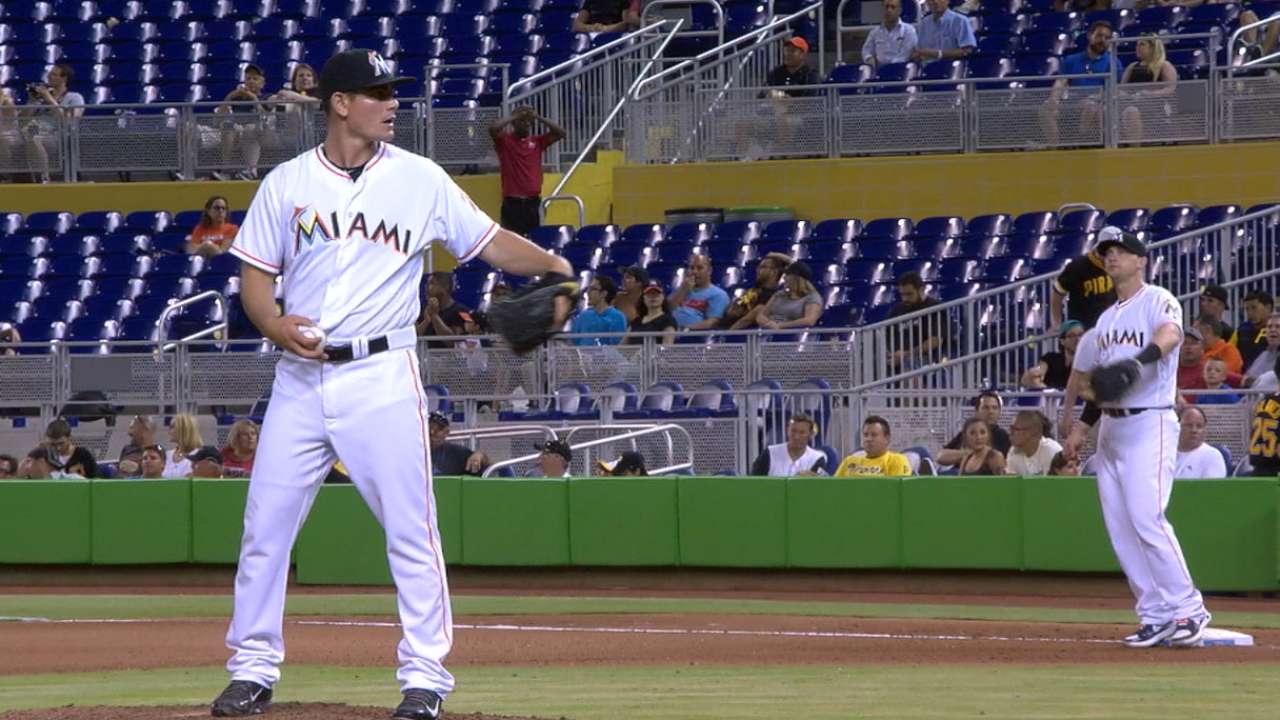 Surprise player that will steal a roster spot?
-- @Ehsan_Kassim
My first reaction was Nick Wittgren, but that isn't going out on a limb too much considering the 25-year-old made 48 relief appearances and threw 51 2/3 innings for Miami in 2016. If Wittgren isn't on the Opening Day roster this year, it may be because of his service time and the fact he has options.
So let's go with more of a surprise. The Marlins still haven't addressed a right-handed bat off the bench, so I will go with outfielder Destin Hood. The 26-year-old got 25 big league at-bats in 2016, and homered in the final game of the season. Hood is on the 40-man roster and has raw power. If he has a strong Spring Training and things fall his way, he could make the big league club.
Who do you believe will be the starting five?
-- @kchope13
Nothing really has changed on this front. Edinson Volquez was the first free agent the team signed, and the veteran right-hander was brought in to be a stabilizing influence in the rotation. Most likely, he will pitch at the top of the rotation. At the Winter Meetings, left-hander Jeff Locke was signed. Those two are expected to join left-handers Wei-Yin Chen and Adam Conley. Right-hander Tom Koehler is expected to round out the rotation. Jose Urena is out of options, which means he has to make the team or the club risks losing him on waivers. So perhaps Urena could win a starting or bullpen spot. But until something suggests otherwise, the rotation shapes up, in no particular order: Conley, Volquez, Chen, Koehler, Locke.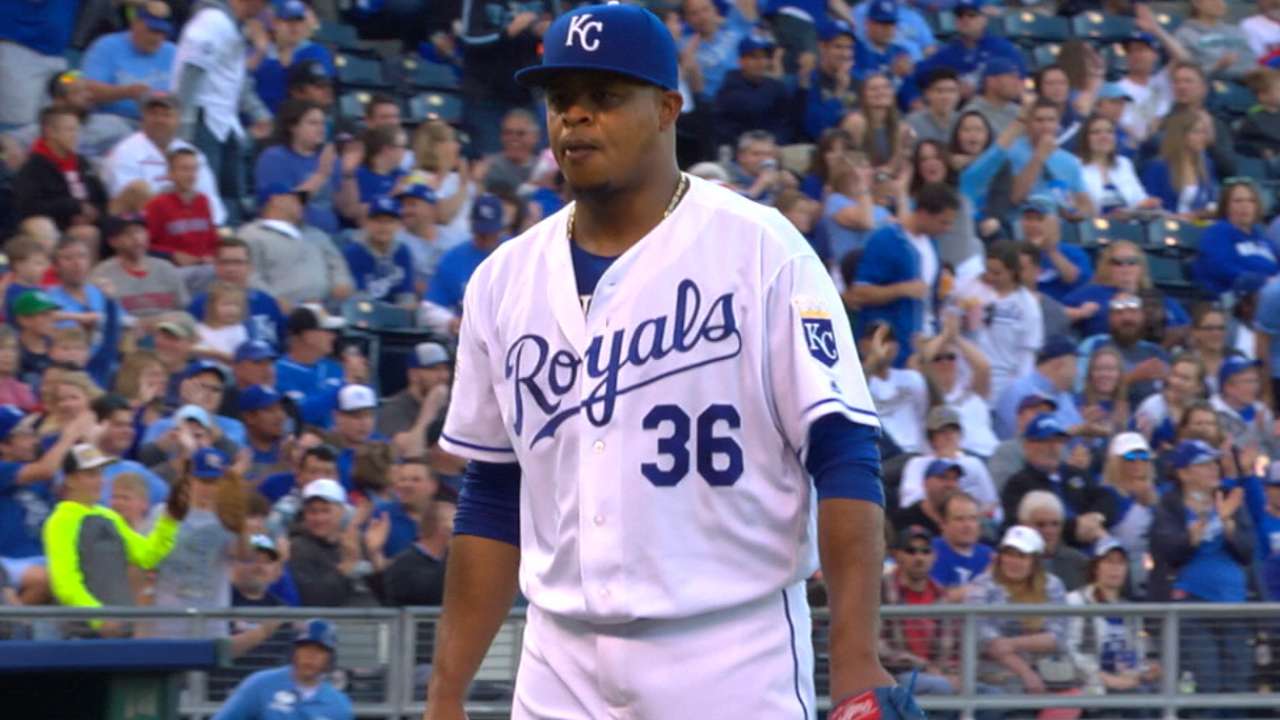 Why didn't the Marlins make an effort to sign Tyson Ross? He could be a huge bargain, if healthy.
-- @julioattheshop
You nailed it at the end of your sentence: "If healthy." The Rangers are hoping that the 29-year-old regains his old form. But he has dealt with a shoulder injury and made just one start for the Padres in 2016.
Yes, Ross could indeed be a high-reward possibility -- and a bargain at $6 million. To the Marlins -- and a number of other teams -- that is a risky investment. I'd rather Miami allocate its financial resources on pitchers with minimal injury risks. Too often, the injuries remain an issue. We saw that with Henderson Alvarez in 2014, when the Marlins paid him $4 million and he made just four starts.
The organization was up front from the beginning that they sought starters with track records of durability. That's why it signed Volquez.
Is it possible the Marlins add Luis Castillo to the rotation at the start of the season?
-- @chob153
It's highly doubtful that Castillo will be in the Opening Day rotation. It doesn't make much sense, barring a couple of injuries to starters, to rush his development. The right-hander, rated as the Marlins' fifth overall prospect by MLBPipeline.com, made just three starts last year as high as Double-A Jacksonville.
Castillo certainly will be one of the most watched pitchers in Spring Training, because if he shows encouraging signs, he could become part of the rotation at some point in the season, perhaps closer to the All-Star break.
Joe Frisaro has covered the Marlins for MLB.com since 2002. He writes a blog, called The Fish Pond. Follow him on Twitter @JoeFrisaro and listen to his podcast. This story was not subject to the approval of Major League Baseball or its clubs.