Inbox: Who is in race to be Padres' 2B in 2017?
Beat reporter AJ Cassavell answers questions from San Diego fans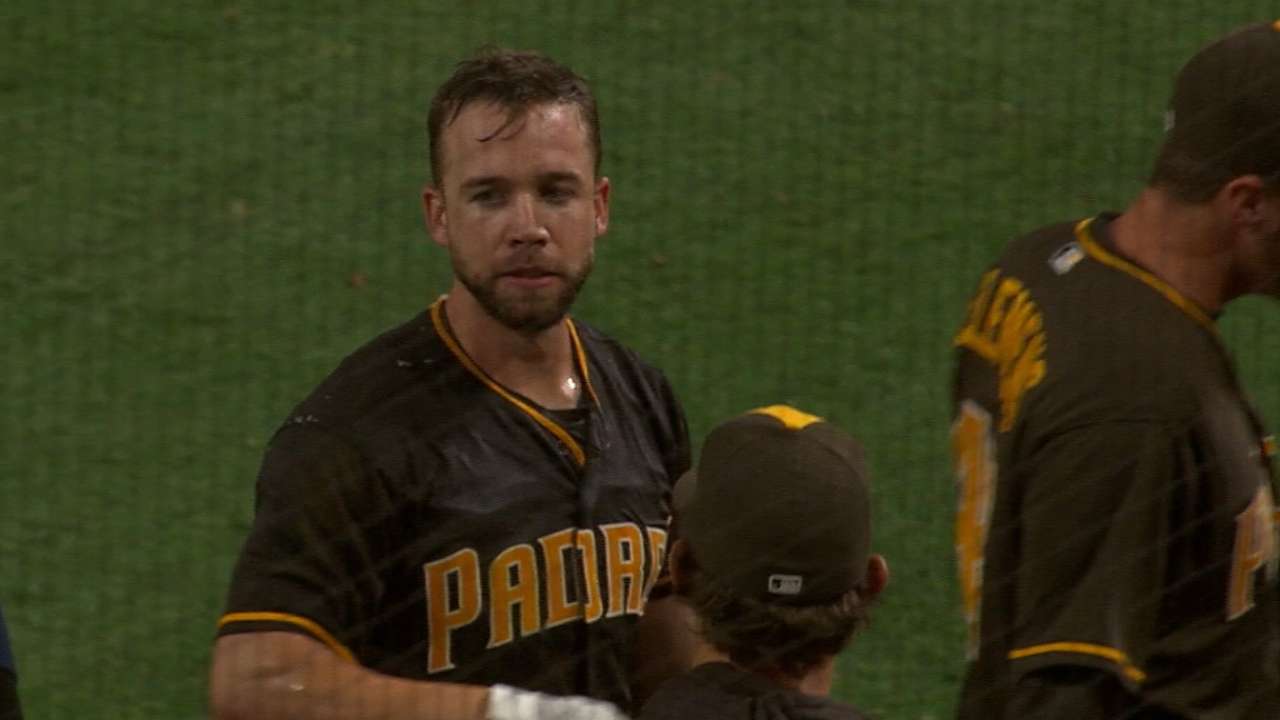 Meanwhile, the races at second base and in the rotation remain extremely hot topics in San Diego. With Spring Training on the horizon, here's a look at your most pressing questions.
• Submit a question to the Padres Inbox
How many players will be competing for the starting job at second base?
-- Glenn T., Santee, Calif.
Publicly, the Padres have thrown Carlos Asuaje's name into the ring. But in reality, the competition will come down to Cory Spangenberg vs. Ryan Schimpf. Asuaje could be given time at second during Spring Training, but the team's No. 20 prospect, per MLBPipeline.com, has only recorded 24 career big league at-bats, and has a long way to go before he's an everyday player.
Right now, second base is clearly one of the Padres' strengths. Sure, Spangenberg's lost year was tough on the Padres. But it allowed for the emergence of Schimpf. Now, both players are theoretically building on fantastic second halves -- Schimpf last season and Spangenberg in 2015, before he suffered a torn left quad last April. Take a look at these numbers:
Spangenberg '15 second half: .294/.373/.460, 2 home runs.
Schimpf '16 second half: .227/.345/.551, 16 home runs.
If the Padres have to decide between those two, that's a good problem to have.
Can the Padres make room for Asuaje on the roster -- maybe as an Alexi Amarista-type?
-- Cam D., San Diego
Here's where the roster math gets tricky. First of all, I wouldn't call Asuaje "an Amarista-type." During his time in San Diego, Amarista made regular appearances at six different positions. Asuaje, meanwhile, is limited to second base and third base (with some very brief experience in left field).
Let's assume the Padres keep four outfielders, two catchers and Christian Bethancourt as a combination of both (and a reliever, too!). That leaves very little room for Asuaje -- especially if the Friars hang onto Rule 5 shortstop Allen Cordoba. (Even if they don't, they wouldn't have a capable backup for Luis Sardinas and would probably look elsewhere.)
Barring a breakout Spring Training, Asuaje is probably best served to begin the year with a bit more seasoning at Triple-A. I'd guess he earns a callup the moment an infielder goes down.
With the possible signing of Myers to a long-term deal, will the Padres move him from first base to get Josh Naylor's bat in the lineup?
-- Chris J., San Diego
By all accounts, Naylor will become the Padres' best hitting prospect once Hunter Renfroe loses that status. Naylor, the hefty 19-year-old first baseman, is already very advanced for his age. That said, he's probably three years away from making an impact at the Major League-level, and the Padres have no plans whatsoever to move Myers -- a potential Gold Glove first baseman. (Naylor, meanwhile, is an iffy defender, at best.)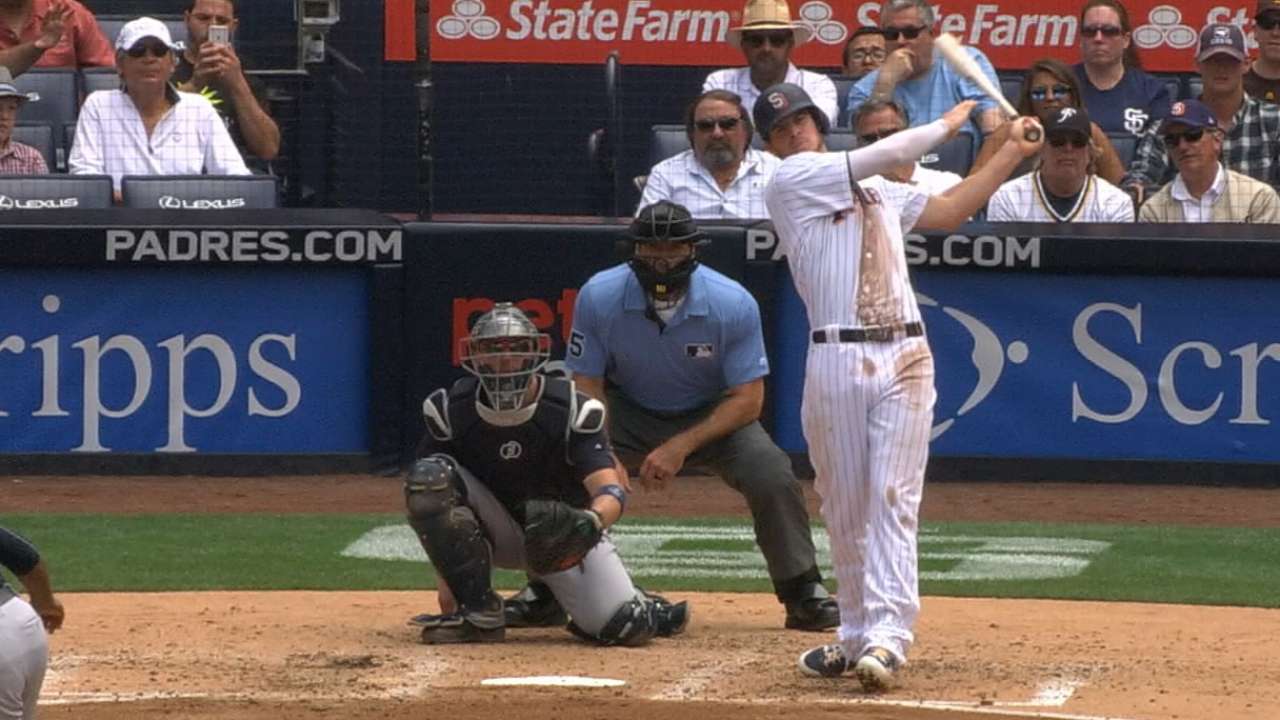 If, in three seasons, Naylor bursts onto the scene and commands a spot in the lineup, sure. The Padres might consider moving Myers to the outfield. But Naylor needs a lot of development, and could also be an appetizing piece in a future trade. The Padres aren't about to tinker with their best hitter -- and a very good defender -- to accommodate for a 19-year-old in Class A Advanced.
Is a Solarte extension in the best interest of the Padres' rebuild? Or should he be traded for prospects?
-- Adam S., Las Vegas
I'll admit it: I was skeptical when I first heard of a potential extension for Solarte. It just didn't seem necessary to lock up a 29-year-old third baseman with three arbitration years remaining. But the exact details of Solarte's extension make a lot of sense. The Padres have two years of affordable club options in 2019 and '20. And Solarte does not have a no-trade clause structured into the deal.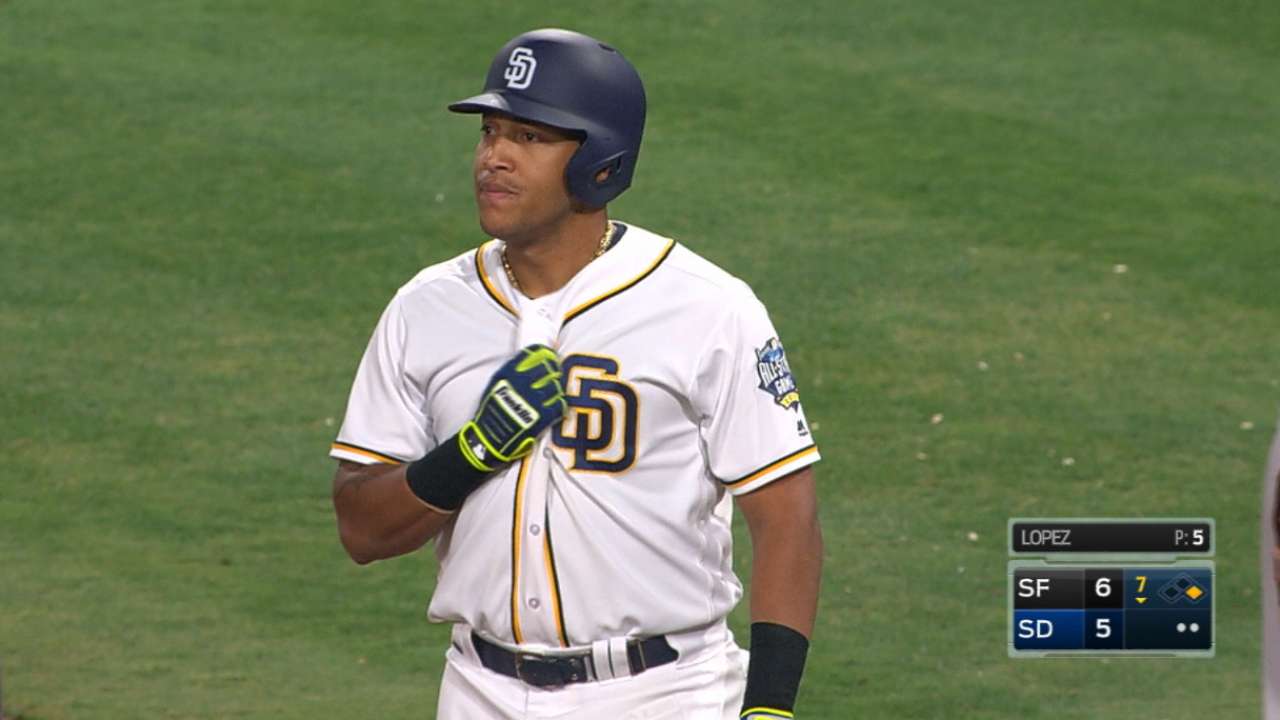 In the short term, the Padres have locked down a fan favorite and a beloved clubhouse presence -- not to mention a middle-of-the-order bat. In the longer term, if Solarte continues to produce, his team-friendly contract options will make him a very appealing trade chip.
There are so many starting pitchers fighting for five spots. How many would move to the 'pen if they do not make the rotation? Or could there be a six-man rotation?
-- Andrew S., San Diego
As it stands, the Padres have eight pitchers fighting for five jobs. They've been linked to a few other hurlers as well. The guess here is they enter camp with 10 starting-pitching options -- none of whom have a spot completely locked up. As for the bullpen/six-man rotation question, it's likely the Padres put at least two hybrid-types in their 'pen -- think Paul Clemens or rumored signing Trevor Cahill. It's unlikely San Diego enters the season with an outright six-man staff. But manager Andy Green has shown a penchant for protecting his young arms, and the Padres don't have a bona fide ace who needs the ball every five days. In that regard, I wouldn't be surprised if Green moves one of those hybrid arms into the rotation during any long stretches without a day off.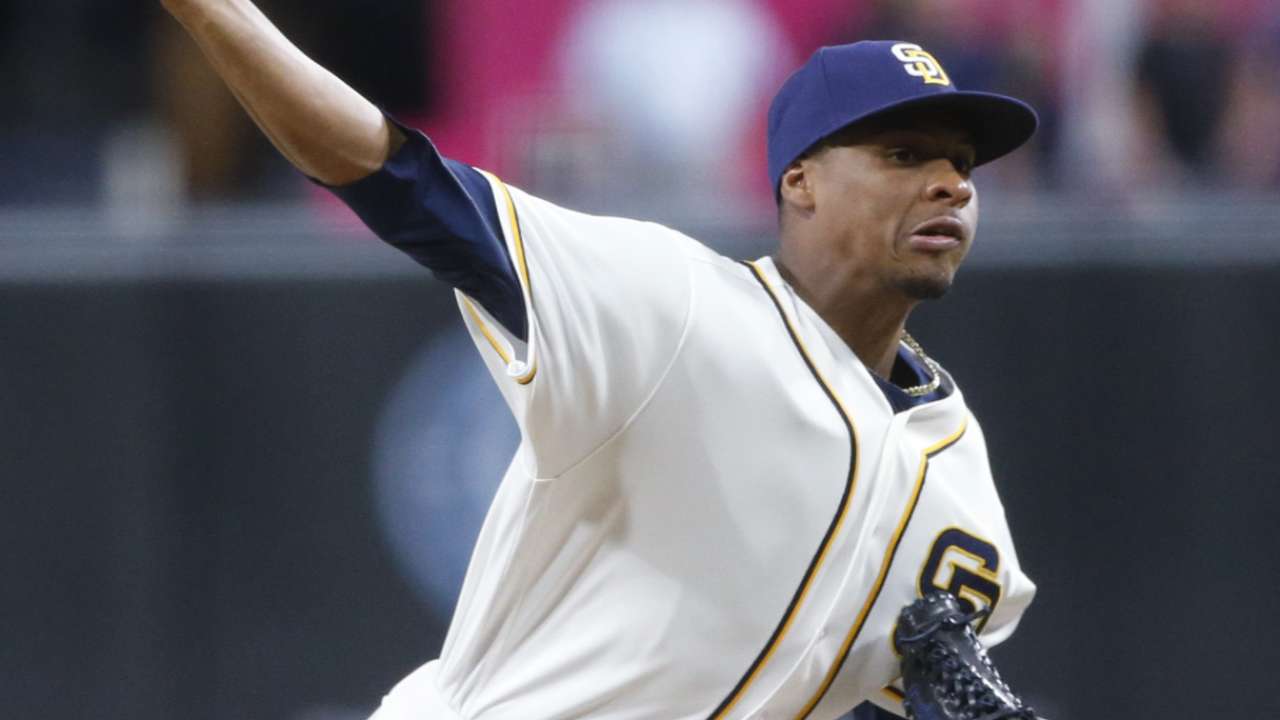 AJ Cassavell covers the Padres for MLB.com. Follow him on Twitter @ajcassavell. This story was not subject to the approval of Major League Baseball or its clubs.