WBC 2017 preview: Breaking down Australia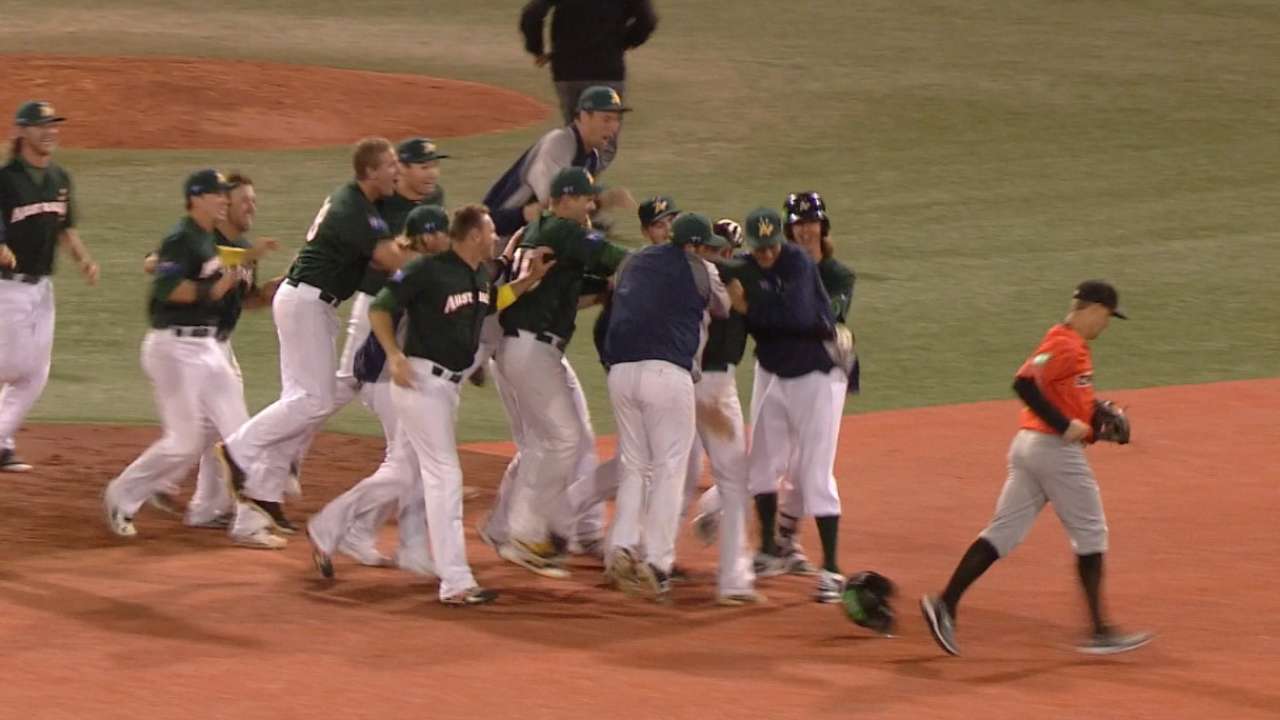 With a 12-5 win over South Africa in last February's Sydney qualifier final, Australia punched its ticket to the World Baseball Classic for the fourth time. The Aussies are looking to rebound from a winless Round 1 exit in the 2013 Classic, but face a tough challenge right off the bat, opening against Japan in Tokyo on March 8.
Before the first pitch of WBC '17 is thrown on March 6, MLB.com is breaking down each roster in the 16-nation tournament. Though Australia's official roster hasn't yet been announced, manager Jon Deeble has said players will be selected from the Australian National Team that won the Australian Baseball League All-Star Game in December.
• Get your tickets for the 2017 Classic
Deeble also said on a recent Australian Baseball League podcast that around 22 of the 28 roster spots are set, though he didn't provide names. Former Major League infielder Craig Shipley, along with Deeble, are heading a selection panel to choose the Aussies' roster.
Here's a look at some potential players for Team Australia, culled from the National Team roster and Major League players who could participate:
Pitchers
Liam Hendriks, RHP (Athletics)
Peter Moylan, RHP (free agent, most recently with Royals)
Warwick Saupold, RHP (Tigers)
Ryan Rowland-Smith, LHP (formerly of the Mariners/D-backs)
Travis Blackley, LHP (pitched for five Major League clubs from 2004-13)
Daniel McGrath, LHP (Red Sox, Class A Advanced Salem)
Craig Anderson, LHP
Justin Erasmus, RHP
Matt Williams, RHP
Ryan Searle, RHP
Tim Atherton, RHP
Luke Wilkins, RHP
Josh Tols, LHP
Matt Timms, RHP
Steve Kent, LHP (Braves, Triple-A Gwinnett)
Tom Bailey, RHP
Josh Guyer, RHP
Position players
Trent Oeltjen, OF (formerly of the D-backs/Dodgers)
Aaron Whitefield, OF (Twins, Minors -- Rookie level)
Kyle Perkins, OF
Mitch Dening, OF
Tim Kennelly, OF
Mike Walker, OF
David Kandilas, OF
Angus Roeger, OF
James Beresford, INF (Twins)
Brad Harman, INF
Luke Hughes, INF
Stefan Welch, INF
Logan Wade, INF
Mitch Nilsson, INF
Darryl George, INF
Allan de San Miguel, C
Robbie Perkins, C (Rockies, Class A Advanced Modesto)
Trent D'Antonio, C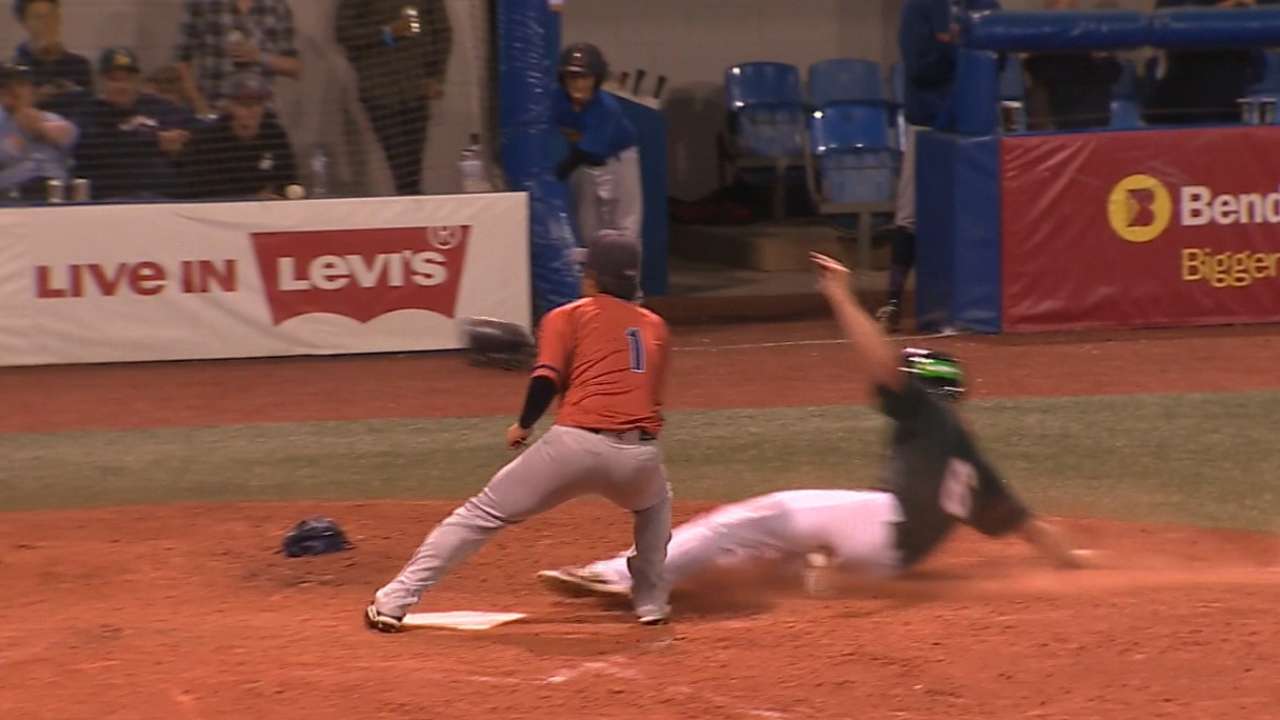 Deeble said in the podcast that he would be looking for left-handed middle relievers, in particular, as he filled out the roster.
How they fared in the past
Australia has never advanced past the first round in any of the three World Baseball Classic tournaments it's participated in.
In '06, Australia lost all three games it played. In '09, after opening with a 17-7 win over Mexico, Australia played Cuba in a tight game that featured a Hughes double off Aroldis Chapman in the fourth inning -- Hughes eventually came around to score the tying run. Cuba would go on to defeat Australia, 5-4. In a rematch with Mexico in the next contest, Australia was eliminated in a 16-1 loss. In the '13 Classic, Australia was once again winless, falling to Chinese Taipei, South Korea and the Netherlands.
What they should do well
Australia returns several players who have had success at the plate in previous Classic tournaments: Welch was 3-for-10 with a homer in '13, Walker was 5-for-11 (.455) in '13, Hughes homered and drove in three runs during the '09 Classic, and Harman has a .269 batting average (7-for-26) over all three tournaments Australia has participated in. Oeltje hit .500 (6-for-12) in the '09 WBC.
Where they could struggle
Australia's pitching has been a weakness in each of the three Classic tournaments it's been a part of, and that could very well hamper the team again this year. Of the four pitchers on Australia's National Team who have previous Classic experience, only Kent has an ERA below 7.50 in tournament play.
How far they could go
Finding itself in Pool B with the likes of two-time World Baseball Classic champion Japan and the always formidable Cuba, it would be an improbable feat for Australia to advance past the first round of the tournament for the first time.
Manny Randhawa is a reporter for MLB.com. Follow him on Twitter at @MannyOnMLB. This story was not subject to the approval of Major League Baseball or its clubs.