MLB.com Columnist
Jesse Sanchez
Navarro makes debut in International Prospect League showcase
Mexican pitcher from Gonzalez Sports Academy squares off in Dominican Republic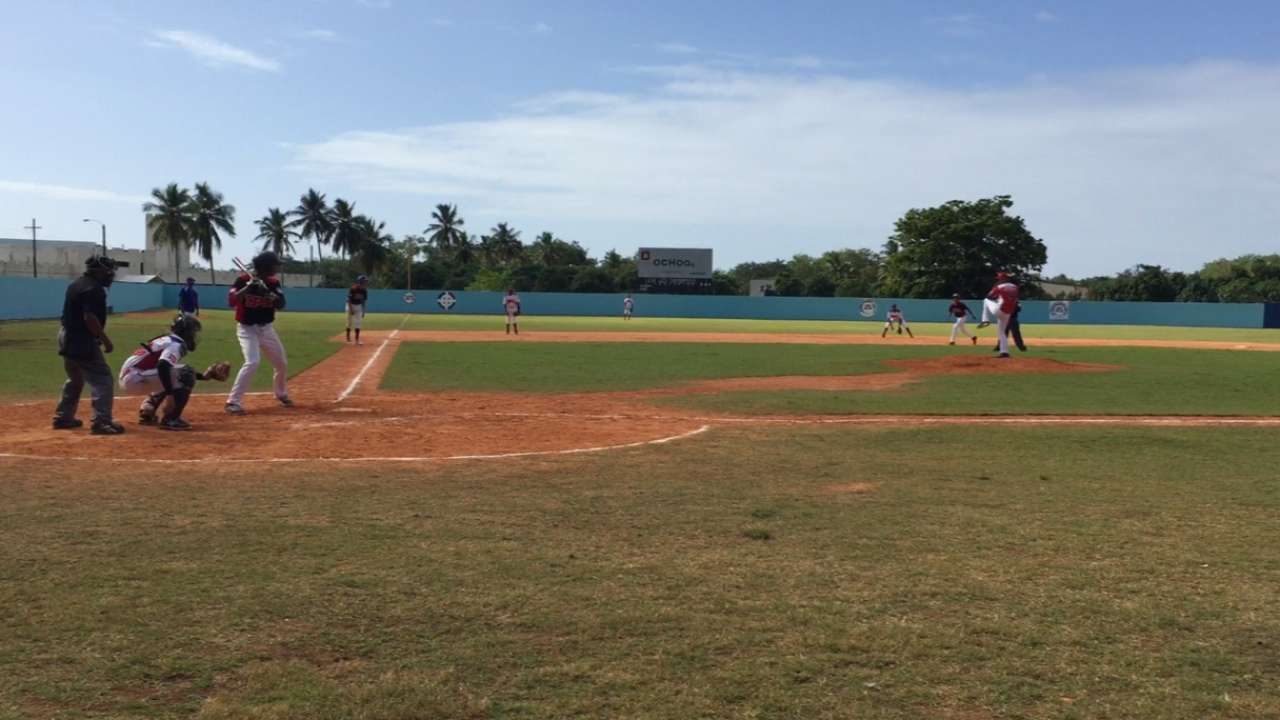 SANTO DOMINGO, Dominican Republic -- Luis Navarro took a deep breath, patted his chest, and stepped on the mound.
This was really happening. The 6-foot-1, 210-pound right-hander was in the Dominican Republic, 1,100 miles away from his home in Yucatan, Mexico, and he was squaring off against some of the top teens in the world.
Inhale. Exhale.
Navarro's first pitch was right down the middle of the plate and was smacked into right field for a single. The next batter swung and missed on the first pitch he saw before eventually grounding out.
The third batter hit a double to the gap in left-center. It got better before it got worse for the teenager, and he eventually settled down to retire the side. It was quite a debut for the 16-year-old pitcher, who only recently started throwing secondary pitches because his father, Luis Navarro Sr., a former Mexican League pitcher, didn't want his son to ruin his arm.
The young Navarro is the first prospect from Mexico to compete in the annual International Prospect League showcase. He probably won't be the last. The teenager is part of the latest wave of talent coming from Mexico.
"Navarro being here is a big deal," said Edgar Gonzalez, the manager of Mexico's World Baseball Classic team and a founder of the Gonzalez Sports Academy -- with his father, David Gonzalez, and brother, Dodgers first baseman Adrian Gonzalez -- where Navarro trains. "It's good to see our kids compete against the Dominicans and Venezuelans and compare. Is the difference in the bonuses the players get based on the system in Mexico or is it based on talent level? We want to discover that."
The four-day showcase, which is for prospects that are eligible to sign when the international signing period starts on July 2, began Tuesday and concludes Friday. The event began with a 60-yard dash, infield and outfield practice, and batting practice. The prospects -- players from Aruba, Colombia, the Dominican Republic, Panama, Mexico and Venezuela -- also played two games each day.
There are plans in the works for an IPL event in Mexico later this summer that will pit some of the best international prospects in the world against a group of Mexico's top teens.
"We have players from all over, and this is truly living up to the name as an international event," said Amauris Nina, president and co-founder of the IPL. "We are trying to expand to Mexico, a country with a different system, but one that loves baseball. It's about getting all of the Latinos together and giving them an opportunity for scouts to see them."
Traditionally, prospects that want to sign with a Major League club out of Mexico must get permission from the Mexican League team that claimed them and then pay that team up to 75 percent of the signing bonus. Now, in part because of the efforts of David Gonzalez, Mexican teens have the option to be a part of a Mexican League team or train independently and sign.
"Our academy has grown at a rapid pace, probably faster than we expected," David Gonzalez said. "We are very busy looking for players, but this is a very satisfying endeavor. We are finding kids that have the potential to sign with a Major League club and are trying to open doors for them. It's a lot of work, but we love it."
Close to 50 teens currently train at the Gonzalez Sports Academy in Tijuana. Six players have signed with Major League teams since the academy opened in 2010 in San Diego, with three signing during the current international period that started July 2.
• Top 30 International Prospects
The Gonzalez Sports Academy relocated to Mexico two years later.
"There's a market for players that want to go through a Mexican team, and there's a market for players that want to sign independently like through our academy," Edgar Gonzalez said. "Teams and prospects are seeing that they have options. That's all we want. We want to help the sport grow in Mexico and give our players options. The culture is changing and that's good for the country."
Mexico's interest in baseball is on the rise on multiple fronts.
On the big league level, there were nine players from Mexico on Opening Day rosters, a list that included Gonzalez, Seattle's Yovani Gallardo, Washington's Oliver Perez and Toronto's Marco Estrada.
Last spring, the Astros and Padres played two exhibition games in Mexico City. MLB is opening an office in Mexico City and Televisa will broadcast a regular-season Game of the Week. Additionally, Mexico has won the Caribbean Series four of the past six years and will host the annual tournament of winter league champions in Culiacan next month. Team Mexico, led by the Gonzalez brothers, will also host the first round World Baseball Classic pool play in Guadalajara in March.
On the amateur level, 32 prospects from Mexico have signed during the current international signing period.
"This is a special time for baseball in Mexico," Edgar Gonzalez said. "There's talent at every age. Now, it's about development and creating opportunities for all Mexican players. It's beneficial for everybody."
Notable Players in the 2017 IPL showcase:
Osleivis Basabe, outfielder, Venezuela
Diowil Burgos, outfielder, Dominican Republic
Antonio Cabellos, catcher, Venezuela
Stir Candelario, outfielder, Dominican Republic
Jaico Christian, outfielder, Dominican Republic
Arturo Guerrero, outfielder, Dominican Republic
Pedro Martinez Jr., infielder, Dominican Republic
Luis Navarro, right-handed pitcher, Mexico
Jesus Orecchia, catcher, Venezuela
Luis Paez, infielder, Dominican Republic
Juan Querecuto, infielder, Dominican Republic
Stanley Rosario, outfielder, Dominican Republic
Rainfer Salinas, outfielder, Venezuela
Yeison Santana, infielder, Dominican Republic
Raider Uceta, outfielder, Dominican Republic
Jesse Sanchez is a national reporter for MLB.com based in Phoenix. Follow him on Twitter @JesseSanchezMLB and Facebook. This story was not subject to the approval of Major League Baseball or its clubs.