Rizzo relishing final flurry before work begins
Caravan stop precedes Cubs Convention and White House visit, then thoughts turn to spring
CHICAGO -- Two years ago, Anthony Rizzo predicted the Cubs would win the National League Central. In 2015, they won the NL Wild Card Game and reached the NL Championship Series, but they topped that in 2016 by winning the World Series, which ended the franchise's 108-year drought. So, did Rizzo have a new prediction to make on Thursday?
"I predict that pitchers and catchers wil report the 14th [of February]," Rizzo said.
Rizzo, 27, made his statement at Northwest Middle School, where he joined teammates Willson Contreras, Rob Zastryzny, Jeimer Candelario, Felix Pena, and Jose Rosario to help with some painting as part of the Cubs Caravan. Rizzo showed off the World Series trophy to the 500 students as well, and then talked to the kids about the importance of doing well in school and making the right decisions.
Showing our artistic side. #LetsGive pic.twitter.com/pR3YRb5TuJ

— Chicago Cubs (@Cubs) January 12, 2017
"The sky's the limit for everyone," Rizzo said.
The Cubs reached the zenith by winning the championship, and they will celebrate with their fans at the sold-out Cubs Convention, which gets underway Friday. On Monday, the players and staff will visit the White House and meet President Barack Obama, who invited the Cubs immediately after they won the Series.
"It's going to be amazing," Rizzo said of Monday's trip. "Every championship team gets to go to the White House and meet the president, and we get to go on Monday and meet a president who's from Chicago. He's the 44th president, so hopefully I can give him a jersey with [No.] 44 on it. It's going to be a lot of fun, and I'm looking forward to it."
Even though Obama is a White Sox fan, Rizzo is hoping the president has a soft spot in his heart for the Cubs because of how long it's been since they won a World Series.
Had a blast with the @Cubs caravan today! We got to meet and talk with some amazing people. Great to be back in Chicago. #GoCubs

— Rob Zastryzny (@RobZastryzny_8) January 12, 2017
It's been a crazy offseason for Rizzo, who enjoyed the perks -- appearing on "Saturday Night Live" and then taking a break to travel to Thailand, Vietnam and the British Virgin Islands, where he ran into Chicago mayor Rahm Emanuel. After the White House trip, Rizzo will return home to "learn how to play baseball again," and then it'll be time for Spring Training.
"With the experience we've gained from getting swept by the Mets [in the 2015 NLCS] to playing in Game 7 in one of the best World Series ever, I think anything that's thrown at us we'll be able to handle, especially after going into spring last year with all the extra media and all the scrutiny," Rizzo said. "The way we were able to handle ourselves in the clubhouse and not worry about anything else was the biggest key, and I think that will be the biggest key this year."
The roster hasn't changed much, with the exception of the loss of Dexter Fowler, who signed a five-year contract with the Cardinals. Rizzo saw Fowler at Kris Bryant's wedding in Las Vegas last Saturday.
"I said, 'It's 2017, so I can't talk to you anymore,'" Rizzo said, laughing. "I want to see him do well all the time. He's a good friend. He's a world champion for the Chicago Cubs forever, for the rest of his life, no matter where he's playing or what jersey he's wearing."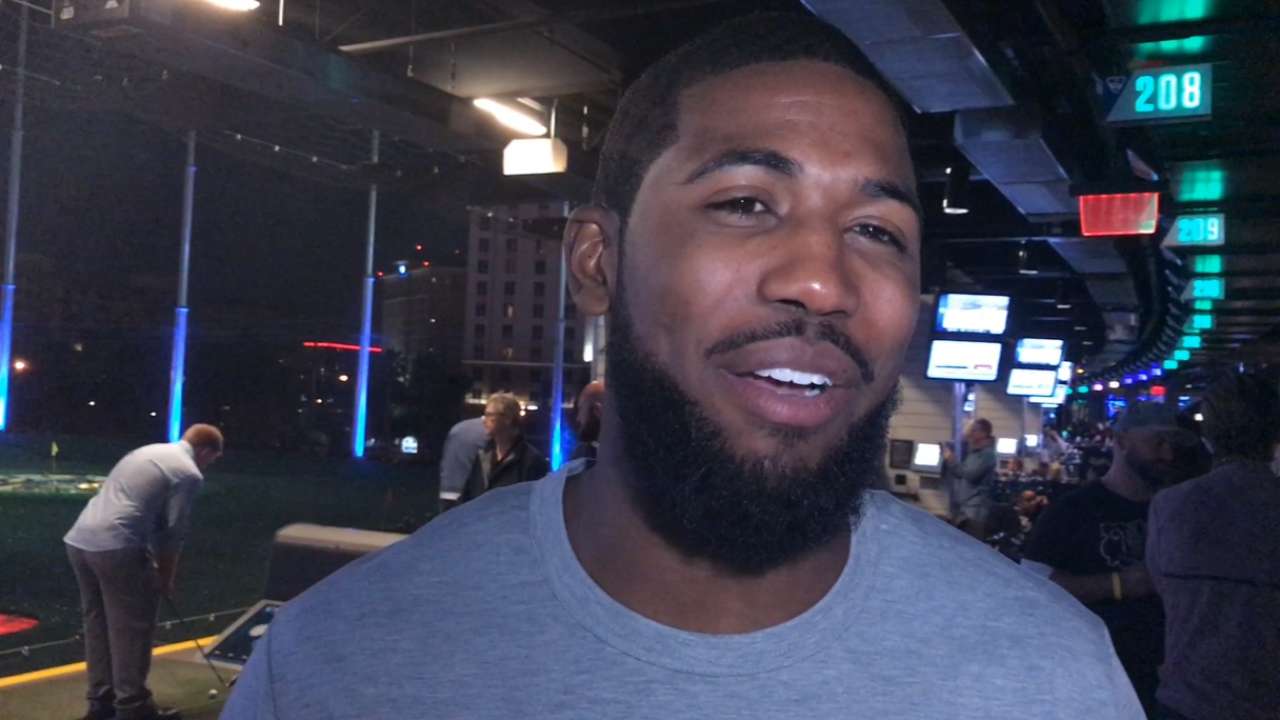 Winning the World Series has made Rizzo hungry for more.
"Success is very addicting," he said. "You want to keep going. ... When I work out now, it's, 'How are you going to get back there?' I want to do it again."
Carrie Muskat has covered the Cubs since 1987, and for MLB.com since 2001. She writes a blog, Muskat Ramblings. You can follow her on Twitter @CarrieMuskat and listen to her podcast. This story was not subject to the approval of Major League Baseball or its clubs.