Around the Horn: Baby B's to anchor outfield
Mainstays Betts, Bradley to be joined by rookie left fielder Benintendi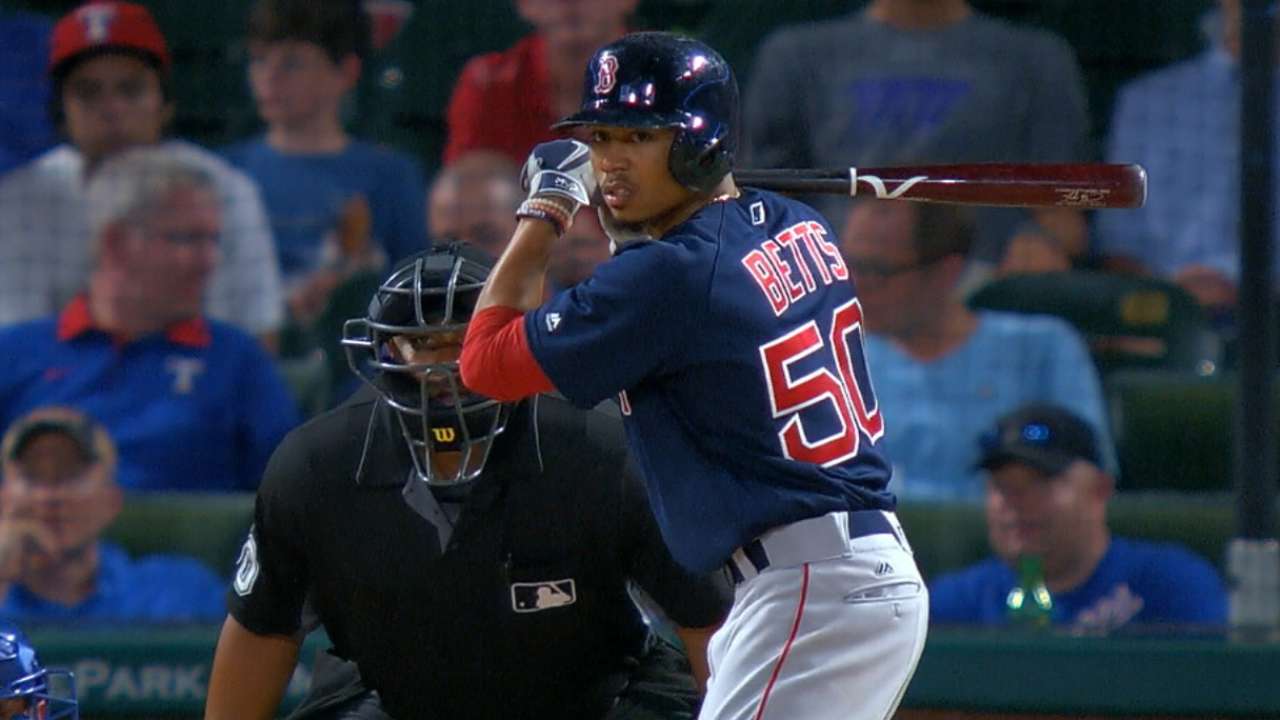 With the start of Spring Training just a few weeks away, anticipation is building for the 2017 season. MLB.com is going around the horn to break down each area of the Red Sox, continuing with the outfield.
Red Sox fans from 40 years ago still flash back to the grace, power, productivity and athleticism of the special trio of Hall of Famer Jim Rice, Fred Lynn and Dwight Evans that roamed the outfield.
The club's current outfield is creating similar excitement in the early stage of their careers. This trio, from left to right, of Andrew Benintendi, Jackie Bradley Jr. and Mookie Betts shares a key similarity with that former brilliant trio: They were all drafted and developed by the Red Sox.
• Red Sox Around the Horn: Catcher | Corner IF | Middle IF
There already is one star in Betts, who finished second to superstar Mike Trout in the race for the American League MVP Award in 2016. Betts can beat teams in every way, gaining the respect of Trout.
"What an unbelievable player and person," Trout said of Betts the night the MVP results were announced this past November. "I got to know him a little bit. He's special. He's great for the game. He's a special talent, and it's going to be a fun battle hopefully the next 10 to 15 years."
Entering his age-24 season, it will be interesting to see if Betts can take it to yet another level after posting a .318/.363/.534 slash line with 31 homers, 113 RBIs and an AL Gold Glove Award.
Unlike Betts, Bradley endured very real struggles before turning in his first All-Star season in 2016. Bradley is the veteran of the group at 26 years old, and he has been a top-flight defender in center since his arrival in pro ball in 2011.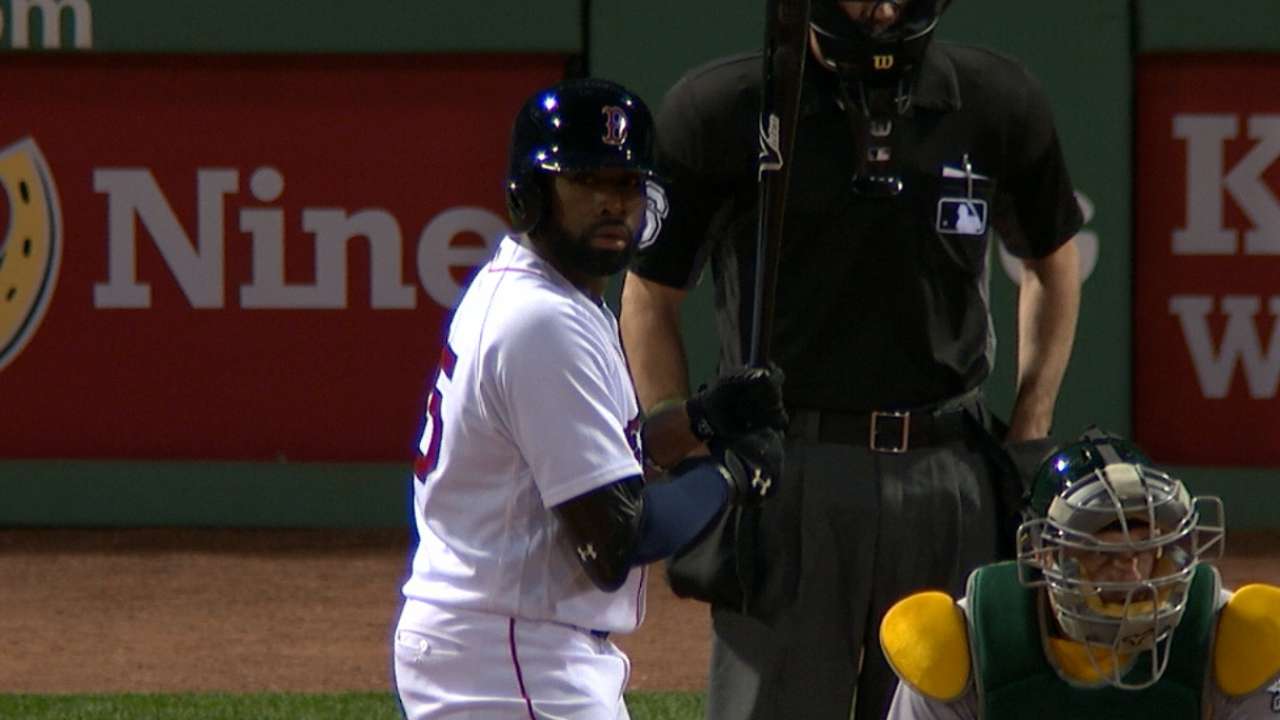 The offense has been the work in progress. In 2014, Bradley hit .198 in 423 plate appearances. In '15 and '16, Bradley went on month-long stretches in which he carried the team with power that not everyone knew he had. But there are still long periods in which his bat goes quiet.
The key for Bradley in 2017 is to demonstrate more consistency at the plate. Even with the slumps, Bradley has notched an OPS of .834 while spending most of his time in the bottom third of the batting order during the past two seasons, smashing 26 homers for the Red Sox in '16.
On the defensive end, Statcast™ tracked 16 throws from outfielders in 2016 that were 100 mph or more. Four of them were by Bradley, making him the Major League leader, and he has notched 13 assists in each of the past two seasons.
The final member of the Baby B's is Benintendi, an advanced hitter for someone who was drafted just a year-and-a-half ago. The left-handed-swinging 22-year-old vaulted from Double-A to the Majors on Aug. 2, and playing in a pennant race, Benintendi put up a line of .295/.359/.476 in 118 plate appearances.
The catch that Benintendi made over the short wall in left field at Tropicana Field in August might have been the best of the season for the Red Sox. The only significant obstacle he dealt with was a sprained left knee that kept him out of action from Aug. 25-Sept. 14. Benintendi continued to impress when the stakes increased, clubbing a home run in his first postseason at-bat in Game 1 of the AL Division Series at Cleveland.
Given that most of Boston's top hitters are right-handed, Benintendi could wind up in the No. 2 spot of the batting order to create some balance.
Beyond their solid starting three, the Red Sox also have a strong backup in Chris Young, a right-handed-hitting veteran with power.
Young figures to be in the lineup every time the Red Sox face a lefty, which will enable manager John Farrell to get his starting outfield rest when needed. Look for Young to also get some at-bats at DH. Super-utility man Brock Holt will also be deployed as an outfielder at times.
Ian Browne has covered the Red Sox for MLB.com since 2002. Follow him on Twitter @IanMBrowne and Facebook. This story was not subject to the approval of Major League Baseball or its clubs.