Reloading, not rebuilding: Yanks still dangerous
Bronx Bombers haven't finished below .500 since 1992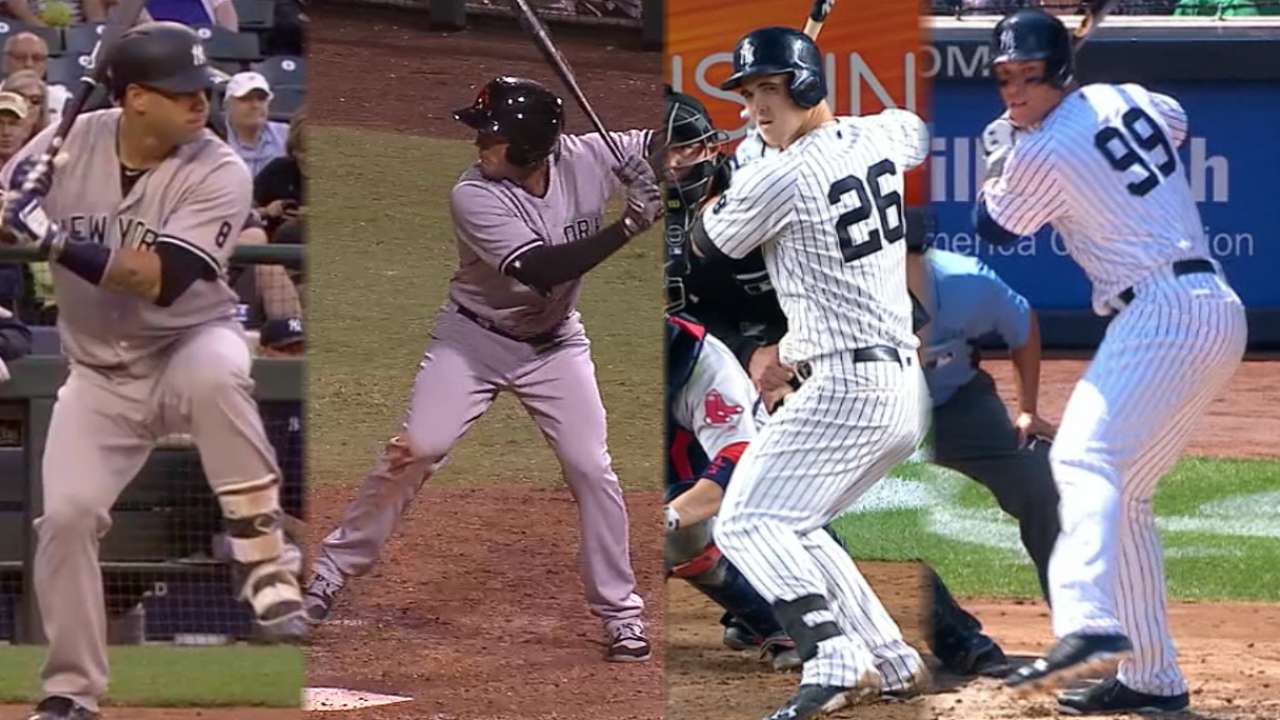 The New York Yankees are supposedly rebuilding. And in a sense, they are. They didn't make the playoffs last season, and they haven't reached the American League Division Series since 2012. The Yankees started the offseason by trading the guy who had been their starting catcher for the past three seasons, Brian McCann, to Houston.
On the other hand, the Yanks have never dropped below .500, and you have to go all the way back to 1992 to find the last time they finished a season below .500. They've never been the truly bad team that one now commonly associates with a teardown. In addition, they spent some money in free agency, on Aroldis Chapman and Matt Holliday. These are not the types of players/deals -- closers, short-term deal for an aging superstar -- that teams who are far from contention typically sign.
• FanGraphs' Craig Edwards looks at Tampa Bay's signing of Colby Rasmus
So who are the Yankees? If you had to pick between pretender and contender, you'd have to land on the latter. Let's take a look at the potential starting lineup, envisioning a lineup from the current depth chart.
LF Brett Gardner
2B Starlin Castro
C Gary Sanchez
DH Matt Holliday
SS Didi Gregorius
CF Jacoby Ellsbury
1B Greg Bird
RF Aaron Judge
3B Chase Headley
Not bad, right? But what sort of production could be expected? Let's take a look at the projected wOBAs for all of the AL teams, according to FanGraphs. ("wOBA" is short for Weighted On Base Average, a stat that's very similar to On Base Percentage, except that it gives increasingly more credit to extra-base hits rather than weighting every time on base the same. The 2016 Major League average wOBA for non-pitchers was .323.)
2017 AL Projected Team wOBA
.333 -- Red Sox
.329 -- Astros
.328 -- Indians
.327 -- Rangers
.325 -- Tigers
.324 -- Orioles
.322 -- Yankees
.320 -- Blue Jays
.319 -- Twins
.318 -- Angels
.317 -- Mariners
.313 -- Athletics
.312 -- Royals
.310 -- Rays
.309 -- White Sox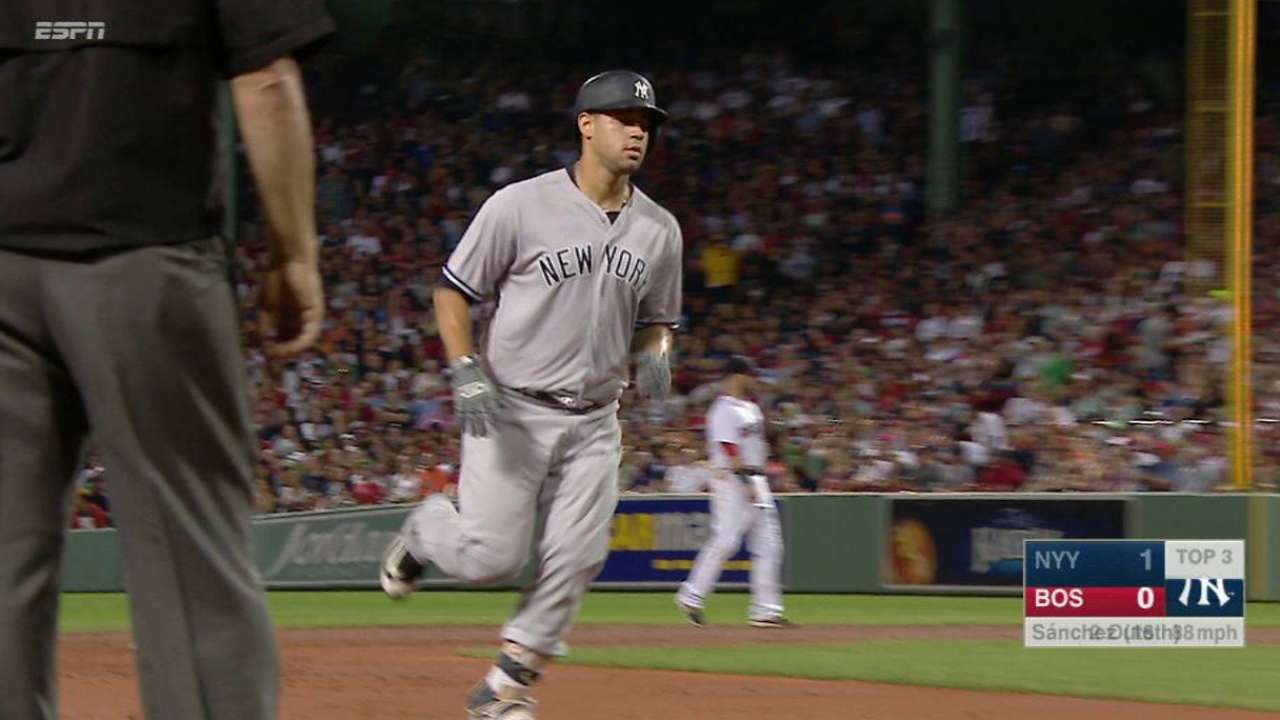 The Yankees are in the middle of the pack, but there are a few caveats here. First, the projections may be conservative on Sanchez and Bird. Both of these are understandable, and certainly we shouldn't expect Sanchez to repeat his blistering .425 wOBA from last season, but the .348 wOBA he's pegged for seems to me a little conservative.
Bird may be projected even more conservatively. Given that he just missed a full season with a shoulder injury, he's pegged for only 350 plate appearances. If he's healthy, he'll garner far more playing time than that. In addition, if Bird can round back to his previous form, he should top his .354 wOBA projection, as it would easily be his lowest wOBA at any level as a professional. Here's Bird's wOBAs from any regular-season stop where he posted at least 100 PAs: .429, .373, .411, .367, .387 and .372. The last, the .372, was his production in 2015 as a member of the Yanks, when he hit 11 homers in 46 games, with a .261/.343/.529 slash line.
There's also the matter of what is not showing up in that Yankees' projected wOBA. Whether it's Clint Frazier and/or Gleyber Torres potentially forcing their way onto the team in midseason, or them or other prospects being funneled into midseason trades to bring back an elite Major Leaguer, there's a decent chance that there is at least one good hitter who will contribute to the Yanks who is not currently listed on the depth chart.
On the pitching side, things look similarly appealing when taking into account projected Fielding Independent Pitching, an ERA-like stat that attempts to take defense and luck out of the equation by focusing on the things a pitcher can control like strikeouts, walks and home runs:
2017 AL Projected Team FIP
3.71 -- Indians
3.76 -- Red Sox
3.86 -- Astros
3.99 -- Mariners
4.02 -- Angels
4.06 -- Yankees
4.07 -- Athletics
4.14 -- Blue Jays
4.15 -- Tigers
4.17 -- Royals
4.18 -- Rangers
4.36 -- Twins
4.37 -- White Sox
4.39 -- Orioles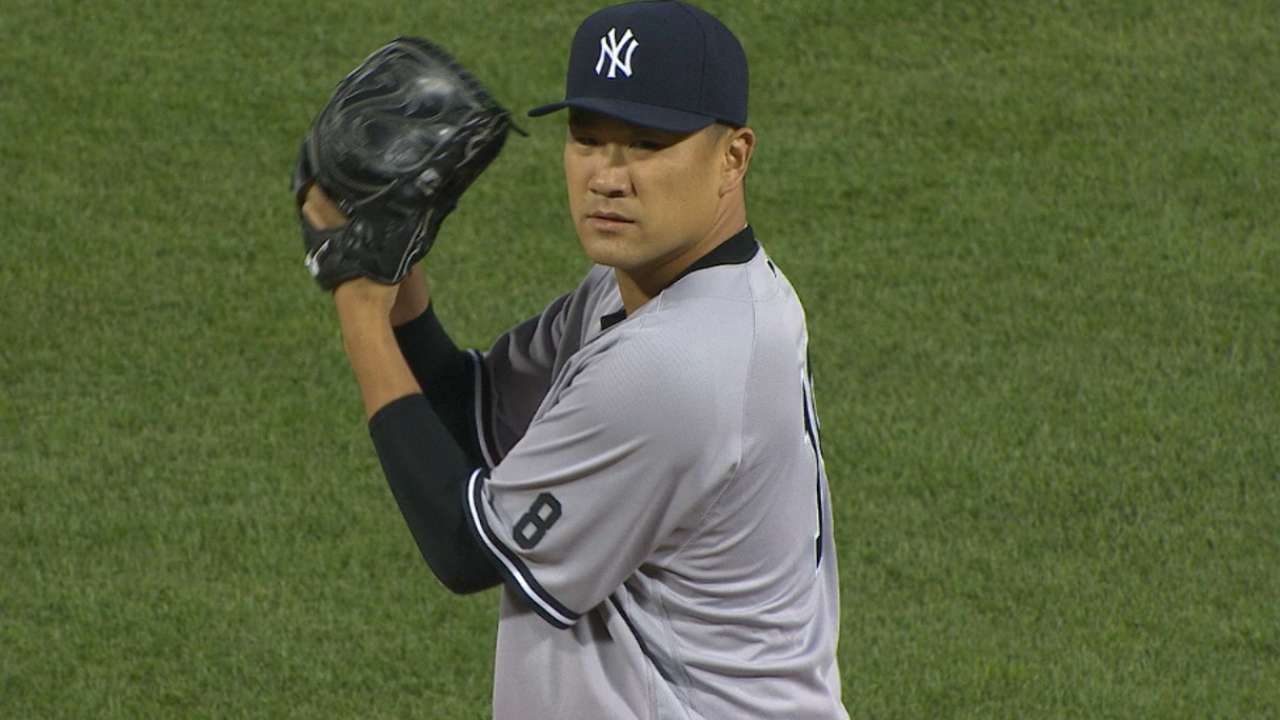 Not bad. But again, this may be underrating the Yankees a little bit. If we look at each team's number of starters projected to be worth at least three Wins Above Replacement and relievers projected to be worth 1.5 WAR, the Yanks have four -- tied with Boston and Cleveland for most in the league. The Yankees are the only team with multiple starters and relievers who clear both bars. Now, obviously those are arbitrary and they don't account for depth, but it does show how dangerous the Yanks could be in a short series.
And similar to the position-player section of its depth chart, the team has prospects who are not listed but who could force a promotion. Chief among them is No. 6 prospect Justus Sheffield, who graduated to Double-A in September. And one pitcher who is on the depth chart -- Ben Heller -- could really be a sleeper. Last year, the righty struck out 25 percent of the hitters he faced at Triple-A, and he is capable of producing 100-mph heat. Certainly, 100-mph fastballs are more ubiquitous than they used to be, but having three guys who can fire them in one bullpen is a tantalizing proposition.
Obviously, the future is not yet written. Sanchez could experience a Brett Lawrie-like sophomore slump. Veterans Ellsbury, Headley and CC Sabathia could see their performance degrade even further. The back of the rotation could be unsettled all season. But these are the kinds of problems teams want to have, and given the Yankees' prospect cache and still considerable financial resources, they will be in position to cure any of their ills come midseason. Don't sleep on the Yankees.
A version of this article first appeared at FanGraphs.com. This story was not subject to the approval of Major League Baseball or its clubs.