Rockies resisting dealing coveted prospects
Colorado to let in-season needs determine best use of top Minor Leaguers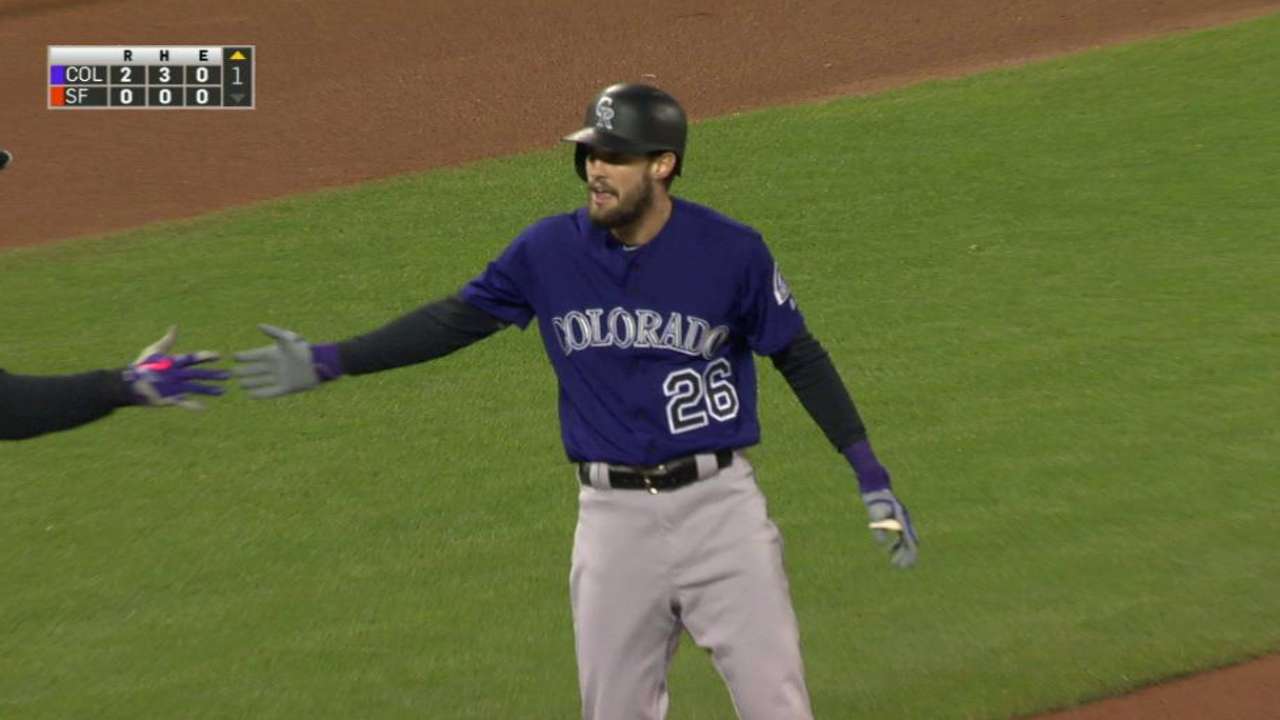 DENVER -- General manager Jeff Bridich thus far has held onto the Rockies' long-term future, even though he has permission to spend more money in 2017.
The biggest moves have been free-agent signings of Ian Desmond, for five years and $70 million to play first base, and lefty pitcher Mike Dunn, who helps the bullpen at three years and $19 million. But noticeably absent from Bridich's 2017 strategy has been a trade that gives up prospects or young big leaguers for established stars.
It leaves the Rockies in a delicate position as Bridich tries to address the biggest current priority -- improving the bullpen, whether through free agency or trades.
• Rockies' Top 30 Prospects list
So far, at least, Bridich has resisted dealing from a solid group of prospects and young Major Leaguers. The hope is that young players provide the talent and depth the team needs now, or perhaps if the season reveals specific needs, become bargaining chips around the non-waiver Trade Deadline on July 31 at 2 p.m. MT.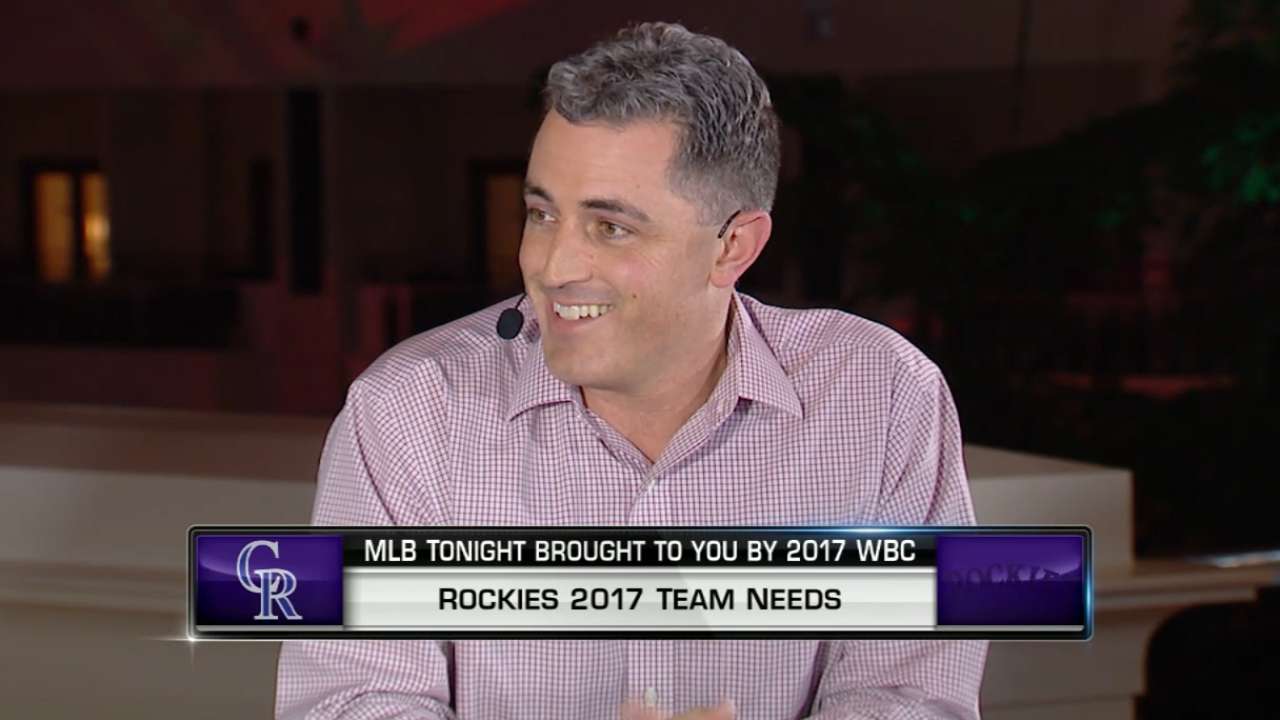 "There are certain elements of every season that are unforeseen," Bridich said. "I don't think it's a new concept or notion that not all things are solved in the offseason.
"You have to stay nimble, and you have to be flexible enough to give yourself a chance to improve yourself during the season when problems come up and have solutions to problems. We certainly know that the Trade Deadline will probably be an important time."
No matter what the Rockies do, no one will look at the current roster and says it is better than those of the two National League West heavyweights, the Dodgers and the Giants, who have won the last five division crowns. The Rockies' hitters stack up against anyone and the rotation is young and promising, but it won't have veteran starting pitching or a top-of-his-game closer -- two elements of teams that are darlings of prognosticators.
"I don't think we have any illusions that we're going to come out of this offseason as some perfectly positioned team," Bridich said.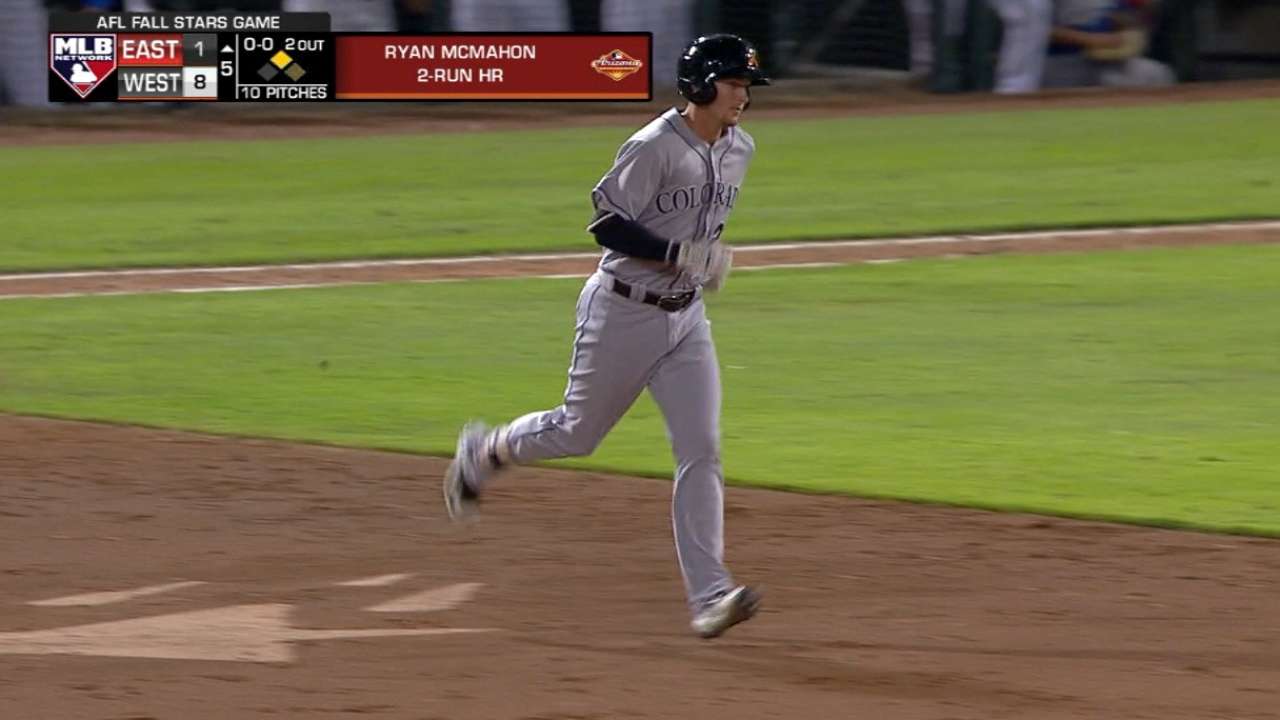 There is risk to holding the roster as is. If the Rockies spend the first half looking as if they're headed to their seventh straight sub-.500 season, they're stuck trying to deal Carlos Gonzalez, Gerardo Parra or Charlie Blackmon at the Deadline and are at the mercy of other clubs' offers.
Still, recent history points to teams outside of large markets struggling when trying to solve their problems during the winter, and succeeding when waiting until the season revealed clear opportunities.
In the National League West, the Padres two seasons ago and the D-backs last season had flurries of moves. The Padres have finished fourth and fifth, respectively, in the last two years, while watching catcher Yasmani Grandal help the Dodgers and center fielder Trea Turner and pitcher Joe Ross help the Nationals to the playoffs. The D-backs saw center fielder Ender Inciarte and shortstop Dansby Swanson emerge as part of the Braves' young core while enduring a fourth-place finish in 2016.
Conversely, the Royals waited until near the Deadline in 2015 to relinquish prospects for pitcher Johnny Cueto and do-everything player Ben Zobrist en route to a triumphant World Series run. Last year, the Indians dealt prospects at the Deadline for relief star Andrew Miller and lefty bat Brandon Guyer, and nearly squeezed out Game 7 against the Cubs.
The Royals did give up a prospect in the offseason of 2011, Wil Meyers, as part of the trade that brought closer Wade Davis to Kansas City. But they could cover for his absence, kind of the way Bridich determined the Rockies could cover for Corey Dickerson when he sent the outfielder to the Rays for pitchers Jake McGee and German Marquez.
So far, the Rockies have determined that now is not the time to part with outfielders such as David Dahl and Raimel Tapia. They're holding on to starting pitchers Marquez, Jeff Hoffman and Kyle Freeland, and counting on them. They don't worry about whether corner infielder Ryan McMahon or middle infielder Brendan Rodgers could be blocked when they are Major League-ready.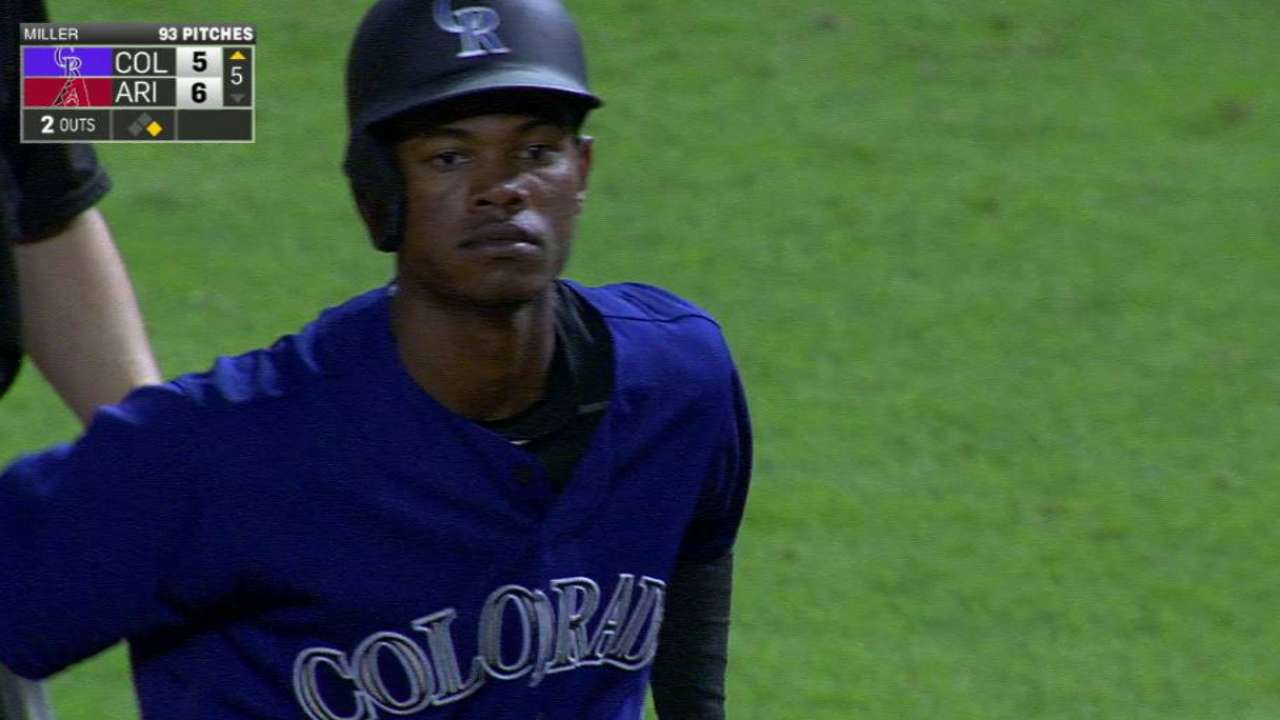 The Rockies are most likely to let the season determine the best use of those players.
"I don't think the importance ever goes away of keeping a highly talented system intact," Bridich said. "Where you think your Major League team is at and the needs there change from month to month, from year to year.
So part of the job is just constantly weighing all that and trying to make the best decisions with all that in mind."
Thomas Harding has covered the Rockies since 2000, and for MLB.com since 2002. Follow him on Twitter @harding_at_mlb, listen to podcasts and like his Facebook page. This story was not subject to the approval of Major League Baseball or its clubs.