Inbox: Will Dozier stay, or will he go?
Beat reporter Rhett Bollinger answers fans' questions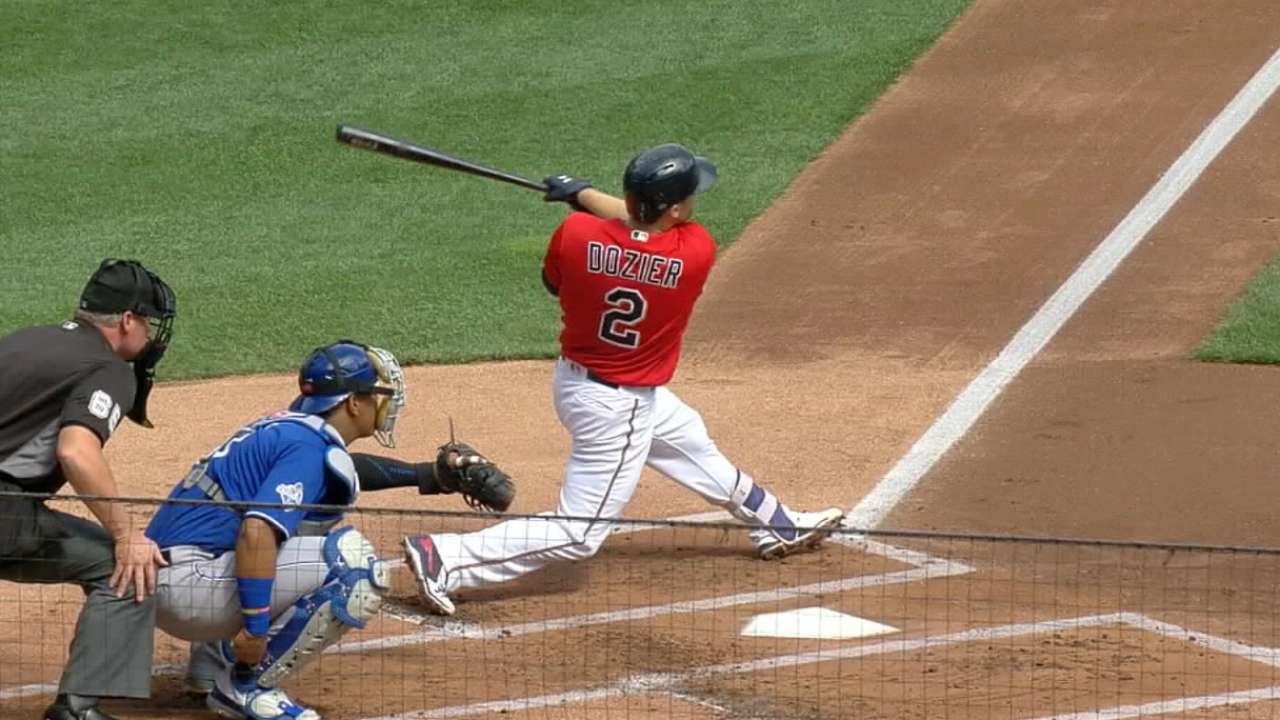 MINNEAPOLIS -- The Brian Dozier sweepstakes should be coming to an end this week, as the Twins want to set a deadline for a potential trade to give the second baseman some peace of mind after the process has dragged on throughout the offseason.
With reports that the Dodgers and the Twins have hit a snag in their trade talks involving Dozier, it seems more likely that he'll will remain in Minnesota heading into this season. The Giants and Braves remain in the mix, but the Dodgers have always been the best trade fit for Dozier given their strong farm system and need for a second baseman.
Dozier has been handling it well, as he's set to appear with general manager Thad Levine on an episode of "Deep Cuts" on Wednesday night, and even jokingly responded to a request for questions on Twitter for this week's Twins Inbox:
@RhettBollinger how much do you think the Twins asking price for Dozier is influenced by what the White Sox got for Sale and Eaton?

- Neil Vance (@NeilVance34) January 11, 2017
The White Sox obviously got great returns for both Chris Sale and Adam Eaton, landing MLBPipeline.com's No. 1 and No. 3 overall prospects in the process, but it's important to note that Sale is under team control through 2019 and Eaton through '21, while Dozier has two more years left on his deal. All three contracts are team-friendly, but there's more long-term value to acquiring Sale or Eaton. An ace like Sale is also a rare commodity.
The Twins understand this and haven't been holding out for similar packages, as they simply want a fair deal built around cost-controlled pitching. The Dodgers made the most sense with a package built around top pitching prospect Jose De Leon, but the two sides have had trouble agreeing on additional prospects.
There's still a chance Dozier gets moved, but it's looking more and more likely he'll remain with the Twins.
@RhettBollinger how do we improve our 2017 SP rotation without trading Dozier in a very weak FA market and not rushing prospects?

- Michael (@Jacks_Axe) January 11, 2017
It's a fair question, as moving Dozier would allow the Twins to acquire much-needed starting pitching. But even if they were to trade Dozier, it's more likely they'd acquire young pitching prospects than any established veterans to plug into the rotation.
• Submit a question to the Twins Inbox
The Twins are still on the lookout for starting pitching, but there isn't much left on the free-agent market and could look to a trade for a veteran starter. If they keep Dozier, it makes sense to try to add to this team instead of committing to a full rebuild.
@RhettBollinger You mentioned the Twins could look at getting an established hitter. To play what position? Outfield?

- Lee Henschel (@LeeHenschel) January 10, 2017
As part of MLB.com's series of bold predictions that ran Tuesday, I suggested the Twins could go after a power hitter to add to the offense with so many big bats left unsigned such as Jose Bautista, Mike Napoli and Mark Trumbo.
The Twins did check in on Bautista this offseason, but I've been hearing they're still more focused on improving their pitching than adding a bat like Bautista. It would be a bold move, however, to add some firepower to the roster, especially to supplement a young outfield.
@RhettBollinger If we had to project a rotation of 5 today, how might that look? #TwinsArms

- DugoutDerby (@DugoutDerby) January 11, 2017
Barring any additions this offseason, the rotation is likely to be composed of veterans Ervin Santana, Kyle Gibson, Hector Santiago and Phil Hughes, while the fifth-starter job will be more up for grabs. Hughes, who is coming off surgery to alleviate thoracic outlet syndrome, also has to prove he's healthy.
Starters expected to compete for the final spot include Jose Berrios, Adalberto Mejia, Trevor May, Tyler Duffey and Rule 5 Draft pick Justin Haley.
Who is your pick to win the bachelor this yr?RT @RhettBollinger: Looking for more questions for this week's Twins Inbox so send them my way

- Brian Dozier (@BrianDozier) January 11, 2017
It's great to see Dozier in good spirits, as he's clearly been taking the trade rumors in stride. He even said at the Winter Meetings that he's had fun throughout the process.
Dozier, along with Hughes, are noted fans of The Bachelor, even hosting team watch parties during Spring Training last year. And to answer Dozier's pressing question, I've never watched the show, so I'd only be guessing a random name. But if Dozier remains with the Twins, I'll be curious to hear his thoughts on his favorite show come Spring Training.
Rhett Bollinger has covered the Twins for MLB.com since 2011. Read his blog, Bollinger Beat, follow him on Twitter @RhettBollinger and listen to his podcast. This story was not subject to the approval of Major League Baseball or its clubs.