Inciarte's game-saving grab among '17 bobbleheads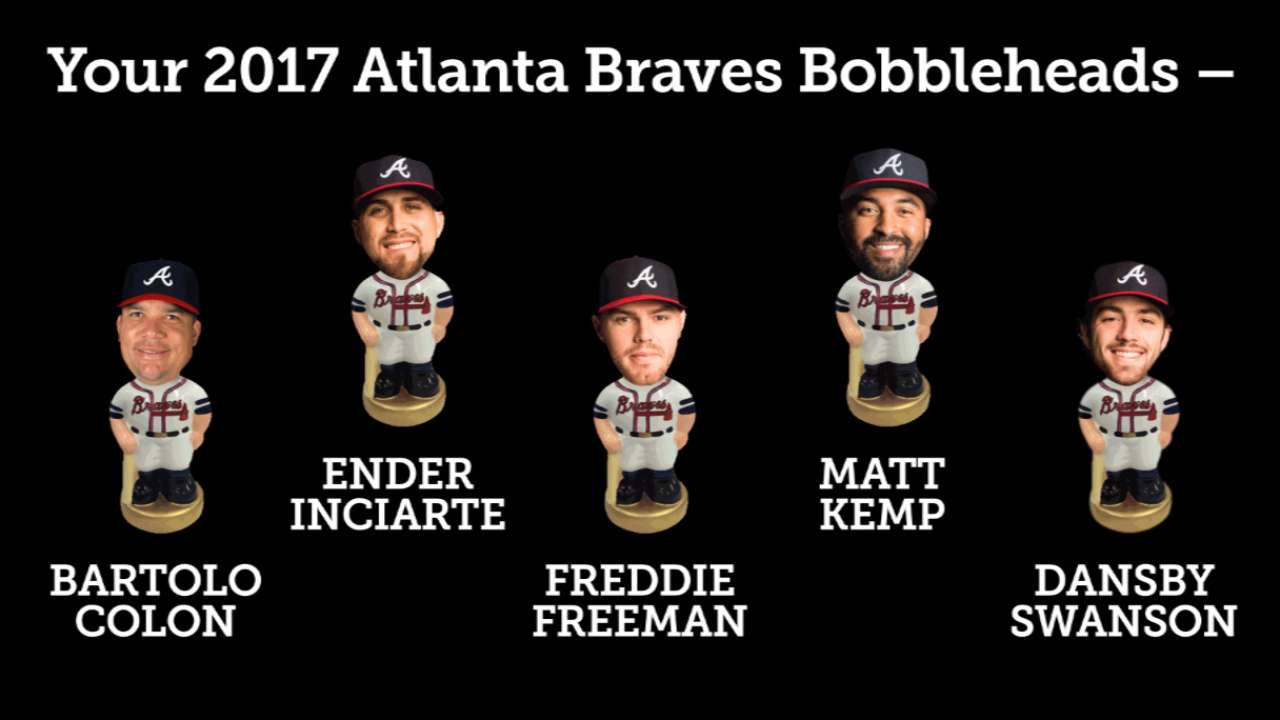 Various six-game ticket packages will go on sale on Feb. 7, and single-game tickets will be available beginning on March 10. All related information and purchasing options can be found by visiting braves.com/tickets.
This season's bobblehead giveaways:
May 19: Inciarte's "Game Ender" -- This doll will capture the moment Inciarte completed a Braves' three-game sweep of the Mets by reaching above the right-center-field wall to rob Yoenis Cespedes of what would have been a walk-off home run.
June 9: Colon -- The veteran pitcher's former Mets teammates will be in town to share in the fun that will surround the distribution of the first bobblehead dolls produced with him wearing a Braves uniform.
June 16: "The Flow" -- Swanson's mane will be featured with the distribution of bobblehead dolls that the Braves describe as having the shortstop's "life-like" locks.
July 14: Kemp -- The veteran slugger's batting stance will be featured with this giveaway that will coincide with the Braves' first game after the All-Star break.
Aug. 25: Freeman -- Saving the two-time National League All-Star and top-six 2016 NL MVP Award finisher for last within this giveaway promotion, the Braves will distribute bobblehead dolls that feature Freeman's batting stance before a game against the Rockies.
Mark Bowman has covered the Braves for MLB.com since 2001. This story was not subject to the approval of Major League Baseball or its clubs.