MLB.com Columnist
Jim Duquette
Constructing the perfect Quintana deal
Astros, Pirates among clubs interested in White Sox left-hander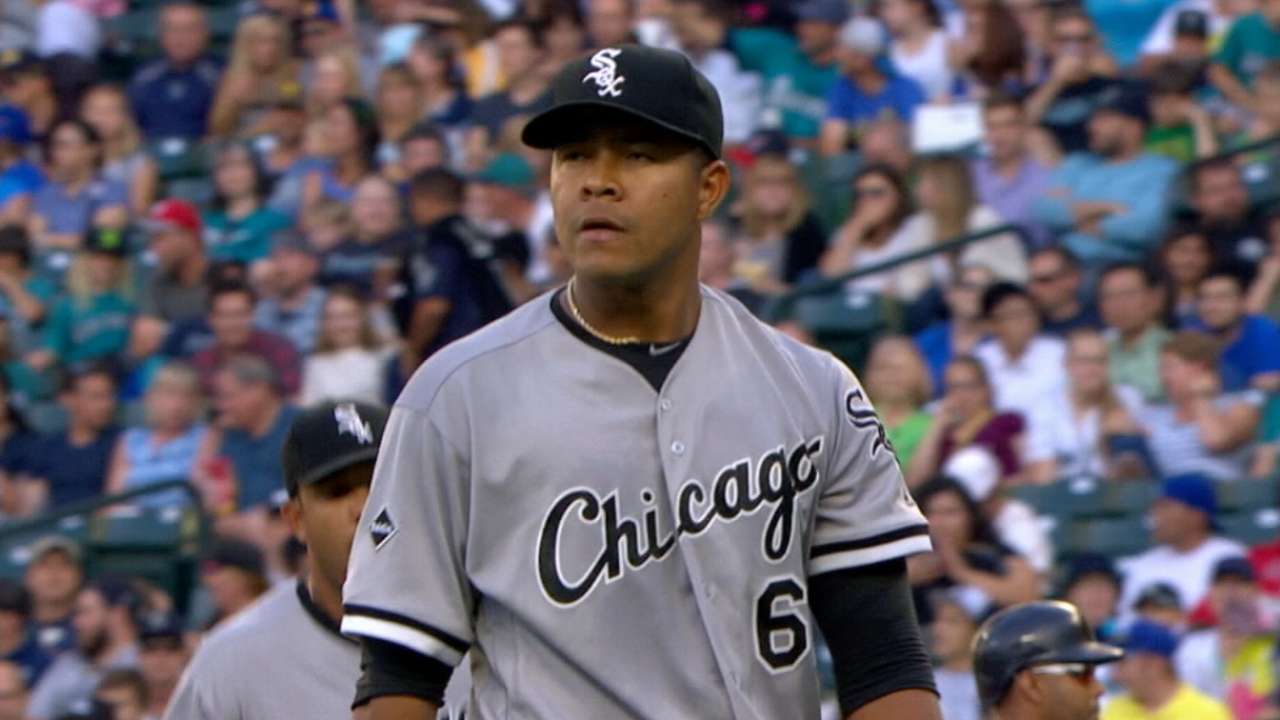 As the baseball world marches toward Spring Training, the White Sox continue to field offers for top starter Jose Quintana.
Quintana's value -- both on the field and from a financial standpoint -- is readily apparent. The southpaw has been one of the Majors' top arms since the outset of 2013, with the game's seventh-best pitcher fWAR (18.1) in that span. With a mark like that, Quintana ranks right ahead of Giants ace Madison Bumgarner (18.0 fWAR) and just behind fellow Cubs left-hander Jon Lester (18.4).
And in an era where stud arms can fetch close to $1 million per start on the free-agent market, Quintana's remaining salary -- a bit more than $35 million across the next four years -- looks like an absolute steal.
The White Sox have remained in the headlines all winter for a job well done on the rebuilding front, having picked up a slew of premier prospects in exchange for Chris Sale (shipped to Boston) and Adam Eaton (to Washington).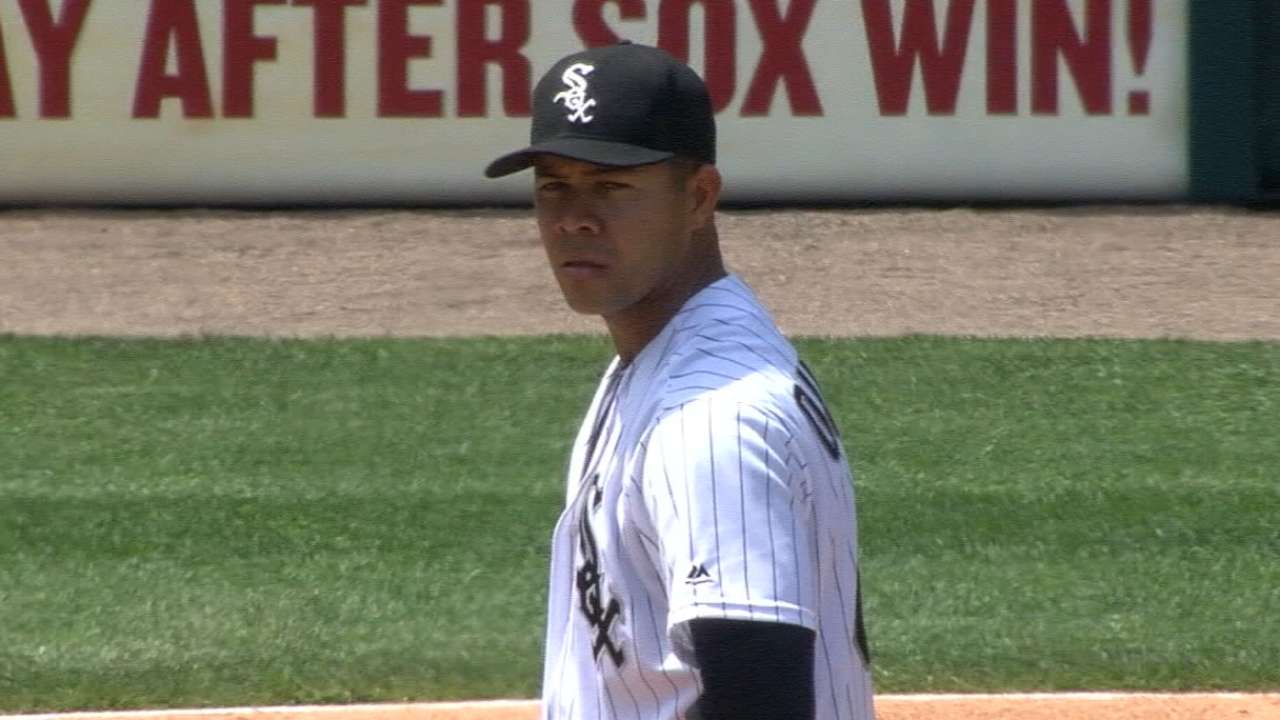 A deal for Quintana, who turns 28 on Jan. 24, would likely require a package similar to the one Chicago received for Eaton -- a triumvirate of potential headlined by righty Lucas Giolito, the game's No. 3 prospect overall.
And though Chicago may not be in any rush to move a pitcher as good as Quintana, it could possibly maximize his trade value by acting soon -- particularly before a 2017-18 free-agent period set to feature a bevy of impressive rotation options:Jake Arrieta, Yu Darvish, Danny Duffy, Marco Estrada, Jeremy Hellickson and Chris Tillman -- among others.
Now that we've established that Quintana would be a boon for any franchise, let's review four potential landing spots.
Astros: Houston, according to reports, continues to be engaged in talks for Quintana. This makes sense, as adding him to a rotation with Dallas Keuchel, Lance McCullers and Collin McHugh -- as well as fifth-starter types such as Mike Fiers and Charlie Morton -- would arguably give them an on-paper advantage over the Rangers in the AL West.
What it would take: Chicago has reportedly come to the table with a steep asking price -- pitchers Joe Musgrove and Francis Martes (Houston's No. 1 prospect) plus outfielder Kyle Tucker (No. 2). This may be too much for Houston, but two of the three names could prove to be a fair compromise. Perhaps something could get done with the high-upside Tucker, Martes and another arm like David Paulino.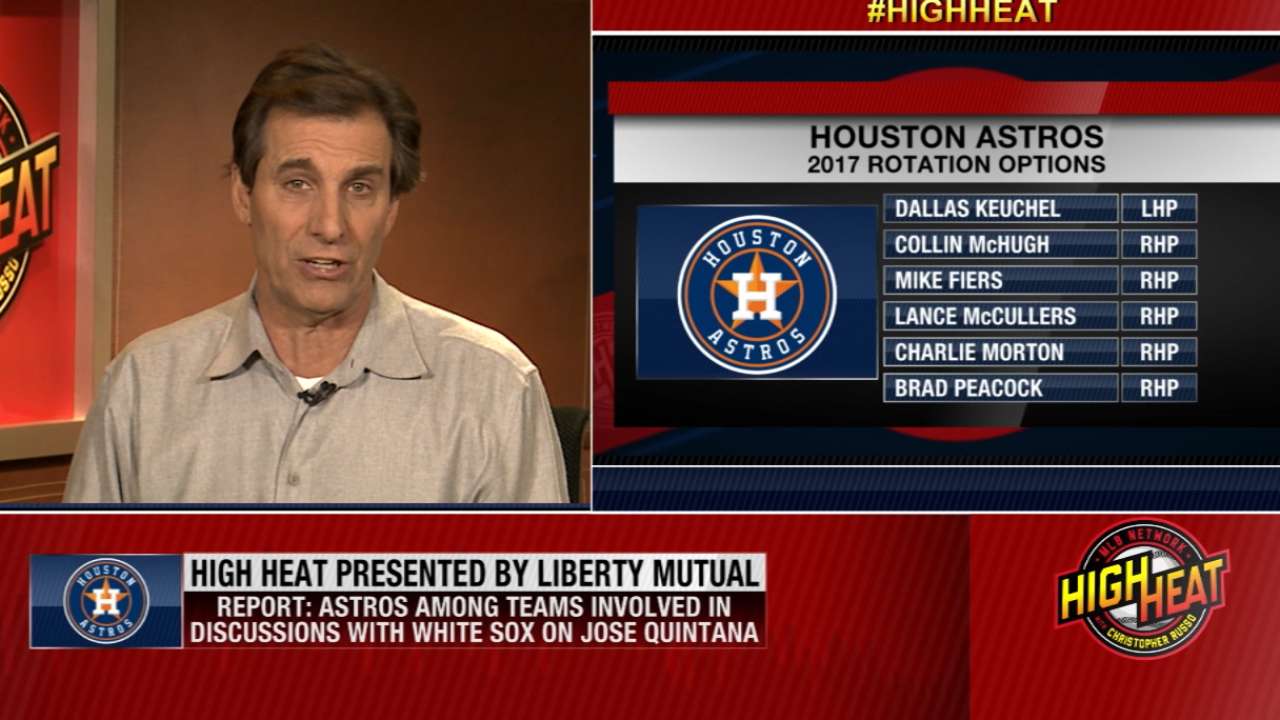 Pirates: Like Houston, Pittsburgh has been closely tied to the Quintana sweepstakes. A franchise known for valuing quality, affordable talent, the Bucs certainly possess a prospect collection worthy of Quintana's services. And of course, general manager Neal Huntington's front office is aware that there is no such thing as too much good pitching -- especially after a year that saw ace Gerrit Cole make three trips to the disabled list with arm woes.
What it would take: If righty Tyler Glasnow (Pittsburgh's No. 1 prospect) and outfielder Austin Meadows (No. 2) are not included because of their massive talent ceilings, then a combination of first baseman Josh Bell (No. 3) and righty Mitch Keller (No. 5) would have to headline any swap. Another piece -- such as shortstops Kevin Newman (No. 4) or Cole Tucker (No. 7) -- may be required to complete a deal, but it remains to be seen if Pittsburgh would part with that much young, controllable talent.
Yankees: Reportedly on the fringes of the Quintana market, the Yankees certainly could use some controllable pitching beyond 2017. CC Sabathia and Michael Pineda can become free agents after this season, and ace Masahiro Tanaka will likely opt out of the final three years and $67 million on his contract.
What it would take: The White Sox would likely ask for one of the Yankees' recently acquired blue-chippers -- outfielder Clint Frazier (Yankees' No. 1) or shortstop Gleyber Torres (No. 2). Such may be too much for the New York side, but Chicago GM Rick Hahn might be able to convince Yankees GM Brian Cashman to part with a pair of position-player prospects from a list including middle infielder Jorge Mateo (No. 3) as well as outfielders Aaron Judge (No. 4) and Blake Rutherford (No. 5). To seal the deal, the Yankees might have to throw in one young arm such as righty Dillon Tate (No. 11). The Yankees, however, would not shock the world if they decide to instead hold onto the best chips in their newly beefed-up farm system -- especially with their next window for competitiveness seemingly set to open in 2018.
Rockies: To be clear -- Colorado has not been linked publicly to Quintana, but it does have pieces that could appeal to the White Sox. The Rockies have also built an intriguing pitching staff -- no small feat, given their famously hitter-friendly venue. Top arms have historically been shy to call Coors Field home, but a deal for a consistent innings-eater such as Quintana could accomplish the same goal while taking pressure off Colorado's talented-yet-young pitching staff.
What it would take: A package of outfielder David Dahl and infielder Brendan Rodgers (Rockies' No. 1) could be enough to get the White Sox talking. However, don't be surprised if the Rockies prove reticent to part with prospects a year before they could realistically compete for the NL West crown.
Jim Duquette, who was the Mets' GM in 2004, offers his opinions as a studio analyst and columnist for MLB.com. This story was not subject to the approval of Major League Baseball or its clubs.