Gray not afraid of ghosts, Coors Field
Rockies ace looks to continue dominance at home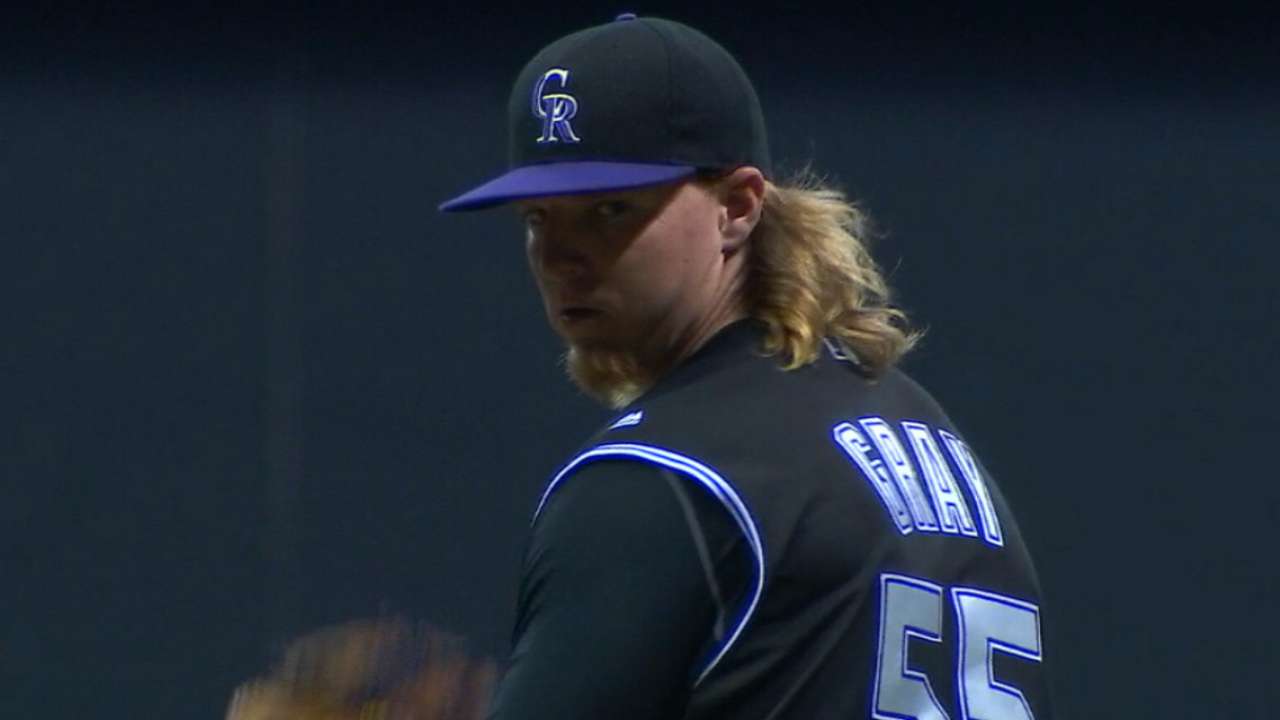 DENVER -- Rockies right-handed pitcher Jon Gray loves searching for paranormal activity, and doesn't even mind finding it. But he wants to leave it right where it is.
"I go chase ghosts all day," Gray said during a wide-ranging and somewhat whimsical interview with MLB Network Radio's Casey Stern on Thursday. "But I don't know if I want them coming back to where I'm at."
• Rockies starter is a ghost hunter in his free time
When not utilizing Electronic Voice Phenomenon [EVP] to scour walls and rooms for disembodied voices or using cameras to pick up what human eyes can't, however, Gray pitches -- powerfully. In 2016, Gray, 25, set a Rockies rookie record and led Major League rookies with 185 strikeouts, while going 10-10 with a 4.61 ERA in 29 starts.
Gray finished with stronger numbers at home -- 7-2, 4.30 ERA, 10.1 strikeouts per nine innings and 5.22 strikeout-to-walk ratio -- than on the road, where he went 3-8, with a 4.91 ERA, 9.7 K/9 and 2.22 K/BB.
"I would say it was my first priority, for one, going into last year, to be able to pitch [at home]," Gray said. "I knew it could be a huge weapon for me. All I've got to do is outpitch the other guy. That's kind of the thought process I took into it.
"I didn't really nitpick around the corners at all. I just kind of went after guys. I threw inside a lot, and it helped. That's one of the things you've got to do, pitching at Coors. It was a lot of fun watching other guys come up and throw well, too, like Tyler Anderson and Chad Bettis. … It was good to see guys step up and show that we can own this park."
Gray said guidance from more experienced pitchers helped.
"When someone else would be starting, I would be talking with either Bettis or Chris Rusin, or any of the starters about what's going on," Gray said. "Like this guy's swing, what we do with this guy's swing, what we look for. It goes so in depth about everything. It made it a lot easier, too, having guys my age and having guys I played with at lower levels there with me. It was kind of a comfort feeling."
Gray had special words for Bettis, who announced this week that he is clear of the testicular cancer that led to surgery in November.
"I think I gained most of my knowledge from Chad Bettis," Gray said. "I watched this guy pretty closely over this last year, and he handles all his stuff professional, so he's a good guy to look up to."
Next for Gray is to continue perfecting his curveball, a pitch Rockies bullpen coach Darren Holmes taught him after his nine-start trial in 2015. Gray noted that the first one he threw in 2016 was smashed for a home run, but his feel for the pitch grew with experience.
"I'm ready to kind of take the steps this offseason and go with it this Spring Training, and locate the pitch more -- and kind of feel with it more," Gray said. "If I can throw it consistently down better, I think it's going to be a good pitch. It's going to set up a lot of [speed] difference."
Thomas Harding has covered the Rockies since 2000, and for MLB.com since 2002. Follow him on Twitter @harding_at_mlb, listen to podcasts and like his Facebook page. This story was not subject to the approval of Major League Baseball or its clubs.