Garcia handling hot corner, but for how long?
Ruiz may also see time at third for Braves while prospect Riley develops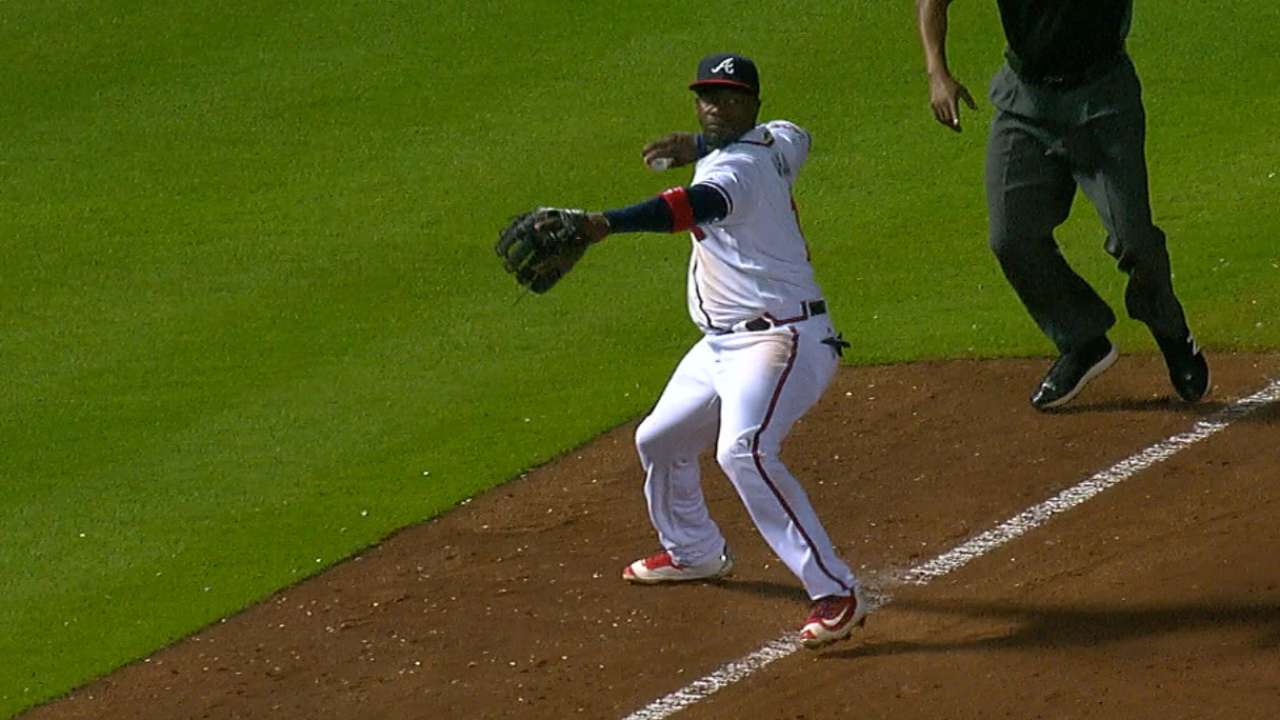 ATLANTA -- After objecting to learning how to play left field while at the big league level, Adonis Garcia was sent to Triple-A Gwinnett to play the position on a consistent basis. He returned to the Majors approximately one month later and surprisingly proved to be serviceable enough at third base for the Braves to view him as a bridge to their future.
Rio Ruiz is knocking at the door and Austin Riley -- the Braves' No. 14 prospect, according to MLBPipeline.com -- will spend the next couple of years attempting to prove he will be agile enough to remain a third baseman. But as these two prospects continue to develop, it appears Garcia will continue to serve as Atlanta's primary player at the hot corner -- a position where he was once on pace to produce historically poor defensive metrics.
Garcia was charged with seven errors through the first 41 chances at third this past season and exited April with an .876 fielding percentage at the position through the first 137 chances (17 errors) of his career. Dating back to 1915, only two third basemen -- Luis Olmo and Gabe Alvarez -- who have registered a lower fielding percentage with at least 130 chances.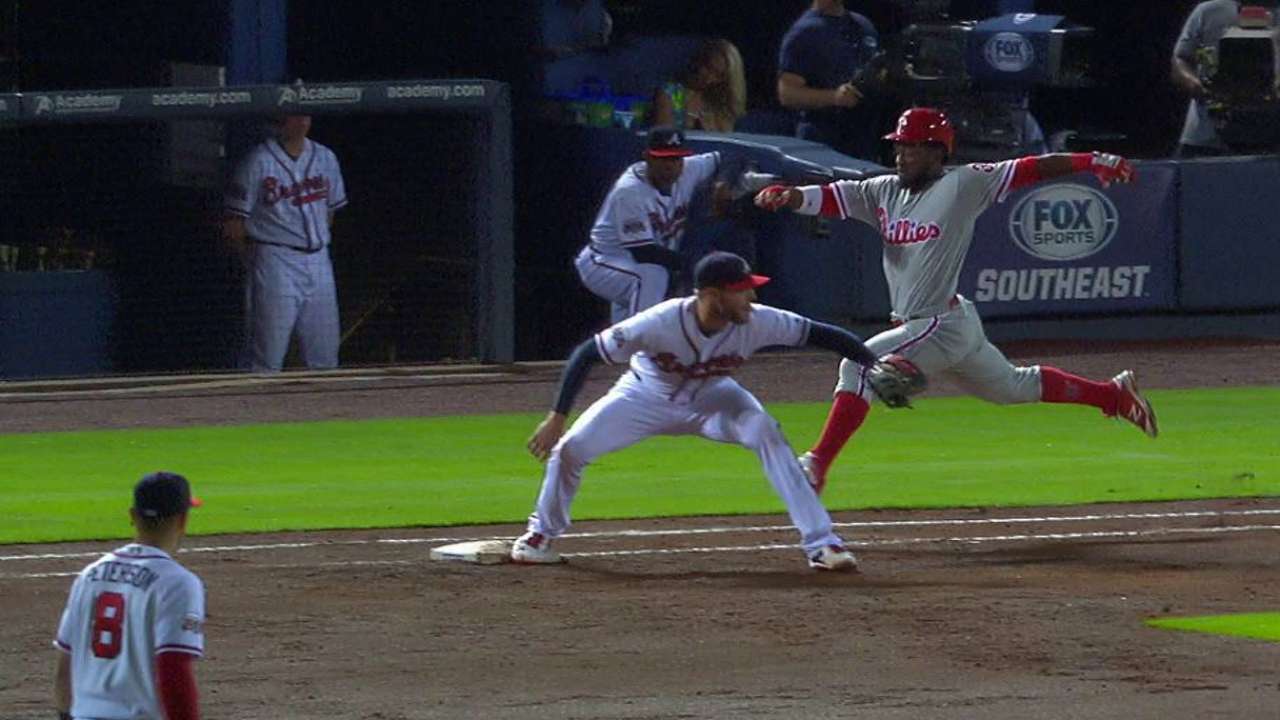 The Braves' plan to have Garcia adjust to left field at the big league level evaporated when he objected to former third-base coach Bo Porter's attempt to provide assistance a few hours before an early May game at Citi Field. Garcia was optioned to Gwinnett by the end of that week and made each of his 17 appearances in the field for the G-Braves as a left fielder.
When Garcia returned to Atlanta in late May, he took advantage of the unexpected opportunity to play third on a regular basis. He produced a .957 fielding percentage (11 errors in 253 chances) while playing third in 102 games the rest of the season.
Despite the rough start, Garcia ended the season ranked 13th out of 18 qualified big league third basemen with -7 Defensive Runs Saved and a -2.6 Ultimate Zone Rating per 150 innings. Todd Frazier, Yunel Escobar, Nick Castellanos, Cheslor Cuthbert and Jake Lamb all ranked behind him in the UZR/150 category.
Garcia hasn't suddenly become a Rawlings Gold Glove candidate, but he did spend this past season's final four months proving serviceable enough at third to allow the Braves to continue taking advantage of his offensive potential. From June 10 to the end of the season, he batted .290 with 13 home runs, a .784 OPS and a slightly above average 107 Weighted Runs Created Plus over 407 plate appearances.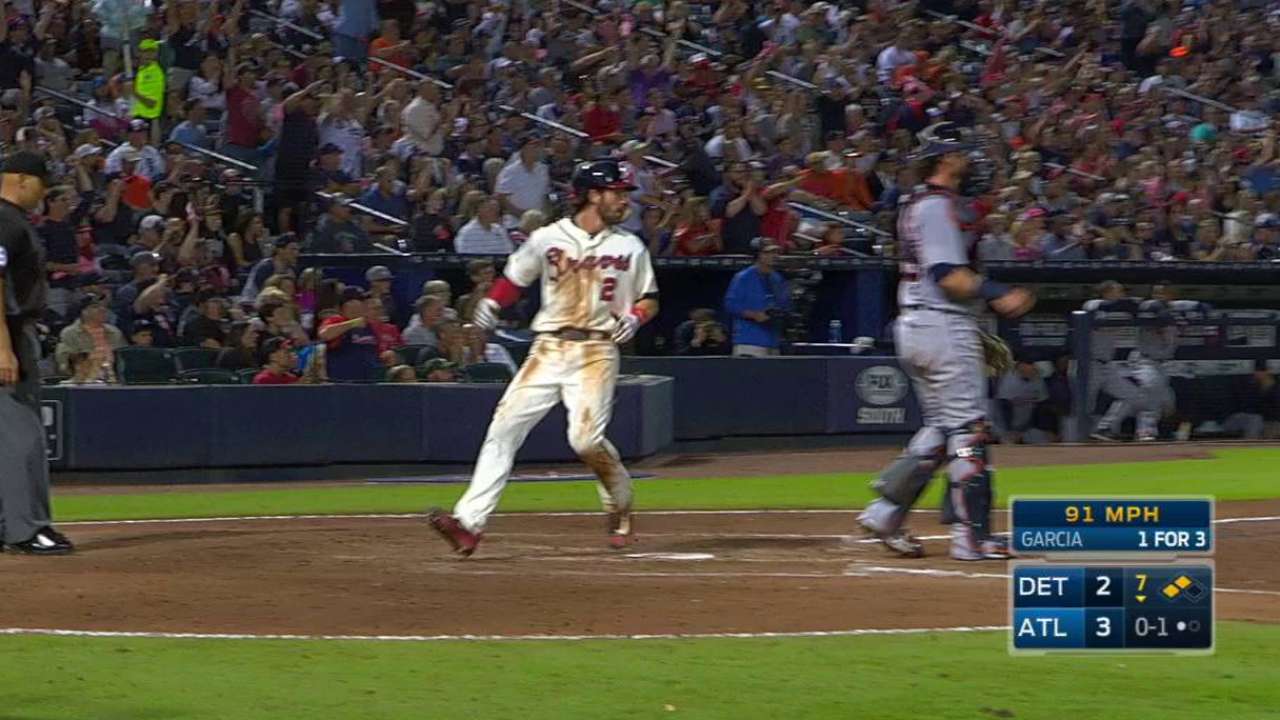 Atlanta will enter Spring Training open to the idea to also carry Ruiz, who got in better shape last offseason and then started to live up to expectations as he hit 10 home runs and compiled a .755 OPS with Gwinnett. But given Sean Rodriguez, Chase d'Arnaud and Jace Peterson are all capable of spelling Garcia, the team might attempt to address another need when it fills its last bench spot.
Ruiz compiled a .834 OPS in 407 plate appearances against right-handers and a .522 OPS against left-handers. These splits could influence the team to give him more time at the Triple-A level or possibly eventually set up a platoon with the right-handed-hitting Garcia.
Garcia batted .367 with two homers and a .935 OPS in 99 plate appearances against lefties dating back to June 10. But he wasn't necessarily a liability as he hit .267 with 11 homers and a .736 OPS against right-handers within the same stretch.
Mark Bowman has covered the Braves for MLB.com since 2001. This story was not subject to the approval of Major League Baseball or its clubs.