Inbox: How does Judge measure up?
Beat reporter Bryan Hoch answers fans' questions
How worried should we be about Aaron Judge's Major League performance? Do you have any comparisons between how he did in his first 80-plus at-bats and other players who struggled similarly?
-- Binyamin G., Beit Shemesh, Israel
The most concerning part of Judge's 2016 season was his high strikeout rate, as he fanned 42 times in 84 at-bats (95 plate appearances) while hitting .179 with four home runs and 10 RBIs. No non-pitcher in Major League history has had more strikeouts in fewer at-bats or plate appearances during a season.
If we relax the numbers a little, though, it's not difficult to come up with a few encouraging names. Jose Bautista struck out in 40 of 88 at-bats in 2004, and Chris Davis struck out 40 times in 120 at-bats for the '10 Rangers. Both developed into feared power threats; the pressure will now be on Judge to make similar adjustments.
• Submit a question to the Yankees Inbox
Here's someone who should be able to offer some useful one-on-one counseling: As a rookie with the A's in 1967, Reggie Jackson struck out 46 times in 118 at-bats, hitting just one homer. In fact, with the big swings that would eventually produce 563 career home runs, the future Mr. October led the American League in strikeouts over his first four full seasons.
"When I see a guy like Judge, I can certainly look at him and say, 'That's what I once was,' a guy with a lot of power who swung and missed a lot." Jackson said in September. "I was fortunate, the organization I was with in Oakland, they let me play and learn on the job. It'll be the same thing for him. He'll have to adjust. I want to see him get his education here. If he fails, we're going to help him get better."
Shouldn't the Yankees try and get at least one starting pitcher and a bullpen guy?
-- Barry de B., Almere, Netherlands
Just because the Yanks could go into the spring as currently comprised doesn't necessarily mean that they will, though it's understandable why they seem hesitant to dip into their prospect bank for a big name like White Sox lefty Jose Quintana. Chicago is seeking a similar haul to what it got from the Red Sox for Chris Sale, and it will be difficult to sway the club.
General manager Brian Cashman stated last week that the price of pulling off a trade is higher now than at any point during his general manager tenure, dating back to 1998. The Yankees benefited from that last summer, converting Aroldis Chapman, Andrew Miller, Carlos Beltran and Ivan Nova into assets for the future. They don't necessarily seem to be in a hurry to undo that progress.
That said, a mid-rotation starter such as Jason Hammel or Doug Fister makes sense on some level, especially if they'd be willing to accept a one-year contract in this weak free-agent class. Otherwise, there's something exciting about giving opportunities to the group of Luis Cessa, Chad Green, Bryan Mitchell, Luis Severino and Adam Warren.
• Yanks feel prepared, but staying 'engaged' in pitching market
What would be the chances that Didi Gregorius can duplicate his 2016 offensive performance and be part of the heart of the order?
-- Ismael C., Manila, Philippines
What's encouraging about Gregorius' 2016 is that it seems to be sustainable, as he showed all the signs of a young player maturing at the Major League level. Gregorius set career highs in hits (155), doubles (32), homers (20) and RBIs (70) while leading the team with 54 extra-base hits, and New York would be thrilled to pencil that right back in for '17.
Late last season, Gregorius mentioned that Beltran had a huge impact on his growth, helping him develop plans on how to approach different pitches. It's no accident that Gregorius has turned into a consistent hitter against left-handed pitching and is showing some power, even while staying with his all-fields approach.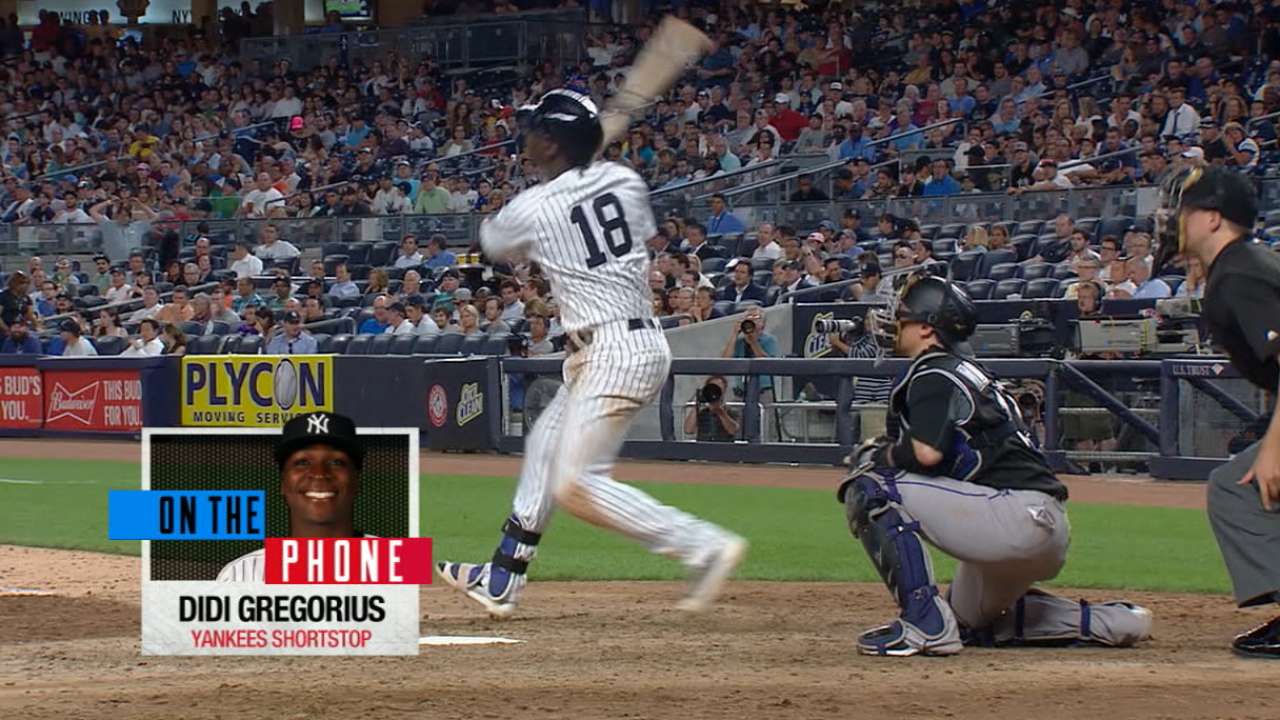 "I'm just trying to hit line drives all over the place, like I'm doing always," Gregorius said. "If it turns into home runs, it turns into home runs. I'm not going up there trying to hit home runs. I'll work in the offseason on trying to make my swing a little bit shorter and try to stay consistent with it. That's all I'm trying to do."
What do you think of the Yankees adding Mark Trumbo? He would protect Gary Sanchez and carry the offense if Jacoby Ellsbury and Chase Headley do not show up.
-- Edison N., White Plains, N.Y.
It sounds like the kind of move that would have been a no-brainer for the Yanks about 10 to 15 years ago, but the landscape has changed. Trumbo led the Majors with 47 homers last year, and New York could have used that kind of power, but we're witnessing a stage where the club is trying to be younger, more athletic and smarter with its money.
That's why Matt Holliday fit in the plans to DH on a one-year contract, but the Yankees never seriously engaged with a guy like Edwin Encarnacion. Expect to see the Yanks similarly pass on Trumbo, as they seem set upon staging a first-base competition between Greg Bird and Tyler Austin.
Bryan Hoch has covered the Yankees for MLB.com since 2007. Follow him on Twitter @bryanhoch and on Facebook. This story was not subject to the approval of Major League Baseball or its clubs.