MLB.com Columnist
Tracy Ringolsby
Rox, D-backs could shake up NL West in 2017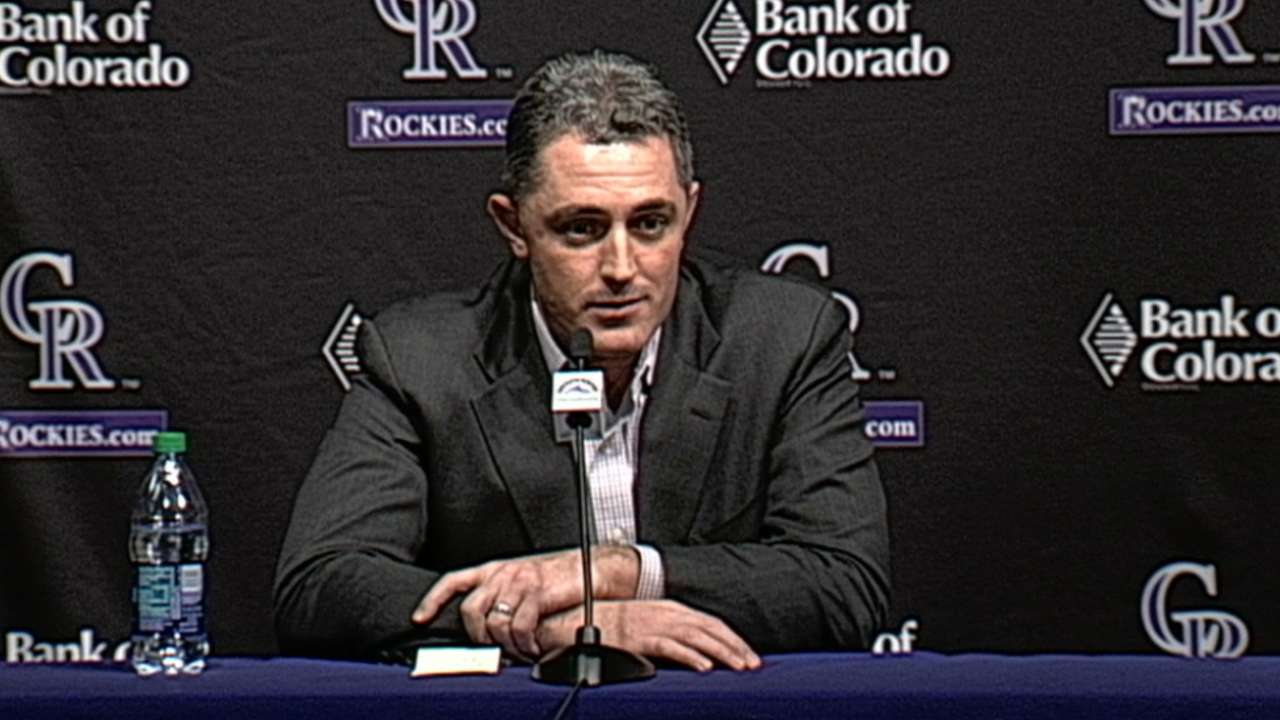 The Dodgers have been busy this offseason retaining the core members of their roster.
The Giants filled their biggest void, signing free-agent closer Mark Melancon. The Dodgers and Giants are looking to maintain their two-team stranglehold on the National League West.
But it won't be that easy. The Rockies and D-backs won't be favorites coming into the season, but don't discount their ability to crash what has been a West Coast party the past five seasons, in which L.A. (four) and S.F. (three) have earned seven postseason appearances combined. No other NL West team has made the postseason in that span.
It has been seven years since the Rockies last played a meaningful game in October, five years for the D-backs and 10 years for the Padres.
The Padres are in a holding pattern right now, looking to regroup after embarking on a plan to contend two years ago. After seeing 84 players wear a San Diego uniform in those two years, the club is now committed to a major rebuild.
Neither the Rockies nor the D-backs have been a factor in recent divisional races, but both teams feel that with a little offseason tinkering, they could give their fans a summer to remember in 2017.
Yes, the Rockies have sustained six consecutive losing seasons. But they know that they have one of the better offensive and defensive lineups in baseball, are sold on the young arms in their rotation and recognize the bullpen as their biggest obstacle to contending.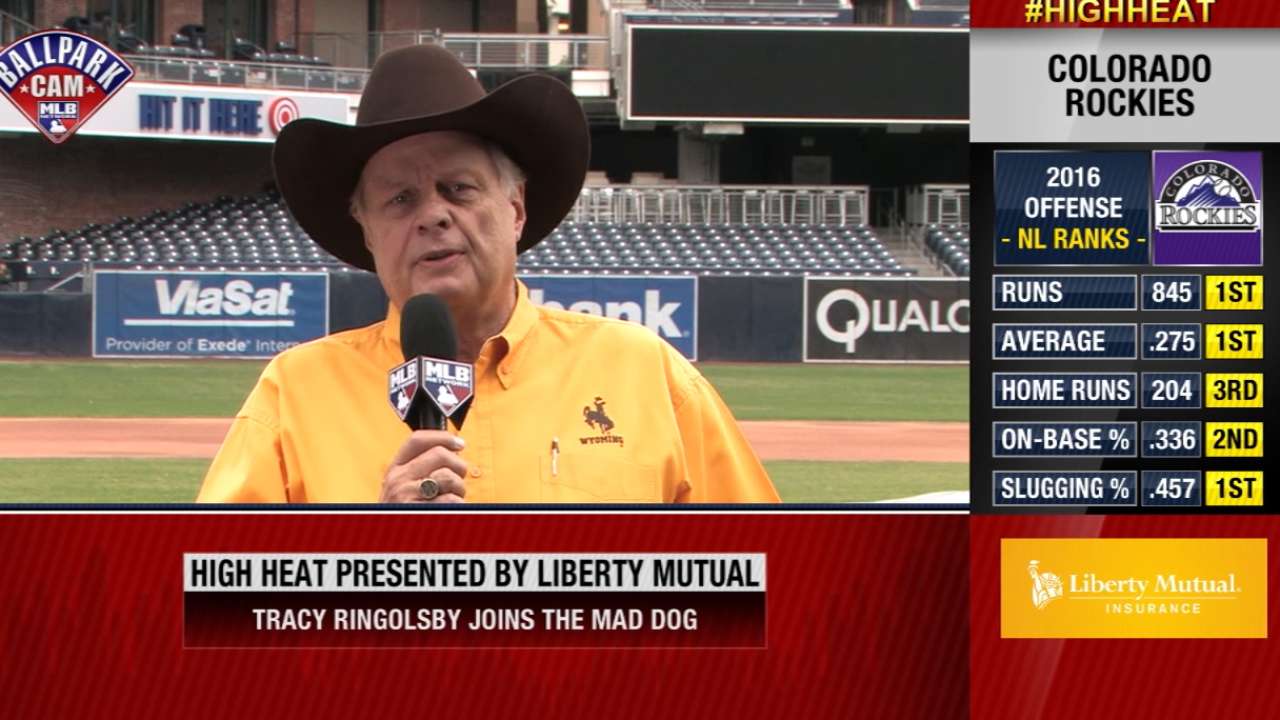 Rockies management made its expectations known in the offseason by replacing manager Walt Weiss with former Padres manager Bud Black and signing Ian Desmond to the biggest free-agent contract (five years, $70 million) the franchise has ever given a non-pitcher.
The Rockies are attending to their bullpen, signing lefty Mike Dunn and talking to free-agent closer Greg Holland, who is coming off Tommy John surgery. They've also gotten positive medical reports on incumbents Adam Ottavino and Jake McGee.
With the possibility of those four options to handle late-inning work, along with Carlos Estevez, the Rockies may have the pieces to contend. They have a balanced and explosive lineup, built around Charlie Blackmon, Carlos Gonzalez, Nolan Arenado and Trevor Story.
The Rockies have a rotation that returns four under-30 arms who generally show no fear of Coors Field -- Jon Gray (7-2 at Coors); Chad Bettis (8-2); Tyler Anderson (5-2) and Tyler Chatwood (4-8), who became the 10th pitcher in franchise history to work at least 150 innings and compile a sub-4.00 ERA. And they have an assortment of prospects from which to find the fifth, including German Marquez, Kyle Freeland, Jeff Hoffman and Antonio Senzatela.
The D-backs made three postseason appearances in their first five years, winning a World Series championship in their fourth year of existence with six of their eight regulars and their 1-2 rotation combo of Randy Johnson and Curt Schilling signed out of free agency. In the past 14 years, however, they have advanced into October just twice and had a winning record only three times.
Arizona began another overhaul in the offseason, starting at the top. Mike Hazen became the sixth general manager since the 2007 season. Torey Lovullo became the manager. The D-backs signed catcher Jeff Mathis out of free agency and acquired shortstop Ketel Marte and starting pitcher Taijuan Walker from the Mariners. And they signed free-agent closer Fernando Rodney, hoping he can be the right-hander who was an All-Star with the Padres last year, before he was dealt to the Marlins for the stretch run and compiled a 5.89 ERA in 39 games.
More significant is the expectation of a lineup that will be lengthened by the return of outfielders David Peralta and A.J. Pollock from season-limiting injuries in 2016, providing middle-of-the-lineup threats along with Yasmany Tomas, Paul Goldschmidt and Jake Lamb.
Not only did the D-backs add the promising arm of Walker to a rotation that had a franchise-worst 5.19 ERA last year, but they have two reasons to anticipate being better -- Zack Greinke and Shelby Miller.
Greinke, after all, was a combined 82-26 in five seasons before signing a free-agent contract in Arizona last winter, far from the pitcher who was sidelined for six weeks with a strained left oblique and went 3-4 with a 6.02 ERA in nine starts upon his return. Miller, meanwhile, battled a recurring problem with his right index finger, which limited him to 20 starts and left him with a 3-12 record and a 6.15 ERA.
Neither the Rockies nor the D-backs have any guarantees of success. But they have reasons for hope in a division that has been a two-team affair the past five years.
Tracy Ringolsby is a columnist for MLB.com. This story was not subject to the approval of Major League Baseball or its clubs.