Northwestern rallies for win in Pinstripe Bowl
Jackson sets rushing mark as Wildcats best Pittsburgh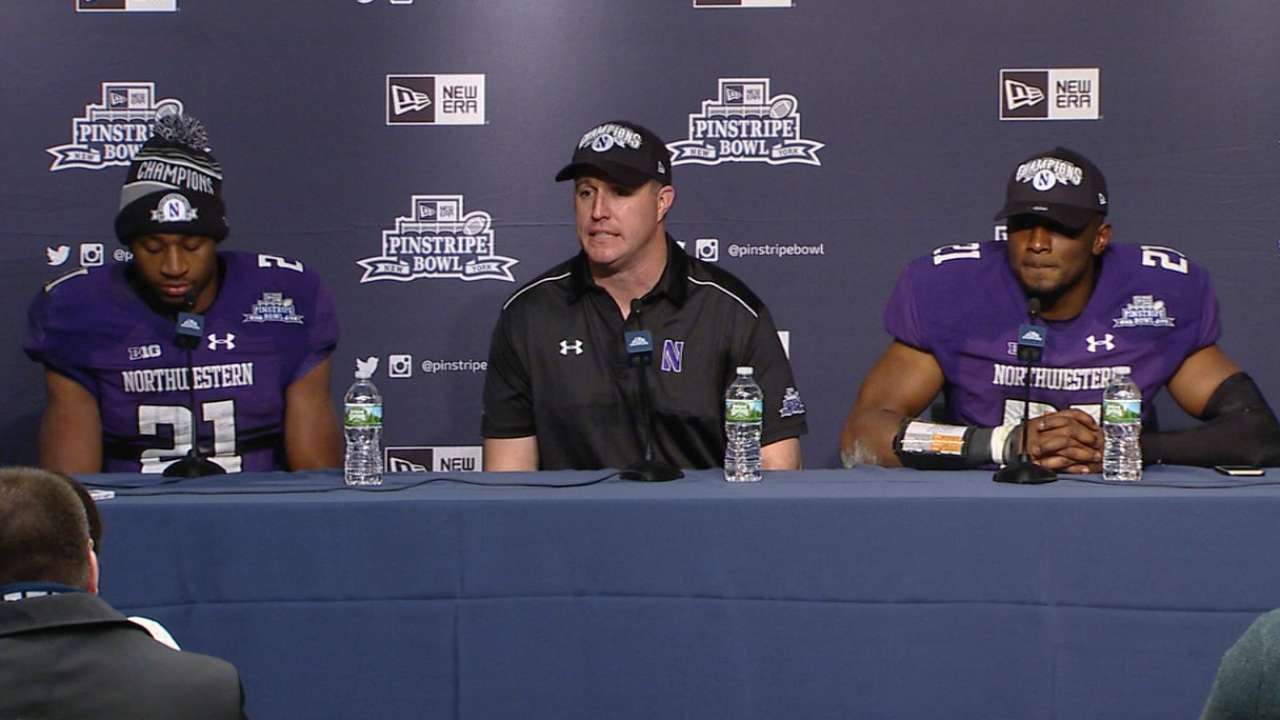 NEW YORK -- Justin Jackson showed up in the Big Apple -- big time.
The running back rushed for 224 yards and quarterback Clayton Thorson executed a come-from behind fourth-quarter drive to lead Northwestern to a 31-24 victory over No. 23 Pittsburgh on Wednesday in the New Era Pinstripe Bowl at Yankee Stadium.
"Big city, big stage." Jackson said. "We've been saying that all week."
Down by three in the fourth quarter, Thorson punctuated a 14-play, 76-yard drive with a 21-yard touchdown pass to Garrett Dickerson on fourth-and-1 to give Northwestern a lead with 8:23 remaining on the clock. Thorson threw 12 times in 14 plays on the winning drive, in no small part because Jackson dominated the day on the ground.
Jackson, a junior, scored three touchdowns and surpassed 4,000 yards for his career. The All-Big 10 First Team selection, who paced the conference in rushing this season, became the second player in school history to reach 4,000 career yards. He broke a 68-yard run in the first quarter, scored from eight and 16 yards out in the second, and rushed for a 40-yard score in the third.
In doing so, Jackson helped Northwestern finish above .500 for the second straight year. The loss dropped Pittsburgh to 8-5 and likely out of the Top 25, concluding an odd season for the Panthers in which they beat two Top 5 teams, but finished with the same record as they did in 2015.
"Not the way you want your senior class to go out," Pittsburgh coach Pat Narduzzi said. "We left a lot of points on the board and didn't tackle a very good tailback."
Pittsburgh quarterback Nathan Peterman threw for 253 yards on 13-for-18 passing and a touchdown before being removed following a hit to the head in the third quarter.
"He was hit without the ball," Narduzzi said. "Kind of interesting."
Thorson finished 23-for-36 with 214 yards, one touchdown and one interception. Northwestern went 9-for-19 on third down and 4-for-4 on fourth down.
"To have guys play in this big moment, have some early struggles and step up, I think that's the story of our whole team," said defensive back Kyle Queiro, whose fourth-quarter interception sealed the win.
The original Yankee Stadium hosted 185 college football games during its 85-year history, including the annual Army-Notre Dame game from 1925-46. But prior to the New Era Pinstripe Bowl, no college football game had been played in the Bronx since Nebraska beat Miami in the Gotham Bowl in 1962.
That changed when the New Era Pinstripe Bowl debuted at the new Yankee Stadium in 2009. It's been an annual event in the seven years since, the stadium's playing surface specially transformed for football once a year.
"It's an iconic venue," Jackson said. "We walked in and it hit us. It was pretty surreal."
Participating teams spend the week touring New York. This year players rang the bell at the New York Stock Exchange, did some ice skating in Central Park and visited the 9/11 Memorial Museum.
"All the experiences here were unbelievable. It was experience after ex after ex that were unique," Northwestern coach Pat Fitzgerald said. "The impact going to the 9/11 memorial had on our guys, that will be with them for the rest of their lives."
Once in Yankee Stadium clubhouse, the Northwestern players tried to predict which lockers their favorite players had used. Their giddiness extended even to the bathrooms.
"Great people have gone through here," Jackson said.
On the field, the famed dirt diamond is sodded over each November. One goalpost stands where home plate would be, the other shoots up from deep center field, just before the warning track. It's a different layout than the one used by Major League Soccer's New York City FC, which plays on a field running latitudinal from right field to left.
"After the game you look up, everything is lit, you take in the moment," Jackson said.
Visible along Northwestern's right-field sideline was Yankees manager Joe Girardi, who had special reason to attend this year's game. Girardi and his wife are both Northwestern alums. Girardi said he texts Fitzgerald before every game.
"We changed our vacation plans to be here," Girardi said. "Northwestern has always been near and dear to my heart for what it's meant to my family. It always brings a big smile to my face.
Joe Trezza is a reporter for MLB.com based in New York. Follow him on Twitter at @joetrezz. This story was not subject to the approval of Major League Baseball or its clubs.