Scherzer's 20-strikeout gem one for the ages
NL Cy Young Award winner's performance one of top baseball stories in '16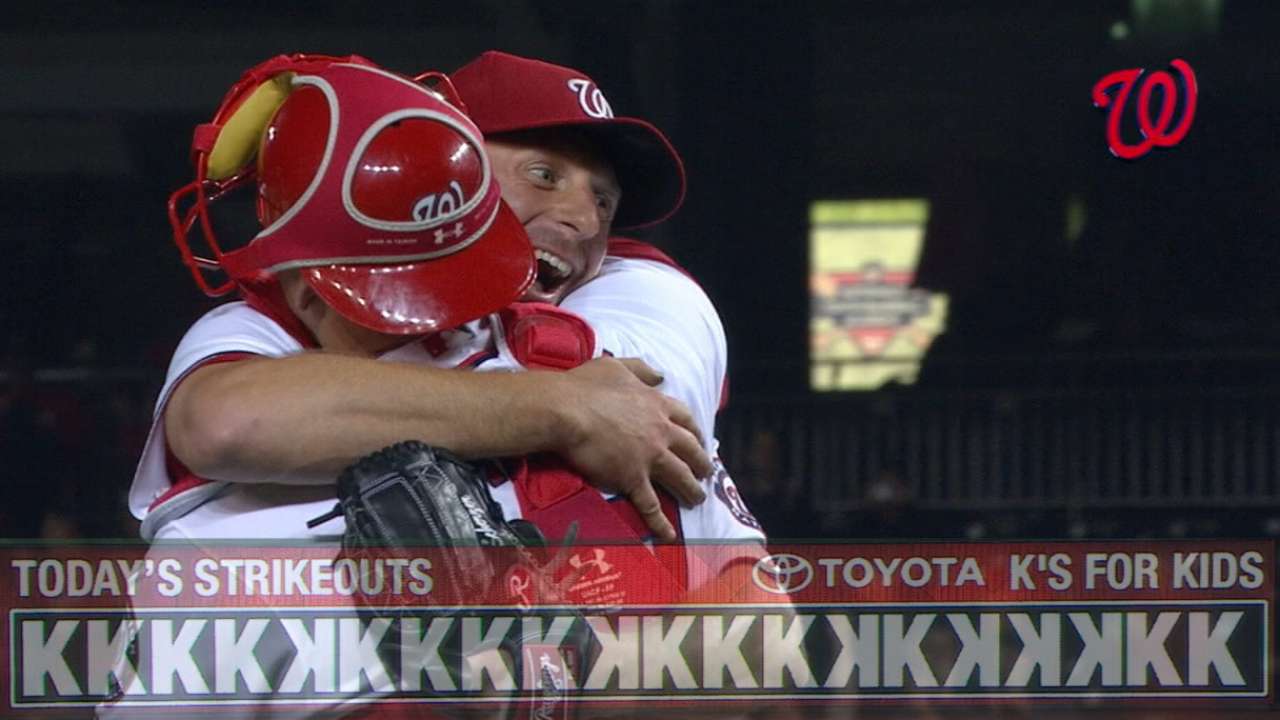 WASHINGTON -- It was not until after the eighth inning on what would become a history-making Wednesday night at Nationals Park that Max Scherzer glanced at the scoreboard and realized what he was in the midst of. Once he saw his strikeout total, then 18, he began to think about the history in his grasp for the ninth inning.
The 35,695 Nationals fans in attendance stood and cheered from the moment Scherzer took the mound for the final frame and etched his name in the record books yet again. On May 11, he became just the fourth pitcher in Major League history to strike out 20 batters in a nine-inning outing. His dominant masterpiece was one of the best individual performances of the 2016 season and one of the best pitching performances in baseball history.
"Strikeouts are sexy," Scherzer said after the game. "And to be able to punch out 20 -- it's sexy."
Scherzer joined the elite group of Roger Clemens (twice -- April 29, 1986 and Sept. 18, 1996), Kerry Wood (May 6, 1998) and Randy Johnson (May 8, 2001) as the only other pitchers to accomplish such an impressive feat. In the four previous 20-strikeout games, nobody threw fewer total pitches than Scherzer's 119, fewer balls than his 23 or a higher percentage of strikes than his 81 percent.
What made it even sweeter for Scherzer was that it came against his former team, the Tigers. He had exchanged trash talk with his former teammates during the days leading up to the start.
Scherzer began the ninth inning with 106 pitches and 18 strikeouts, with the Nats clinging to a two-run lead, when he surrendered a leadoff home run to J.D. Martinez. As if the pressure was not already high enough, the next batter was Miguel Cabrera. Scherzer attacked him with four consecutive fastballs, including his hardest pitch of the night, measured by Statcast™ at 98.1 mph. Victor Martinez singled before Scherzer fanned Justin Upton for his 20th and final strikeout.
Scherzer had the rare chance for 21 strikeouts in nine innings -- a feat no other pitcher had accomplished, and a mark that only one other pitcher (Clemens) has had the opportunity to complete. But James McCann grounded into a forceout for the final out. But it still sealed another historically dominant performance for Scherzer.
He now has a pair of no-hitters and a 20-strikeout game on his resume in his first two seasons with the Nationals.
In retrospect, this game became the launching point for Scherzer eventually winning the National League Cy Young Award. He would end up leading the NL in wins, innings pitched, WHIP and, of course, strikeouts.
Jamal Collier covers the Nationals for MLB.com. Follow him on Twitter @jamalcollier. This story was not subject to the approval of Major League Baseball or its clubs.