Heat '16! Swing into '17 with fastest-pitch HRs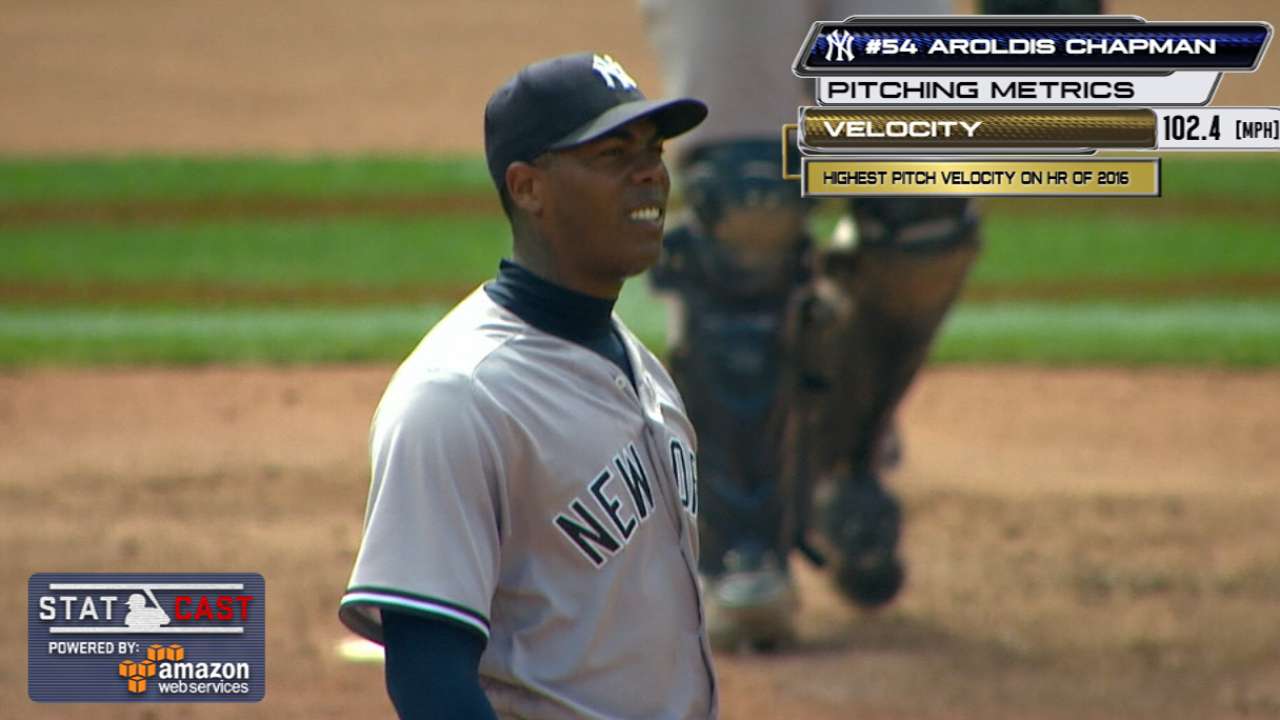 There's a reason high velocity is prized in pitchers. It's not easy to square up heat that approaches or reaches triple digits.
When an at-bat ended with a pitch of 99 mph or harder this season, batters hit .205 with a .285 slugging percentage, according to Statcast™. By comparison, they hit .301 and slugged .514 on fastballs between 88 and 90 mph.
Yet velocity isn't everything. Location and movement also matter, and Major League batters are talented enough to drive almost anything if they are prepared for it. That doesn't only apply to star players, either.
This was a lesson that played out on a national stage, late in Game 7 of the World Series. With the Cubs leading the Indians, 6-4, in the bottom of the eighth inning, flamethrowing closer Aroldis Chapman pumped in a 98.2-mph fastball to Cleveland's Rajai Davis. Statcast™ measured the pitch's perceived velocity at 100.1 mph, taking into account Chapman's release point. Davis is known much more for speed than power but still pulled the ball over the left-field wall for a game-tying homer.
• Davis ties Game 7 with 2-run blast
Davis wasn't the only player to overcome such sizzling velocity in 2016. Here is a look at the 10 home runs Statcast™ tracked this season that came on pitches of 99 mph or harder.
1. June 18: Kurt Suzuki vs. Chapman (102.4 mph)
Chapman allowed three homers in 2016. One was Davis', and the others were hit back to back by Eduardo Escobar and Suzuki, two players who combined to go deep only 12 other times all season for the Twins.
In this specific advanced-metric era, which goes back to 2008, Suzuki is the only player to homer on a pitch of 101 mph or harder. A current free agent, the veteran catcher might not be the hitter one would expect for such a distinction. Yet Suzuki also was the only big leaguer to collect three hits on pitches of 100-plus mph, adding a pair of doubles.
2. July 27: Coco Crisp vs. Matt Bush (100.4 mph)
Of the 15 homers Crisp hit this year, including the postseason, 11 were on pitches of less than 92 mph. Since at least 2008, he hadn't gone deep on a pitch of 97 mph or harder. But Crisp turned on this high-octane gas from Bush, accounting for only the second long ball against the Rangers rookie in 32 career appearances.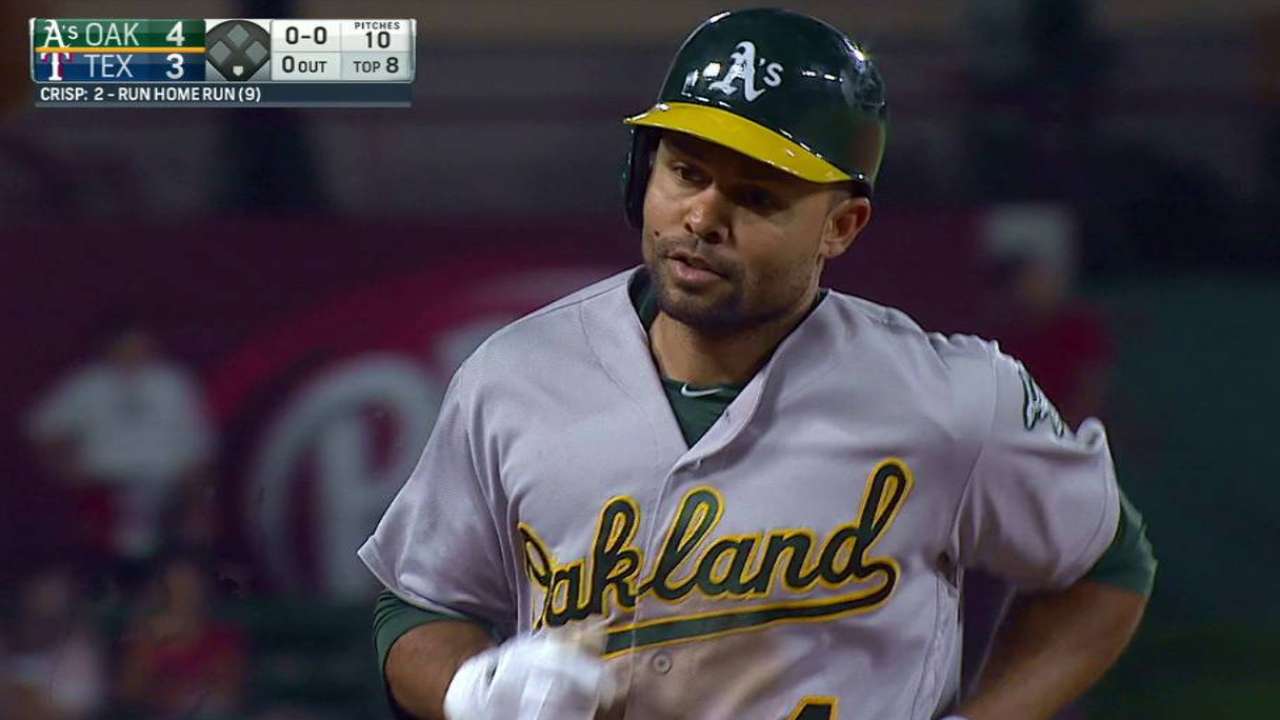 3. Oct. 1: Jedd Gyorko vs. Felipe Rivero (100.2 mph)
Statcast™ tracked three left-handers who reached 100 mph this year. Chapman did it more than 500 times. The other two pitchers were James Paxton and Rivero, whose totals were both in the single digits. Rivero, whom the Pirates acquired in the Mark Melancon deal, painted the outside corner with this heater. But Gyorko went with the pitch and drove it over the right-field wall to give St. Louis the lead in the eighth inning, setting up a win that kept the team's postseason hopes alive for another day.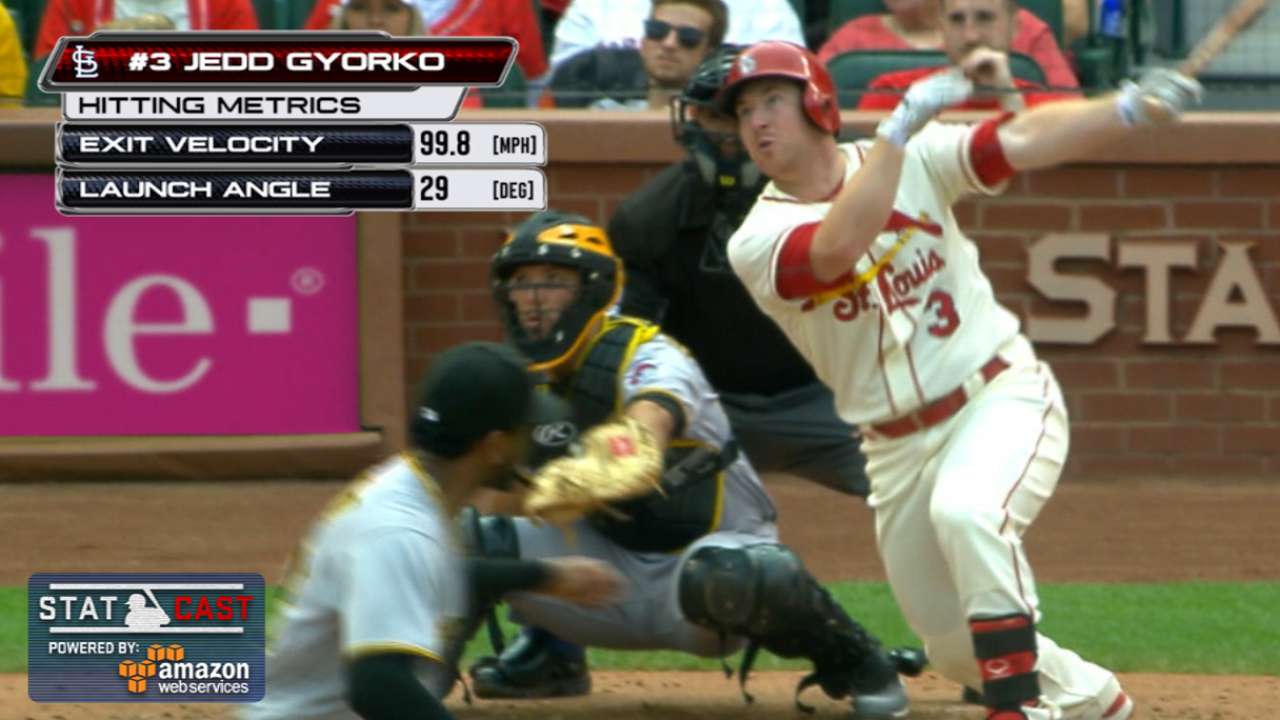 4. June 3: Marcell Ozuna vs. Noah Syndergaard (99.9 mph)
Only Chapman reached 99 mph more than Syndergaard, who hit that mark upwards of 400 times. Thor didn't actually dominate when he did so, however, allowing a .371 slugging percentage. Still, Ozuna accounted for the only homer on such a pitch. The Marlins outfielder certainly can handle velocity, ranking 10th in the Majors (min. 50 at-bats) by slugging .611 on pitches 95-plus mph.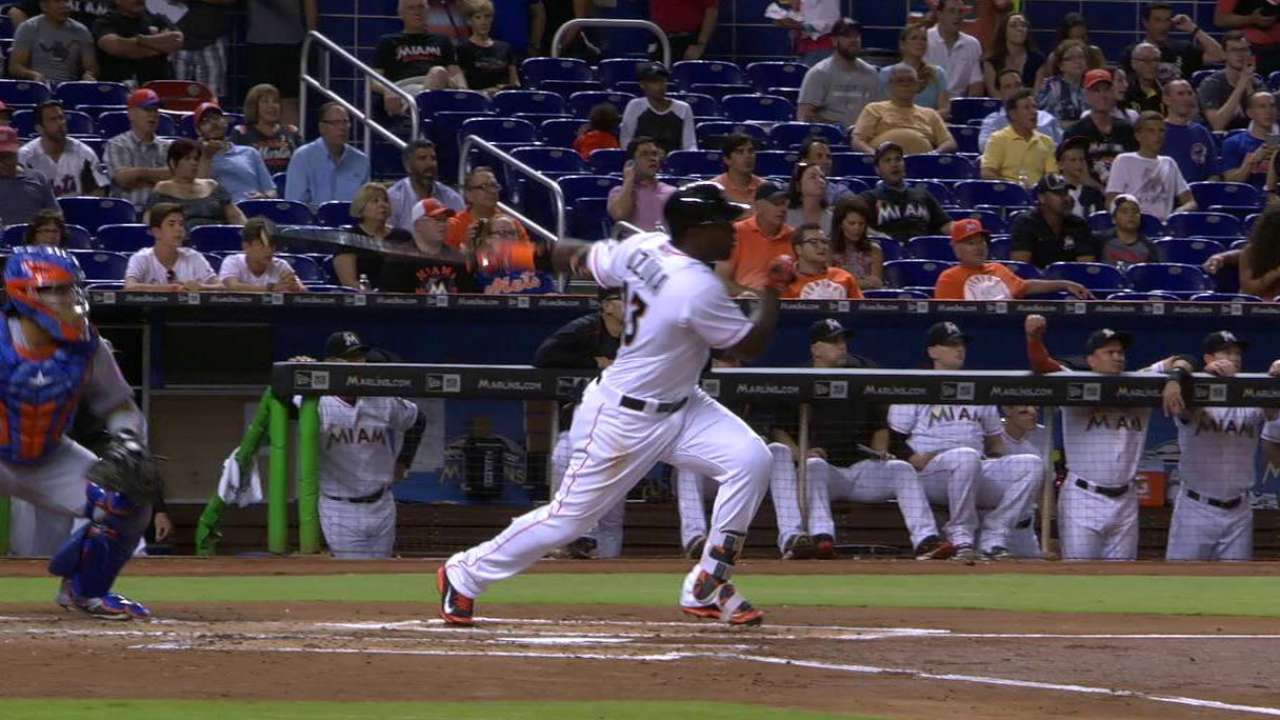 5. Sept. 10: Joc Pederson vs. Brian Ellington (99.7 mph)
One of the nine hitters above Ozuna on that list was Pederson, who slugged .677 on pitches 95 mph or harder for the Dodgers. That includes six homers, five of which came on pitches within the strike zone. But on this one in Miami, Pederson showed off his bat speed by turning on a pitch off the inside corner and roping it down the right-field line.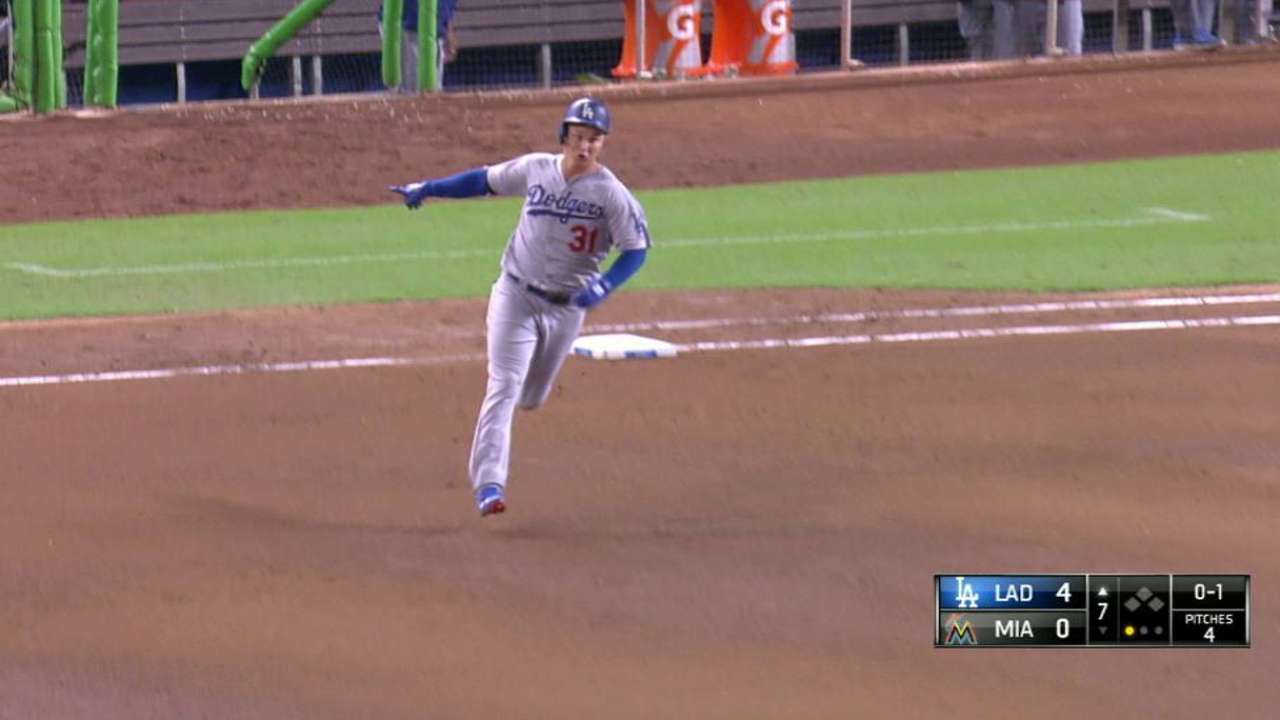 6. June 27: Jake Arrieta vs. Michael Lorenzen (99.5 mph)
Yes, the sixth spot on this list really belongs to a pitcher, albeit one who also launched a 440-foot blast in April that is the longest by a hurler in the Statcast™ era (since 2015). Meanwhile, no pitcher since at least '08 has homered on a harder pitcher than Arrieta, who somehow inside-outed a down-and-in offering over the right-field wall in Cincinnati. The victim was Lorenzen, who coincidentally homered to almost exactly the same spot two months later, on a 97.5-mph pitch from the Dodgers' Pedro Baez. That velocity ranks second for pitcher home runs in the Statcast™ era, behind Arrieta.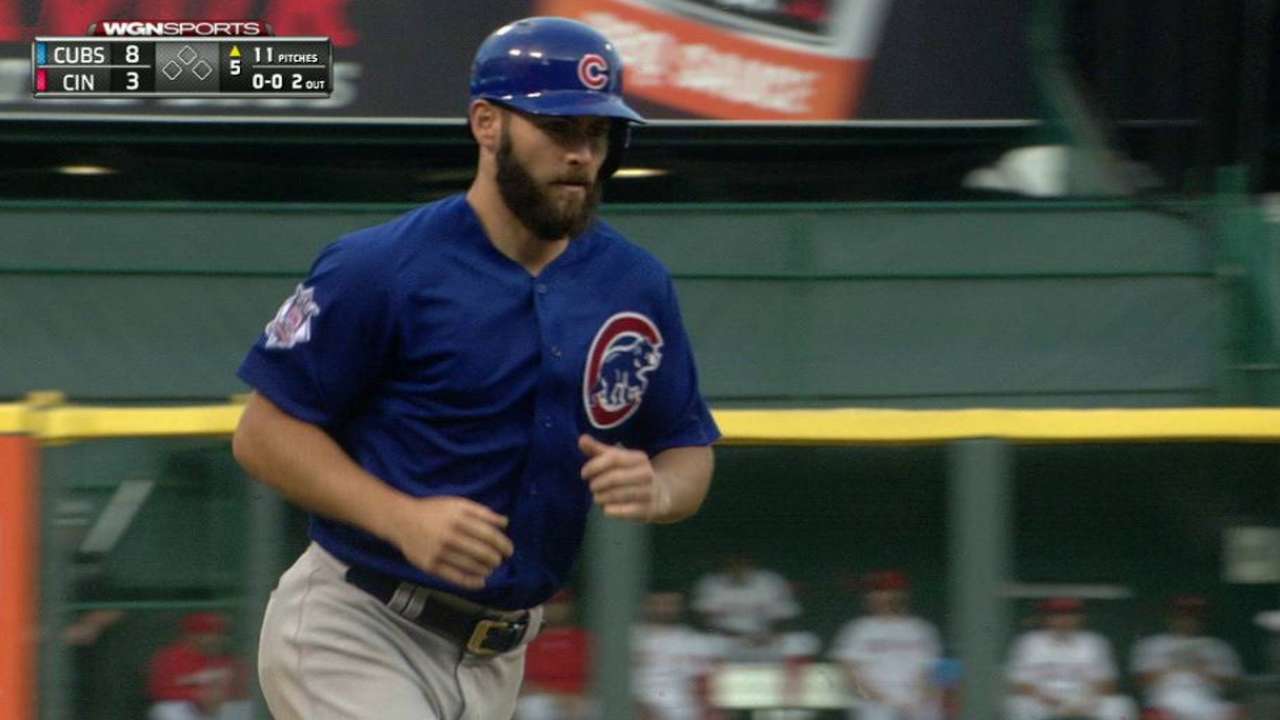 7. Sept. 15: Hanley Ramirez vs. Dellin Betances (99.3 mph)
Only two pitchers in the Statcast™ era have allowed three or more homers on pitches 99 mph or harder, and both were Yankees. One was Nathan Eovaldi (see below), and the other was Betances, whose first two came in 2015. This one from 2016 was a three-run, walk-off blast that Ramirez crushed over Fenway Park's center-field wall with two outs in the ninth inning. That gave it the second-highest leverage index of any regular-season homer this year.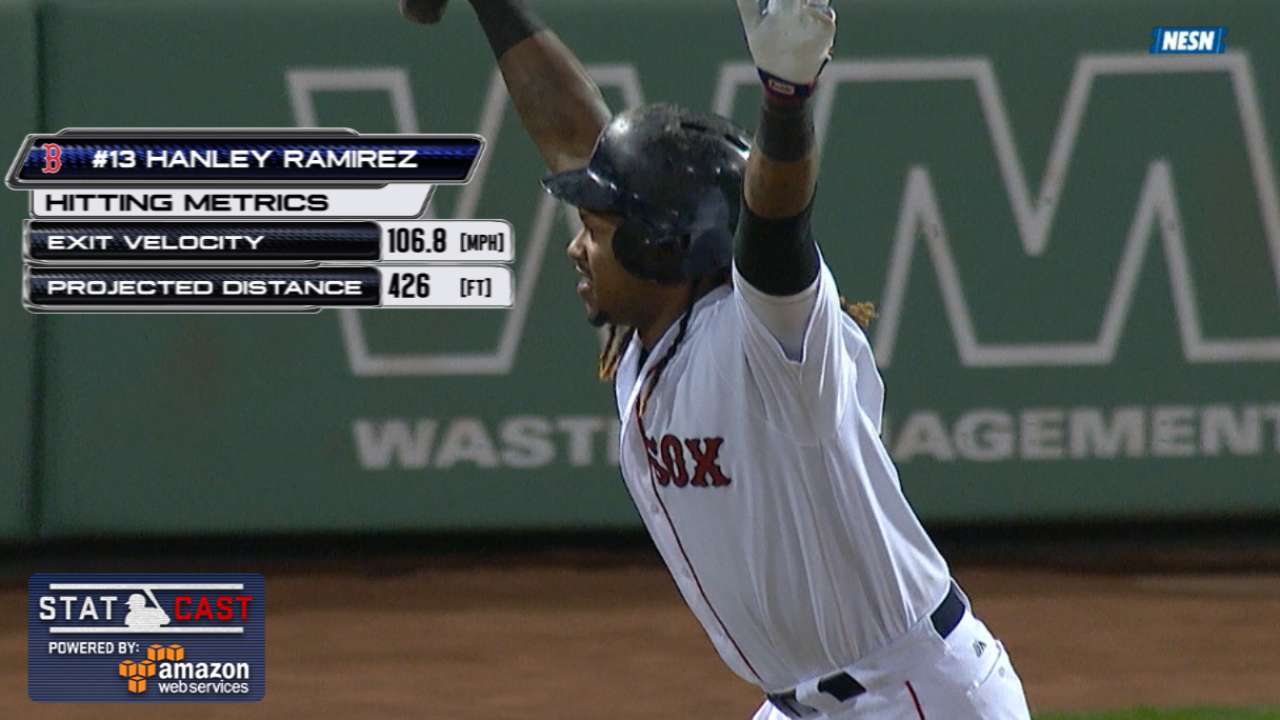 8. Sept. 7: Jung Ho Kang vs. Alex Reyes (99.3 mph)
This was the only homer Reyes allowed over 46 innings in his first year with the Cardinals, and it broke an eighth-inning tie at PNC Park. It's no surprise Kang was the one to do it, as he slugged 1.034 in 29 at-bats ending on pitches 96-plus mph and tied Freddie Freeman for the MLB lead with six homers in those situations.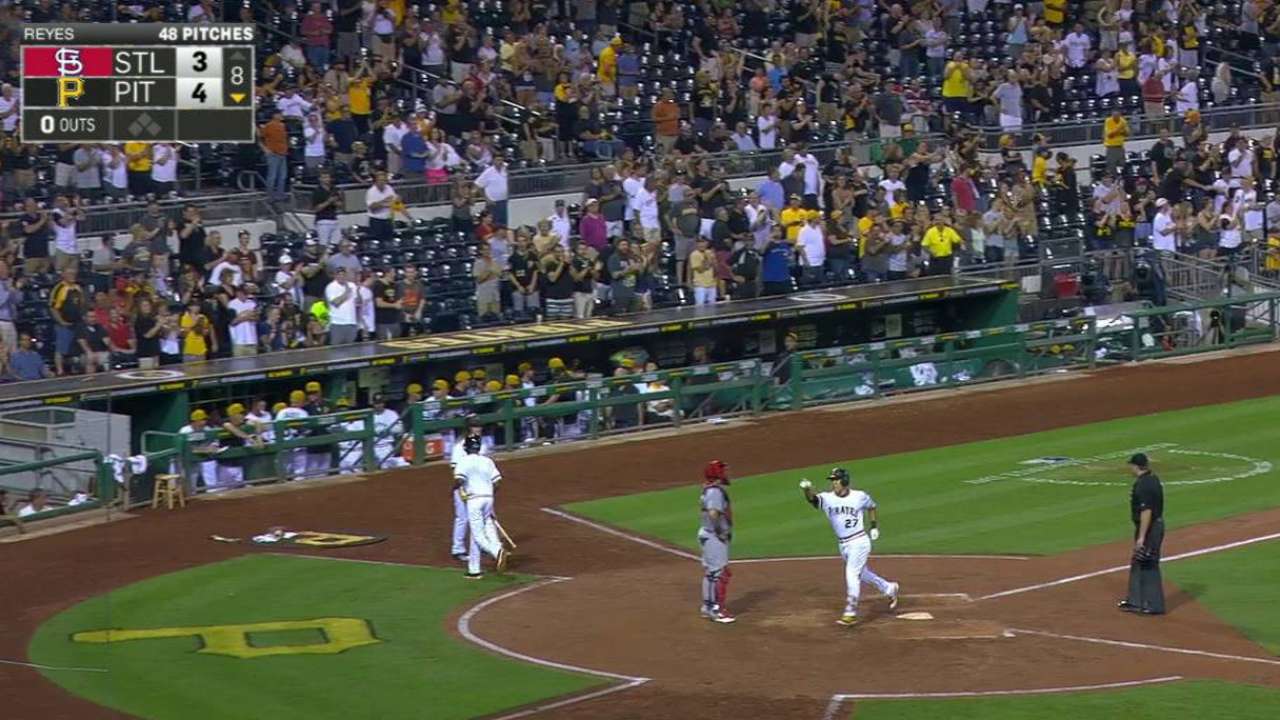 9. July 30: Brad Miller vs. Eovaldi (99.2 mph)
Unfortunately for Eovaldi, this was his third-to-last appearance before undergoing Tommy John surgery and getting released by the Yankees. The 26-year-old threw his four-seam fastball harder than any starting pitcher other than Syndergaard, but opponents slugged a healthy .444 against it. In this instance, Miller whacked Eovaldi's offering a projected 435 feet out to dead center at Tropicana Field.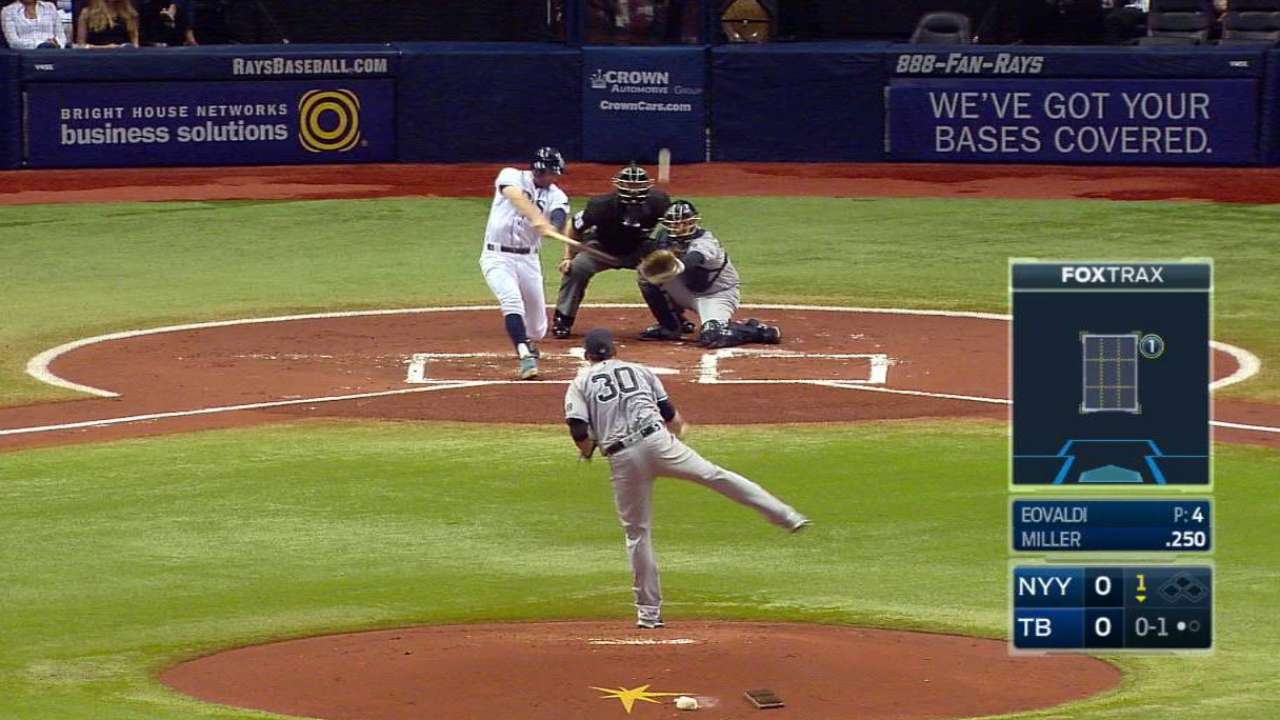 10. July 15: Michael Taylor vs. Neftali Feliz (99.0 mph)
Feliz has thrown 176 pitches at 99 mph or harder in his career, most of them in his first few seasons. Only 28 have been put in play, and just six of those have gone for hits. Taylor provided the only homer, a two-run shot to the opposite field at Nationals Park. Out of his seven homers this season, this was the only one that came on a pitch faster than 91 mph.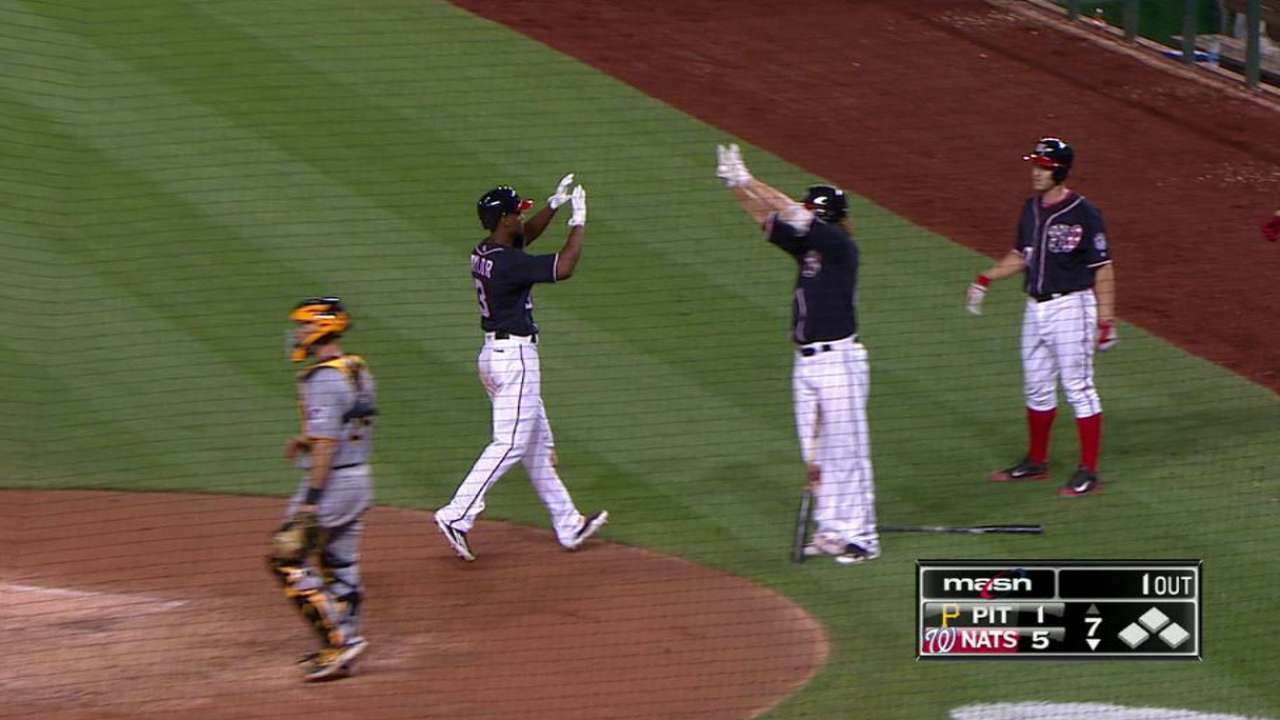 Andrew Simon is a research analyst for MLB.com. Follow him on Twitter @AndrewSimonMLB. This story was not subject to the approval of Major League Baseball or its clubs.