Felix has rocky winter ball debut
Ace's line for Magallanes includes 2 walks, balk, wild pitch, throwing error
SEATTLE -- Felix Hernandez's early start to his winter pitching plans got off to a rough beginning on Thursday in Venezuela, but the Mariners' ace is just getting underway with a program designed to have him ready to pitch competitively in the World Baseball Classic in March.
Hernandez -- pitching in the Venezuelan Winter League for the first time since 2003, when he was just starting his pro career at age 17 -- gave up two runs on two hits and two walks in one inning of work for Magallanes in a 4-3 win at Margarita Island.
Robinson Cano also made his winter ball debut on Thursday, going 0-for-4 with three groundouts and a popout as the designated hitter for Estrellas in a 6-4 loss to Escogido in a Dominican Winter League game.
Hernandez and Cano, along with Mariners teammate Nelson Cruz, are expected to play winter ball over the next 3-4 weeks to get them ready to compete for their countries in the World Baseball Classic, which is held in the middle of Spring Training from March 7-22.
Hernandez will be brought along slowly as he builds up his arm strength. He was scheduled to throw about two innings or 30 pitches in his debut, but wound up lasting just one frame as command issues led to trouble.
The 30-year-old walked two of the first three batters he faced, and he also had a balk, a throwing error and a wild pitch in his erratic opener. Margarita touched him twice with RBI singles by Sean Halton and Jose Osuna, but catcher Jesus Sucre -- another Mariners teammate -- helped Hernandez out by throwing out Osuna stealing before Hernandez ended the inning with his second strikeout.
In a tweet by his Magallanes club, Hernandez said he "didn't feel comfortable" in his initial outing, but he was happy to have made his Venezuelan debut.
Hernandez is tentatively scheduled to make his next start on Wednesday, and he will begin stretching out his innings, with the plan calling for him to make about six starts for Magallanes. Venezuela's regular season ends Dec. 30, but six of the eight teams make the playoffs, and Magallanes is currently in the hunt for one of those spots with a 27-31 record. Even if his team doesn't make the playoffs, Hernandez could be picked up by another club for the postseason.
Mariners general manager Jerry Dipoto approved of Hernandez's plan for the early offseason start, and he hopes it helps the ace get in better condition this winter after the former American League Cy Young Award winner saw his velocity and command decline in a 2016 season during which he also missed seven weeks with a strained calf.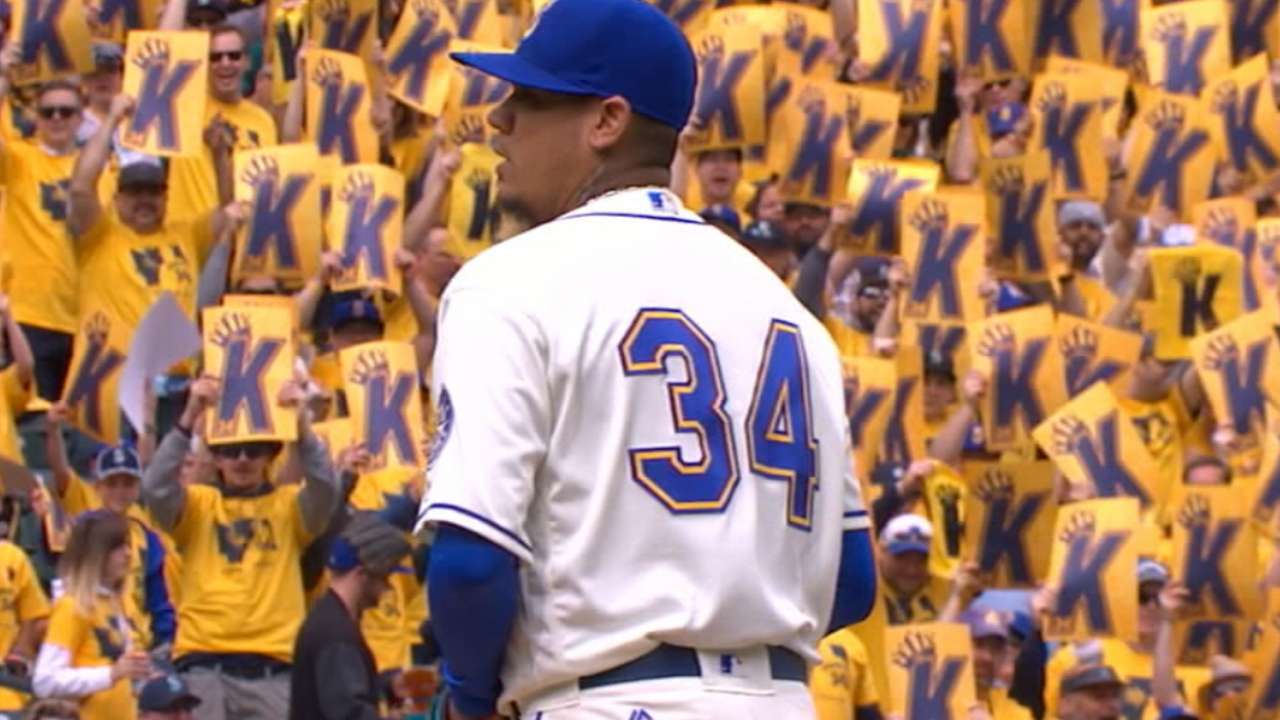 "If he's going to pitch in the WBC, we'd prefer he build up for that [in the Venezuelan League] rather than just work into throwing shape in March like he'd normally do," Dipoto said. "It's a good solution."
Hernandez pitched in the WBC for Venezuela in 2009, then went 19-5 with a 2.49 ERA in 34 starts for the Mariners. He didn't pitch in the tournament in 2013 while negotiations were underway on a seven-year, $175 million contract extension with Seattle that now has three years remaining.
This is the second year in a row for Cano playing in the Dominican League. He participated in a handful of games last year for Estrellas, wanting a chance to play in front of his grandfather before he passed away last spring. Estrellas is in danger of not making the playoffs, but Cano has indicated he'd like to continue playing with another team if possible in order to continue preparing for the WBC.
Greg Johns has covered the Mariners since 1997, and for MLB.com since 2011. Follow him on Twitter @GregJohnsMLB and listen to his podcast. This story was not subject to the approval of Major League Baseball or its clubs.