Inbox: Who will open '17 in Brewers' rotation?
Beat reporter Adam McCalvy answers questions from fans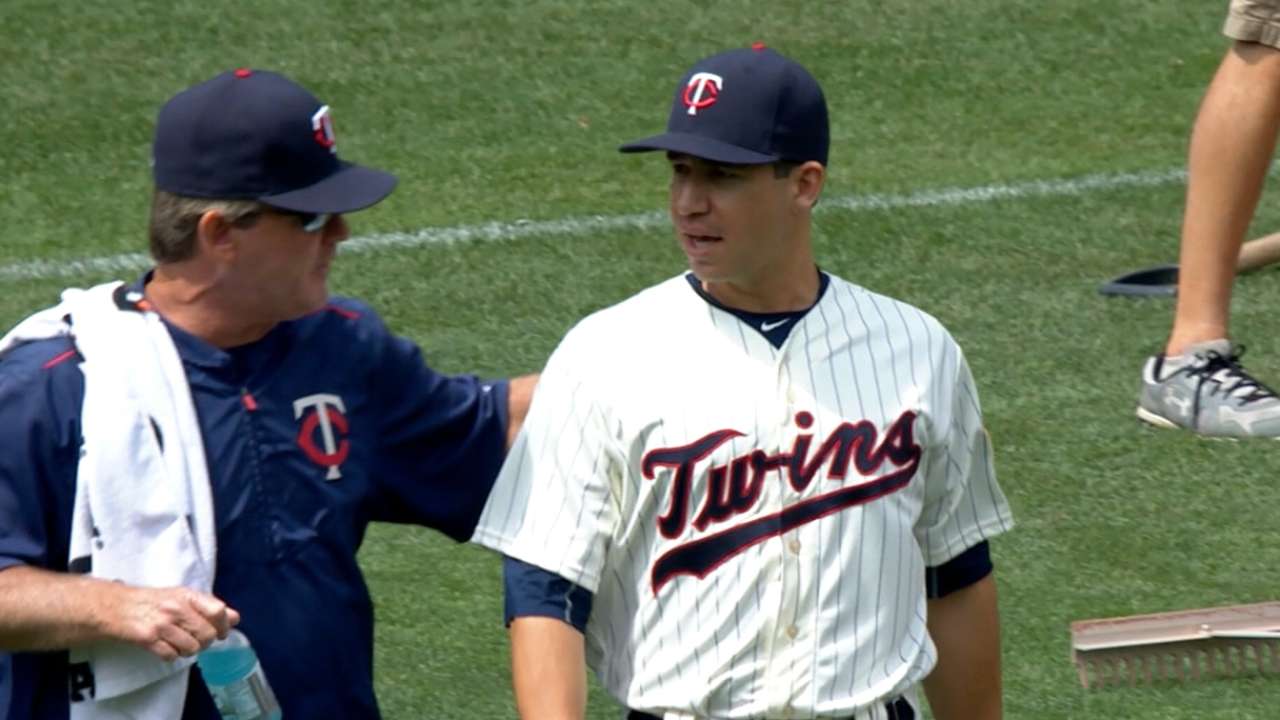 Just curious what your thoughts are on who the starting five pitchers will be next year for the Brewers.
-- @mreuter74
Last season, nine pitchers started a game for Milwaukee, six of whom made at least 19 starts. So it is wise not to get too hung up on the top five. That said, my depth chart on Brewers.com goes Junior Guerra, Zach Davies, Jimmy Nelson, Wily Peralta, Chase Anderson, Matt Garza and Tommy Milone, and I'm reasonably confident in the first four.
Guerra and Davies were Milwaukee's best two starters, so they look like locks, assuming they are still Brewers on Opening Day. It's too soon to give up on Nelson, even if his development has taken longer than many fans would like. Ditto Peralta, despite his tough start last season. The Brewers liked him enough to give him the ball on Opening Day, and his August and September performance put Peralta back in the picture.
• Submit a question to the Brewers Inbox
After that, it gets difficult. I put Anderson ahead of Garza because Anderson is 29, has four more years of club control, and was very effective last season once Craig Counsell and Derek Johnson found the right place to pull Anderson in favor of relief. But Garza will earn $12.5 million in the final year of his contract, and given his effectiveness late last season, I'm sure Brewers officials will discuss the merits of starting him earlier in the season in an effort to use him as trade bait come July.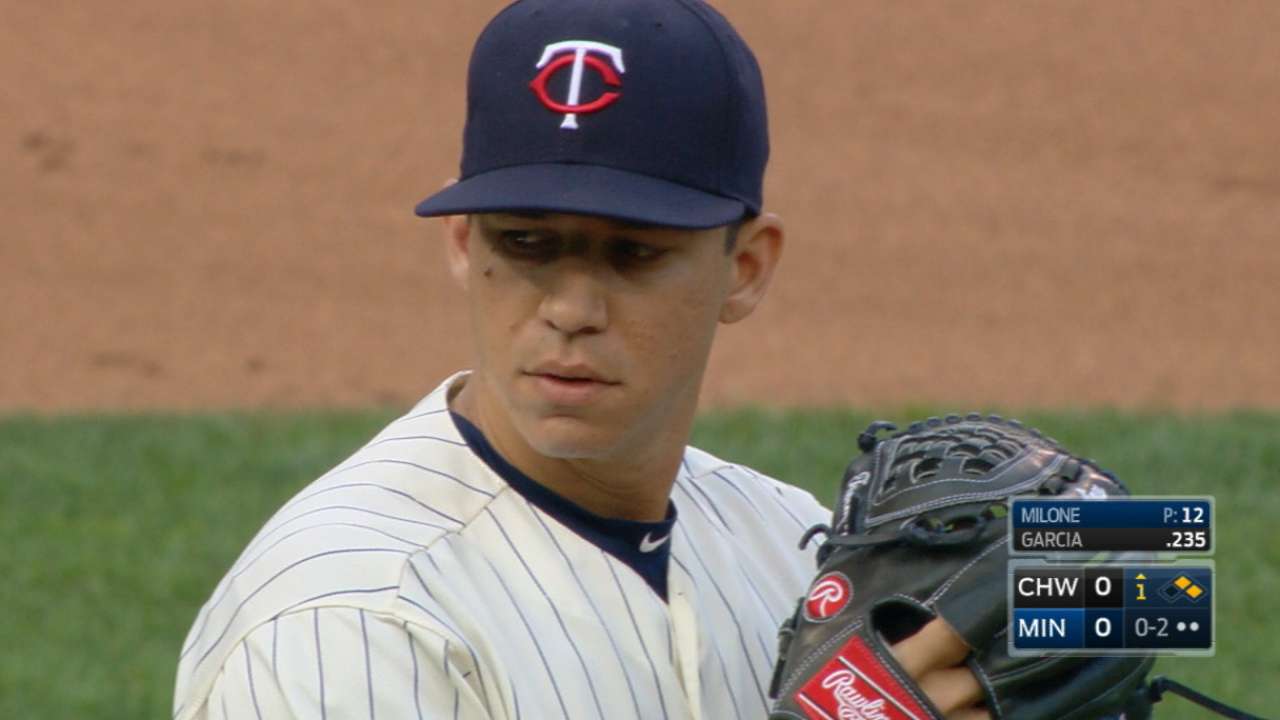 As for Milone, we'll see. His one-year, $1.25 million contract is non-guaranteed, and he could wind up in the bullpen if he doesn't crack the season-opening rotation. Former first-round Draft pick Taylor Jungmann will try to pitch his way back to the rotation. Prospects Josh Hader, Jorge Lopez and Brandon Woodruff figure to start the season at the Triple-A level (unless the Brewers decide not to expose their most promising arms to Colorado Springs), so they could be big league options by midseason.
There is surprising depth here, leaving open the possibility that a trade or two could completely alter the picture before Opening Day. General manager David Stearns has fielded interest from other clubs on his group of starters, and after the likes of Jose Quintana and Chris Archer are dealt (if they are, indeed, dealt), I think the Brewers are in a good position to trade from this group if they can find takers.
@AdamMcCalvy does the org have any coaches that teach splitters? DS seems to like it considering Guerra & some new FA arms @BrewCrewBall

— Jason Geisler (@jgeisler95) December 22, 2016
I'm not aware of any Brewers coaches in the Minor Leagues who are specifically pushing splitters, partly because that is a very tough pitch to teach. Typically, pitchers develop a feel for that offering over long swaths of time, like Guerra did beginning in 2009 when he asked Winter League teammate Jean Machi to show him a grip. It took Guerra five years to master the pitch.
Jason may be on to something, however, when he notes that Stearns & Co. appear to like the pitch. Kyle Lesniewski of Brew Crew Ball -- who either is, or should be, president of Guerra's fan club -- noted that a number of Brewers imports this offseason throw splitters, from waiver claims Blake Parker and (since-departed) Steve Geltz to non-roster invitee Forrest Snow to independent league pickup Luke Barker to Matt Ramsey, whom the Brewers selected in the Minor League phase of the Rule 5 Draft. Given the success enjoyed by Guerra, a waiver claim from the White Sox during the first week of the Stearns administration, it would make sense for the Brewers to take fliers on pitchers with similar attributes, including an offspeed pitch with downward action.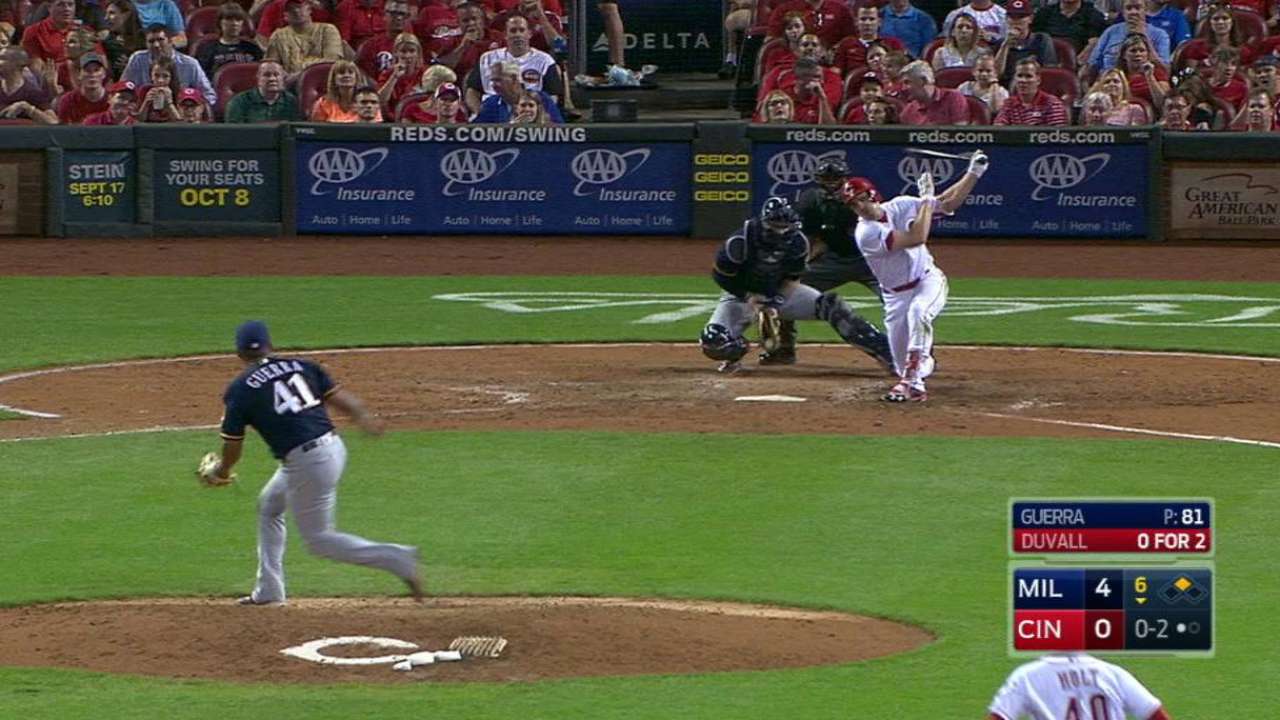 So, the next time you see a team waive a pitcher with a good fastball/splitter or fastball/changeup combo, it's a good bet that the Brewers are taking a look.
@AdamMcCalvy Adam top pitching prospect for 2017

— Eugene Mannarino (@steelmann58) December 22, 2016
I'm going to go out on a limb here, Eugene. Hader is the Brewers' top-ranked pitching prospect by MLBPipeline.com, Woodruff is the team's reigning Minor League Pitcher of the Year and righty Luis Ortiz was really good at Double-A Biloxi after an August trade from Texas -- but I am going to say Lopez. He got messed up by the thin air and expansive outfield at Colorado Springs, but he was much better after moving to Biloxi, and he has been dominant this winter in Puerto Rico. It will be very interesting to see whether the Brewers send him back to Colorado Springs in 2017, or keep him in Biloxi until Lopez is needed in the Majors. His makeup is A-plus, and I am betting on Lopez having success in a Brewers uniform.
Adam McCalvy has covered the Brewers for MLB.com since 2001. Follow him on Twitter @AdamMcCalvy, like him on Facebook and listen to his podcast. This story was not subject to the approval of Major League Baseball or its clubs.