Hoffman also a clubhouse, community leader
Padres legend's charitable work continues today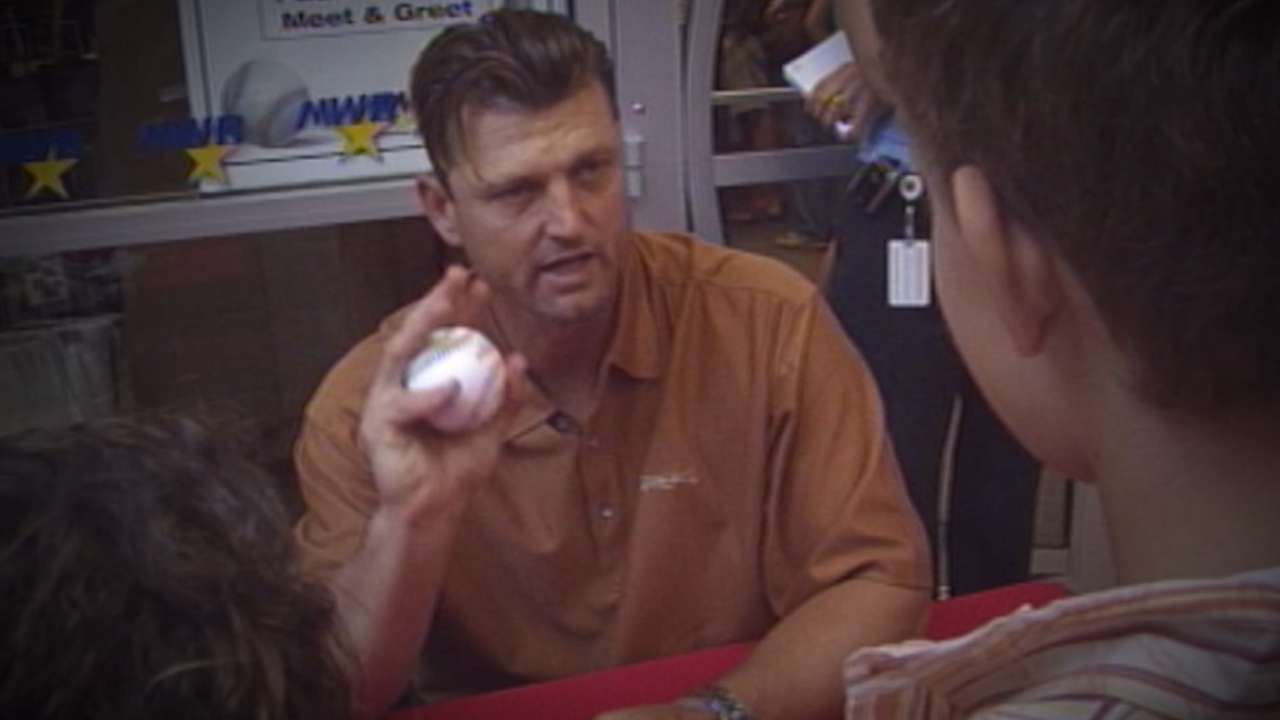 Bill Center, longtime sportswriter for U-T San Diego, is an employee of the Padres.
If you've followed the travels of the Padres Holiday Caravan recently, you have noticed a repeating figure in several of the pictures the club has posted online.
In a number of the frames is a smiling Trevor Hoffman.
Even after his playing career, Hoffman has been one of the more active Padres in the community.
Actually, Hoffman has been involved in community service long before he was a Padre.
"It started when I was a kid," the Hall of Fame-worthy closer said recently.
"Mom would take us down to St. Michael's Episcopal Church where we attended in Anaheim," Hoffman continued.
"She had a number of projects going on at any one time, including feeding the hungry and delivering food to the elderly through Meals on Wheels. We all worked in the thrift shop.
"She not only got us involved, she got us to understand the importance of giving back. It was one of the great lessons of our lives. And I saw it again when [brother] Glenn was playing with the Red Sox and his involvement in the Jimmy Fund."
As soon as he joined the Padres, Hoffman joined in the club's two major programs at the time -- The Cindy Matters Fund and Padres Scholars.
As the Padres' community involvement programs grew over the years, so did Hoffman's participation with a personal touch.
Hoffman, who lost a kidney as a child, became active with the National Kidney Foundation. Not only did he donate $200 after every save, he regularly hosted children undergoing dialysis at Padres home games.
"I was fortunate that my losing a kidney as an infant was not a huge setback," said Hoffman. "I was lucky. It's not that way with a lot of kids. All I wanted to do was to reach out to kids dealing with dialysis and kidney disease. Plus, how many charities are there where an athlete actually has a common denominator with the people you want to help?"
To honor his father's service in the Marine Corps, Hoffman also hosted military service families at home games and contributed to the Marine Corps Scholarship Foundation.
And that is just the tip of Hoffman's involvement.
Recently, Hoffman has become involved in the Rady Children's Hospital.
"That's a great way to give back," said Hoffman. "Go to Rady's Children For Life program once and you'll understand.
"As a ballplayer, I was blessed to be in a position where I could give back," said Hoffman, who is now a regular at Padres' community outreach programs -- particularly those working with the youth of the San Diego area.
"It's so easy to reach out and touch a life with a smile from where we are," said Hoffman. "And when there is a connection, like when a kid who has never hit a baseball makes contact at a clinic, it is a magical moment for me as well as the young man or girl. ... I happened to be there for a very special moment."
Hoffman won the Padres' Chairman's Award for Community Service in 1999.
In 2004, Hoffman was honored with The Hutch Award, which goes annually to the Major League player "who best exemplifies the fighting spirit and competitive desire" of former player and manager Fred Hutchinson.
Two years later, Hoffman was honored with the Lou Gehrig Award, which goes annually to the player who best exhibits the character of Gehrig both on and off the field.
The latter two awards touched on Hoffman's leadership in the clubhouse as well as in the community and on the field.
And Hoffman viewed players in the Padres clubhouse as his family.
"Trevor Hoffman was the ultimate player, teammate and person," former Padre Brad Ausmus once said of Hoffman. "He is the definition being a man."