MLB.com Columnist
Mike Petriello
Crunch time: Rajai's HR among top October moments
Multiple plays from 2016 World Series make the list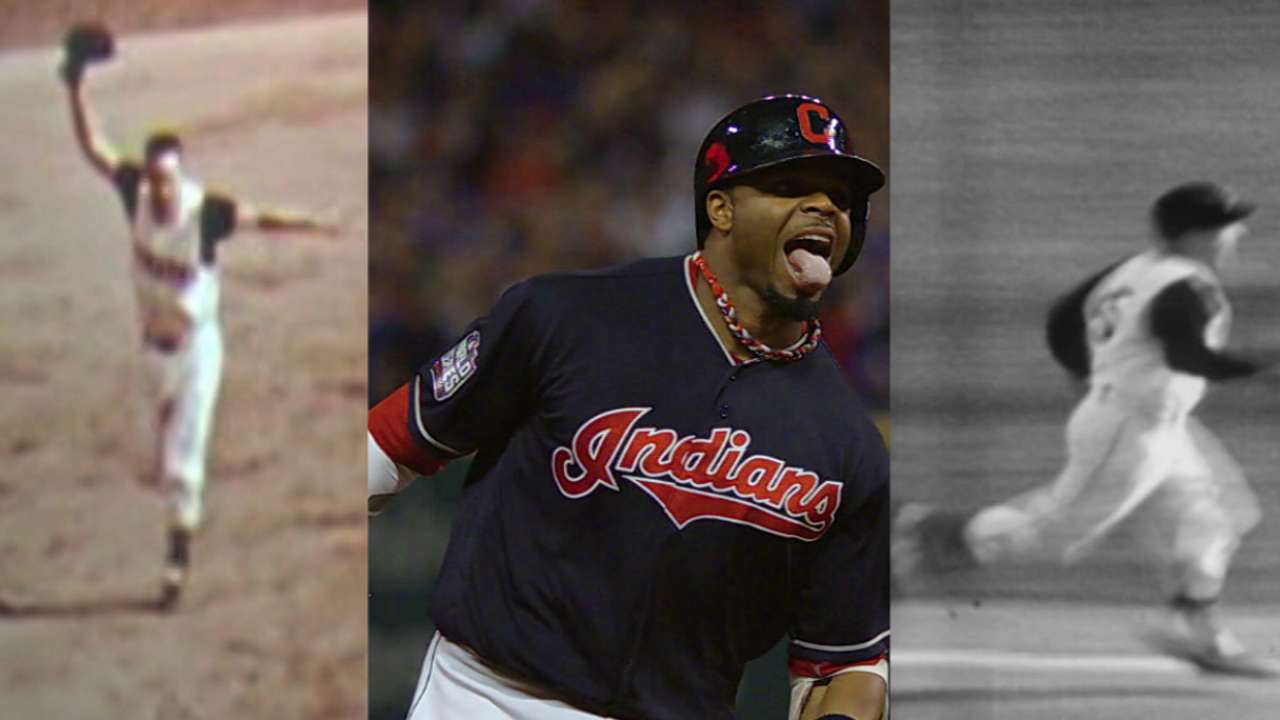 It's one thing to finally win a title after 108 years of heartbreak, as the Cubs did in 2016. It's quite another to win it in the way they did. Sure, a four-game sweep with huge margins of victory would have counted just the same, but to win it in seven games? In extra innings? After the best closer in baseball blew the lead by allowing a tying home run in the bottom of the eighth? And with a rain delay thrown in?
Even without the added historical significance included, there's a pretty solid argument to make that 2016 provided us with the most memorable World Series of our lifetimes. With the year coming to an end, it made us think about looking back and putting what we saw into the proper context. Were there moments from the Cubs' run to the title that stacked up among the best moments we've ever seen?
The answer: Yes. And we can prove it. In order to quantify postseason moments, we'll use "Championship Win Probability Added," first created by Dave Studeman at The Hardball Times. The short version is that it takes Win Probability Added, which quantifies the change in the likelihood of victory from one plate appearance to the next, and adds in a multiplier based on postseason importance. That is, a game-tying homer in Game 7 of the World Series is quite a bit more important than a game-tying homer in Game 2 of the Division Series, for example.
So, with a tip of the cap to The Wall Street Journal and Grantland, who have done similar breakdowns for the NBA and MLB, respectively, let's take a trip through postseason history, beginning with the advent of the World Series in 1903, and find the most important plays in a variety of categories based on Championship Win Probability Added. You probably have some of history's most famous plays in mind. You're probably wondering where the 2016 Cubs fit in. And hopefully, you learn about some of the best and most-forgotten plays of all time. Let's say goodbye to 2016 in style.
HOME RUNS
3. Bill Mazeroski, 1960 World Series Game 7 -- 37.1 percent cWPA added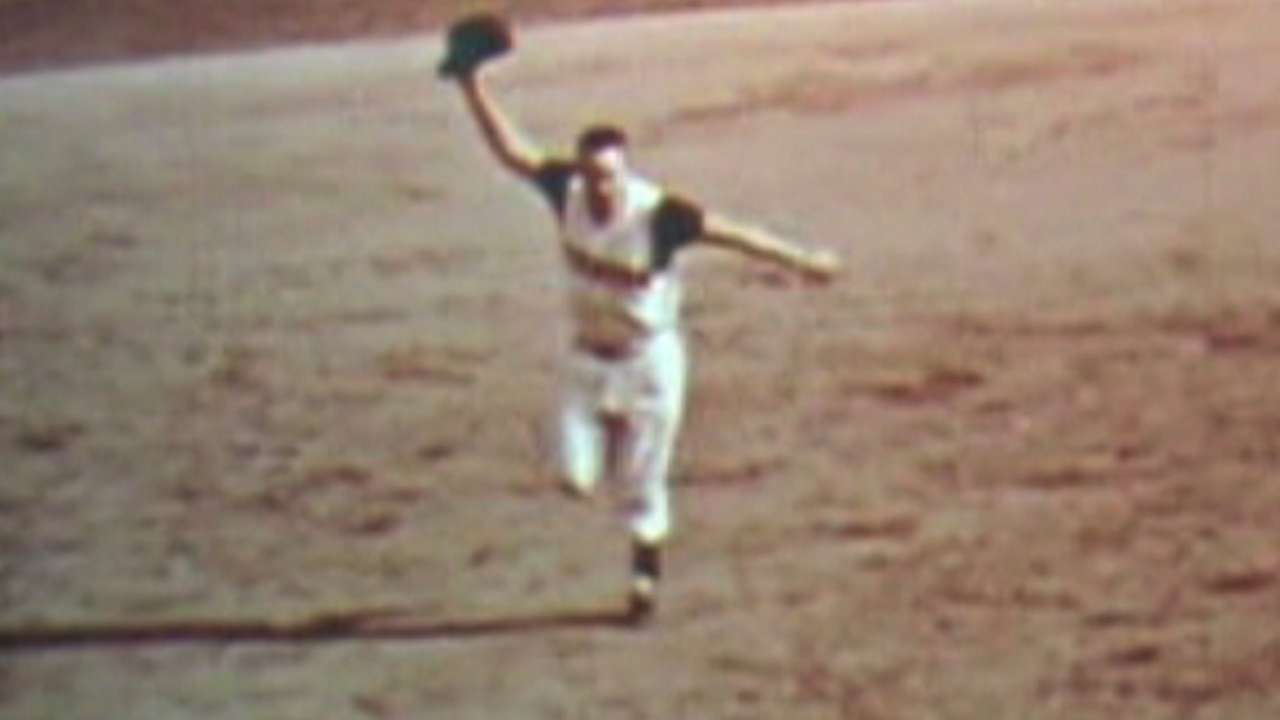 Come up with any list of history's most famous World Series homers you like -- Kirk Gibson in 1988, Joe Carter in 1993, Carlton Fisk in 1975, etc. -- and this one is guaranteed to be on it. After all, it didn't just break a 9-9 tie in Game 7. It literally ended the Series. When Mazeroski stepped to the plate, the Pirates had a 63 percent chance of winning the game, since they were the home team in a tied walk-off situation. When he took Ralph Terry deep to end it, the win probability was 100 percent -- the game was over. The jump from 63 percent to 100 percent is 37 points.
There's a fun fact about this homer that few people remember: It wasn't even the most important homer of the game. More on that in a second.
2. Rajai Davis, 2016 World Series Game 7 -- 39.2 percent cWPA added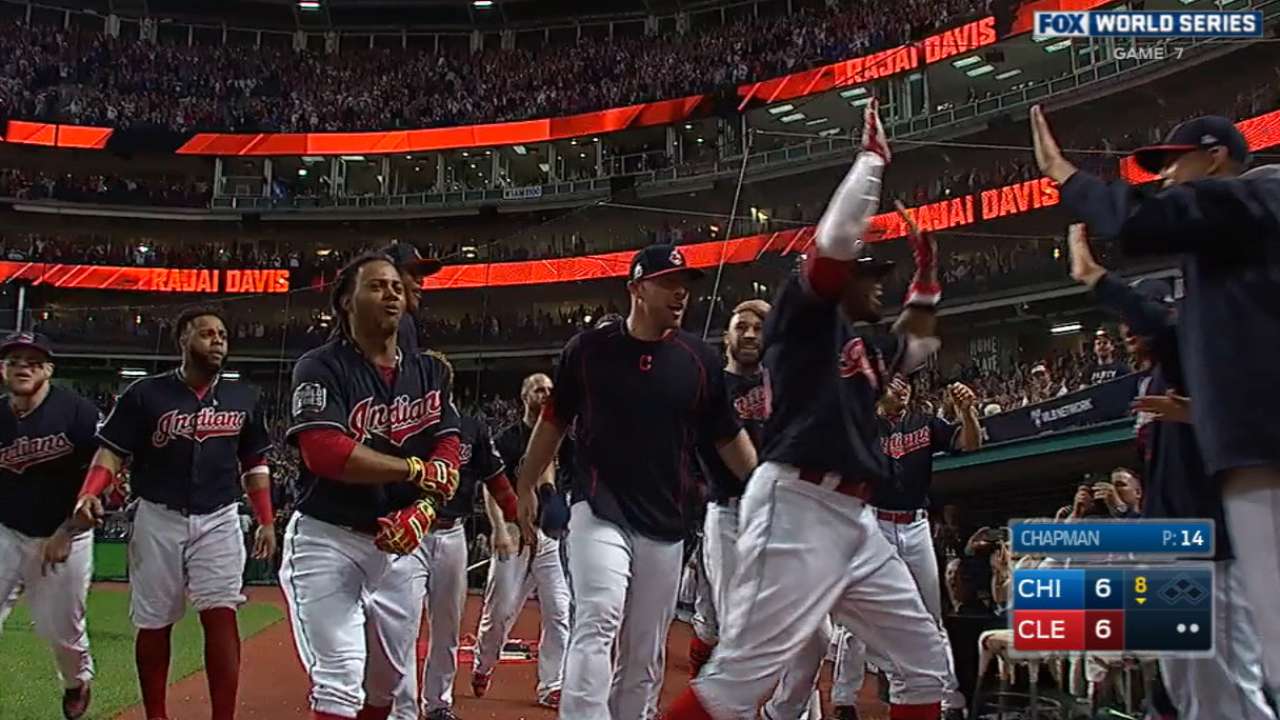 If the initial question was "did the 2016 World Series have legendary moments," well, yes, except that this one wasn't for the Cubs, it was against them. Davis' eighth-inning homer off Aroldis Chapman not only tied the game -- and, likely, made every Cubs fan on Earth wonder if they'd manage to blow their best chance in decades -- but it ended up being the second-most valuable homer in postseason history.
But the truth is, we're never going to remember this home run the way we ought to because Cleveland didn't win. If the Indians had broken their own title drought in 2016, they'd be building statues of Davis outside Progressive Field. Maybe they ought to consider it anyway.
1. Hal Smith, 1960 World Series Game 7 -- 64.7 percent cWPA added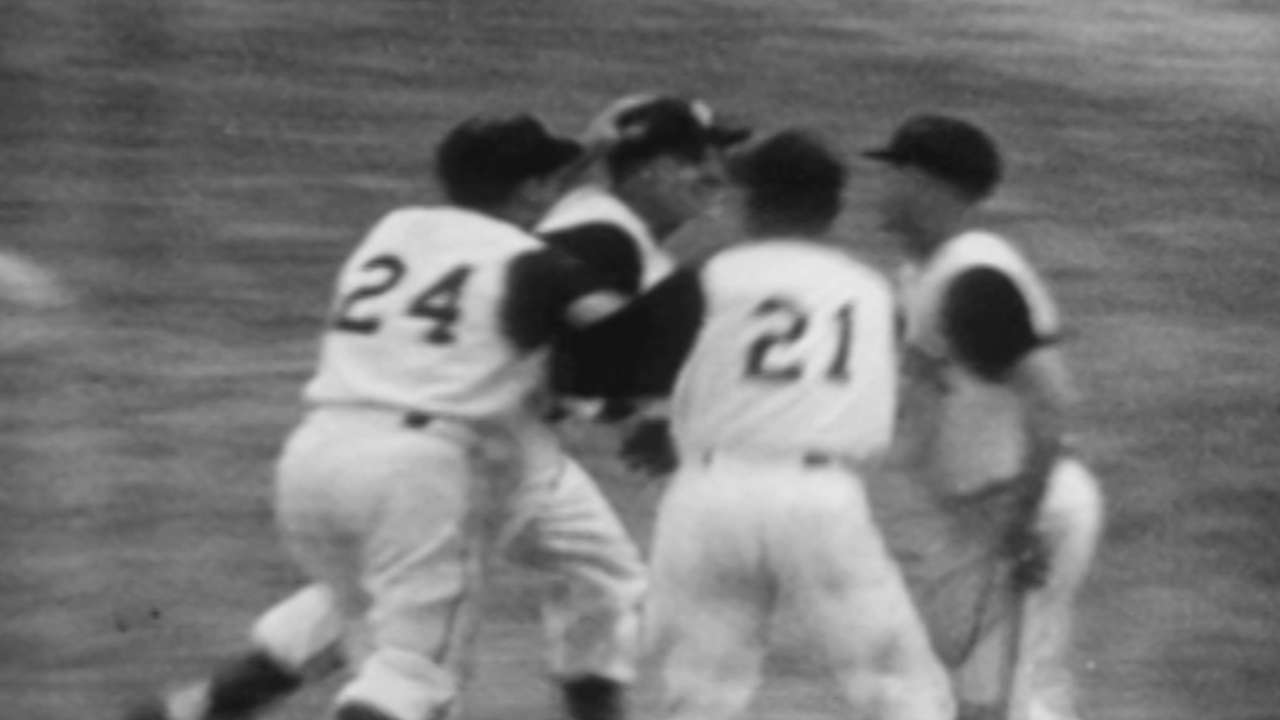 You don't remember Hal Smith. No one does! That's because Mazeroski's walk-off "felt" more important, but in terms of value, Smith's eighth-inning homer was much more crucial. Why? Because at the time, the Yankees were up 7-6, and were only four outs from a title. As stunning as Mazeroski's homer was, the game was tied, and the worst-case scenario would be that the game would go into extras.
When Smith homered, the career backup backstop swung the win expectancy by more than 60 percent, going from just under 30 percent before to 93 percent after. It's the biggest swing in baseball history. If not for the fact that Pirates pitchers Bob Friend and Harvey Haddix blew the lead in the ninth, turning a 9-7 lead into a 9-9 tie, we'd be talking about Smith all these decades later the way we talk about Mazeroski.
ERRORS
3. Tony Fernandez, 1997 World Series Game 7 -- 19.3 percent cWPA added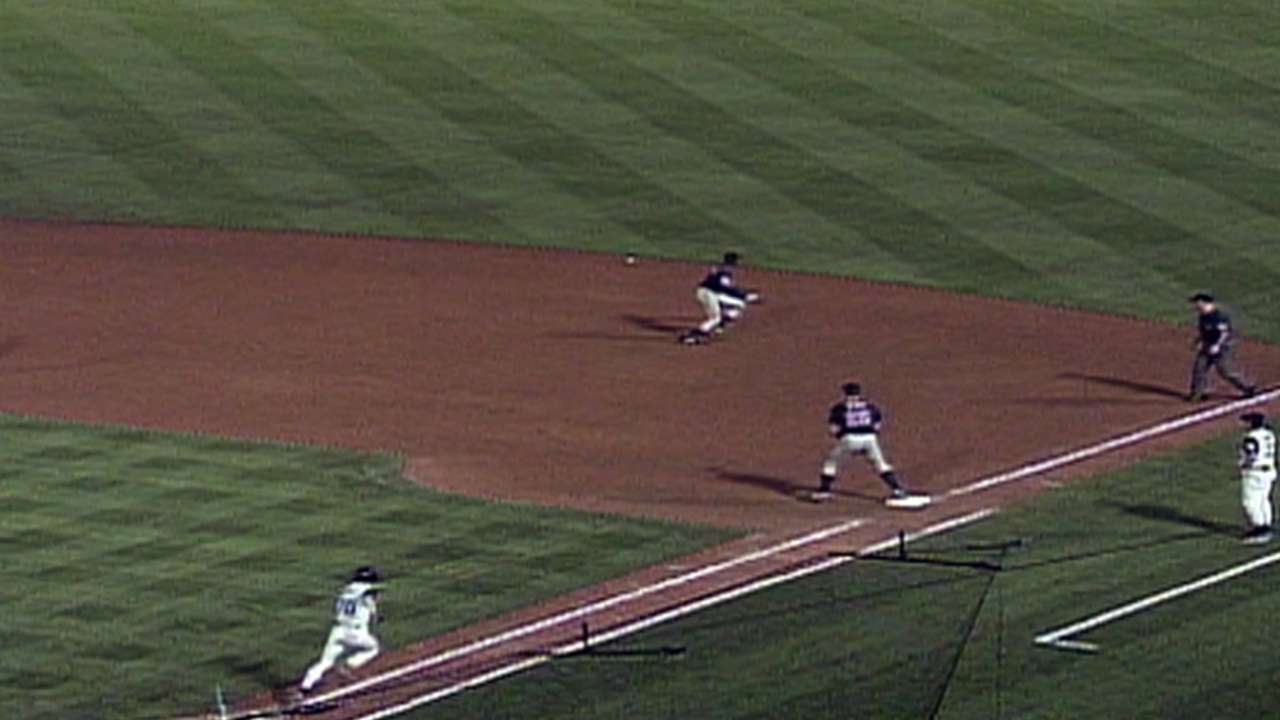 Craig Counsell, now Milwaukee's manager, was the MVP of the 2001 NLCS, was on first when Arizona walked off against Mariano Rivera in the 2001 World Series and had actually been responsible for tying Game 7 of the 1997 Fall Classic for the Marlins in the first place with a ninth-inning sacrifice fly. You might say he knows something about big postseason moments.
Yet none were bigger than his seemingly innocuous grounder to second base in the bottom of the 11th of a 2-2 game. With Bobby Bonilla on first, Fernandez let the ball sneak under his glove, putting men at the corners. An intentional walk loaded the bases, and Devon White's groundout forced Bonilla at the plate while pushing Counsell to third with two outs. Edgar Renteria's grounder up the middle scored Counsell with the walk-off run, meaning that Fernandez's error didn't just play into the outcome, it was directly responsible for putting the winning run on base.
2. Bill Buckner, 1986 World Series Game 6 -- 21.4 percent cWPA added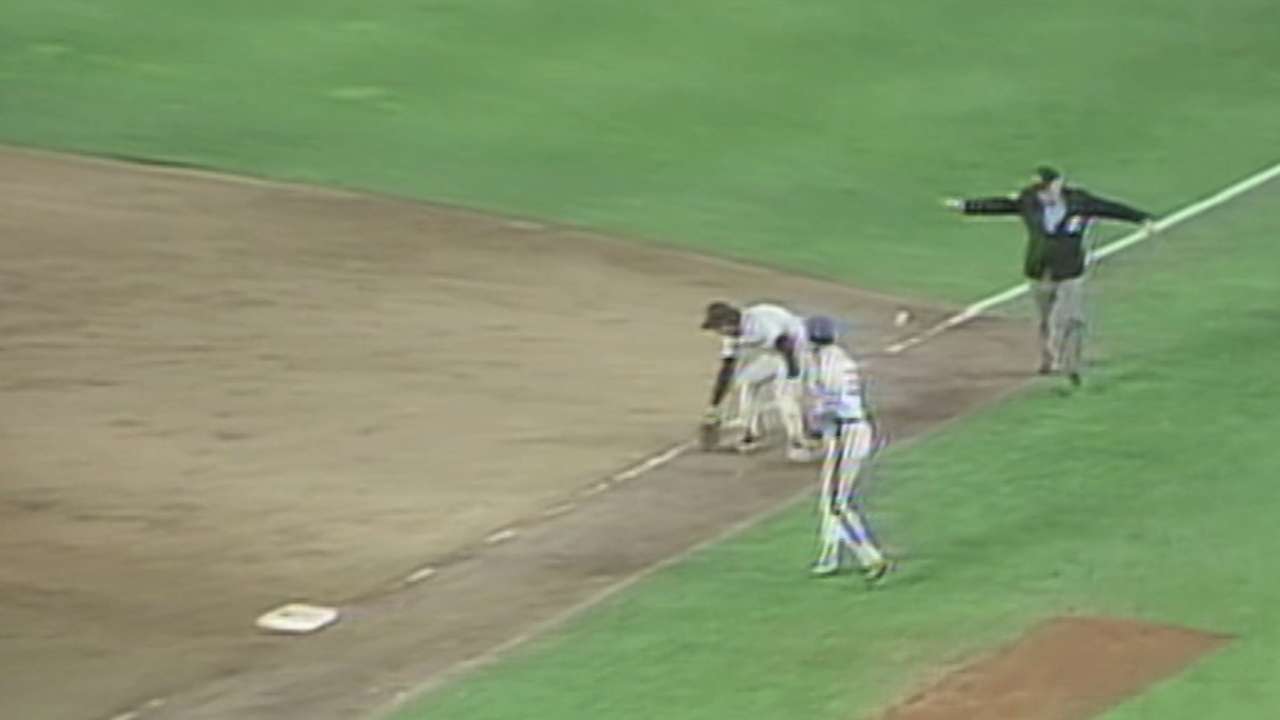 You knew this one had to rate, though you're probably a little surprised it's not No. 1. You can probably recite the details by heart at this point, anyway. The Red Sox were up 5-3 with two outs and no one on base in the bottom of the 10th inning, one out away from their first World Series title since 1918. But the Mets managed to string together a trio of singles and then tied the game after a wild pitch by Bob Stanley.
Then, on a 3-2 pitch, Wilson dribbled a grounder toward first. Buckner, obviously, did not come up with it, and Ray Knight scored the walk-off run. The Mets, of course, would win Game 7.
1. Fred Snodgrass, 1912 World Series Game 7 -- 24.4 percent cWPA added
That's right, there was actually a World Series error more damaging than Buckner's famous gaffe. And, this was technically the eighth game of the series, because Game 2 had been ruled a tie due to darkness after 11 innings. In this final game, the Giants had gone up 2-1 in the top of the 10th, with Hall of Famer Christy Mathewson on the hill to close it out. Clyde Engle, the first hitter in the bottom of the inning, lofted an easy fly to center. It hit Snodgrass in the glove and fell to the ground.
Three batters later, Engle would score the tying run. Two batters after that, a sacrifice fly scored the Series-ending run for Boston. The error was dubbed "the $30,000 muff" in reference to the size of the winner's share each Giant had lost out on. When Snodgrass passed away in 1974, the obituary that ran in the New York Times included "Ball Player Muffed 1912 Fly" in the headline. A century later, few remember this one, but it's still the biggest error in postseason history.
DEFENSIVE PLAYS
Unlike in our other categories, these aren't the top three plays so much as they are three of the best. That's partially because the nature of defensive plays means that some that create huge cWPA swings were not that difficult or entertaining. So instead, we'll choose three of the most impactful plays that were also impressive, all ranking in the top 20 plays.
3. Sandy Amoros, 1955 World Series Game 7 -- 18.7 percent cWPA added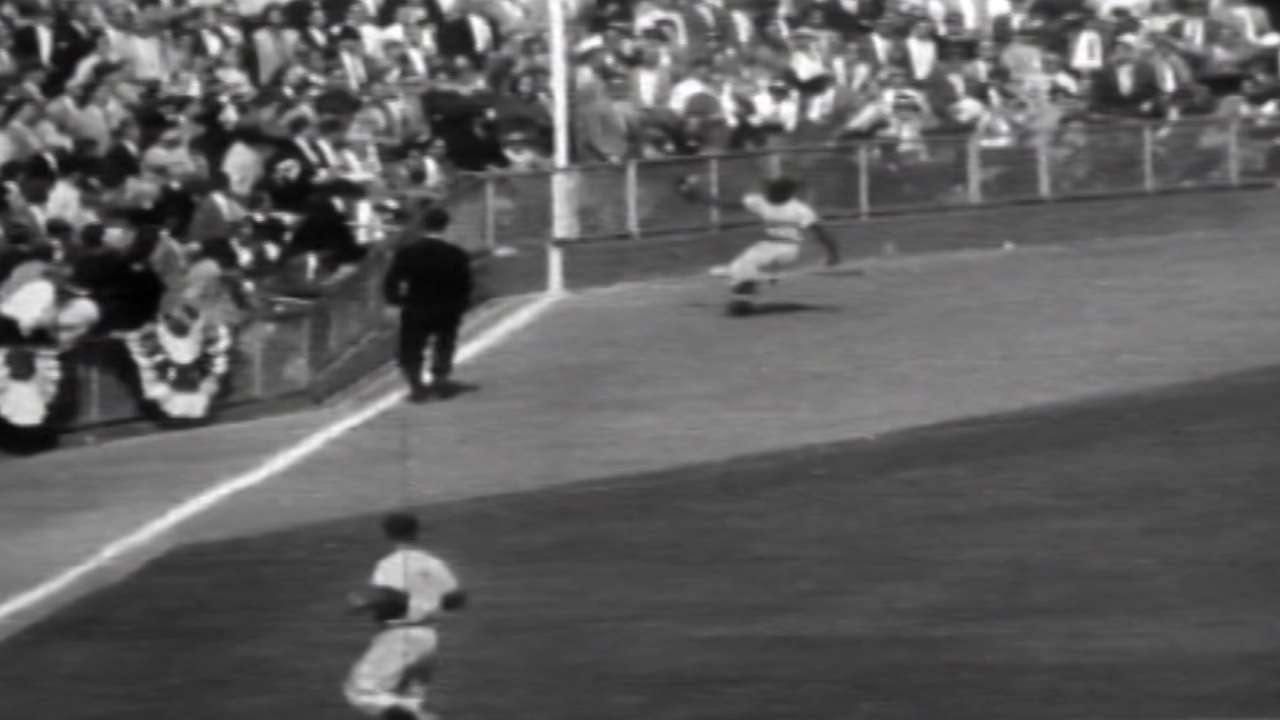 The 1955 World Series will always be remembered in Brooklyn as the year "Dem Bums" finally overcame the Yankees to win what would become Brooklyn's only title. For all the huge stars on that team, legends like Jackie Robinson, Duke Snider, Gil Hodges and Roy Campanella, it doesn't happen without the huge contribution of backup outfielder Amoros.
With the Dodgers up 2-0 in the sixth inning, Amoros entered as a defensive replacement, shifting starting left fielder Jim Gilliam to second base. The Yankees immediately put the first two men on for Yogi Berra, who hit a scorching .417/.500/.583 in the Series. With the lefty-hitting Berra up, Amoros had shaded toward center field, which proved troublesome when Berra sliced a liner into the left-field corner. Not only did Amoros race over to track the ball down and prevent the game from (likely) being tied up, he managed to get the ball back in for the 7-6-3 double play.
2. Bobby Richardson, 1962 World Series Game 7 -- 23.6 percent cWPA added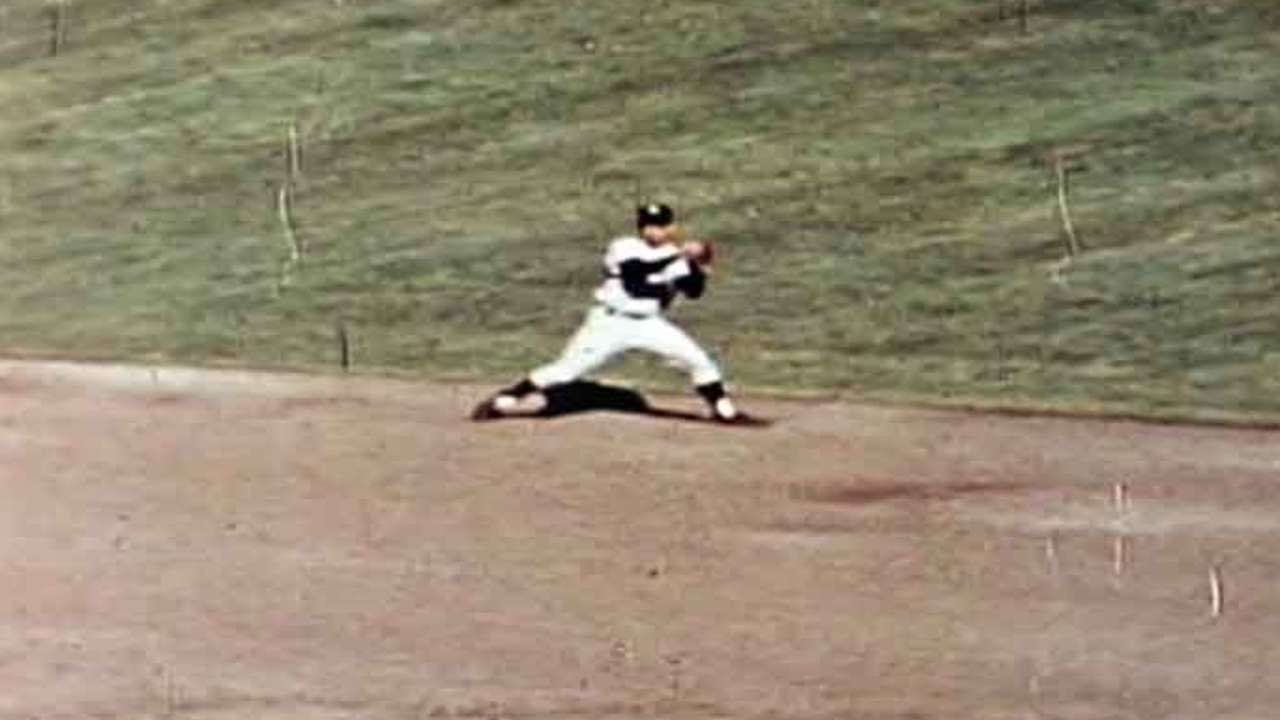 This might also be known as "the revenge of Ralph Terry," because after he allowed Mazeroski's walk-off in Game 7 of the 1960 Fall Classic, he also allowed Willie McCovey to crush a line drive in the ninth inning of Game 7 in the '62 World Series. This time, it ended a little differently, thankfully for him.
Terry was actually outstanding on this day, shutting out the Giants into the ninth inning, but since the Yankees had managed only a single run themselves, it was still a tight 1-0 affair. When McCovey came up, there were two outs and men on second and third, and he smashed the ball. Unfortunately for McCovey, it went directly to second baseman Richardson.
Richardson would later say that he shaded over because he expected Terry to throw a curveball, which would make it more likely that the lefty-swinging McCovey would pull it. Who says shifts don't work?
1. Kent Hrbek, 1991 World Series Game 7 -- 28.4 percent cWPA added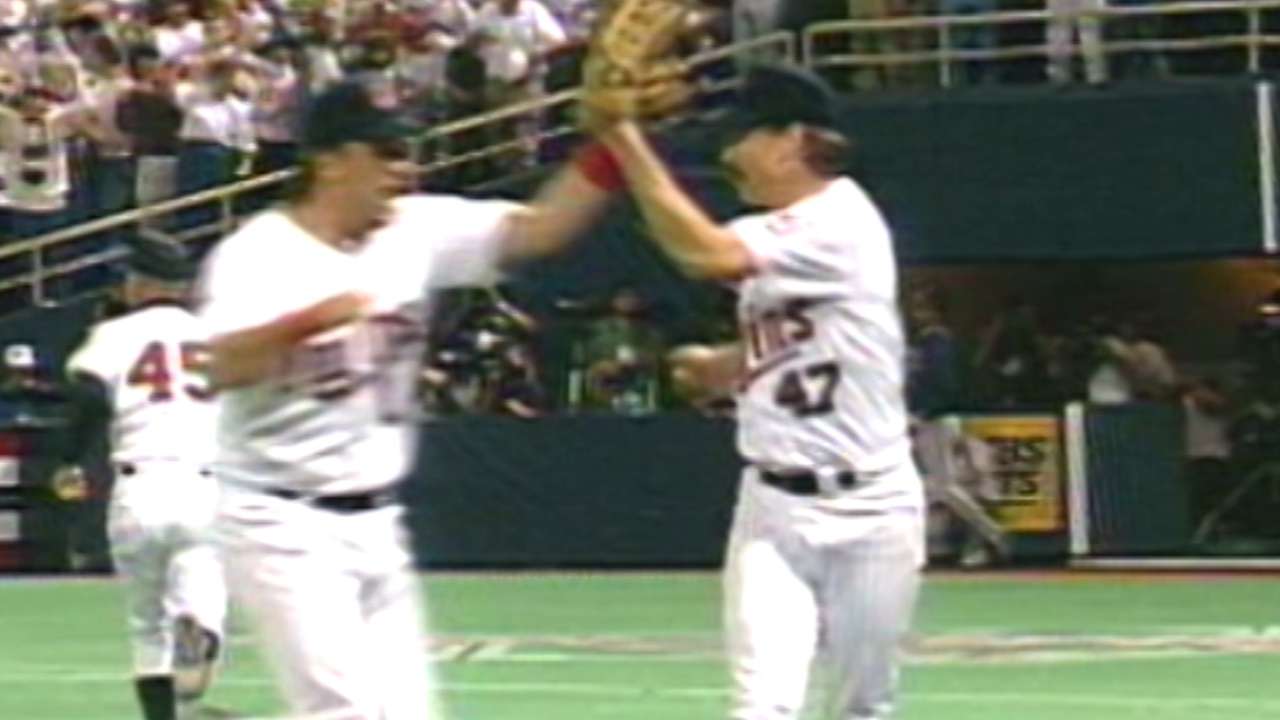 The eighth inning of 1991's World Series Game 7 -- best known as the game that Jack Morris pitched 10 shutout innings and launched years of Hall of Fame arguments -- actually featured two of the top three cWPA fielding plays of all time, and they both included Hrbek, but on opposite sides of the ball. In the bottom of the eighth with the score tied at zero, Hrbek came up with the bases loaded and one out, but lined to Mark Lemke for the inning-ending double play.
That was worth 27.3 percent cWPA, but it was actually the play in the top of the eighth that was worth more. The Braves had loaded the bases against Morris, bringing up Sid Bream with one out. Take a minute to remember that before any of this, we'd already seen one of the most memorable moments in history, when Chuck Knoblauch and Greg Gagne teamed up to fake out Lonnie Smith, who didn't score from first on Terry Pendleton's double. With Smith on third, Bream grounded to Hrbek at first base, with the ball taking a difficult short hop. If Hrbek failed to field it cleanly, at least one run scores, and possibly two, which would have put him in Buckner territory. Not only did Hrbek collect the ball, he fired home to catcher Brian Harper to kick off the 3-2-3 double play. The Twins would win, 1-0, on Gene Larkin's 10th-inning walk-off single.
STRIKEOUTS
Bonus Whiff: Before we get to our Top 3, let's stick with the 1991 World Series to point out yet another huge moment in that Game 7, when Paul Sorrento struck out with two outs and two on in the ninth, unable to take advantage of a walk-off situation of his own: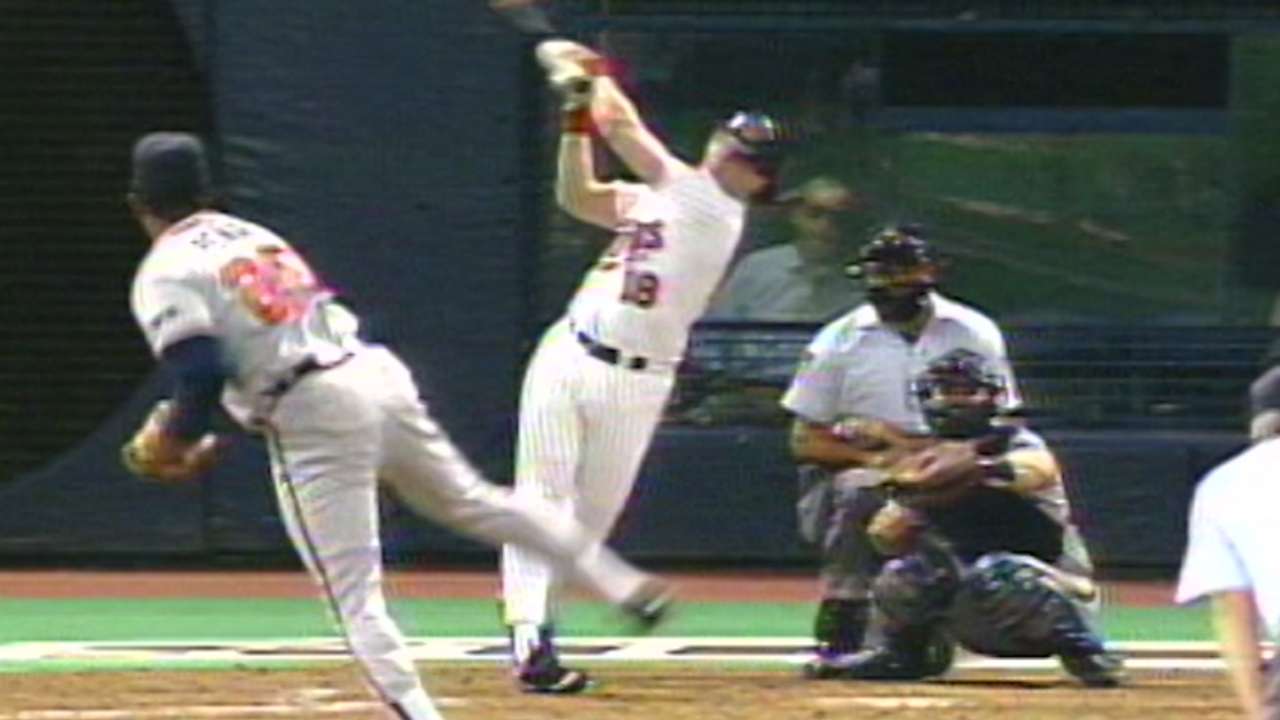 It was the fifth-highest cWPA strikeout of all time.
On to the Top 3 ...
3. Tony Lazzeri (by Pete Alexander), 1926 World Series Game 7 -- 15.5 percent cWPA added
Lazzeri gets lost in the Ruths and Gehrigs of those famous 1920s Yankees teams, but he was a Hall of Famer as well. So was Alexander, actually, though by this point he was 39 years old. So even though these names don't resonate as much today, these were two all-time greats facing off in the seventh inning of Game 7 of the World Series.
So what made this whiff so important? The fact that the Yankees were losing late in the game (down 3-2 in the bottom of the seventh) added importance, because time was running out. Cardinals starter Jesse Haines (another Hall of Famer) had faced five Yankees during the inning, including three more Hall of Famers in Earle Combs, Babe Ruth and Lou Gehrig, and put three on while getting two outs.
Alexander entered with the bases loaded. Lazzeri struck out on a curveball, and it was so momentous that it's actually mentioned on Alexander's Hall of Fame plaque. Lazzeri, for his part, reportedly was haunted by the memory for the rest of his life.
2. "High Pockets" Kelly (by Walter Johnson), 1924 World Series Game 7 -- 18.9 percent cWPA added
Speaking of Hall of Famers, Kelly and Johnson are both enshrined in Cooperstown, and while that doesn't play into the cWPA of these moments, it sure does make them more interesting. Kelly was one of the game's earliest sluggers, while Johnson, at 36 years old, was entering for what would be a four-inning relief stint after pitching 20 innings in his first two starts of the Series. (Times were different. Obviously.)
The game was tied at 3 in the top of the ninth. Johnson retired the first Giant, then allowed the next two to reach, putting men at the corners, giving Kelly the chance to break open a tie game. Any run, obviously, puts the Giants ahead and needing only to get three outs to win the Fall Classic. Kelly whiffed on three pitches, and the game remained tied until the 12th inning, when the Senators walked off with a double -- which to this day remains the last Washington baseball championship.
1. Javier Baez (by Bryan Shaw), 2016 World Series Game 7 -- 19.3 percent cWPA added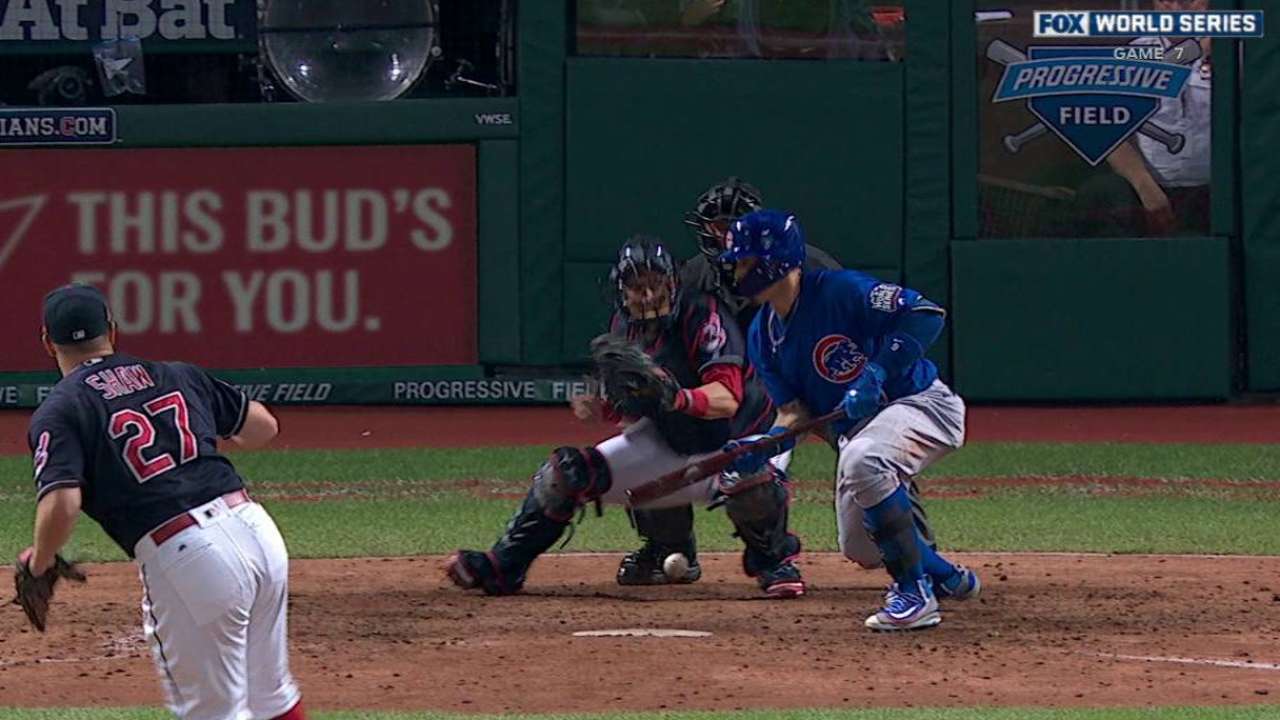 Bet you didn't see this one coming, did you? Baez's ill-advised two-strike bunt attempt in the top of the ninth of Game 7, immediately after Davis had tied it up with a homer, stands as the most damaging strikeout in postseason history. With one out, Jason Heyward stole second and then advanced to third when the throw got away. Baez worked the count full against Shaw, and then, inexplicably, attempted to bunt.
Baez attempted to bunt a 97-mph cutter, and managed only to foul into the ground. Since Baez had struggled to make contact in the Series anyway, perhaps a bunt attempt earlier in the count could have been justified; imagine the game-winning run coming home on a squeeze attempt? Instead, it was a strikeout. Shaw then got Dexter Fowler to ground out to strand Heyward. As an added bonus, Heyward's stolen base stands as the most important steal in postseason history, adding 16.9 percent cWPA by itself. He didn't score. You'll never remember it happened, but fear not, there's plenty we'll still remember from arguably the most memorable World Series game ever played.
Championship Probability Added formula is from The Hardball Times. Play search from Seamheads.com was used in the production of this story.
Mike Petriello is an analyst for MLB.com and the host of the Statcast podcast. He has previously written for ESPN Insider and FanGraphs. This story was not subject to the approval of Major League Baseball or its clubs.